My brother-in-law loved it for his new office!
By
Valerie C.

(St. Louis, MO) - January 28, 2014 (
See all reviews by this customer
)
The pictures were clear and it came out perfectly! I am so happy I decided to order this for a Christmas present for my brother-in-law. I highly recommend it.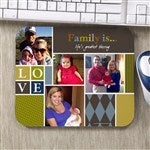 Picture Perfect
By
Kristina L.

(Port Angeles, WA) - January 7, 2014 (
See all reviews by this customer
)
I was very pleased with the way this mouse pad turned out! I gave it to my son and he loved it! I am going to get one for my daughter in law to make up for the disappointing quality of the photo mug I purchased for her.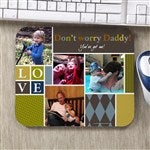 Awesome quality and quick delivery
By
Carrie H.

(Lafayette, IN) - December 30, 2013 (
See all reviews by this customer
)
The photos on the mouse pad I had made for my husband's office are awesome quality!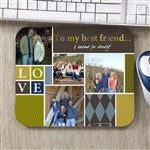 Great gift!!
By
Shopper

(Newburgh, NY) - June 21, 2013
I bought this as a Fathers Day present for the kids and their dad absolutely LOVED IT! !. He takes it on his travels and is always getting compliments on it. Great gift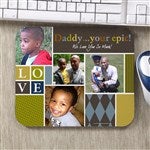 Wonderful father's day gift
By
Cameron W.

(Greensboro, NC) - June 19, 2013 (
See all reviews by this customer
)
I bought this for my husband, so that he could have some cute pictures of he and our daughter at his office, without all the picture frames and such. Plus, with the personalization option, I was able to put a personal note from our daughter on the mouse pad as well. He LOVED it! I am so happy with the way it turned out and the cost was very reasonable.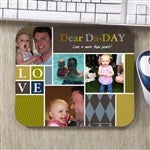 Great Product at a Great Price
By
MARY A.

(GRETNA, LA) - June 4, 2013 (
See all reviews by this customer
)
Very Happy with my purchase it arrived quickly and is very nice and sturdy. The pictures turned out great on it and it's very true to color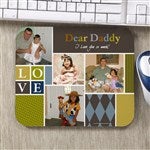 Beautiful Gift
By
Rosa B.

(Miami, FL) - June 2, 2013 (
See all reviews by this customer
)
Love the way this pad turned out! I was looking for the perfect gift for my son-in-law for Father's Day. I wanted something meaningful, not your typical shirt and tie. I found it!! The end result is high quality besides being unique.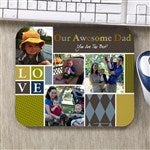 Perfect for Fathers Day
By
Ladonia T.

(Westminster, CO) - April 21, 2013 (
See all reviews by this customer
)
This turned out great. Great picture quality, great design, personalized message from our 2 boys to their daddy and great price!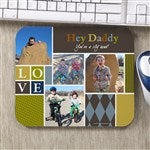 Great gift idea, great price! 4/5 because one picture was a bit dark :/
By
Melinda D.

(Warren, MI) - December 19, 2013 (
See all reviews by this customer
)
I was very impressed with the way this turned out. And you cannot beat the price! My boyfriend currently uses a piece of paper for his mouse pad, so this was a great add on gift idea. Plus he is such a sap that he will get a big kick out of this! Definitely a unique idea that will put a smile on that special someone's face!
My one and only complaint is that one picture was quite dark, and when I was creating it it did not look that dark on the computer. So my advice was to go a shade lighter! Otherwise very pleased. Thanks personalization mall!

Father's Day gift
By
Melissa D.

(Plymouth, MA) - June 17, 2013 (
See all reviews by this customer
)
As always the item I ordered from your website was awesome!! Perfect pictures, great price and quick shipping!!

Great buy!!
By
Shopper

(Stuart, FL) - June 17, 2013
Very satisfied with product!! Would recommend cite to anyone!!

Great way to keep your loved ones close!
By
Shopper

(Ludowici, GA) - June 18, 2013
I sit here typing this review using a mouse pad I ordered from PersonalizationMall.com over four years ago! Durable and charming when adorned with loved ones! A gift anyone will be thrilled to receive!

mousepad
By
Shopper

(Elmont, NY) - November 10, 2013
i find mousepads to be outdated these days because laptops and ipads and stuff dont require them, BUT my husband uses a mouse (and therefore a mousepad!) with his laptop, so this was the perfect gift for him. i imagine it will last a while... appears to be great quality ust like everything else from this website.... vibrant colors, great design, and all i had to do was upload photos, and the design work was done for me (he was impressed!). it's a great gift --- especially for parents or grandparents -- because it's something people look at every day. it's like displaying photos but actually has practical use

Very nice!
By
Shopper

(Smiths Grove, KY) - December 27, 2013
I bought this as a Christmas gift and was very pleased! The mouse pad it's self is nice and thick and of very good quality. The pictures turned out great also. I would definitely recommend this! The shipping was very fast too!

excellent products
By
Shopper

(Fort Worth , TX) - January 25, 2014
Thank you personalization mall for the quality of the purchase that I ordered every time. I did a lot of gifts through you to all my family, for Christmas , Birthday, Valentine's day... everybody have been so happy and me too. You are the best. I advise to everybody your products. Valentine's day is coming, now I should see what to order again.

Excellent
By
Grace M.

(United Kingdom) - July 24, 2013 (
See all reviews by this customer
)
This is the 5th item I have gotten from this website and everything so far has
Been great, the service is efficient, delivery quick, quality amazing and prices are very reasonable.
This particular item was a great gift and loved by my dad.

Very happy with the purchase
By
Shopper

(Chesapeake, VA) - September 2, 2013
I was very happy with the ordering process, the timeliness of the delivery, and the quality of the product. I would order this again. Thanks.


Great gift
By
Shopper

(Sunset, LA) - September 20, 2013
I gave my cousin a mouse pad with photos of his family for his 50th birthday. He loved it and said it would be used daily at his office.