Great Photo Cube
By
Shopper

(Ridgecrest, CA) - October 19, 2013
I love the personalized photo cube. I'm using this for my Anniversary. So excited to give it to my husband.

Wonderful gift idea!
By
Michelle P.

(Frankfort, IN) - October 5, 2013 (
See all reviews by this customer
)
I recently purchased this item for my husband & I's anniversary. He loved the personalization on the top and I was very impressed that I had the item in about 2 days after ordering! Very fast, efficient service and a great quality product. I've ordered from this site in the past and will continue to do so because of their quality products and speedy production time.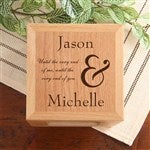 Really nice gift
By Shopper (Plano, TX) - September 25, 2013
Bought this for my girlfriend for our anniversary and it's a really nice gift. Anyone would love it. It's bigger than I thought it would be and the quality of it is great. Can't beat it for the price.

Remarkable gift
By
Shopper

(Marion, OH) - September 3, 2013
If you want to give a gift that expresses love and memories...THIS IS IT!

Cute 5 year (wood) wedding anniversary gift!
By
Odelia M.

(LOS ANGELES, CA) - September 2, 2013 (
See all reviews by this customer
)
Each wedding anniversary, I get my husband a gift related to the number of years we are celebrating. This year was our 5th (wood wedding anniversary) so I got him this cute photo cube with our names and a personal message engraved in wood. It was the perfect gift for the occasion and he loved it.

So pleased!
By
Shopper

(Clarksville, TN) - August 27, 2013
After searching on other websites and getting $50* estimates on orders, I found personalizationmall.com and when I saw this item for less than $30, I was sure I'd be getting what I was paying for... very low quality item. Boy, was I surprised when I received it today on the mail! I had to hide it quickly because it's for my fiancee (once he becomes my husband next month) and I don't want him to see it but I looked at it, the words are perfect, quality is perfect and I am just so excited to see his face once he sees it with our pictures on it :D

love it
By
Shopper

(indian head, MD) - June 24, 2013
one of my favorite doctor was leave the hospital were he work and I had this personalized for him and he loved it.

Personalized cube
By
Shopper

(Glendale, AZ) - June 18, 2013
The cube was a perfect that I gave my daughter and son in law on their 5th anniversary, since at 5 years it is wood. They both loved how unique a gift it was.

Perfect Photo Cube
By
Shopper

(New Cumberland, PA) - May 5, 2013
I ordered the personalized photo cube for our daughter and son in laws first anniversary. My daughter loves to display special photos to enjoy daily, this photo cube will be perfect to do that with.
The quality and workmanship of this item is done very professional.
The price is also affordable and fair.
I would buy this item again for someone else.
The engraving is very well done and neat which makes this item more personal.

Robert and Kathy
By
Katherine S.

(Frederick, MD) - April 27, 2013 (
See all reviews by this customer
)
They loved their gift, 2nd marriage for both of them so they have everything, this is personal and is a great start for their new life together.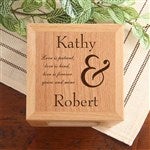 Beautiful Engagement Gift
By
Christine F.

(Minetto, NY) - April 12, 2013 (
See all reviews by this customer
)
I bought this and had it shipped directly to my daughter. She had just become engaged and I wanted something that would commemorate her special day. She absolutely loves it. She said the engraving was beautifully done.I had it gift wrapped and she said it was so pretty and packaged so nicely. I would recommend this to anyone. Thank you for making my beautiful daughter's engagement even more memorable. On a side note, I am very leery of ordering things like this online before looking at it myself but I took a leap of faith. Thank your for doing such an awesome job. I will definitely be buying other items from your site.

Beautiful gift
By
Shopper

(Canada) - April 9, 2013
Great product! Great quality

Surprised
By
Larissa N.

(Washington DC, DC) - March 19, 2013 (
See all reviews by this customer
)
I got this item for my fiance on our anniversary and he loved it. We love special items that remind us of the happy times we spend together. it helps, knowing we are in a long distance relationship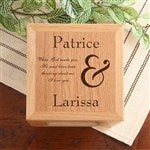 Great photo cube
By
Kim T.

(Erie, PA) - March 16, 2013 (
See all reviews by this customer
)
This is the second time I've ordered this photo cube. I think the quality is very, very good. The wood is beautiful and the engraving looks very professional. I would buy another one!

Super nice.
By
Shopper

(Petersburg, KY) - March 2, 2013
This is a wedding gift for my cousin who loves to have photos everywhere. It is so nice, I know she will love it! Very nice quality.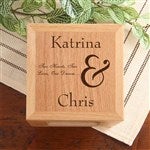 Happy 5th Anniversary!
By
Elizabeth J.

(Las Vegas, NV) - February 28, 2013 (
See all reviews by this customer
)
First purchase on this site and very pleased. Great sale price and discount, plus speedy turn around time. This will make an ideal 5th wedding anniversary gift since year 5 is wood. I can't wait to put the pictures in!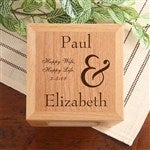 so unique
By
Shopper

(north miami beach, FL) - February 25, 2013
Love it !! its very unique and a great gift !

great gift
By
Brian K.

(Suffolk, VA) - February 23, 2013 (
See all reviews by this customer
)
as always, this place never fails. I ordered this and another item for my wife, and it was delivered on time and was exactly what was ordered. She is very happy with the cube, and that makes a husbands life that much easier..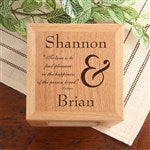 Unique and Special
By
Jennifer S.

(Orangevale, CA) - February 21, 2013 (
See all reviews by this customer
)
I got this for my husband for Valentines...he loved it and the fact that you could put 4 pics in it instead of just one (like a frame) was what stood out in my mind. We can now relive multiple memories! This has a special place in our home! I looked great and very professional.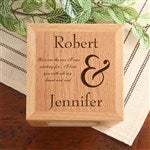 Great gift
By
Shopper

(Port Jefferson Station, NY) - February 9, 2013
I got this for valentines day and I can't wait to give it to my boyfriend! It holds so many memories! :)

Great Gift for Your Husbands Desk
By
Shopper

(Livermore, CA) - February 5, 2013
Needed a gift for the guy who has almost everything; I have products we had ordered from the website before and love them, so I thought this would be a great addition for his desk at work. I order this gift on a Thursday night and got it a lot quicker than I had anticipated. I can't wait for him to open it.

Wedding Gift
By
Shopper

(Elkins, WV) - February 5, 2013
Makes a great Wedding Gift that most people will never receive.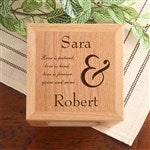 Wonderful Photo Cube
By
Shopper

(choctaw, OK) - February 3, 2013
This is a great gift for my husband for Valentine's Day! It is fantastic quality for any price!! It was created perfectly and I received it very quickly - thanks so much!!

great gift
By
Katherine M.

(Orlando, FL) - January 14, 2013 (
See all reviews by this customer
)
The personalization adds such a special touch. The cube frame is nicely done. The photo covers are real glass, not plastic. Very nice gift.

Lovely photo cube, very easy to personalize
By
Madeleine M.

(Spartanburg, SC) - December 15, 2012 (
See all reviews by this customer
)
Very nice photo cube. Delivered exactly as specified, I couldn't be more pleased with my purchase.

Love it!
By
Shopper

(Flora, IL) - December 14, 2012
This item is fantastic! Personalization looks great, awesome quality and super fast shipment! They are going to love it!

Favorite Gift
By
Andrea F.

(Orlando, FL) - November 12, 2012 (
See all reviews by this customer
)
I have actually bought this gift a few times for friends, family and even myself. I love adding a personalized message at the top and it always comes out perfect because you review it before you place the order. It is a great gift and being able to have 4 photos at one time and being able to change them is great for a gift and a great frame to house more than one photo.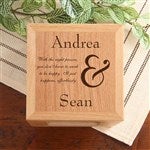 Very nice
By
Shopper

(LaBelle, FL) - October 23, 2012
Nice touch!

Beautiful product
By
Marla C.

(Colorado Springs, CO) - September 30, 2012 (
See all reviews by this customer
)
I ordered this gift for my husband to display in his office and it really exceeded my expectations. The writing is carved into the wood, and the wood is very sturdy and just beautiful. the pictures you choose to use are easy to insert and it is actually glass not plastic, which adds to the visual quality of this product. I was also extremely happy with shipping...i got this 2 days earlier than what the expected delivery date was. i highly recommend this photo cube.

A beautiful treasure
By
Tanya W.

(Staten Island, NY) - September 30, 2012 (
See all reviews by this customer
)
I bought this photo cube for my boyfriend for his birthday. I put a few pictures from our vacation. Beautiful photo cube... beautiful memories.... I love it. I want to purchase one for myself!.... You guys are great. Thank you.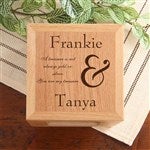 Memory cube
By
Irfan B.

(lawrenceville, GA) - September 15, 2012 (
See all reviews by this customer
)
It's a great gift to give your loved ones for saving your memories all your life in this cute cube.
Great for birthdays, graduation or any other occation. All the pictures in the cube are of 3x3 size. And the best part i love about personalization is, there gifts come exactly as they show us on screen before we order.. Great website, Great products and Great prices!!!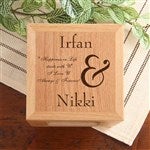 just what I wanted
By
Shopper

(Claymont, DE) - September 2, 2012
The photo cube is a perfect engagement gift. It is even better than the picture shows. I love it ans so did the recipients.

Perfect Engagement Gift!
By
Rosemarie G.

(Brooklyn, NY) - September 2, 2012 (
See all reviews by this customer
)
So cute, would definitely buy again for another couple!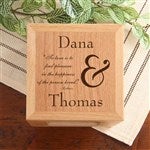 Perfect wedding gift
By
Tianjin J.

(Austin, TX) - August 11, 2012 (
See all reviews by this customer
)
This gift looks exactly like in the picture. Mt friend was thrilled when she opened the box at her wedding shower! Love it! Want to buy one for myself

Great anniversary gift!!
By
Faith J.

(Oklahoma City, OK) - August 4, 2012 (
See all reviews by this customer
)
I bought 2 of these and was very satisfied when I got them. The quality is very good and the engravement was perfect, shipping was pretty fast too! I sent one to my husband who's deployed, our 1 year anniversary is tomorrow and I can't wait for him to see it!!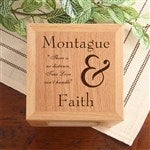 Great Workmanship
By
Mary Ellen Q.

(Acworth, GA) - August 3, 2012 (
See all reviews by this customer
)
The quality of the engraving is excellent....far exceeded my expectations....I will feel so pleased to give this gift....it's perfect!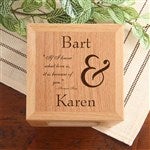 Photo Cube
By
Robin W.

(Kent, WA) - August 2, 2012 (
See all reviews by this customer
)
Excellent product ... The bride and groom loved it!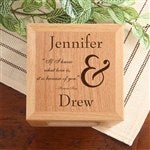 Cute and Romantic
By
Nykema J.

(Somerset, NJ) - July 30, 2012 (
See all reviews by this customer
)
The quality is superb ane the conect was exactly what I needed. The only think I wish is that there was more room for the personalization.

Perfect anniversary gift
By
Tracey S.

(Hattiesburg, MS) - July 24, 2012 (
See all reviews by this customer
)
Purchased this for our fifth anniversary and as one of our wood gifts. We loved it. Just like the picture description. Couldn't be happier and was pleasantly surprised it arrived quicker than originally told. Would order again from this site ! ;-)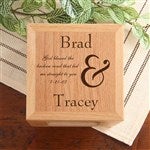 Great awesome
By
Shopper

(Somerset, NJ) - July 23, 2012
This gift is very very good......it's really nice