Sweet
By
Shopper

(Memphis, TN) - February 5, 2012
I am giving this to my fiancee to put in his office. It is a great personalized gift. The picture windows are small but I like that it's not too big since it will be in his office.

great purchase
By
Shopper

(Bremerton, WA) - January 27, 2012
Great purchase, although felt like I got gyped on the rushed shipping price since I didn't get it on the rushed 2 days it was suppose to come instead came a week later (after the processed date)...but for the product itself its not bad. It looks really cute!

Picture cube
By
Grant V.

(Gilbert, AZ) - January 1, 2012 (
See all reviews by this customer
)
I wish it was on a turn table so it would turn.

Valerie
By
Shopper

(Toledo, OH) - November 27, 2011
It was a nice gift and the gift box is a nice plus. The only complaint I have is, I asked and paid for next day air shipping and it arrived in three days. It was a rip off. I would do regular shipping for any future items.

Sweet and thoughtful small gift
By
Shopper

(pasadena, CA) - November 8, 2011
Love this cube. It is just as pictured, quality seems great, and it was deliver quickly. My only con with this is the shipping cost. Otherwise a great purchase.

good quality
By
Candice G.

(Howard Beach, NY) - October 17, 2011 (
See all reviews by this customer
)
i am very pleased with this item, from the quality to the personalization.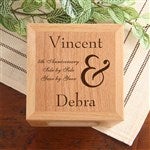 wedding gift
By
Shopper

(HIgh Point, NC) - October 8, 2011
Bought this as part of a wedding gift and was very satisfied with it!

Great gift!
By
Lesli H.

(Clarksburg, WV) - August 19, 2011 (
See all reviews by this customer
)
I loved the photo cube. It was very nice. Good quality. The only thing is I wish the engraving was a little darker. It isn't a big problem but I would have liked to see it stand out a little more.

Great Product!
By
Bruce D.

(Iowa City, IA) - June 6, 2011 (
See all reviews by this customer
)
I ordered this piece and had it customized for my good friend's wedding. The gift was great and the laser engraving was perfect. The only concern I had was the slide piece over the bottom opening was very difficult to remove to place the pictures inside. I think the cover piece was very slightly mis-sized, which caused the cover to be too tight. I would DEFINITELY order this product again. The product was received in very short order.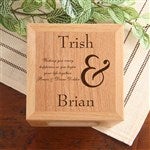 No disappointments
By
Shopper

(Conklin, NY) - April 19, 2011
The person I gave this to absolutely loved it! I would suggest this for anyone for any occasion. It came back so nicely carved and etched in the wood. The only thing, is that I expected it to be larger than it was. But it was still beautiful and I will probably be purchasing it again!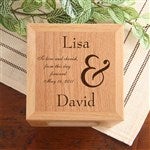 Great valentine's day gift!
By
Shopper

(Woodbury, MN) - February 20, 2011
This was truly beautiful, i will definitely be getting other products from here. The only reason i didn't give it 5 stars was because it was smaller than i expected, but then again that was my fault cuz it had the dimensions on the product description. I wish it came in a bigger size....Otherwise PERFECT!!

Pleased with photo cube
By
Shopper

(Jonesboro, AR) - February 14, 2011
I was happy to receive my photo cube. I expected the product to be on a swival, even though I did not read that in the description, the picture led me to believe that. Besides that, I was very satisfied with the product. This is my second time to make a purchase from PersonalizationMall.com in the last year. I will most likely order again!

Cute present.
By
Shopper

(Kalamazoo, MI) - February 6, 2011
This photo cube is so beautiful. My bf loves it so much when I gave it for him.

worth to buy
By
Shopper

(Huntersville, NC) - February 6, 2011
its superb..when i got it,its big in size thn what i imagine..

Great Gift
By
Kimberly M.

(Temecula, CA) - January 23, 2011 (
See all reviews by this customer
)
Very pleased with the photo cube. Great quality!

Exactly what I expected
By
Shopper

(Philadelphia, PA) - January 21, 2011
I was very happy with my purchase. It was exactly as I expected and my boyfriend loved it. Just a fews things to note: I got the names in all CAPS. When I chatted with the Personalization Mall they told me if it looked fine on the preview in all caps there would be no problem... turns out they were right. Not sure why it says do not use all caps. My favorite part was that you can use the photos that come in it as a template to cut around to make sure your photo fits exactly the way you want it. :) Enjoy!

Good wood, engraving a litte bigger
By
Shopper

(Loudon, TN) - January 9, 2011
good product but the engraving of the saying is a little smaller than expected also, the close/open slide needs to be a little better and also a little difficult to insert the pictures.

A beautiful small gift piece
By
Connie A.

(Kent, WA) - December 13, 2010 (
See all reviews by this customer
)
The quality is very good; the engraving was perfect! Exactly what I ordered.

Nice quality construction and the burned in letters look great
By
Paul B.

(Denver, CO) - November 15, 2010 (
See all reviews by this customer
)
My wife really liked this cube. Great way to show off pictures with a personalized touch. Made well, looks good. Came quickly.

Well done!
By
Lindsey M.

(goshen, IN) - October 11, 2010 (
See all reviews by this customer
)
I'm very pleased with my purchase. This photo cube is well made and adorable. I got it for my two year anniversary for my boyfriend. The only thing I disliked was the photo size. 3x3 was hard to manage. I had to make sure I found photos far enough away so I could cut out our faces, from a 4x6. Overall it's amazing and I give two thumbs up!

Personalized Photo Cube Review
By
Laura R.

(Boca Raton, FL) - August 27, 2010 (
See all reviews by this customer
)
My experience with ordering the Personalized Photo Cube was excellent. The person taking the order could not have been nicer or more helpful.

It was received in just a few days, and I was pleased that it was larger than it appeared, and done very well.

My only complaint is that the bottom piece that comes out to enable inserting the photos is cut a little too "large". It just barely fits and takes a lot to get back in place.

Otherwise, it is a beautiful gift.


Very unique gift
By
Brendaliz T.

(Roselle Park, NJ) - July 16, 2010 (
See all reviews by this customer
)
I was looking for a unique gift as an addition to a gift card I am giving someone for their bridal shower. After reading the previous reviews, I decided to order one of these photo cubes. I received it yesterday and was pleasantly surprised at how nice the etching turned out.

Personalization Mall is a great site for personalized gifts for many occassions. This was not my first purchase from this site. Another satisfied customer...Thanks!

Satisfied
By
sian nie T.

(tucson, AZ) - July 13, 2010 (
See all reviews by this customer
)
Quick delivered, good quality, fine price

Great item for the Price!
By
Lynn Z.

(Groton, SD) - March 30, 2010 (
See all reviews by this customer
)
Bought the cube for a bridal shower gift and shower was only 5 days away, the personalized cube was here in 3 days! without paying extra shipping!Really loved the engraving, there was a crack with some glue showing that was easily sanded out, otherwise good product.

Beautiful
By
Maryanne H.

(Norfolk, VA) - February 19, 2010 (
See all reviews by this customer
)
The photo cube turned out beautifully! I love the script writing for the quote. I would have given it 5 stars if there were different choices for the font (because the names are in a plain font). More importantly, I wish we were allowed more than 4 lines for the quote. I condensed the "Love is patient, love is kind" verse from 1 Corinthians, but still couldn't fit all I wanted . . . and there was definitely enough room for at least one more line on the cube.

lovely :)
By
Jocelyn V.

(Reasnor, IA) - February 14, 2010 (
See all reviews by this customer
)
i ordered this for my boyfriend for valentine's day. i was very impressed with how nice the engraving of names and verse turned out. i was very pleased with everything: the price, how quickly it came in the mail, and the quality. AND my boyfriend loved it! :) super cute valentine's gift--i definitely recommend :)

Very nice!
By
Heather M.

(Batavia , IL) - February 1, 2010 (
See all reviews by this customer
)
Bought this as an engagement gift. I was pleasantly surprised by both the quality and the speed of shipping!

almost perfect
By
sharon P.

(massapequa park, NY) - December 28, 2009 (
See all reviews by this customer
)
I was impressed w/ the quick delivery, but was disappointed in the cube itself because it looked like the wood was cracked and splitting on one side. i did not have enough time to return it before christmas.. that was the only negative about this product. probably would not order anything again because I do not know how the quality would be.

Great... but,
By
Brendan G.

(Huntington Beach, CA) - December 27, 2009 (
See all reviews by this customer
)
I love this item and I think that it is going to be a great gift for my girlfriend, but I was a little upset with how difficult the bottom of the cube was to open, where you insert the pictures. I actually had put multiple scratches on the cube just to pry it open. Other than that though I have had a great experience with this site and the product.

great customer service
By
Rudy H.

(Lytle, TX) - December 10, 2009 (
See all reviews by this customer
)
Product was delayed because of problems with UPS. I called in and a new one was shipped the next day.
I was very impressed with the way they handled my issue even though it wasn't any fault of theirs. I'll be back.

Awesome
By
Nekeisha B.

(Canada) - December 3, 2009 (
See all reviews by this customer
)
I really like this cube --- only wished it fit pics 4*6 but still a great gift

Beautiful Photo Cube!!!
By
Lisa W.

(Richmond, VA) - November 13, 2009 (
See all reviews by this customer
)
My photo cube looked exactly like the picture! It turned out really beautiful! I only have one complaint though. When you choose a pre-written quote, it is not written with quotes in the text box but when you would preview it it would have quotes around it. I used my own quote and figured they would do the same but they did not put quotes around it or tell you they wouldn't anywhere and that it would not turn out like the preview. I was really disappointed but I figured it would do. Other than that it was beautiful!

Nice
By
Mark E.

(Aliso Viejo, CA) - December 25, 2012 (
See all reviews by this customer
)
I love the item itself. Thought it would have a wheel on the bottom for easy turning. It's just a block. The engraving is great.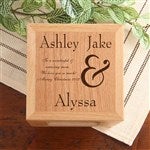 a
cool

Small Print Verse and "Unsecret" Packaging
By
JOHN A.

(United Kingdom) - December 5, 2009 (
See all reviews by this customer
)
Product is O.K but not made in U.S.A. Also verse is in very small print compared to names. And PLEASE take "Peronalization" company name off out side packaging. It does company no good and spoils the suprise element.

Very plain.
By
Shopper

(Ridgeland, SC) - February 6, 2011
Although this item is nice, it is too plain to give as a gift. I would not recommend it for that purpose if you want to impress your sweetheart. I bought it for Valentine's Day, but I will have to buy something else.

Not bad, but not great
By
Jaime C.

(Annandale, VA) - February 17, 2010 (
See all reviews by this customer
)
I was surprised by how small the names turned out to be - they definitely appear bigger in the picture. If I had known that, probably would have gone a different direction for my Valentines Day gift.

Photo Cube
By
Ferne M.

(Frederick, MD) - January 14, 2010 (
See all reviews by this customer
)
The cube looks great, the inscription was perfect, the problem is the pictures are an unusual and small size so I am having trouble filling the cube. I did not notice anywhere in the description on your website that the pictures were 3x3.

Valentine
By
Bob P.

(Houston, TX) - February 5, 2011 (
See all reviews by this customer
)
A great gift. The same fine quality I always expect. Great shipping.