Great gift!
By
Andrea B.

(Plymouth, MA) - June 25, 2014 (
See all reviews by this customer
)
Very pleased with size of box and the way the lettering looked. Thanks for the great product with fast service!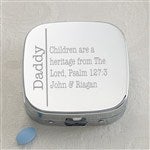 Great gift
By
Shopper

(Lawton, OK) - May 7, 2014
Bought for my husband as a "just because" gift. Was VERY happy with the product. Much larger than I thought, which was great surprise. It was a hit.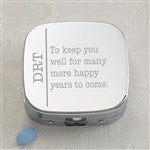 Great gift!
By
Shopper

(Discovery Bay, CA) - April 1, 2014
This item arrived very quickly and is beautiful!

Wonderful Gift
By
Shopper

(BEVERLY, MA) - January 13, 2014
I purchased two of these pill boxes for Christmas gifts. I had my own personal quotes put on them, and both friends loved the gifts!! There is so much room for medication, and it fits well in your pocket. What I liked about your site was the fact that you could actually see the pill box with your actual saying right in front of you, before you ordered on the web site. That is a GREAT feature!!

Perfect size.
By
Shopper

(Lafayette, CO) - December 28, 2013
I just love the pill boxes I have purchased last year. Plenty o room for pills. I really love the change you have made with the name on the side and the Very Cute Sayings.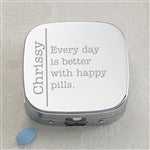 Pill box
By
Regina B.

(Owensboro, KY) - December 27, 2013 (
See all reviews by this customer
)
This is great! My husband carries some of his pills with him and this was a perfect gift! And, he loves it and the saying on the pill box!!! Super Christmas present!!!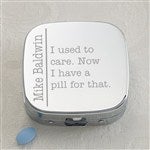 Great Gift
By
Shopper

(Emmett, ID) - December 26, 2013
Professionally done, on budget and on time.
I will be a return customer. Great Gift.....

nice
By
Shopper

(lombard, IL) - December 21, 2013
Its the perfect size, pretty and elegant looking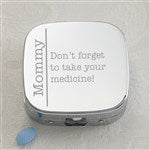 Great fun gift!
By
Tammy S.

(Little Rock, AR) - December 19, 2013 (
See all reviews by this customer
)
I have ordered this product more than once. . . .and each time it has been a big hit! Good quality and functional too!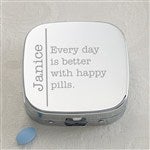 Cute!
By
Shopper

(Broomfield, CO) - December 17, 2013
I got this for my mom and she thought it was cute, and a very nice touch that it had her name on it.

Very nice looking, and functional!
By
Shelly B.

(Byron, MN) - December 16, 2013 (
See all reviews by this customer
)
I loved this so much, I bought one for five family members as well. The pill box looks really nice and is good quality-it stays closed and opens easily with the push of a button. I purchase from this company all the time and have never been disappointed with anything! Very nice company to work with and quality merchandise!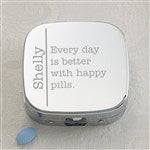 Love this!
By
Shopper

(Orland Park, IL) - November 1, 2013
These are really pretty - I love the cute sayings - and the boxes themselves are attractive, the perfect size, and have a clasp that both keeps it closed and allows for easy opening. I've bought four now!!!

Top Value
By
Jamell H.

(Galloway, NJ) - October 7, 2013 (
See all reviews by this customer
)
I purchased two pill boxes for my wife and myself. It is easy to store, tucking in a pocket or bag. I like high quality finish of the box It has rounded edges and fits easily in my pocket or bag.

Great pill box
By
Sophie B.

(Los Angeles, CA) - October 1, 2013 (
See all reviews by this customer
)
I purchased that pill box as a gift. It arrived in a black velvet pouch, very classy. The box inside is the perfect size, not too shallow but wide and long, makes it easy to see and grab the pills.
The whole thing looks like a million bucks !
It is also very nice that you can have it engraved with whatever you wish the way you want it.
I recommend it to everybody, it is a very nice gift and a great value.

Great Birthday Gift!
By
Shopper

(Kansas City, KS) - August 12, 2013
We bought this engraved pill box for our Pastor, as a birthday gift. His name was personalized on it, with adding our own inspirational quote. Our pastor loved it, as it was the right size to carry in his pocket!

Awesome gift Idea
By
Tammy S.

(Little Rock, AR) - July 2, 2013 (
See all reviews by this customer
)
I ordered this pill box for a friend who is turning 50 - I have it engraved "50 and Fabulous Requires Meds!" Awesome gift - and functional too! Very pleased!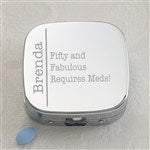 Perfect little pill box
By
Debra M.

(Lees Summit, MO) - June 22, 2013 (
See all reviews by this customer
)
Purchased and personalized this pill box for my Dad for Father's Day. He needs to carry some pills with him to take at lunch and throughout the day. I put "Laughter is the Best Medicine" on it (in addition to his last name) and he loved it! Fits right in his pocket. Good quality with 3 divided areas inside --and it comes in a nice little velvet bag for good presentation.

Suggestion
By
Ermida C.

(Elmwood Park, , IL) - August 31, 2013 (
See all reviews by this customer
)
This box was very well made. BUT, a slightly deeper and larger box could be commissioned
so that the healthy name could then be: Vitamin/Supplements box instead of PILL BOX
which brings to MY mind, sickness and pills to help with the ailment.
Supplements are sometimes larger than "pills' so that is why I suggested a larger version of
this nice gift.