Beautiful
By
Shopper

(Miami, FL) - August 5, 2014
I ordered this locket for my nephew's first Christmas, so we can hang it on the tree. It is beautiful, excellent quality, the engraving is perfect!! It will look gorgeous hanging on the tree, can't wait!!!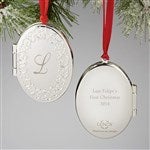 Beautifil
By
Shopper

(Land O Lakes, FL) - July 26, 2014
Item very heavy and my granddaughter will love it.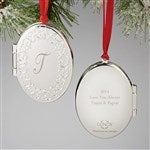 Elegant Christmas / Bridal ornament
By
Shopper

(Berwick, PA) - February 24, 2014
I am always searching for unique ornaments & have not been disappointed buying them here. I have received positive feedback over & over again. Knowing that I had graduations, wedding & bridal showers coming up ; I initially was looking at the site for those specifically ; (& found 2 beautiful picture frames) & then decided to zip through the ornament section to check out any new merchandise, when I saw this stunning silver Lenox personalized ornament. I had it monogrammed with the soon to be couples last name initial. And to my surprise, the ornament was also a locket. I think it will be a crowd pleaser at the bridal shower. AND, the personalization is FREE!

Beautiful
By
Erin D.

(Pittsburgh, PA) - December 18, 2013 (
See all reviews by this customer
)
I was pleasantly surprized by this ornament. I was unsure how large it would be when I purchased the locket. It was the perfect size.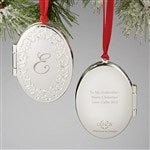 Lovely Item
By
Shopper

(Arden, NC) - December 10, 2013
Might be a wonderful keepsake to use, treasure over time.
A little difficult to open to insert picture. I had to call for a tip from Lenox. (The round inner frame can be coaxed off with a fingernail or pin. There is no release button to push.) It isn't difficult to do.


Locket Ornament
By
Shopper

(Mount Prospect, IL) - December 6, 2013
This is a wonderful gift for anyone and everyone. It was bigger than I initially thought it would be.

Absolutely beautiful!
By
Shopper

(Catskill, NY) - December 6, 2013
I ordered 2 of these for my daughters/sons-in-law engraved on the back from their children. I have ordered many many things over the years from Personalization Mall, including a LOT of Christmas gifts this year, and have never been disappointed. These are absolutely beautiful, high quality items. I know they will be cherished for a long time to come.

Special Gift
By
Tina G.

(La Porte, TX) - December 5, 2013 (
See all reviews by this customer
)
I was very pleased with this ornament. I rarely am disappointed with the gifts I get from this website. I am hoping that my bestie will be just as pleased as I was when she gets it on Christmas.

Very elegant looking!
By
Shopper

(Columbus, OH) - December 1, 2013
For my boss and his wife. They are hosting our Christmas party and wanted to take something special to give them...

Sentimental Gift for Christmas
By
Deborah T.

(Lima , OH) - November 24, 2013 (
See all reviews by this customer
)
When I opened the envelope it came in, The locket was able to be seen. It was more beautiful than I expected.My Son & Daughter in Law lost there baby due to premature birth. So this is to celebrate the Life of there daughter & Our Granddaughter. Love it. Love PersonalizationMall !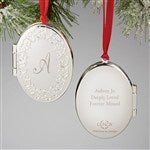 As nice as I thought
By
Shopper

(Newton, NC) - November 18, 2013
Like everything I've ever ordered from PersonalizationMall.com, I am more than pleased with the ornament I ordered and look forward to giving it to my special daughter-in-law for Christmas.

Exactly as advertised
By
Shopper

(Nassau Bahamas, GA) - November 10, 2013
When ordering on line you can never be sure if the product will be as good as it sounds. I have never had that problem with Personalization. This Lenox Locket Ornament meets all my expectations. It is solid, very good quality and the engraving is perfect. I ordered two for my granddaughters and feel it is something they will be hanging on their trees and showing their kids many years from now.