Cute shopping bag
By
Shopper

(Bayside, NY) - September 14, 2014
Adorable shopping bag that's great for the beach or anywhere else the inscription makes it even more precious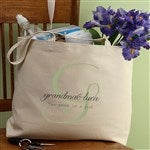 Great quaity for price
By
Shopper

(Dixie , GA) - September 8, 2014
Bought it as a gift for someone. They were very happy with the item and so was I.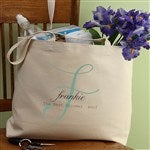 Very Pleased
By
Marissa W.

(Canada) - August 31, 2014 (
See all reviews by this customer
)
I ordered these for each of my bridesmaids. They're beautiful, and I would be happy to have one myself! They're roomy and sturdy and the script and personalization adds a feminine touch. Lovely product.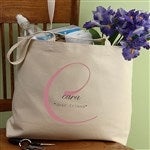 I bought this for my niece for her birthday and she loves it.
By
Shopper

(Tallahassee, FL) - August 29, 2014
I bought this item for my niece and filled it with fun items for her birthday. She loved that it was personalized. She takes it everywhere. Thank you for offering an item that made her feel so special.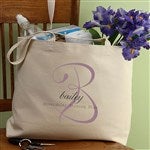 Eye Catcher
By
Shopper

(Rochester, NY) - July 11, 2014
I love this canvas tote bag. I have gotten many compliments on it. I love the name meaning monogram on the tote. I was surprised to see how much you can put in this bag. Great for traveling! Purchase one. You won't be disappointed!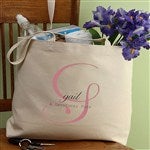 Love
By
hae jung K.

(los angeles, CA) - July 11, 2014 (
See all reviews by this customer
)
All my 5 bridesmaids loved the engravement. The initial and their name spelled out looks so great! They fell in love with the bag. Grocery/beach bag is their main use of it. They loved it!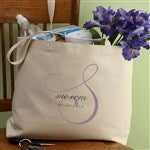 Loved It
By
Debra B.

(Algonquin, IL) - June 26, 2014 (
See all reviews by this customer
)
I purchased this bag for my sister. She was Mother of the Bride at a destination wedding in Punta Cana. She loved the bag and used it everyday! Great quality and price!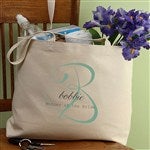 Personalized Canvas Bag
By
Shopper

(Acworth, GA) - May 30, 2014
I was very pleased with this product and the personalization and the promptness of delivery. Thank You!

Great "everything" bag
By
Leslie B.

(Worcester, MA) - May 12, 2014 (
See all reviews by this customer
)
I ordered this bag as a gift and was so happy with it I have since ordered another one as a gift. Great quality and large enough to use for a vairiety of things.

Great Gift
By
Shopper

(Liberty Township, OH) - April 28, 2014
I brought this bag for my best friend, who is a teacher. The bag is beautiful and was able to hold her papers to and from work. It made a perfect, quality gift for her!

Nice quality bags
By
Evelyn B.

(Cambridge, WI) - April 20, 2014 (
See all reviews by this customer
)
Love these bags and hope my bridesmaids do as well!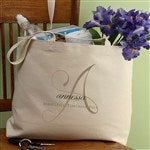 Beautiful!
By
Shopper

(South Chesterfield, VA) - March 17, 2014
I purchased 5 bags for my bridal party, and I cannot wait to give to my girls. These bags are gorgeous and well-made! I would definitely recommend them to everyone.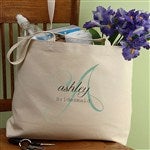 The perfect gift
By
Shopper

(Newark, DE) - March 2, 2014
This is the perfect personalized gift. The quality is excellent, and the size is generous.

Daughter-in-love
By
Shopper

(Mint Hill, NC) - February 18, 2014
For my son's wife on her birthday. Bag is a good size, can fold easy enough to slide in the diaper bag for mom to use shopping. Love the elegant simplicity of the monogram.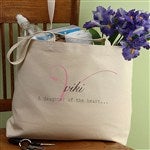 Monogram personalized canvas tote bag
By
Frances M.

(Macomb, MI) - February 12, 2014 (
See all reviews by this customer
)
Adorable bag I purchased for my little grand-daughter. The bag is much larger than I expected, a nice size for when she comes to grandma's house for a visit and brings her toys.

Fast and perfect as always
By
Shopper

(Aurora, IL) - February 7, 2014
I Love You Guys. You Make Me Look Good Even With Last Minute Gifts. I APPRECIATE That The Personalization IS So Versatile So Gifts Can Be Adapted For Many Occasions. For Example I Used The Name Meaning (Suggested Use), Bag To Reward A Man Who is Our Top Girl Scout Cookie BuYer By DeliverIng The Cookies Incuding a Personalized Bag ThAt Can Be Used By His Entire Family.

Worth It
By
Shopper

(Drexel Hill, PA) - January 25, 2014
The bag was big and well made. The personalization design and quality was excellent.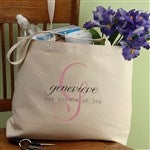 Perfect!
By
Anquilla H.

(McDonough, GA) - December 30, 2013 (
See all reviews by this customer
)
I love PMALL!!!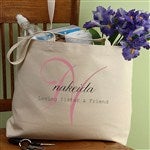 Carmen
By
Shopper

(Davie, FL) - December 27, 2013
Product was very nice quality. Very nice gift.

great teacher gift!
By
Albena A.

(Newton, KS) - December 19, 2013 (
See all reviews by this customer
)
I got it as a gift for my daughter's teacher. She loved it! I did too.Very practical, personal, and meaningful.

Personalized Tote Bag
By
Lorraine B.

(Millville, MA) - December 17, 2013 (
See all reviews by this customer
)
Just wanted to let EVERYONE know how great this company is! They are quick to let you know your order is on the way! I bought MOST of the Christmas presents on this web site, and ALL the products are on the money! The quality is great and perfect!
I'm odering a lot more things, not only for Christmas either...
Thanks!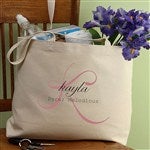 AMAZING GIFT!
By
Shopper

(Aventura, FL) - December 12, 2013
The bag is big and it'll fit a lot of things. The personalization is what makes it special! Very delicate and since I had ordered in every single color I can testify that all of them look great.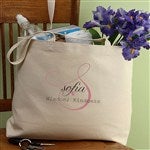 Very Pleased
By
Patti L.

(Petaluma, CA) - December 2, 2013 (
See all reviews by this customer
)
I ordered 3 of these bags for friends for Christmas and they all came out perfect. The bag itself is very high quality and sturdy and the calligraphy and meaning of the name on the front is very charming. Very functional and well worth the money!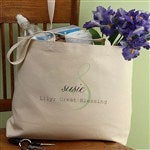 great for the money
By
linda K.

(The Woodlands, TX) - November 25, 2013 (
See all reviews by this customer
)
It is great, my girlfriend will be surprised for Christmas. The special touch, her name will be on it.

Mongram Bags
By
Deb G.

(Dansville, NY) - November 24, 2013 (
See all reviews by this customer
)
Got two of these for Christmas gifts for co-workers and can't wait to give them to them. They are so pretty and much larger than I thought they would be. A great value!!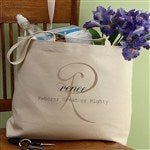 Very Nice Tote Bag And Large
By
Shopper

(Keizer, OR) - November 5, 2013
This is a nice size Tote Bag- A LOT LARGER then I thought it would be. You Can carry a lot in it. It also is made well and seems strong enough to carry heavy items in it. I got the Purple monogram color initial- it's pretty. I made up my own saying under the name I used and it turned out great. I am going to put a wrapped Christmas gift in the Tote bag. Two gifts in one !! After seeing how nice these are, I plan on ordering 2 more.

Nice Gift
By
Shopper

(Philadelphia, PA) - December 15, 2013
The bag is nice & a nice size. My daughter wished it came in different colors. I wish the font underneath was as fancy as the initial.

Great Gift Idea
By
Shopper

(Pocomoke City, MD) - November 19, 2013
I was very pleased with the size and quality of this Tote Bag...great inexpensive gift idea.