Extremely Pleased
By Shopper (Blue Island, IL) - September 11, 2014
I ordered this pillow for a 50th anniversary gift. The couple I sent it to, loved it. I love the customer service at Personalization Mall. I ordered this gift at 8:00 p.m. on a Tuesday evening and to my surprise, the couple had it on Thursday by 9:00 a.m. and that was with standard shipping. I have bought from Personalization Mall on several occasions and they never disappoint.

My Husband's 50th Birthday Throw Pillow
By
Judy R.

(Columbia, SC) - September 7, 2014 (
See all reviews by this customer
)
I wanted to create something special for my husband's 50th birthday. We have plaques, frames and photos from throughout the years. I wanted to do something different. When I saw the pillow on line, I thought it was perfect. When my husband opened it at his birthday party, EVERYONE thought it was so unique! They wanted to know where I had ordered it from and I happily told them Personalization Mall! It is now in a sacred spot in our sun room for everyone to continue to enjoy. Thank you.

Christmas for YaYa
By
Mary M.

(Chatham, MA) - September 6, 2014 (
See all reviews by this customer
)
Got this fab little pillow for my friend to celebrate her daughter's little family! It is very well made and the subtle colors will look great in her house!

Milestone Pillow
By
Cheryl R.

(Belvidere, IL) - September 1, 2014 (
See all reviews by this customer
)
I used the Milestone Pillow for a Wedding Shower gift and used their save the date card which they had the date they met, first date, when they got engaged,etc.
Turned out beautiful and was the hit of the shower. I was very pleased with it.I have ordered from you in the past and have never been disappointed.
Thank You Personalization Mall for another great job.

great conversation piece
By
Shopper

(Duson, LA) - August 30, 2014
This is a unique gift that is sure to bring back memories for the family of the fun surprise party that was held for a 40th wedding anniversary. The party is today and I can't wait to see them open the gift!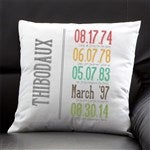 super cute!
By
melissa H.

(Chicago, IL) - August 19, 2014 (
See all reviews by this customer
)
The colors and fonts are really nice - got this for brown leather couch in our living room. It stands out and really is a conversation piece. I put the first date as the date of my husbands and I's first kiss and labeled it "it started with a kiss" the next dates were wedding, cat bday, dog bday and our baby's bday!
Love it and cant wait to order as gifts!

Important Dates in Our Lives!
By
Jeanne S.

(San Bernardino, CA) - August 8, 2014 (
See all reviews by this customer
)
This pillow is not only soft and cuddly; but, it also celebrates the unique and treasured dates to remember in our family life. I presented one as a gift for my daughter and husband on their 12 year anniversary! They were delighted and touched. Personalization is the best way to put your thoughts into writing and create a special gift for people closest to you!!!

Great Family Pillow
By
Shopper

(Little Rock, AR) - July 29, 2014
A great added touch to our new living room furniture! My family and friends loved it. It really is a priceless gift!

Perfect wedding gift!
By
Shopper

(Findlay, OH) - July 27, 2014
This website has it all and a memorabilia pillow that she will look at and rest her head on ever day is perfect. Thanks you.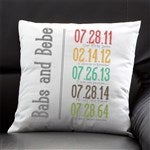 Sunshine
By
Shopper

(Binghamton, NY) - July 13, 2014
This beautiful pillow arrived sooner than expected and looks wonderful on my sofa. I ordered one for me to see the quality before ordering more for Christmas. The names were embroider on like a slip cover which goes over the pillow, the names are not on the pillow itself. What I like is if the pillow becomes worn, you can easily purchase another one and put this cover right on.

LOVE... LUV... <3... this!!!!
By
Shopper

(Lewiston, ME) - June 12, 2014
Quality is beyond belief with this company!!! Thank you for delivering a family treasure!!! Every one who see this asks where did you get this and we need one!!!! Our birthday pillow. Thanks the Mustafa Family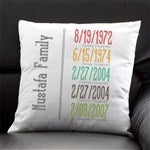 perfect gift
By
melissa P.

(dyer, IN) - May 14, 2014 (
See all reviews by this customer
)
loved it. Great price. Great quality! Priceless gift

Family Pillow
By
Shopper

(Flat Rock, IN) - May 4, 2014
I was a very personal gift for a bridal shower. My niece loved it. It brought there birthdays and wedding day all connect.

Perfect gift for my sorority little!
By
Shopper

(Saint Paris, OH) - May 2, 2014
The colors were perfect! It would be nice to have more options in colors, but they all worked so well together!

Love it
By
Shopper

(Thornton, CO) - April 27, 2014
This was a 2 yr Anniversary gift and it came out great. Overall the pillow is a little thin, but overall a great value for the price.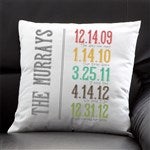 Better than I expected!
By
Nicole T.

(Rhine, GA) - April 22, 2014 (
See all reviews by this customer
)
I was worried the writing underneath each date would be too small or hard to read. Everything is perfect and beautifull.

Cute and fun
By
Shopper

(ROCKLEDGE, FL) - March 18, 2014
This is exactly as pictured. It is neat to be able to personalize to whatever works for you -- in my case, being unable to have children it got all the pet birthdays instead, along with some relationship milestones. Very meaningful whatever your unique family makeup happens to be. And I especially like the somewhat tropical colors for my Key Westy style dining room settee. My only complaint: The dark-haired dog loves to lay up against it while we eat dinner, and now the white fabric always wears his hair. Guess that's fitting, though -- he's family!

Great Pillow Keepsake
By
Shopper

(Sarasota, FL) - March 4, 2014
Ordered this pillow & it came quickly just as ordered! No issues. Simple inexpensive keepsake!

I love this product!
By
Ivana M.

(Plano, IL) - February 25, 2014 (
See all reviews by this customer
)
I love this pillow! It turned out beautiful and it was shipped so fast!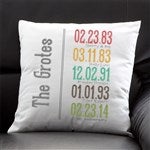 milestone pillow
By
Shopper

(Mount Airy, NC) - February 20, 2014
Good quality and very happy with how the pillow turned out! Have ordered many things from here and am always pleased!! Will order this again for someone!!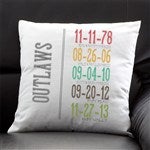 personalized throw pillow
By
Shopper

(High Point , NC) - February 2, 2014
Absolutely satisfied with our personalized family throw pillow. We've had great compliments and inquiries as to where to get the pillow.


Milestone Pillow
By
Lorenda O.

(Charlotte, NC) - January 27, 2014 (
See all reviews by this customer
)
I got this gift for my mother and she absolutely loved it. Nothing like having something with her kids names on it, I think she will cherish it forever!

GREAT item; shipped as promised
By
Shopper

(macon, GA) - January 25, 2014
Pillow was exactly what I was looking for. Anniversary gift for my wife and she loved it. Express shipped arrived when promised. Would recommend this product and personalizationmall.com to anyone.

Great Gift!
By
Shopper

(Raleigh, NC) - December 31, 2013
I purchased this as a gift for my sister and her family. She loved it! Unique but personal. Ordering and previewing the item was very easy and it arrived quickly and just as it appeared on screen.

Great Christmas Present
By
Cynthia G.

(tioga, PA) - December 26, 2013 (
See all reviews by this customer
)
This product was exactly as shown. I bought three pillows for family members and they were all impressed.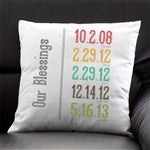 Exactly as Pictured
By
larry C.

(lake ariel, PA) - December 11, 2013 (
See all reviews by this customer
)
Ordered for my daughters-in-law, with unique personalization for each. Was able to see the exact positioning on the pillow and approve it on the website before purchasing it. Arrived very quickly, nicely stitched and personalized with colorful thread, very professional. Have never been disappointed in Personalization Mall's products, LOVE the fact that I can SEE and if necessary edit the personalizations on any product before ordering;in fact, just ordered a last minute gift with the confidence it will be shipped, personalized as ordered, and in time for Christmas

Wonderful gift
By
Candy F.

(Dallas, TX) - September 23, 2014 (
See all reviews by this customer
)
I ordered this pillow as a wedding shower gift for my friend. It arrived quickly and just as I had expected. The pillow is a tad thin, but perfect as a throw pillow for a chair or loveseat.

Great Bridal Shower Gift
By
Shopper

(FAYETTEVILLE, NY) - July 29, 2014
What a great idea for the bride/groom-to-be! All the memorable dates in their lives so far imprinted on something they can display, use, and enjoy daily. The design is fantastic....bold and very colorful. The material is very nice and the pillow firm. The only two suggestions would be to offer both in white or an ivory/ecru background, and, offer with the option of a larger size. These are the only reasons why I'm not giving a "5 star" rating. However, I would definitely purchase again if the occasion occurs.

LOVE
By
Shopper

(Pasco, WA) - March 24, 2014
This pillow is great! I love the colors and the size. I wish the amount of dates on the pillow could be changed. Rather you needed 3 or 4 you could choose. I also would have loved my pillow even more if the numbers were sewn/stitched on instead of print.


Fab Easy Gift
By
Karen J.

(Shaker Hts., OH) - March 22, 2014 (
See all reviews by this customer
)
What a fabulous and well made gift! My new "go to" gift for all occasions. Ordered for my parents 55th Anniversary and I was surprised how easy and quickly it was to personalize. First time purchasing from this site and I was impressed with how quickly it was made and sent. Loved the proof for me to approve and make corrections. Everyone can find use for a pillow. Material is soft. My only issue is I wish the colors of the personalized lines were more vibrant.

Very Nice Small Pillow
By
Shopper

(rockville centre, NY) - December 27, 2013
This is a very nice product but the pillow was a little smaller than I expected. I love mine but don't think I would buy it as a gift as it is really too small. I would have given the pillow 5 stars if it was the size of a normal throw pillow.

Great Colors and Printing, but very slight on the stuffing!
By
Deborah M.

(Johnson City, TN) - December 3, 2013 (
See all reviews by this customer
)
Love this unique pillow! I am giving it to my son and his wife for Christmas. (Actually I already gave my daughter-in-law a peek & she was so excited!)The printed colors are just as shown and I listed the dates of my son & his wife's first date, wedding date and all 3 children! The only slight complaint I have is that the pillow is lacking in the stuffing dept. It is almost flat, but the individuality and uniqueness of this pillow overrides the lack of stuffing.