Glass memorial ornament
By
Michelle S.

(Upatoi, GA) - September 16, 2014 (
See all reviews by this customer
)
I have yet to be dissatisfied with anything purchased from this company! The personalized ornament in memory of my father came out absolutely beautiful. It was created in memory of 1 year of his passing. As all items previously received, it was ordered, received quickly and exactly what I had hoped it would look like. The beautiful pouch it came in was an extra special touch.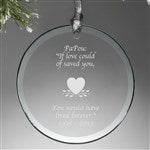 Surpassed my expectations
By
Kimberly E.

(Athens, AL) - July 26, 2014 (
See all reviews by this customer
)
Great service! Great product for the price! Unbelievably fast delivery! Will use again!

Love this
By
Shopper

(SULPHUR, LA) - July 19, 2014
I have loss both of my husbands to massive heart attacks. I was able to create an ornament thanking God for the love of these two wonderful men and the dates of their death. It will remind me how lucky I was to have, twice, what some people search for and never find.

Create your own round ornament
By
Carol L.

(Woodstock, OH) - June 29, 2014 (
See all reviews by this customer
)
I have purchased many personalized ornaments from Personalization Mall over the years and have never been unhappy with my purchase. They are excellent quality, beautiful ornaments. I recently purchased ten of the round ornaments and each one is perfectly flawless. These make wonderful gifts for anyone on your gift list. If you are looking for that extra special personalized gift for someone, I highly recommend the Personalization Mall glass ornaments.

Very nice
By
Paula C.

(East Freetown, MA) - May 6, 2014 (
See all reviews by this customer
)
Ornament was very pretty and met my expectations. The engraving was nice and I wouldn't hesitate to order these again.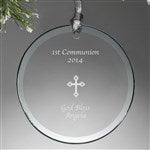 Such a great option!
By
Shopper

(Rochester, MN) - January 28, 2014
Creating your own ornament is an awesome option! This can be used for so many special moments (baptism, getting a "letter" in school, first communion, engagement, anything that you would like to commemorate). Thank you for having this available. The lastest one I ordered turned out wonderfully!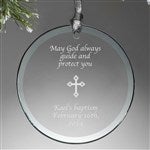 BEAUTIFUL!!
By
Diana N.

(Chicago, IL) - January 7, 2014 (
See all reviews by this customer
)
I was able to personalize this beautiful ornament for my daughter in a very special way. She loved it!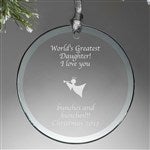 Beautiful gift!
By
Matthew L.

(Sterling Heights, MI) - January 2, 2014 (
See all reviews by this customer
)
I had this ornament made for someone special and I got to see it in person, it turned out beautiful! I highly recommend this site for any personalized gift!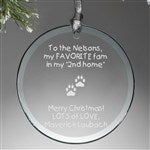 Beautiful
By
Shopper

(Denver, CO) - January 1, 2014
I ordered two and they both turned out great! Having a beautiful, simple, and personal gift can really make all the difference!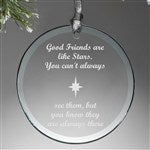 Wonderful Ornament!
By
Shopper

(San Dimas, CA) - December 31, 2013
I ordered an ornament at the very last minute that had to be engraved and it arrived in only two days and is gorgeous! I will absolutely be back next year for more!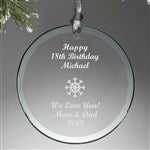 clear snowflake
By
Shopper

(Easton, PA) - December 30, 2013
Wanted this to commemorate a special date. I loved this!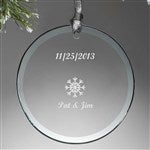 even nicer in person
By
Lynn R.

(Phoenix, AZ) - December 28, 2013 (
See all reviews by this customer
)
The personalized ornament was even nicer than I expected.

Prettier than the picture!
By
Susan S.

(Madison, AL) - December 25, 2013 (
See all reviews by this customer
)
The site allows you to see & approve your ornament before ordering, but the photos do not do it justice! So pretty!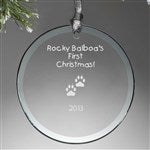 Excellent gift
By
Kristi C.

(Denver , CO) - December 23, 2013 (
See all reviews by this customer
)
Very classy. We bought one for our dog walkers.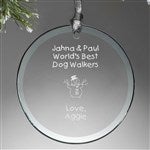 Beautiful
By
Deborah D.

(Seffner, FL) - December 23, 2013 (
See all reviews by this customer
)
Everything was perfect! Exactly as it was described and pictured!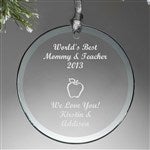 JLee
By
Shopper

(HILTON HEAD ISLAND, SC) - December 16, 2013
Everything I wanted it to be, the ornament is lovely.







Beautiful
By
Shopper

(Stafford, TX) - December 11, 2013
Beautiful ornament just like it show on web site

Always Satisfied
By
Shopper

(Red Hook, NY) - December 8, 2013
I have ordered from Personalization Mall in the past, and never had been disappointed. The item appears better than online, and I received the item within days.

Perfect Gift!!!
By
Shopper

(Brockton, MA) - December 4, 2013
This item makes an amazing/thoughtful gift. I have personalization mall make "things" for my family & fiends every couple years or when there is an addition to the family... A+ service = never had an issue and misprint!!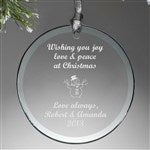 Great Ornament
By
Shopper

(Erie, IL) - November 17, 2013
I bought two of these. They turned out great for the value. I would definitely buy more!

simple and elegant
By
KellyAnn B.

(Mastic Beach, NY) - November 5, 2013 (
See all reviews by this customer
)
We ordered 2 of these. One for my daughters teachers aide in kindergarten. The other for her very patient bus driver. The bigger kids try her patience! Anyway, these are very pretty ornaments and we are happy with them! Thank you!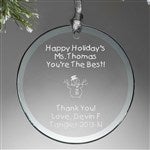 Nice
By
Shopper

(Salem, OR) - January 8, 2014
The personalized Ornaments I ordered were very nice along with the attached ribbons and little bags they came in. I would order from you again but much earlier than I did this time as only one was received by Christmas.

Perfect for anyone
By
Erin S.

(Shirley, NY) - December 27, 2013 (
See all reviews by this customer
)
Quality was nice, as well as the engraving. I liked the choices of symbols I could choose from too.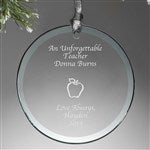 Very Nice!
By
Shopper

(Bonne Terre, MO) - December 25, 2013
Very nice ornament. Very good quality and cut glass! Picture was a little smaller than I thought and words were a little bit hard to read, but overall, I am extremely happy with this item!!

Great place to shop.
By
Shopper

(Merrick, NY) - November 10, 2013
Always great service and quality.

cute but need magnifying glass to read
By
Shopper

(Sunbury, PA) - November 30, 2013
The ornament is very nice but so disappointed in the printing. You can't begin to read it when it's on the tree it's to read in your hand. Would love it if the printing was a little larger. Very fast shipping.