Great race memories
By
Cindy N.

(Converse, TX) - June 3, 2014 (
See all reviews by this customer
)
Love this idea! Mine came out awesome. A great way to commemorate a race!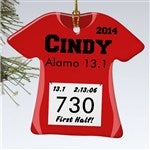 Bridie's Marathon
By
Vicky M.

(Farmington Hills, MI) - January 19, 2014 (
See all reviews by this customer
)
When I saw this ornament on this site, I had to order it for my daughter for so many reasons! The quality of this product is exceptional as well as the info allowed for printing on it. Everything I've ordered from Personalization Mall is high quality, has a memory attached to it and will be cherished for years to come! Thank you again!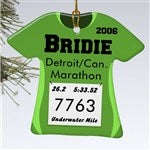 The Most Personalized Ornament Ever!
By
Shopper

(Park Ridge, IL) - December 3, 2013
I love this personalized T-shirt ornament. It was the perfect thing for my son who has run his second marathon. It has all the important information and will be treasured for many Christmases to come.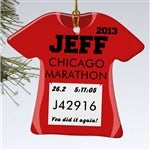 Very, very satisfied
By
Shopper

(Battle Creek, MI) - December 2, 2013
I bought two Race Day Personalized T-shirt ornaments for my daughter and son-in-law as they both accomplished races they had never done before. The ornaments were just as the website. Lettering is very neatly done, and all the information was correct. I could not wait until Christmas to give them as a gift, so I gave them the ornaments on Thanksgiving Day so they could enjoy them this year. Both of them loved the ornaments, and asked where I bought them so they could also start buying personalized items for other people. Neither will ever forget the details of the race of their life because of these beautiful ornaments.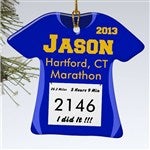 Never Disappointed
By
Torra M A.

(Redford, MI) - December 2, 2013 (
See all reviews by this customer
)
My sisters both ran in the Free Press Marathon so what a great way to acknowledge their accomplishment. This ornament was so much more than I expected! As always I was not disappointed...GREAT JOB AGAIN!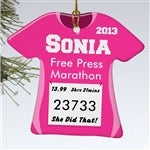 Best runner ornament I've found!
By
Karin B.

(Memphis, TN) - November 4, 2013 (
See all reviews by this customer
)
I like to buy at least one ornament per year that represents something particularly poignant (an accomplishment, new hobby, or other significant milestone) that occurred to me or my family.

I took up running last year, but all the running ornaments I found were very generic and impersonal. This year (2013), I ran a half marathon to raise money for the Spina Bifida Association of America. This ornament is PERFECT for reminding me of this special event. I am very pleased with the quality of the item; it's just what I would expect from Personalization Mall.

I would definitely recommend this ornament for the runner(s) in your life!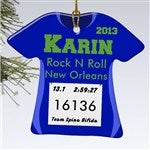 Great to remember a great race
By
Shopper

(king george, VA) - December 13, 2013
Great gift for the person who doesn't really need anything, but is proud for something they have accomplished. The ornament was beautiful and well crafted!

Race Day Ornament
By
Shopper

(Oxford, MI) - December 9, 2013
Excellent quality-extremely happy with ornament-writing is very clear! Gave to co-worker and she was so excited.

Loved it!
By
Megan G.

(Nottingham, MD) - December 4, 2013 (
See all reviews by this customer
)
I purchased this ornament for myself and as a gift for my sister after we ran our 1st 1/2 Marathon and we both loved them! I loved the fact that we could not only personalize them with our names and the name of the race, but also with our actual bib numbers and times!

Mammaw's Personal Gift to GrandChild
By
Kathleen M.

(Vero Beach, FL) - December 19, 2013 (
See all reviews by this customer
)
Each year I select a very personal ornament for each of my grandchildren. An ornament that showcases something of importance to the specific child. My 9 year old ran in her first 5K, therefore, this ornament was perfect. I was thoroughly delighted with all the "personalization" options connected with this item!!!!! Colors for the T-Shirt, Colors for the Printing, Lots of space for info!!! Unfortunately, I will have to provide one negative statement. The very top line in the White Box; I chose the words 5K So. Beach. Sadly, it is soooooooo small, it cannot be read. Everything else was superb.

Great
By
Joyelle M.

(Buxton, ME) - December 18, 2013 (
See all reviews by this customer
)
I was able to list everything I wanted to. Just wish they had a deeper green color available for the ornament but I was impressed with the finished product

Race Day Ornament
By
Pamela B.

(Blythe, CA) - November 16, 2013 (
See all reviews by this customer
)
I ordered this for a friend who recently worked hard and ran her first 5K and finished it without stopping, running the whole way. She was super excited and I thought this would make a great gift to serve as a reminder of her success. I was excited to order it and was pleased with it when I received it. This is a great gift. The color was vibrant. I would recommend ordering this!

Perfect gift
By
Barbara M.

(Burkeville, VA) - November 10, 2013 (
See all reviews by this customer
)
Such a special unique gift. Came quickly.

Love it!
By
Robin C.

(San Antonio, TX) - December 24, 2013 (
See all reviews by this customer
)
I love my personalized ornament!! Love that I could personalize this with MY race numbers!!

Great
By
Shopper

(Canton, MI) - December 23, 2013
Bought this for my son-in-law, he's absolutely going to love it!!

VERY pleased
By
Rita S.

(sykesville, MD) - December 25, 2013 (
See all reviews by this customer
)
I purchased two ornaments for XMAS for my daughter and son-in-law who ran their first marathon this year. They LOVED them. I think they may have been one of their favorite presents. Made me feel so happy that they were so pleased.

Great product
By
Jessica W.

(Little Falls , NY) - July 27, 2014 (
See all reviews by this customer
)
This product exceeded my expectations, it arrived beautifully packaged . It's a great reminder of completing my first 5k. Do not hesitate to purchase this!!

great unique purchase
By
Shopper

(Warsaw, IN) - January 7, 2014
This is a great way to keep a memory of "The" race or race achievement you have accomplished! This is a quality product. Nice weight, not cheap or flimsy. Nice size. Great purchase. I will be getting more of these for myself, friends and family! Not just for the Christmas tree. I will keep this out all year on an ornament hanger.

Marathon keepsake ornament
By
Susan C.

(Elmhurst Township, PA) - December 17, 2013 (
See all reviews by this customer
)
this is a beautiful ornament. More than enough ways to customize details of a race

Great gift any time of year!
By
Shopper

(Kingston, IL) - December 16, 2013
When I ordered this I expected a longer wait but it came quickly. It is a neat gift idea for any racer. Just know their bib number and finish time and you have a personalized item worth display all year long, not just on a Christmas tree. The ornament is a glazed ceramic piece that is not to heavy to hang on a tree. My wife will be tickled with it.

Nice ornament!
By
Shopper

(Waukesha, WI) - December 15, 2013
I ordered this for my son who ran the Chicago Marathon. It is nice to be able to put his time and his bib number on the ornament. That will make it extra special. It came very quickly. I would recommend it to others.

One of a kind
By
Shopper

(Manteno, IL) - December 16, 2013
Very pleased to see this available for marathon runners. Exactly as pictured and nicely wrapped.

Thrilled!
By
Shopper

(Libertyville, IL) - December 17, 2013
I can't wait for my kids to see these ornaments celebrating their very first marathon. It was so fun to create them in colors that matched what they were wearing that day. Creating the ornaments was so easy on the web site and they arrived so nicely packaged- I will definitely order again!

Gift for my husband's first marathon.
By
Shopper

(St. Louis, MO) - December 16, 2013
I bought this as a gift for my husband. He's always been hard to buy for, so I try to find small things representative of activities he enjoys. After several 5Ks and half-marathons the last two years, he ran his first full marathon in October. It's one of his major accomplishments this year. I was so excited when I found this adorable ornament to mark this milestone for him. I am sure he will love it as much as I do.