Love them!
By
Cathy B.

(Flower Mound, TX) - August 19, 2014 (
See all reviews by this customer
)
I love that I have found a place that does good quality workmanship. Both of my grandchildren, Sailor & Crew have names you can't find stuff with their names on it, so I have to have items made. The quality and delivery is awesome!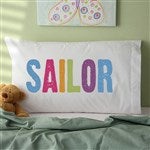 Awesome Item
By
Donna T.

(Stephenville, TX) - July 31, 2014 (
See all reviews by this customer
)
My grand daughter loves her new personalized pillow case. It is of good quality material and nice colors. I will be ordering her another one with her middle name so she will have one for both of her bed pillows.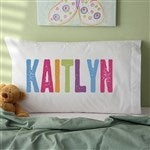 Adorable
By
Daniela V.

(Alpharetta, GA) - June 20, 2014 (
See all reviews by this customer
)
I love these - I bought a few to ship to overnight camp to my nieces and stepson as a 'care package'; they arrived quickly, and the kids loved them. My stepson's pillowcase is back home now, and I have washed it. It held up great, and the fabric is of good quality - not cheapy cheap. Not Egyptian cotton or anything, but just fine. VERY happy with this purchase, and the quick service.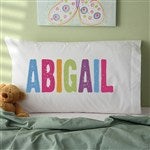 Personalized Pillowcases
By
Allison T.

(Saltillo, TX) - May 28, 2014 (
See all reviews by this customer
)
I ordered personalized pillowcases to give as gifts to my beautiful daughters. I was so impressed with the quality and designed of the pillowcases that I bought my nieces and nephews one. I purchased the pillowcases when they were advertised through the "Daily Deal Discount" and had a coupon for free shipping. Worth every penny!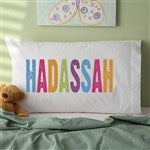 Slight odor
By
Shopper

(Baldwinsville, NY) - April 19, 2014
The pillowcases were adorable and the colors as shown. I loved them but hope the slight odor comes out with the first wash.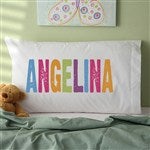 Nice printing, king size pc, just ok quality pc material
By
Shopper

(Murrieta, CA) - April 8, 2014
I don't think this will be used as regular pillows, as the quality of the pillowcase material is just so-so, but the printing is well-done. The size of the pillowcase is not standard but I'm guessing king. I debated on first AND middle names and went just w/the first names, so the printing is large. I'm still not sure which I'd prefer...guess I might order some more :-)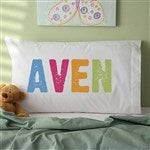 LOVE IT!
By
Jessica W.

(Menomonie, WI) - March 17, 2014 (
See all reviews by this customer
)
I love personalizing stuff for my 18mo old son, so I love this pillow case! Love how the letters are nice and big and the colors! Would definitely recommend it!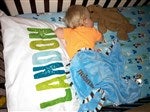 personalized pillow cases
By
Shopper

(Brooklyn, NY) - March 16, 2014
I was sort of hesitant about ordering the personalized pillow cases as gifts but they turned out to be of great quality and I am very happy that I made the purchase. My son and grandkids loved them. I highly recommend this website for personalized gifts. All their products are of good quality.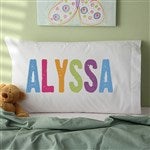 Love it!
By
Shopper

(Hunt Valley, MD) - March 16, 2014
Bought two of these pillowcases--one each for my little boys who share a room. They are wild about them--who doesn't feel special with your name emblazoned big on something?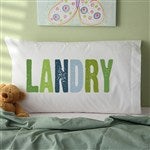 Teen Sleepover Surprise
By
Shopper

(Alexandria, VA) - March 10, 2014
The girls thought they were just sleeping in the usual hotel room for a night...if you could have seen their eyes as they walked into the room to see their names on the purchased pillows with personalized pillow cases. Especially since they have non traditional names. They loved it!!!!
I thought the letters were going to be heat set/ironed on- NOT, the colors are bright, the letters won't peel off, they wash well (I washed them upon arrival.)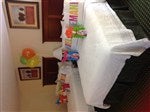 Pillow case
By
Shopper

(scottsdale, AZ) - February 19, 2014
Came just as seen, good quality too.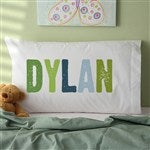 Great gift for Valentine's Day!
By
Kathy S.

(North Oaks, MN) - February 2, 2014 (
See all reviews by this customer
)
I wanted to get a gift for five Grandsons for Valentine's Day.
This is personal, unique and great for boys. The pillowcase is
something they can use for sleepovers as well as in their rooms.
The quality is good. It would be fun in red and blue for boys as well!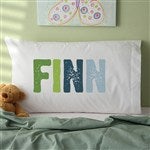 Just as pictured
By
Shopper

(Sunset, SC) - January 8, 2014
I bought several of these pillowcases in Ocean and Brights as gifts for the children of friends and family and I am happy to receive them. I had thought that the light blue letter in the ocean colors might be faded and blend into the white background, but that wasn't the case. In all of the pillowcases I ordered the letters stand out and look exactly as advertised. They are on the thin side, but I expected that. Overall I am quite pleased.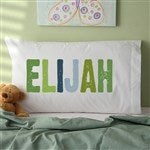 No Surprises
By
Barbara B.

(Edison, NJ) - December 16, 2013 (
See all reviews by this customer
)
The pillowcase that I received looks exactly like it does in the catalog. High quality printing on high quality fabric. It looks really nice.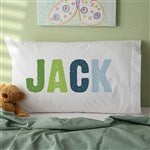 pillow cases
By
Shopper

(Brewster, MA) - January 28, 2014
So far, so good. I have not given them as the presents yet, so have not opened them, but they look great.

Fine for kids
By
Shopper

(Pasco, WA) - March 24, 2014
I like that the pillow cases have my children(s) names on them however the quality of the fabric is not very impressive. I have yet to wash them so I'm unsure how the print will look after being washed. I wish the fabric was nicer and perhaps softer. (but my children love them so, money well spent)

adorable
By
Shopper

(New Brunswick, NJ) - December 15, 2013
Bought these for my kids for sleepaway camp. They are very excited to use them! They looked exactly as ordered. May order them a second one each. Have washed them once - they need to be ironed though- but it's kids and they don't care.

Pillow Cases
By
Shopper

(Sheffield Village, OH) - August 10, 2014
I chose your pillow cases over other stores because of the large print in addition to the design and colors not focusing on the toddler/preschool age as most personalized pillow cases of this type do. The standard choice of just "pink or blue" grows old. Since my grandsons are past that age, these are perfect. I just recently discovered Personalization Mall but have already ordered several items and have been satisfied with the quality of all of them and will continue to shop here. Thank you.

Pillow Pleasers
By
Michele B.

(Greensboro, NC) - April 22, 2014 (
See all reviews by this customer
)
I ordered these for my two grandchildren for Easter. I rolled them up and put them in their baskets. Part of the fun was they had no idea what they were until they unrolled them and were excited to see their names. Great stocking stuffer too! I gave my daughter the idea that when they outgrow the pillowcase for their bed, they can use it for trick or treating on Halloween. Everyone knows whose candy is theirs with the name right on the front. :)

Personal pillowcases
By
Shopper

(Sugar Land, TX) - April 13, 2014
Since I do not sew, this were perfect solutions for me! Thanks!

Excellent product
By
Linda M.

(Staten Island, NY) - May 7, 2014 (
See all reviews by this customer
)
I bought this personalized pillowcase for my grandson and it was done wonderfully. The colors were bright [green/blue] and large lettering make this a standout!