Parent Pleaser
By
Shopper

(Many, LA) - June 22, 2014
I had these made for my dad for Father's Day. He is hard to shop for and he still loves the cup you made for him last year. He was surprised by the photos I chose for the coasters and displays them in the living room. He changes the front coaster every week so he and Mom can enjoy the different memories. Thanks for such great gift ideas.

Great product
By
Linda A.

(FUQUAY VARINA, NC) - June 18, 2014 (
See all reviews by this customer
)
These coasters are terrific.
I was given some as a gift several years ago and they have held up well. I use them every day. I decided to order some new ones and update the pictures.
The pictures on the coasters are great. The clarity is so that the pictures just pop out at you.
The coasters are well made with a cork backing. They are thick so they won't bend or break easily.
They offer you four different picture options , one for each coaster. They also come with a little stand to put them in. It's like having a mini picture album.
Love these. Will order more.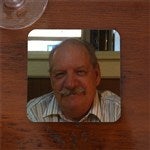 If you use good photos they're great
By
Jennifer T.

(Chicago, IL) - June 17, 2014 (
See all reviews by this customer
)
I ordered two sets and used some photos taken from a digital camera and some from my phone. The higher quality photos turned out great, they look fantastic. But when you're choosing photos and the warning comes up that it's not the best picture quality or file size (I can't remember exactly what the warning said) pay attention because it's a noticeable difference in quality of image, even if it looks great on your computer screen/product review. that's my fault for not listening, otherwise great

Wow!
By
Shopper

(Saint Charles, MO) - June 12, 2014
The coasters are absolutely beautiful! The product is high quality and the website does not do them justice. They are like useful works of art.

Better than expected
By
Shopper

(CHATTANOOGA, TN) - May 16, 2014
The coaster's pictures are very bright and sharp. They really turned out perfectly. The holder is some dark wood. The really outstanding thing is that they arrived 2 days after I ordered them. 2 days. Created, shipped, and arrived.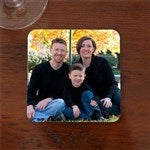 Family coasters
By
Cheryl P.

(Franklin, NC) - May 13, 2014 (
See all reviews by this customer
)
I ordered coasters as a Mother's Day gift for my mother and daughter. Everyone loved them. The quality was really good and I received my order extremely fast. I would use this company agin

Really like it!
By
Caio D.

(EVANSTON, IL) - February 28, 2014 (
See all reviews by this customer
)
Good idea for gift!

Great product!!!
By
Shopper

(Ashley, PA) - February 22, 2014
The coasters came out great and they are a great idea.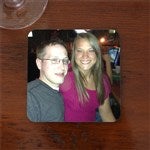 Wonderful Gift
By
Shopper

(Seattle, WA) - February 21, 2014
They looked great! Pictures turned out wonderfully and glossy finish looks like it will withstand drinks!

Fantastic!
By
Megan F.

(Schaumburg, IL) - December 31, 2013 (
See all reviews by this customer
)
This is one of my favorite gifts I have ever given. It is a practical idea and the photos allow you to make it very personal and to show some favorite family memories on the table where they are in plain sight for all visitors.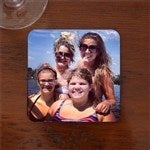 A special gift
By
Shopper

(Sherwood, AR) - December 31, 2013
Great quality coasters and mahogany wood stand,the recipients LOVED them bought them as a Christmas gift and had photos of their new puppy put on them. A wonderful gift.

Looks too good to use!
By
Shopper

(Watertown, WI) - December 28, 2013
The product is wonderful.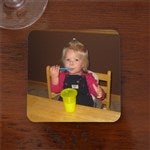 Best coasters ever
By
Farah T.

(Chicago, IL) - December 25, 2013 (
See all reviews by this customer
)
Pics came out so clear and pretty. Get to hold the memories forever!

Great gift!
By
Shopper

(Ormond Beach, FL) - December 25, 2013
What a wonderful way to save precious memories! Love the coasters...so did my recipient! I had a difficult time with the ordering process, but am very happy with the end result. The customer service team was most helpful! Thank you for helping to make my holiday gift shopping so easy!

Great quality!
By
Shopper

(Cape Girardeau, MO) - December 20, 2013
I was pleasantly surprised by the quality of the photo coasters. I would order again from this company.

Beautiful Coasters
By
Shopper

(Aurora, CO) - December 16, 2013
They are perfect! Came out better than expected.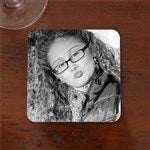 These really ARE picture perfect!
By
Shopper

(Elkmont, AL) - November 20, 2013
I ordered two sets of these coasters for my step-daughter and her new husband as a wedding gift. I used 8 different pictures from their wedding day and they turned out SO good! I was proud to give these coasters to them and will certainly order them again in the future!

Personalized coasters
By
Barbara B.

(Oakdale, CA) - November 9, 2013 (
See all reviews by this customer
)
When I opened up the coasters I was very happy!!! I'm giving them as a Christmas Gift!!! They will be such a lovely tribute to our "Poppa" !!!

Great gift idea for a college kid!
By
Arden T.

(Georgetown, TX) - September 15, 2014 (
See all reviews by this customer
)
We sent coasters with pictures of family to our daughter who is a freshman away at college. She enjoyed getting them and now has a great reminder of her family all around her dorm. We were careful to select pictures that would bring a smile to her face.