Perfect Gift
By
Josephine P.

(Mastic, NY) - August 15, 2014 (
See all reviews by this customer
)
Recently a friend of mine was sworn in as an American Citizen. Searching around I came up with the idea to get an ornament for her special occasion. I came across this site and saw I was able to create my own. My design, the inscription, the ornament itself .... is perfect. Thank you and would order from you again.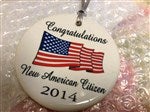 Christmas Ornament
By
Shopper

(Fonda, IA) - July 20, 2014
Personalization Mall did a great job with out picture ornaments. The colors and quality were the best and the turn around time was unbelievable. Reliable and cost effective, Personalization Mall is the place to go for quality personalization.

Christmas gift
By
Shopper

(Papillion, NE) - June 9, 2014
I liked the color and appearance of the ornament. It was the first time I tried the design your own and was pleased. It is a gift that will not be given for awhile but I know the recipient will enjoy it too!

ornaments
By
penny S.

(fall river, MA) - May 31, 2014 (
See all reviews by this customer
)
I have purchased so many design your own ornaments for me and friends. I truly love the way they came out. Personal(zation Mall does a wonderful job!!! I would recommend this company to everyone!

A really nice item
By
Shopper

(Buffalo Grove, IL) - April 27, 2014
I bought this to put inside a keepsake gift box I also ordered. It is absolutely lovely--but I found it relatively difficult to create the design on the ornament. In retrospect, I think I could have done better, but instructions were apparently nonexistent. I would definitely like to try this again.

great gift
By
Shopper

(Albuquerque, NM) - April 21, 2014
great gift and high quality materials! thank you

Excellent Quality
By
T L.

(Newton, NJ) - April 20, 2014 (
See all reviews by this customer
)
I love ordering these ornaments. I get to choose the design, graphic, photo and wording so it's really personal for the recipient. The quality is excellent and I have found my orders are delivered as promised and on time. I love the flexibility of ordering EXACTLY what I want, knowing, the quality is excellent!

wow
By
Nicole T.

(Arnold, PA) - April 1, 2014 (
See all reviews by this customer
)
The photo online doesn't do it justice. I wasn't sure what I was going to get because the photo was a generic cutout. It was absolutely beautiful. I like the stone/marble look to it

Beautiful Keepsake
By
Shopper

(Glendale, AZ) - March 22, 2014
The ornament came just as pictured & just as I designed it! Nice quality ceramic with clear lettering. Quick service too.

future memories of Christmas' past
By
Victoria T.

(smiths station, AL) - March 10, 2014 (
See all reviews by this customer
)
these little ornaments are fantastic. in my family (like most) each year brings a new ornament. you always try to find the perfect ornament to represent the child or occasion. being able to write what ever you want and a good selection of images each of the 5 kinds in our 3rd generation will have the perfect ornament to look at and remember way back when.

Perfect
By
Shopper

(Louisville, KY) - February 7, 2014
It showed up exactly how I'd designed it. The actual ornament matched the preview exactly -- no issues with margins/cut-off edges. It shipped quickly, and made a great addition to the tree!

High Quality - Great Value
By
Shopper

(Newton, NJ) - February 4, 2014
Ornament is high quality, the lettering is perfect and I feel this is an excellent value. Speedy delivery too.

Very High Quality
By
Shopper

(Newton, NJ) - February 4, 2014
Ornament is high quality, the lettering is perfect and I feel this is an excellent value. Speedy delivery too.

Personalized Ornament
By
Elissa C.

(Nitro, WV) - January 27, 2014 (
See all reviews by this customer
)
Beautiful ornament and great quality! I loved the freedom to design the ornament just the way I wanted to. It was exactly the way I designed it, and the colors as well as the size and placement of the picture looked just like the preview.

Lovely ornament
By
Shopper

(Easley, SC) - January 13, 2014
All 4 ornaments I ordered turned out really well! I did 3 ornaments with past pictures that I uploaded, and one ornament I designed with writing only. The only thing that I wished I had done differently was to leave the picture as a stripe across the center of the ornament and have a design of writing or snowflakes in the upper and lower portions. One ornament I did really stretched out a person's hair, although the receiver of the ornament was pleased with it. I will definitely be ordering more throughout the year in order to have them by Christmas. It is great way to do 'make-up' ornaments that I have missed over the years. This way I can put what year I want on each one.

Prob bring you more business!
By
Marie S.

(Nanticoke, PA) - January 11, 2014 (
See all reviews by this customer
)
So cute! Turned out great. Wonderful keepsake. Fun to keep around all year long or use as Christmas ornaments. Nice pouch and packing in bubble pocket for protection. Happy with them! Friends may do the same with their special pics!

Classic ornaments
By
Shopper

(Greenville, SC) - December 31, 2013
A few times we've been unable to find just the right ornament for a special memory - haven't been disappointed with designing our own from this website. They are a classic style and easy to design.

Best Gift
By
Dwayne/Bridget E.

(Stewartstown, PA) - December 29, 2013 (
See all reviews by this customer
)
Design your own personalized ornaments is the best gift to give. Personal and meaningful. The ornaments are fun and easy to design with your own personal touches. The turnaround time is fast. My orders were designed, processed, and shipped quickly. I received my orders within in 2 days. Everyone loves them.

Memory Ornament
By
Shopper

(Cary, NC) - December 29, 2013
I purchase an ornament for my 2 nephews every year, to commemorate something from that year and the last few years have all related to sports. I started late this year AND didn't think i could yet find another "football" unique ornament for the 9 year old....but i sure did by using this design your own! Little did i know the picture i uploaded for it was his first tackle in tackle football, it turned out so well!!! and i added his team name, year and #. Very very pleased.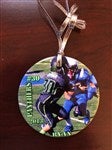 Personalized Ornament
By
Kimberly T.

(Friendswood, TX) - December 29, 2013 (
See all reviews by this customer
)
Awesome product, quick turnaround!!

perfect gift
By
Wesley S.

(Tigard, OR) - December 26, 2013 (
See all reviews by this customer
)
The personalized ornament was a huge success my sister and my both loved them,I plan to get more through out the year for next Christmas.I highly reckomend this to anyone who has thought about getting that perfect gift for their loved ones.

Keepsake Ornament
By
Lisa B.

(Visalia, CA) - December 26, 2013 (
See all reviews by this customer
)
Ordered a "design your own" ornament on 12-13-13 and received the finished product on 12-20-13...it was PERFECT. Could not ask for better, faster...we will enjoy this ornament for years to come, and I plan on ordering more as they years go by. GREAT price, WONDERFUL ornament!

Great Holiday Gifts!
By
Josh I.

(Norwood, MA) - December 26, 2013 (
See all reviews by this customer
)
I bought these for my staff at work. We have a fantasy football league at work, so I made team ornaments for them to hang on their trees. They were a huge hit and the staff all loved them. And it was a very reasonable price for having to buy a bunch of them at once!

Jackie Ornament
By
Shopper

(Island Lake, IL) - December 26, 2013
Love, love, loved, the way to personalize this round ornament. This was the hottest idea I found this year. Great service, even when a blemish occurred and one had to be remade. Customer service was amazing. Great quality, fast turnaround time and speedy delivery. Will shop here again and again!

better than expected
By
Kathy M.

(PLYMOUTH, MA) - December 20, 2013 (
See all reviews by this customer
)
I uploaded a picture of a picture and never expected it to come out so nice. very pleased with the quality of the ornament. This is my second purchase and I will definitely make another one

PRODCUT
By
Shopper

(SCHWENKSVILLE, PA) - December 13, 2013
I FOUND THE PRODUCT TO BE OF EXCELLANT QUALITY. VERY EASY TO DESIGN PERSONAL PICTURE. I WILL BE ORDERING ANOTHER THIS WEEKEND.

Personal Touch
By
Shopper

(Sterling, VA) - December 13, 2013
I ordered 3 of these custom ornamanets for my 3 older sisters. I am going to use them in place of a gift tag on their presents. Reasonable price and good quality.

Memory
By
Susan W.

(Arnold, MO) - December 13, 2013 (
See all reviews by this customer
)
Used a picture of my son who passed and hung it on my tree. Considering getting one of each of my parents to hang also next year.

Very impressive & professional????
By
Shopper

(New Milford, CT) - December 10, 2013
Before I found this website I had ordered photo ornaments from another site. The difference in quality was remarkable. The clarity & it's finish was beautiful. When I ordered this ornament I also ordered another which u had designed (baby's 1st Christmas) w/the babies name & age on Christmas along w/another photo ornament I got w/a pic of tin man & my nephews name & year on it.(he was in the Wizard of Oz school play)They are ALL so beautiful. I just designed another 1st Christmas pic of my grandson & will order 2 of those on an ornament. Don't bother w/other sites or store photo dept. This is where u go if u want good quality & excellent service. Thanks Personalization mall????

Awesome Christmas present
By
Jan P.

(Oklahoma City, OK) - June 12, 2014 (
See all reviews by this customer
)
Had a Christmas ornament made for my sister with her kids' picture on it. She will love it.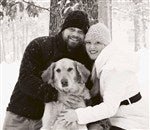 I ordered two of these and was pretty happy overall
By
Shopper

(Dallas, TX) - January 2, 2014
I ordered two of these in Dec 2013. Overall they were of good quality, and the price was very reasonable (I paid $9.99). The only gripe I have is that one of them was of a fairly dark photo, which I of course knew. However, the finished product was even darker than the original photo. It came out very, very dark. I was disappointed. The other one was very nice. Overall, this is a great product.

Great result, creation software issues
By
Shopper

(Medford, NJ) - December 16, 2013
The result of this order was a truly one-of-a-kind ornament for my daughter.
It took a long-time to get there as the software kept messing up my design.
(It was rather complicated, however.

Vicki's review
By
Vicki D.

(Newmarket, NH) - December 14, 2013 (
See all reviews by this customer
)
I designed my own ornament for a couple that said "our first Christmas" with a wedding picture on it. It came fast and looked lovely. I would make the fonts a little bigger if I did it again because the words were really tiny. They loved it though and it really looks nice.

imperfections
By
Shopper

(North Fort Myers, FL) - December 12, 2013
On one star ornament, the picture was slightly off center which left the date at the bottom only partially visible and the other had a couple of very small dots on the face of the person in the star.