Remembrance of our son.
By
Michael W.

(Noblesville, IN) - September 7, 2014 (
See all reviews by this customer
)
Our son passed away in June, 2014. He loved to fish. I came across this product. I thought what a gift to give to his fishing buddies. Everyone of them that I give to. They love them. We couldn't have given them a better gift of Remembrance of their best friend and our son Eric.

Amazing Gift
By
Hazel B.

(Martinez, CA) - August 15, 2014 (
See all reviews by this customer
)
Personalization mall has never failed me since the day I started buying the gifts. This is the best gift for anyone who loves fishing. I absolutely loved my gift, the preview at the end before purchase is exactly how it will turn out!! I highly recommended buying this item ??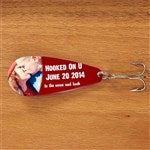 My husband loved them!
By
Rhoda F.

(Elrama, PA) - August 4, 2014 (
See all reviews by this customer
)
I bought two of these from each of our daughters. For a just because gift. My husband loved them both, even took them to work to show his friends. I was very happy with them also. Although I do not think he will actually fish with them! They will be a great decoration.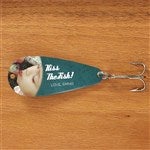 Husband's 50th
By
Alison T.

(Ponte Vedra Beach , FL) - August 1, 2014 (
See all reviews by this customer
)
He LOVED it! Turned out great! Your products are wonderful! Always know what I receive from you will be QUALITY! Thank you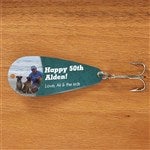 PERFECT!!!
By
Shopper

(Vancleave, MS) - July 31, 2014
I knew this would be the perfect gift for someone special! It came in with my expectations being met and completely satisfied! Great quality and picture is perfect!! I am totally satisfied with my order!!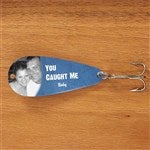 Great gift
By
Michael W.

(White Lake, MI) - July 19, 2014 (
See all reviews by this customer
)
This was so amazing my husband loved it and will cherish it forever from his fishing bud his daughter (11)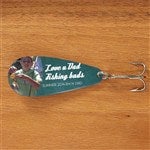 Great Gift Idea for the Fishermen in your Life!
By
Kimberly S.

(New Albany, PA) - July 18, 2014 (
See all reviews by this customer
)
Purchased 2 of these and the quality was great. The pictures and lettering were printed very well no blur or smudges. Giving to Grandparent for a retirement gift. They came quickly and in the time frame they said they would. I have ordered shirts before and their work is great.

Great Gift
By
Margaret H.

(Philadelphia, PA) - July 5, 2014 (
See all reviews by this customer
)
My brother is a HUGE fisherman and is getting married this October. I purchased this for him with a picture of him and his fiancé that reads, "Just Married 10/3/2014 Mr. & Mrs ______" He will LOVE it!

I also ordered one for my husband (also a big fisherman) with our wedding picture that reads, "Happy Anniversary! I love you!". He loved it!!

I am very pleased with this product. They will obviously be displaying this and not actually using them for fishing.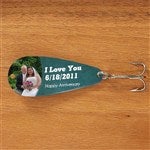 real nice
By
donny M.

(mooresville, IN) - June 29, 2014 (
See all reviews by this customer
)
I have had a kidney transplant it will be eight years in july I got this for my son he doesn't know yet I told my wife this is to go to him when I pass me and him have had a lot of times fishing together thank you this I hope will be the perfect momentum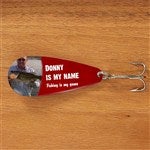 loved it
By
Shopper

(lakeville, MA) - June 21, 2014
Bought my husband a personalized lure with a picture of him and his baby girl fishing. He absolutely loved this gift. Thank you personalization mall!!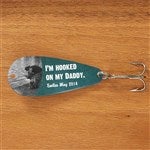 Perfect Unique Gift
By
Shopper

(Metairie, LA) - June 19, 2014
A creative alternative to the classic Father's Day gift (or anytime of the year for your favorite fisherman!) I purchased 3 so he could utilize them, and still save one if he wanted. He placed one in a shadow box with the custom card I also made from this site. I couldn't be happier with the product and his reaction!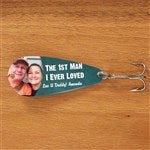 Absolutely Perfect
By
Shopper

(WARTBURG, TN) - June 10, 2014
I received my product today and this is absolutely perfect for the fishing dad! Looks exactly as shown and looks wonderful in person.

Father's Day Present
By
Tiffany H.

(Ashland, NE) - June 10, 2014 (
See all reviews by this customer
)
My kids gave this to their Papa's...both loved it...special memories with them..

Fishing
By
Shopper

(Trinity, AL) - June 9, 2014
Love it so cute

Great gift
By
Jill R.

(Fort Pierre, SD) - May 27, 2014 (
See all reviews by this customer
)
It was quick and easy to design. Great add on to a fishing pole gift.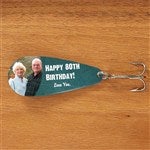 Fishing Lure
By
Shopper

(Louisville, KY) - May 21, 2014
I saw this and thought it was a great present for my Dad for Father's Day since he loves to fish. I was so excited to receive it and it looks great!! I love it and I can't wait to give it to him!!!

awesome
By
Anicee S.

(Pico Rivera, CA) - July 27, 2014 (
See all reviews by this customer
)
This was exactly egat I was looking for. Perfect gift for my boyfriends bday. Luv it

Lure is nice but IMPOSSIBLE key ring
By
Shopper

(Richmond, MI) - August 4, 2014
The actual lure came out nice, just how pictured and good quality. However the hook is not attached and you have to attach it yourself with this tiny keyring that is absolutely IMPOSSIBLE to put on. I tried for about half an hour to put it together and just ended up with a scratched lure and bloody hands from being poked with the hook. What a mess!! I can no longer give this lure as a gift because I scratched it so much trying to attach it to the mini key ring that it comes with!