Engraved Anniversary Photo Frame
By
Cathleen C.

(Chicago, IL) - August 8, 2011 (
See all reviews by this customer
)
I was searching for a personalized 50th Anniversary gift for my cousin.I found the Anniversary Memories Photo Frame which offered several beautiful phrases to choose from or I could write something in my own words.It was the perfect gift,something I knew they would treasure.I was able to order the product on a rush shipping basis. My order was delivered within 2 business days.The product and services offered through Personalization Mall are outstanding. I will check here first before looking anywhere else for future purchases.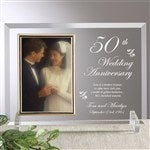 Beautiful Frame
By
Nancy D.

(Jackson, NJ) - August 7, 2011 (
See all reviews by this customer
)
I purchased the Anniversary Memory Frame for my aunt & uncle for their 50th Wedding Anniversary. The ordering was quick and delivery was even quicker. I purchased the item on Tuesday evening and it was delivered on Friday of that same week. As luck would have it, I live in New Jersey and they live in Ohio, at the last minute I decided to pay them a visit that same week and I was able to see my purchase first hand. The gift wrap was beautiful just as described and the frame itself was beyond my expectations. My aunt & uncle really enjoyed receiving such a beautiful piece, they can't wait to have a picture added to the frame.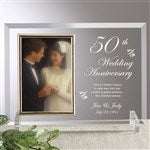 What a beautiful anniversary frame!
By
Shopper

(Tamarac, FL) - August 1, 2011
I ordered the Anniversary Memories Personalized Frame for my brother-in-law and sister-in-law for their 25th wedding anniversary. What a beautiful anniversary frame! It's very elegant and also is a wonderful memory showpiece. The recipients just loved it! I would definitely order this item again.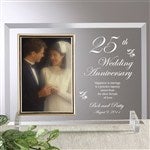 50th Golden Anniversary
By
Cora H.

(Grand Prairie, TX) - August 1, 2011 (
See all reviews by this customer
)
The frame is absolutely gorgeous and we will be proud to give it to our parents on their 50th Golden Wedding Anniversary. Thank you for doing a good job and for making part of our event a special one.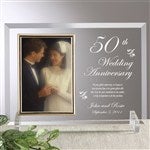 Very fast and high quality!
By
Jennifer F.

(St. Paul, MN) - July 25, 2011 (
See all reviews by this customer
)
I received my order in only a couple of days and am very pleased with the high quality of the product. I will definately order again!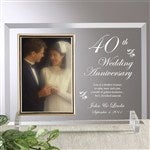 great price, quick delivery, I'll shop here again
By
steve M.

(Raleigh, NC) - July 24, 2011 (
See all reviews by this customer
)
I looked for over an hour at numerous web sites and when I came here I found exactly the item I wanted and was done in ten minutes. this was on a Friday. THEN on the next Wednesday a package arrived and I wondered, what is this. and it was the picture frame I ordered. Fantastic place all around and a wide selection.
thank you.
Steve M. 7-24-2011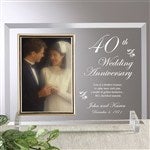 WONDERFUL GIFT IDEA
By
Shopper

(Naperville, IL) - July 20, 2011
At the last minute I was searching for the right gift for a 40th anniversary. I ordered the personalized frame and it was shipped quickly and the greatest gift! It arrived in beautiful condition and I was impressed! The anniversary couple loved the personalization and their picture I took the evening of their 40th anniversary party and inserted into the frame. What a clever and meaningful gift. Thanks for making my shopping for this event EASY!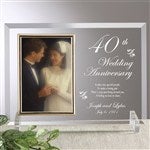 Distance gift giving
By
Linda T.

(Canada) - July 10, 2011 (
See all reviews by this customer
)
I have not seen this myself because I had it shipped to my niece to be presented to my sister & brother-in-law on their anniversay. She has told me that it looked very nice.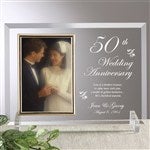 Need too fix
By
Shopper

(Wooster, OH) - June 21, 2011
The personalized frame is nice but you have to have a dark background to see it. Maybe you need to offer a colored background on it so you can see the wording easyer. Thanks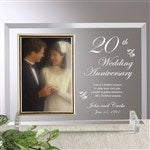 :)
By
Reneigh C.

(Oglethorpe, GA) - June 18, 2011 (
See all reviews by this customer
)
I needed a special gift for a very special couple and this personalized gift exceeded my expectations! I was sceptical about the quality because when I ordered this item it was going to be shipped within a few days!I thought oh may gosh, how could this be. Not only did I receive it in a timely manner, but I was really pleased at how beautiful it turned out!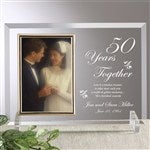 Special anniversary gift
By
Shopper

(Gualala, CA) - June 6, 2011
I wanted something special and lasting for very dear friends who are celebrating their 50th wedding anniversary. The frame arrived just as described, well-packed, and lightening fast delivery even with personalized monogramming. I highly recommend this item and this company. It's easy to slip a 4x6 photo into the photo slot on the back of the frame. My only complaint is that the photo slot is made of heavy paper which eventually could rip if photos are exchanged, and looks a bit cheap. A velvet covered slot would have been perfect. Otherwise, the frame, monogramming and service are top-notch.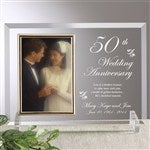 Dazzling Keepsake
By
Shopper

(Allegan, MI) - May 20, 2011
It is very rewarding to be able to find fitting gifts that can be personalized for anyone for any occassion.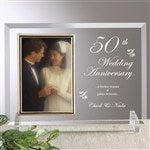 Lovely gift for parents Anniv.
By
Betty B.

(Salem, OR) - May 19, 2011 (
See all reviews by this customer
)
Arrived quickly and exactly as described. Bought for parents 55th Anniv. They were both thrilled and very appreciative. Inserted a favorite photo and now have a lasting memory of their special Anniv.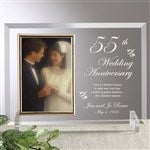 25th Wedding Anniversary
By
kathryn G.

(fairfield, VA) - May 16, 2011 (
See all reviews by this customer
)
After searching numerous stores I went on the internet and found at Personalization exactly what I wanted. The quality was excellent and will make a perfect gift for special people.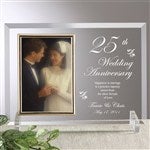 Love it
By
Shopper

(Newark, NJ) - May 2, 2011
Very satisfied with this product. Excellent quality.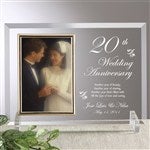 Very nice :)
By
Marlo D.

(Palm Coast , FL) - April 17, 2011 (
See all reviews by this customer
)
I am very pleased with this item. I did wonder how to upload my own photo, but realized you insert photo when you get the item :)..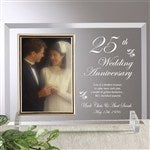 anniversary memories personalized frame
By
Mark G.

(Montgomery, NY) - April 16, 2011 (
See all reviews by this customer
)
Item was delivered as previewed. Looks great. Fast shipping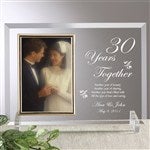 Anniversary Frame
By
Shopper

(Indianapolis, IN) - April 15, 2011
The frame looked great. The reason I didn't rate 5 stars is because of the gold around the picture part. I REALLY would have prefered silver. IT looked bright and a little tacky. Other than that i loved it. The gift was loved upon presentation. The engraving was nice and easy to read.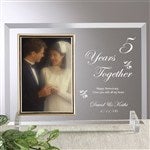 Beautiful
By
Gary F.

(Lawton, OK) - April 2, 2011 (
See all reviews by this customer
)
This frame turned out beautiful. I was very happy with my order and will order again in the future. Thanks so much!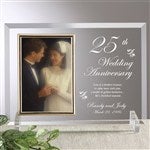 Nice anniversary plaque
By
Robert T.

(Fairport, NY) - April 2, 2011 (
See all reviews by this customer
)
I surprised my wife with this on our 10th wedding anniversary and she absolutely loved it! It holds a regular 4x6 vertical picture too. For the money, this item is surly a home run!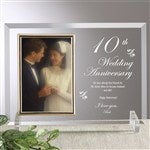 anniversary personalized frame
By
Carol C.

(Secaucus, NJ) - March 28, 2011 (
See all reviews by this customer
)
The picture frame is gorgeous and makes such a memorable gift for such a special event in married life. Also, the people at personalization mall are the nicest most cooperative people to do business with. My frame arrived broken; I was so upset and called right away. They were so accommodating, and promised to send me another one as soon as possible. They apologized and just were a pleasure to deal with! I would not hesitate to order from them again!!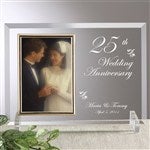 very MISLEADING
By
William W.

(Modesto, CA) - March 22, 2011 (
See all reviews by this customer
)
This item is not as the picture shows. It is very hard to read in person. In the picture it has a dark background and with out that you cannot read the writing on the glass. If you notice the picture has a light background to show up and the writing has a dark background to show up also. Without those backgrounds you cannot read what is on the glass. VERY MISLEADING I WOULD NOT RECOMMEND THIS PRODUCT TO ANYONE!!!!!!!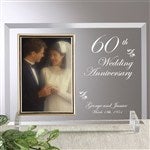 Easy to order. Liked to review with personalized names showing.
By
Cherie M.

(Simi Valley, CA) - March 21, 2011 (
See all reviews by this customer
)
This is a beautiful item . Our friends will love it.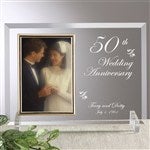 Anniversary Present
By
Vickie H.

(Maiden, NC) - March 20, 2011 (
See all reviews by this customer
)
I wanted to give my brother and his wife a special gift for their 50th wedding anniversary. Unable to come up with anything on my own I went on line and found the Personalization web site. I ordered the 50th anniversary frame. It was very pretty and the engraving was beautiful. This was a special gift at a reasonable price. My brother was surprised and pleased with the gift. They both thought it was beautiful and were going to display it right away in their home.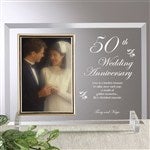 Perfect Gift!!!
By
Christina H.

(RockFalls, IL) - February 15, 2011 (
See all reviews by this customer
)
This gift was for my Daughter and Son-in-Law for their first Anniversary and it was so very special to them..A cherised gift for life!! Thank You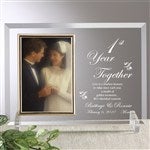 Very Elegant
By
Shopper

(Green Bay, WI) - September 8, 2014
This gift was very elegant looking. Dependently worth the price. Package was delivered in shortly after order.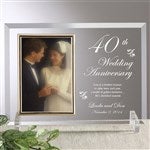 Anniversary Photo frame
By
Shopper

(Bellerose Village, NY) - July 4, 2014
Everything is just beautiful about this frame....engraving,verse. Know the party will truly enjoy.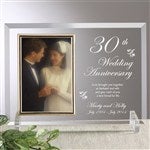 Beautiful personalized gift for anniversary
By
Debby D.

(Gainesville, GA) - April 15, 2014 (
See all reviews by this customer
)
I had trouble finding anniversary gifts and then checked out the Personalization mall. Love the help with a few phases to use. The frames are quality and perfect. Great to be able to add a picture to it from the anniversary party. Awesome Gift.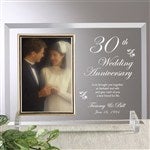 frame
By
Sharon W.

(Macomb Township, MI) - April 14, 2014 (
See all reviews by this customer
)
frame was larger than I thought it would be. It seems like the writing does not show up very good. It would be better if you put something behind it. It was still a very nice frame.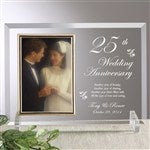 a little disappointed
By
Rose S.

(Lindenhurst, NY) - April 7, 2014 (
See all reviews by this customer
)
Loved the frame itself, it is truly a beautiful piece... however, wish there was a way for the engraving to stand out more....You have to put the glass up against a dark background to see the engraving. I ordered something from you a long time ago, and although the piece itself was very nice...I had to put a black piece of paper on the back of the plaque.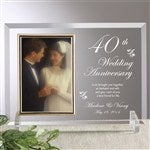 Expectations exceeded. Wonderful product!
By
DANNY A.

(kingwood, TX) - April 5, 2014 (
See all reviews by this customer
)
As always, my expectations were exceeded by Personalization Mall. It seems every time I order from this company, what I get is even better than I imagined or had hoped for. With such reasonable pricing; the products I have received have seemed like such a great value. Here again with this lovely 25th Anniversary Memories Personalized Frame, my hopes were exceeded in the final product with my own personal engraved words. I just couldn't be happier and my wife loves the Frame. Now if we can just find the perfect picture to complement the beautiful frame. Thank you Personalization Mall for the wonderful products you offer and customize for your customers. We just love your products, service and value. You have made many of my families memories special and treasures for years to come.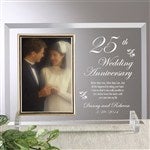 Beautiful Anniversary frame in heavy thick glass!!!
By
Tone' N.

(LAFAYETTE, IN) - April 1, 2014 (
See all reviews by this customer
)
Beautiful and EXCELLENT QUALITY picture frame in heavy thick glass!!! I ordered one for my parents 50th wedding anniversary, and one for my aunt and uncles wedding anniversary. They all loved the frames! Recommended!!! And I have to mention that I love the fact that this web site will let you preview your own personalized item, which makes it so much easier to visualize your pick in different styles and text.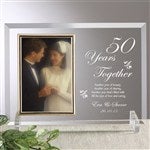 Classy and elegant
By
Shopper

(Phila, PA) - March 18, 2014
I ordered this for my parents for their 40th anniversary. I ordered it a month in advance and had it in about a week. The etching is very classy, and the gold brass frame trim against the glass frame gives another wow factor to add an extra touch of elegance. It really looks more expensive than it really is. I can't wait to see their reactions when I present it to them next month. Due to their speedy personalization and delivery, and the quality of the merchandise, I will definitely consider ordering from PersonalizationMall.com in the future.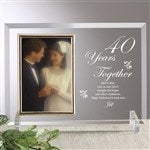 Larger than expected, and excellent quality. Lovely!
By
Kelli J.

(Indianapolis, IN) - February 22, 2014 (
See all reviews by this customer
)
Purchased this for my mom and dad's 50th, and it is beautiful! My mom passed away 12 years ago, but we still celebrate their love every year. This was the perfect gift to show reverence and celebration...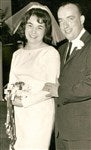 A lovely gift
By
Victoria G.

(Riverside, CA) - February 9, 2014 (
See all reviews by this customer
)
I ordered this personalized glass Anniversary frame for friends 50th
wedding anniversary. I was VERY pleased with the whole thing. The poem was meaningful & the inscription perfect. It looked so expensive & yet the price was quite resonable.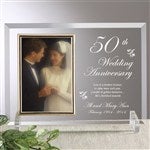 Very fast, Great Quality!
By
Shopper

(Macomb, MI) - February 4, 2014
I purchased this item for my parents' anniversary and not only did it arrive a day earlier than I expected it to with the expedited shipping, it was packaged very well and is a wonderful quality. My parents love it!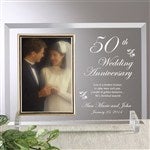 Great Gift idea
By
Marquita F.

(Menomonee Falls, WI) - January 6, 2014 (
See all reviews by this customer
)
I was very pleased w/ this gift and my parents loved it!! I definitely recommend this product!!!! :-)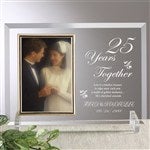 Beautiful and impressive product
By
SHARELI D.

(PITTSBURG, CA) - December 18, 2013 (
See all reviews by this customer
)
I am giving this personalized frame to my parent's 50th Wedding Anniversary. I added a bible verse and I was really impressed when I received it. I really love my purchase and I recommend this to everyone.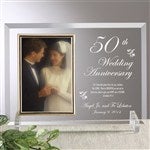 The Perfect Anniversary Gift
By
Ann J.

(Atlanta, GA) - December 3, 2013 (
See all reviews by this customer
)
I am pleased with the 50th Anniversary Frame
and I know the recipicants will adore it.
It was easy ordering and the purchase arrived
after a few days.
I'm very happy.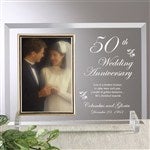 Great Choice
By
Karen J.

(Sterling Heights, MI) - December 3, 2013 (
See all reviews by this customer
)
The picture frame was beautiful and looked exactly as it was shown on the site. It arrived within the week and it will be a wonderful remembrance of my in-laws milestone anniversary.