Anniversary Frame
By
Shopper

(Indianapolis, IN) - April 15, 2011
The frame looked great. The reason I didn't rate 5 stars is because of the gold around the picture part. I REALLY would have prefered silver. IT looked bright and a little tacky. Other than that i loved it. The gift was loved upon presentation. The engraving was nice and easy to read.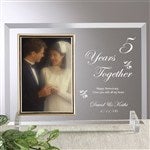 Nice anniversary plaque
By
Robert T.

(Fairport, NY) - April 2, 2011 (
See all reviews by this customer
)
I surprised my wife with this on our 10th wedding anniversary and she absolutely loved it! It holds a regular 4x6 vertical picture too. For the money, this item is surly a home run!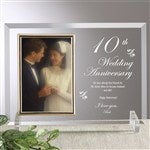 Lovely as a gift
By
Dawn M.

(Snohomish, WA) - February 11, 2011 (
See all reviews by this customer
)
The frame looks very nice, is very solid feeling. The etching is nicely done. My only downer is I wish there were either more verses from which to choose, or that we could write our own verse. I used these as gifts for 60 year anniversaries at our church celebration and wished I had been able to put more into the sentiment. But all in all, it is a good value and a nice gift. I'll probably be ordering more of them next year!

Unbelievably fast shipping!
By
Shopper

(dunwoody, GA) - January 28, 2011
I always wait until the last minute to purchase a gift. Then I scramble around at a local store and end up with something boring that almost looks like an afterthought! I needed a 50th anniversary gift for my neighbor and of course I waited to long. I figured let me just buy the frame and I can just give it to them a few days late. (what's the differece right)I placed the order and received it in 3 days! I could not believe it. It was beautifully engraved & just as described. Only reason I did not give it 5 stars is because the feet that hold up the frame are made out of plastic so it kind of cheapened the look a bit. But for the price it is a great deal and easy to look past.

Very pleased...would change...
By
Shopper

(Saginaw, MI) - January 28, 2011
I was very pleased with the quality of this! However, I was hoping for more of a fancier holder for it. All it came with were two pieces of plastic to support it. Other than that I was very pleased and will definitely order from Personalizationmall.com!

Nice Memento Frame
By
Shopper

(Windsor, CO) - January 17, 2011
The frame is beautiful and well done but the etching is very difficult to read. I will probably mount some velvet or other color backing on the backside of the frame so that the writing "stands out." It would be nicer if the etching were in GOLD.

Very pleased
By
Lori L.

(Blaine, MN) - November 26, 2010 (
See all reviews by this customer
)
I received the personalized frame for my parents 40th wedding anniversary and was very happy. I received my order within three business days of ordering (I paid a little extra rush ship). The item was flawless and looked just like it does in the picture. I would definitely recommend this personalizationmall.com to friends and family. Thanks!

Great value
By
Denise J.

(Everett, WA) - November 15, 2010 (
See all reviews by this customer
)
The order turned out great and was delivered in plenty of time.

Satisfied with prompt response
By
Carol H.

(Holden, MA) - November 1, 2010 (
See all reviews by this customer
)
I ordered the Anniversary Memories Personalized Frame for my brother and sister in law's 50th anniversary. Unfortunately the item was received damaged. I sent an email to the customer service dept. explaining the situation. The response came almost immediately! I received a replacement within 5 days with no questions asked! I was very impressed with the way this company handled the problem and would not hestitate ordering from them again! The frame is quite beautiful. Thank you!

Beautiful.
By
Erin G.

(Sparks, NV) - September 30, 2010 (
See all reviews by this customer
)
This was ordered for a 50th Anniversary gift. The item was personalized and shipped within 24 hours of ordering it. I paid for expidited shipping and it came really quickly. It arrived 3 days after I placed the order. I was really pleased. The gift is beautiful and my parents loved it. The engraving is a little bit light and hard to read unless there is something dark behind it. That would be my only complaint and that's why I only rated it 4 stars. We ended up putting a piece of black card board behind it and now it really stands out and it's beautiful. I will order from this site again.

Well Liked
By
Sharon P.

(Aurora, CO) - September 27, 2010 (
See all reviews by this customer
)
My daughter and son-n-law loved the frame for their 25 anniversary. Thanks so much!!

Anniversary item
By
Kirk F.

(Canada) - August 17, 2010 (
See all reviews by this customer
)
We were very happy with the item once we received it, the Golden Anniversary couple also liked the gift.

Pleased
By
Carmelita C.

(Middletown, RI) - August 10, 2010 (
See all reviews by this customer
)
My friends, whom I purchased the frame for, loved it. It turned out really well. The engraving was done very nicely. There were no errors with the spelling of the names or with the dates. I am sure I will purchase products from this website again in the future.

25th Wedding Anniversary is SILVER not Gold
By
Karen L.

(Paradise, CA) - June 28, 2010 (
See all reviews by this customer
)
The item I ordered is gorgeous and the engraving superb.
The only thing wrong that I can see is the frame around the picture is GOLD - When ordered for a SILVER wedding anniversary it should be silver in color. Gold is for 50th Wedding Anniversary.
Otherwise, everything is perfect.
Thank you for your fast response to my order and timely delivery.


Beautiful!
By
Wendy S.

(Warwick, NY) - June 22, 2010 (
See all reviews by this customer
)
The frame was very lovely. The quality of the glass & bevel looked expensive. The gold of the frame portion had a satiny finish which was really nice. People complain that the engraving is too light. It would be better if it were deeper, but it is still very readable & looks terrific. I got it for my parent's 50th anniversary & they loved it. If the engraving was a little darker I would give it 5 stars.

thank you
By
MELODY L.

(NORTHRIDGE, CA) - May 28, 2010 (
See all reviews by this customer
)
thank you for quick shipment...it is exceed my expectation...

Anniversary Memories
By
Marilyn S.

(Sheldon, WI) - May 7, 2010 (
See all reviews by this customer
)
This item is really nice, but I wish there was a colored background behind the personalization so that it would show up better. The way it is, it's a little difficult to see.

Anniversary Memories
By
maria B.

(manheim, PA) - April 15, 2010 (
See all reviews by this customer
)
The frame is nice, the engraving is hard to see, It could be darker,other than that it looks great.

Wedding Anniversary
By
Alexander L.

(Pittsfield, MA) - February 12, 2010 (
See all reviews by this customer
)
The service I received on my order was outstanding. It is extremely helpful to be able to preview your selection. The finished product was lovely. However, I feel that the engraving, as lovely as it was, could be enhanced if the glass was frosted rather than clear. This would also make it more comparable to your illustration .

Didn't quite reach the expectations
By
Natalya C.

(Seattle, WA) - February 11, 2010 (
See all reviews by this customer
)
The frame looked good and all the items I requested were on there but the writing wasn't as Strong as I thought. Matter of fact in order to BE ABLE TO READ what I myself requested I had to put something dark behind the frame...otherwise I could not see it. Otherwise it was really pretty and "gentle" look. I haven't given the gift yet but I'm really looking forward to the reaction.

They loved it!
By
Kayla K.

(Beaverton, OR) - February 1, 2010 (
See all reviews by this customer
)
I have bought from Personalizationmall.com before and I have always had a fantastic experience with them. I bought this picture frame for my in-law's 25th anniversary and they loved it. They said it was very beautiful and were quite impressed with the quality.They received it in the mail 3 days after their anniversary but I was expecting them to get it somewhat late because I only ordered it 3 business days before their anniversary. I thought they might get it a little sooner but maybe next time I will pay extra for faster shipping if needed. I would definitely recommend this product to anyone. I will be buying from personalizationmall.com again for sure!

Anniversary Frame
By
Lynne M.

(Waukesha, WI) - January 13, 2010 (
See all reviews by this customer
)
I was very nice! My Parents love it!



Great anniversary gift
By
Adrielle D.

(Bowie, MD) - December 28, 2009 (
See all reviews by this customer
)
I ordered this frame as a 35th anniversary gift for some friends.The frame was promptly shipped and looked good. The one mistake I made was in ordering the gold toned frame. I didn't really like the gold toned frame, I thought the silver one looked more classy. Nonetheless, the couple that received the gift were thrilled by it and I was happy with my decison to order it.

Classy
By
Valerie M.

(Glen Burnie, MD) - October 9, 2009 (
See all reviews by this customer
)
Very good quality. Engraving elegant and correct. Inscription a little hard to read when frame is sitting on the table since the glass is clear.

Just as promised!
By
Jennifer H.

(Moline, IL) - October 8, 2009 (
See all reviews by this customer
)
The anniversary frame came out exactly as described and the etched glass was beautiful. A very classy, elegant gift! Only complaint is that I wished there were a few more "quotes" to choose from.

Hard To See
By
Darvion E.

(Crystal, MN) - October 2, 2009 (
See all reviews by this customer
)
I overall enjoyed the gift that I purchased, the only thing I didn't particularly care for was that the engraving was so light. It is very hard to read.

Although I feel it was hard to see, I really enjoyed it and my parents love it!