Very Happy!
By
Shopper

(Alhambra, CA) - December 20, 2011
The frame we had made for some friends looked great! There was one thing that would have made it perfect.....if the frame was in a nicer box and wrapped in buddle wrap or paper instead of being thrown in the little box with no protection. It got to us safely but it had lots of dust all over it from the cardboard box...I'm glad I opened it before giving it to them, so I could re-wrap it. But it is a beautiful frame!

Mr and Mrs Frame
By
Janey M.

(Cedar Park, TX) - December 17, 2011 (
See all reviews by this customer
)
I love the frame! Good quality, fast delivery and a great price. I'm so excited to give this as a shower gift. I know my niece will love it.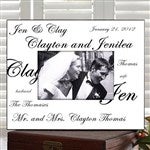 Beautiful Frame
By
Leomarys T.

(North Brunswick, NJ) - December 9, 2011 (
See all reviews by this customer
)
I really liked the frame and the concept of it. But was a bit disappointed with the outcome of the font.

names
By
Shopper

(Brentwood, NY) - December 8, 2011
The only complant I have is that the name I was trying to have printed was Harold III and it was not possible to have that done. Other than that it is a beautiful frame.. Thank you

They loved it!
By
Cathy J.

(Raymond, MS) - December 1, 2011 (
See all reviews by this customer
)
Purchased one for a nephew getting married and another one for a niece getting married. Both loved it! It is a nice, unique gift!

They really loved it but.......
By
Shopper

(Bayonne, NJ) - October 31, 2011
The bride and groom really loved it, however the back fell off and the glass broke as soon as they removed it from the box while we were still at the reception. I would definitely shop at the site again for it's unique gift ideas, however I would have to make sure everything is in tack.

Great Frame
By
Cheryl B.

(Brooklyn, NY) - October 24, 2011 (
See all reviews by this customer
)
This is a very high quality frame. I thought for the price it would be thin but it is quite sturdy. I love the gloss and the way the full names and the nick names are included. Well done!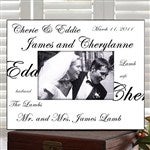 Frame
By
Emily R.

(Spicer, MN) - October 15, 2011 (
See all reviews by this customer
)
It is a very cute frame and I get this usually for my friends when they get married. The only part I don't like is the top where they say the name twice. I would have prefered something different written there.

Overall, this frame is an EXCELLENT wedding gift for anyone!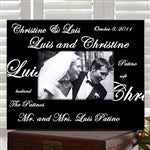 Very nice
By
Megan S.

(Crest Hill, IL) - October 11, 2011 (
See all reviews by this customer
)
Ordered this as a wedding gift for good friends... Very impressed with the quality of material and personalization. Super cute product!

Skip the gift wrapping.
By
Shopper

(Buda, TX) - October 11, 2011
Love the frame, but paid extra for gift box and wrapping. The box looked used and it says 'personalozationmall.com' on the top of it which in my, would of look funky on a wedding gift table. So it was a waist of $$$ and I'll have to wrap the gift wrapped box I paid for....

Frame
By
Shopper

(Prior Lake, MN) - October 9, 2011
Extremely happy with this item. Very nice.

Disappointed in quality
By
Robin P.

(Pawtucket, RI) - September 30, 2011 (
See all reviews by this customer
)
Ordered this frame in black for a Bachelorette party. I previously ordered a similar frame in pink for a new baby and loved it. The quality of this frame seems to be lacking something. Crossing my fingers that the Bride to Be feels differently about it.

Nice personal frame
By
Shopper

(Upper Marlboro, MD) - September 13, 2011
I purchased for a wedding gift. Looks nice and I hope they enjoy it.

Great Wedding Gift
By
Shopper

(Platteville, WI) - August 30, 2011
This is a great way to show a Bride and Groom you care :)
Good personalized item

Shower Gift
By
monika B.

(ofallon, MO) - August 19, 2011 (
See all reviews by this customer
)
I bought this for my cousin's shower gift...she loved it.

Very pleased
By
Cynthia D.

(Canada) - August 5, 2011 (
See all reviews by this customer
)
Frame arrived and looked exactly like expected.

Perfect for a Bridal Shower
By
Shopper

(Royal Oak, MI) - August 2, 2011
This picture frame is a cute idea for a bridal shower gift - I wish it was a little larger to make more of statement. The picture opening is 4x6.

Product features
By
Shopper

(Cuba, NY) - July 23, 2011
Love the frame...every time I order one as a gift, the recipients love it! The only thing that I didn't care for is the way the N printed. I didn't realize that the letters weren't attached until I ordered the last frame. The groom happened to have a lot of n's in his first and last name and the fact that the n's aren't attached was definitely more obvious. Also, the day before the frame arrived at my house, the frame went on sale for 20% off the amount that I paid.:(
Will I purchase this frame again in the future though? Would I recommend it? Absolutely!

wedding gift
By
beth D.

(salem, OR) - July 17, 2011 (
See all reviews by this customer
)
I found two items to give as a wedding gift and they arrived quickly and perfectly done. Very nice item. I am pleased and will be happy to give them next weekend to the couple.

Great Customer Service
By
Shopper

(Concord Twp, OH) - July 11, 2011
I have ordered this frame for many showers and weddings. This was the first time I had a problem with quality, the black ink ran onto the white frame. I called customer service and I received a replacement within 3 days. I definitely would order this item again.

Happy w/ purchase
By
Shopper

(Decatur, GA) - June 20, 2011
I purchased 2 of these personalized wedding frames, but had the first one mailed directly to the couple. This one was mailed to me, and it is quite nice. My friends really liked it and the way that it was personalized. I have no hesitation about purchasing another in the future.

wedding gift
By
trecia W.

(Crown Point, IN) - June 18, 2011 (
See all reviews by this customer
)
I received the merchandise very quickly and the product looks great and perfect as a wedding gift. I am happy with my purchase.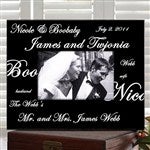 Picture frame
By
Gloria Yvonne A.

(Chicago, IL) - May 2, 2011 (
See all reviews by this customer
)
Great gift.

Great creative gift
By
Hilary M.

(Agoura Hills, CA) - May 2, 2011 (
See all reviews by this customer
)
This gift is so unique and special. Nobody else will bring it to a shower and it will always get noticed. It's very nice quality.

Wrong date, but liked everyhing else
By
David W.

(Mansfield, TX) - May 1, 2011 (
See all reviews by this customer
)
The date on my frame is wrong. I know I put June 10, 2011. My frame says June 5, 2011. I love everything else about it. Just upset about the date.

mr. & mrs. frame
By
Shopper

(Carlstadt, NJ) - May 1, 2011
The frame is beautiful, just like the baby one I previously ordered. The only problem with the white is, around the black writing, it is very yellow. It takes away from the beauty. The blue baby frame I previously ordered did not have any yellow around the writing. This leads me to believe it is because of the white frame.

Bridal Shower gift
By
Robin B.

(Rolling Meadows, IL) - April 30, 2011 (
See all reviews by this customer
)
Perfect Bridal Shower gift! The Bride absolutely LOVED it! This will be a staple gift from now on.

Good Quality and fast service
By
Karen M.

(Houston, TX) - April 13, 2011 (
See all reviews by this customer
)
Ordered and had it here in my house a week later, quality was good! Happy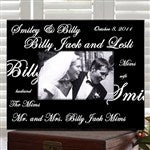 always gets the WOW reaction at a shower
By
Kaye H.

(Dalton, GA) - April 1, 2011 (
See all reviews by this customer
)
I have ordered this frame on two different occasions for nephew that is getting married. Both occasions I had given the only gift that everyone wanted passed around, for a closer look. It definitely has a WOW factor. It looks like you really put a lot of thought into it, but it is so easy to order. I ordered this on a Sunday evening and it was shipped on Monday and I received it on Wednesday. I have nothing but good things to say:)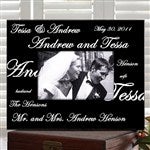 Beautiful Frame; Flimsy Back
By
Shopper

(Hempstead, NY) - March 28, 2011
While I absolutely love the design of the frame; the back piece is a bit flimsy and seems unsecure when I placed it on my desk. Overall it looks great, but I had to pretty much lean it against something to ensure it doesn't fall. Other than that I enjoyed it and our wedding picture looks great in it :-)

Nice for the Price
By
Penny C.

(Huntsville, TX) - October 8, 2010 (
See all reviews by this customer
)
This frame is nice for the price. I believe it is the unique personalization that will make it a great gift.

I ordered the black background with the white writing and it is very glossy and shows fingerprints all too well.

I'm sure this gift will be appreciated mainly due to the unique personalization, but I have seen much better quality frames at the chain engraving stores located in most malls. The engraving on these 'mall store' frames are etched INTO the frame and not just written flat onto the surface. The engraving on THIS frame is NOT etched into the frame; it's just written on the surface of the frame with no indentions whatsoever.

This frame is still unique in it's own way and I would recommend it only IF you bought several other gifts for the bride & groom (this will be one of 3 gifts), BUT if this is the only gift you plan to give them on their special day, I would definitely recomment you go to one of the mall chain store engravaing shops and pay the extra money for a much better quality frame. I know the mall store frames are much better because I received one on MY wedding day from my Mom plus it holds a 5x7 photograph versus this frames capacity for a 4x6 photo.

Everyone loves it!
By
Jessica O.

(Mableton, GA) - September 30, 2010 (
See all reviews by this customer
)
This has become my staple for a wedding gift! It's personalize, easy to order, arrives promptly, inexpensive, and everyone loves it!!My only reason for giving it 4 stars is that I would like to see it in a brown and cream version. Not everyone likes black.

Great product
By
Michelle H.

(Rochester, MN) - September 20, 2010 (
See all reviews by this customer
)
I've had only positive compliments from the people I've given these to. In fact I've bought one for each wedding I've been invited to in the past 2 years b/c they've been such a big hit! The only downfall is that you don't receive any kind of coupon code for your next order when you buy them. I just bought 2 and thought I might get a coupon for another one when my package arrived or something by email since I'm on the mailing list but again no luck. If you only order one at a time the shipping is costly so try to get 2 or more when ordering.

Tori Greene
By
Victoria P.

(North Haven, CT) - September 15, 2010 (
See all reviews by this customer
)
This is the third time I ordered this for a wedding gift although first time ordering the white versus the Black (I should have stuck with the black it looked better!) Overall the quality is great and if you have time during the wedding ceremony to take pictures then while the wedding party are off taking photos run to a quick print shop, develop and insert the photo into the frame, wrap and present. The couple is all set! What a great memory & Everlasting gift!

Gorgeous!!!
By
Nikki Y.

(Cottondale, AL) - September 14, 2010 (
See all reviews by this customer
)
I got the white font on black background. It turned out BEAUTIFUL!!! Now i hope the recipients love it as much as i do! I'll be back soon to order one for myself!

The 4 star review really had nothing to do with the specific item. The shipping always seems a little pricey!

Great gift!
By
Emily D.

(Clarksburg, MD) - September 9, 2010 (
See all reviews by this customer
)
I received this frame as a gift for my wedding and have bought 2 more for other people's wedding as presents. I really love the frame! The only thing I would change is that the cursive font doesn't line up between the letters. But it's a great gift!

Nice quality
By
Joyce H.

(Little Rock, AR) - September 7, 2010 (
See all reviews by this customer
)
As always, the gift was received in a timely manner. The frame is very nice quality for the price.

Absolutely Beautiful!
By
Melisha P.

(Hartville, OH) - August 24, 2010 (
See all reviews by this customer
)
I ordered both background frames for a bridal shower gift. Working against the clock, I requested expedited shipping via 2 day air. Reading previous emails, I worried about the quality of the frames and the workmanship. I didn't want the writing to be blurred. So, I phoned the company and discussed the matter. They reassured me that every item is checked twice before leaving the premise. I have to say, the frames arrived perfectly packed and the words were beautifully designed. The placement was perfect. These frames were a big hit at the shower! I waffled between a 4 and 5 star rating system for these items. I settled on 4 stars because the front is lacquered and fingerprints easily, and while the back of the frame is painted black (properly so), the cutout that holds the photo indents rather deeply to reveal the brown base beneath. Also, the company has placed a non removable white sticker on the back. If the back of the frames were monochromatic, flush and beautiful, they would have earned 5 stars, but as it stands, the bride will need to paint or recover the back if she places it in front of a mirror. If you are considering this item, keep these points in mind and proceed to order with confidence. You won't be disappointed!

Beautiful Gift for the Newlyweds
By
Katie M.

(Pensacola, FL) - August 18, 2010 (
See all reviews by this customer
)
I just received my personalized wedding picture frame. I love it! It's even better in person!

great gift
By
Brenda H.

(Amery, WI) - August 5, 2010 (
See all reviews by this customer
)
I was in a time crunch when I placed my order. I thought this would make a great bridal shower gift, but was worried that being it was personalized I probably wouldn't recieve it in time for my party.(it took about 3 days) I was elated to recieve it in plenty of time and was even happier with the product and can't wait to present it to the bride-to-be.