Wedding shower gift
By
Kimberly K.

(Norfolk, VA) - May 10, 2010 (
See all reviews by this customer
)
To me, this item looks silver, not white, in the picture. I know I read it to be white with black writing, but I guess I was expecting something else than what I got. It would be nice if they could do accents- my friend's fiance's name is Jose and they couldn't do the accent over the "e", or the accent over the "n" in his last name (it's a spanish name). Other than that, it is a nice frame and the lettering is pretty.

Frame Name
By
Tifani E.

(Long Beach, CA) - May 3, 2010 (
See all reviews by this customer
)
I didnt like the the Mr&Mrs. Name at the bottom was not centered on the frame. You could see the brides name on the top right behind the white overlay. It was a little sloppy for a perfectionist, but overall it looked great.

Personalized Frames!
By
Stephanie R.

(Overland park, KS) - April 30, 2010 (
See all reviews by this customer
)
I really like these frames and order them for friends for weddings and the arrival of new additions to their families. They are such a unique gift! However, the actual stand to the frame is somewhat poorly made, so they break pretty easily! Be careful!
The personalization is beautiful! :)

Mr. and Mrs. Collection Personalized Frame
By
Sheila S.

(Sylvan Springs, AL) - March 30, 2010 (
See all reviews by this customer
)
Bought this frame for a Christmas present for a newly married couple. Very happy with it. Just bought it again for my daughter getting married in April. Looks great in White with Black and White picture in it.

A wonderful gift
By
Gina M.

(Orlando, FL) - March 14, 2010 (
See all reviews by this customer
)
This was a very attractive & personal gift for our special friends. It was nice to be able to create something just for them and be able to preview before it before I actually ordered it.

Third time ordering this item
By
Mary H.

(Anaheim, CA) - February 11, 2010 (
See all reviews by this customer
)
I have always loved this frame for gift giving. This time the names I had printed had 2 sets of double 'n' in them. The 'n's' don't match up exactly and it looks like the print is a little 'off.' I took another careful look at the preview and that's just what was displayed.

Great gift!
By
Aleah Z.

(Ellicott City, MD) - December 25, 2009 (
See all reviews by this customer
)
I was very impressed with the quality and outcome of the frame. Also, they shipped very quickly and arrived in plenty of time!

Disappointed.
By
PATRICIA G.

(Rome, GA) - December 24, 2009 (
See all reviews by this customer
)
Make sure you put a year.
Because they will automatically insert one.
Even if it is the wrong year!

Choose the Black or White frame?
By
Christine B.

(Tinley Park, IL) - December 18, 2009 (
See all reviews by this customer
)
I purchased on of each color, one in black with white lettering for my son and his wife and the other in white with black letter for my daughter and her husband. I thought I would like the white better but when i got them at home the Black with the white lettering is a much richer/classier look. Both were very nice quality.

great frame
By
Harmony K.

(Maumelle, AR) - December 16, 2009 (
See all reviews by this customer
)
really cute. great wedding present for $20!!!

Thought it was silver but is in black & white
By
Craig T.

(santa monica, CA) - December 6, 2009 (
See all reviews by this customer
)
Otherwise, it is very cute! Wish the letters were a little more connected.

Very nice
By
Loretta S.

(Inman, SC) - November 25, 2009 (
See all reviews by this customer
)
Frame well done and creative. Only reason it got 4 stars instead of 5 is that the front of the frame w/the names could be made w/just a little higher quality material. I am satisfied though, and can't wait to see their reaction!

Perfect Wedding Gift
By
Jenifer B.

(Enola, PA) - November 17, 2009 (
See all reviews by this customer
)
We purchased this gift for friends that live overseas and it's just right. Although it's not truly "engraved", it's more like the text is printed on, it's still a very special gift. We'll absolutely purchase this gift again.

Great Wedding Gift
By
Tracy B.

(Arnold, MO) - October 20, 2009 (
See all reviews by this customer
)
This is a beautiful keepsake. The couple loved it! The style of the frame in white w/ black writing is very elegant and will brighten any room. This is one frame that will get noticed!

Do your homework first!
By Shopper (New York, NY) - November 27, 2012
My husband and I received this as a wedding gift. We don't use the same last name, so this frame was useless to us. I've ordered several things from Personalization Mall in the past and been very pleased, but we both thought the frame's design was tacky, not something that we would display in our home. However, the quality was very good. If you know the aesthetic of the couple's home and if they will share a last name, this could make a good gift.

Ms. Hill
By
Keri H.

(Saint Louis, MO) - October 18, 2011 (
See all reviews by this customer
)
This item appears to be silver in the online picture, therefore I was expecting a silver frame with black writing.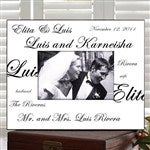 great wedding gift idea
By
Patricia B.

(Queensbury, NY) - October 1, 2011 (
See all reviews by this customer
)
Ordered this frame for two different weddings. The black with white is much classier and more like a wedding gift than the white frame with black lettering. With the right photo it made a great gift and for a reasonable price I felt it was the right choice for me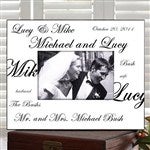 Really shiny that almost cheapens it
By
Shopper

(Knoxville, TN) - June 15, 2011
The size is good. The writing was good in regards to font, spelling, etc. However, the frame is really, really shiny. The shine kind of cheapens the prodcut. I wonder if my colors were reversed if the shine would be so much. Recommend for sale price but not regular price.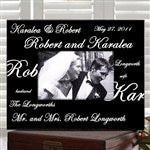 wedding gift
By
Shopper

(North Versailles, PA) - May 23, 2011
nice...but not as nice as i thought it would be

Nice gift but smudged and missing paint in places
By
Shopper

(Chicago, IL) - May 17, 2011
I've never purchased from here before but went out on a limb based on the rave reviews for this product and ordered 5 of them for upcoming weddings. Of the 5 frames, 4 have spots on the frame where the black ink is smudged and blotchy. Also, on the back of the frame where the wood is supposed to be black, there are lines of missing paint. It's unfortunate because the frame has the potential to be so nice, however sloppiness and hastiness got the best of it. On the whole, can be a nice gift if done properly by the company.

font is off
By
mary ann M.

(franklin, TN) - April 5, 2011 (
See all reviews by this customer
)
i have ordered these frames many times, but noticed this time that the letters in the names are not connected. i don't know why this last frame was like that and the others i had ordered before were not. makes it look kind of cheap. the shipping was fast though.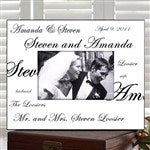 Not quit what I expected
By
Elisabeth I.

(Lansdale, PA) - October 12, 2010 (
See all reviews by this customer
)
I saw this frame at a friend's home and fell in love with it! I went right home and had to order it only to find it was a bit different from hers. The personalized font script is more of a "broken" script - making it almost look like the printer's settings were off...very sloppy. I love personalized thing, and I didn't pay full price for this item - so I am keeping it. But FYI...I also ordered this exact frame - but the version that you personalize for the number of years you've been married (etc.). That one looks so much better...and is a much better buy for the money!!!!

Lacking
By
Jennifer P.

(Kendall, NY) - August 6, 2010 (
See all reviews by this customer
)
I was disappointed when I received this frame. I thought with it being a "top quality wood frame with high-gloss laminate front", the lettering would be envgraved. Instead, it looks cheaply printed on. Next time I'll order a wood carved frame.The idea of what they could do with the names was just too large a selling point for this piece!It's the thought that counts though, right?!

A little disappointed
By
Vicki D.

(Miami, OK) - July 28, 2010 (
See all reviews by this customer
)
I was a little disappointed that the letters did not flow together smoothly. I have a baby frame with my granddaughter's information with the same idea from you, and it is beautiful. The letters all look like they are made to go together, but that is not the case with the Wedding Frame.

OKAY
By
Zakieh O.

(Sunrise, FL) - July 22, 2010 (
See all reviews by this customer
)
Not as I expected and the quality is only OKAY; I had ordered better frames from this site and the quality was a lot better. I ordered this as a wedding gift, but now I think I have to search for something else to go with them, so that it doesn't look like a cheap gift.

A bit dissapointed
By
Brittany C.

(Kansas City, MO) - July 9, 2010 (
See all reviews by this customer
)
I usually love the frames and gifts that I have purchased from personalizationmall.com, but with this purchase I was rather disappointed. I thought the fram looked rather cheap, and the lettering was off, making the script look very choppy rather than elegant. I was just not completely satisfied.

Returning customer with disappointing experience
By
Kristine G.

(Atlanta, GA) - May 19, 2010 (
See all reviews by this customer
)
I have ordered this item multiple times in the past and have never noticed any problems, until this last order. I have two weddings coming up and ordered one for each couple.

I noticed in the script of the names, (in names that have the letters "M" or "N"), that the letters connecting to an M or an N don't connect to the other letters so they appear "off". I called and the customer service agent said that this is how the font/script is and therefore the letters do not connect. She said this is how it appears in the "Preview" as well (she is correct) but I ordered quickly and did look at the Preview but did not catch this "defect" until the actual items were delivered.

I really think this makes it look bad but sending it back would only mean I'd be out my $52 so I will give these frames this time and re-think about giving this item again (particularly if the names have any "N"s or "M"s in their spelling.

Overall, I get lots of compliments on such a unique gift but again, the type/letters being off this time, makes it look off quality. Delivery was super quick. I ordered on a Tuesday and had the order on my doorstep on that Thursday.

Wedding Gift
By
Kreytesa K.

(Jacksonville, FL) - May 12, 2010 (
See all reviews by this customer
)
I loved this frame when I saw it on this site. I am attending the wedding of my best friend's youngest brother in July and I thought this would be a swell gift to give. The frame arrived with several scratches on it, so I wasn't happy about that, but other than that, it was just as i saw it on this site.

Some imperfections
By
Rachel F.

(Newtown, PA) - April 8, 2010 (
See all reviews by this customer
)
I am a loyal customer of personalizationmall.com. I have ordered this picture frame three or four times now and have always been happy - except for this last time. I usually get the picture frame in white but this time I decided to purchase it in black. The customized script on the frame was great, but the back of the frame (the part that holds your picture in the frame) was really cheap. It was really loose and moved around alot. I was embarrassed to give it as a gift as it was so I stuck a piece of folded wrapping paper in the picture area to prevent the back from appearing so loose and moving around so much.

Not sure I want to know what my girlfriend thinks when she realizes I shoved wrapping paper in the back of it :0 It won't take her long to realize why I did it.

Frame review
By
Angela M.

(Yuma, AZ) - January 21, 2010 (
See all reviews by this customer
)
It was pretty, but the corners were not black like the rest of the frame. They were faded as if not printed on clearly. The lettering came out fine though.

OK item for a gift, go with the white background
By
Robin R.

(Jacksonville, FL) - December 20, 2009 (
See all reviews by this customer
)
I ordered this item with the black background and was not completely happy with it. I suggest getting the white background. I love the fact that you are able to personalize the frame. I think this would make for a nice gift.

Beautiful but not quite what was expected...
By
Melissa M.

(San Antonio, TX) - December 7, 2009 (
See all reviews by this customer
)
This is a beautiful frame but I was really disappointed when I recieved it in the mail. The words are not etched into it as in other items. They are computer generated and then placed on the frame under a laminate. Kinda disappointed...you can see the pixels in the font too. Almost like they used a font and then blew the image up but the pixles per inch were not enough to keep the original clarity.

Looks cheaper than online
By
Michele H C.

(Hillsborough, NC) - April 15, 2013 (
See all reviews by this customer
)
Online, the frame appeared to have more of an engraved appearance.
Actually, it looks somewhat "plastic-y" with rather blaring flat lettering..
I would not order it again.

Product quality has changed
By
Shopper

(winston salem, NC) - May 30, 2011
I have ordered this item several times for various friends of mine - and this last frame rec'd was just made different - it seemed a cheaper quality, bigger, and just not as polished looking as the many I have ordered in the past.

Names did not line up
By
Terry C.

(Artesia, NM) - April 15, 2011 (
See all reviews by this customer
)
The names I had put on it weren't lined up at all I read several reviews with same problem.

Don't get the white frame
By
Carolyn C.

(Baltimore, MD) - June 1, 2010 (
See all reviews by this customer
)
I ordered this for a good friend's wedding...it is now in the garbage since I can't return it. I got the white frame with the black writing; the whole thing is smudged and looks dirty. There are black dots on it. I really liked it online. I was very disappointed.

Letters don't connect
By
Angela S.

(Vienna, VA) - April 24, 2010 (
See all reviews by this customer
)
I've ordered this item twice previously, but was disappointed in how it came out this time. The quality of the product depends on the names of the couple and how the letters in their name connect. The cursive letters did not connect between the "i" and "m" in Jim leaving the writing looking choppy. Customer service told me that this was simply the way the font looks. I will still give the gift because it's so unique, but will not order again unless the font changes and looks better for all letter combinations.

Quality control
By
Heather C.

(Honolulu, HI) - December 12, 2009 (
See all reviews by this customer
)
This was the second time I ordered the wedding pic frame. Loved the first one the second one some of the scripting of the letters were not attached together smoothly. It was a wedding gift and I just wish the lettering was done better As the one I purchased 2 years ago

Mr & Mrs Collection - Personalized Frame - Picture Frame was scuffed :(
By
Marie S.

(Saint Michael, MN) - November 17, 2009 (
See all reviews by this customer
)
I love the picture frame but this one was scuffed up on the top and bottom of the frame. I tried to rub it off, but it doesn't come off. This was a wedding present & I was a little embarrassed to give it like that. I had to though.
The last picture frame I ordered was great though - so I don't know what happened to this one.
Is there any way that I can get a replacement for the scuffed one?
Thank you,
Marie Svitak
svitini@charter.net

Mr. and rs. Collection Personalized Frame
By
Robert M.

(Alexandria, VA) - October 27, 2009 (
See all reviews by this customer
)
Along with money, one of the standard gifts I like to give for weddings and births are these personalized frames. I have ordered them on at least 6 or more different occasions and have always been extremely pleased. However, I was not very pleased with the most recent Mr. and Mrs. personalized frame I purchased on 10/19/09, because it appeared that some of the letters on the cursive script were not properly aligned. The cursive letters of their names in several places looked like they were not touching or not connected to one another.