wow!
By
shirelle C.

(woodmere, OH) - May 19, 2010 (
See all reviews by this customer
)
This plaque is so beautiful! I don't know what exactly I expected but it truely captured everything I wanted it to for my brother in laws graduation gift!

It was worth the money
By
Shamika N.

(Glen Burnie, MD) - May 18, 2010 (
See all reviews by this customer
)
I brought this item as a gift to a teenager girl who is aspiring to be a fashion designer and obstetrician. I thought this was a wonderful item to give to her to encourage to follow after her dreams. When I gave the gift she was in awe. She said that she did not want to put in back in the box and that she wanting to immediately hang it up on her wall. I was so pleased to know that this gift meant so much to the girl and so I encourage you to purchase this gift for someone who are trying to achieve their goals and strive towards success....It was worth the money.

Superior quality
By
Laura F.

(Danbury, CT) - December 8, 2009 (
See all reviews by this customer
)
I purchased this plaque for my son's college graduation. I found it was exactly what I wanted to give to my son for his office some day. The quality is above and beyond what I expected for such a great price. I have purchased many items from Personalization Mall and I have always been extremely impressed with the items and processing time!

Secrets of Success Plaque
By
Karen N.

(Kutztown, PA) - November 24, 2009 (
See all reviews by this customer
)
I purchased this gift for my son's college graduation. I really like that I could key in my personalization and then view what it would look like before purchasing. Delivery was very prompt. The quality of the item is excellent. I am proud to give this gift as a tribute to all of the hard work my son has done.

looks great
By
Shopper

(Allendale, MI) - April 11, 2014
I got this for my son for graduation. I think it looks great and I am sure he will too.

Award Gift
By
Chantel H.

(Elizabeth City, NC) - May 26, 2013 (
See all reviews by this customer
)
I ordered this plaque for an awards day event. It is not what I expected (quality wise it doesn't look as "rich" as it does in the picture). It still looks nice enough to present in your home though.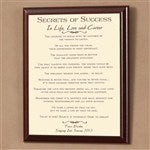 Nice gift
By
Rita W.

(Huntersville, NC) - October 18, 2010 (
See all reviews by this customer
)
We bought this as a gift for someone who was celebrating an award he had received. I love quotes and found this to be the perfect gift that he can look at and remember how close we all became during the competition. My only criticsm is that I wish the copy/font had been a darker brown. It was a little hard to read when it was smaller. Overall, we were pleased and he seemed to like it as well.

Secrets of Success Plaque
By
Carolyn M.

(Barboursville, WV) - July 26, 2010 (
See all reviews by this customer
)
My recent order from Personalization Mall DID exceed my expectations. It was given to our son after he completed his college degree and he was very touched by the sentiment it conveyed. It is a well made product, and not gawdy in any way. I was proud to give it to him with our own personalization at the bottom. Great product, and reasonably priced. I will use Personalization Mall in the future for gifts.

Great gift - especially for something like a graduation (or other coming-of-age)
By
Jameya P.

(Winston-Salem, NC) - May 10, 2010 (
See all reviews by this customer
)
I got this for my brother for his college graduation this past weekend - I ordered it (regular/standardy delivery) last Saturday, and it was here by that following Tuesday, so very speedy delivery! The customized text at the bottom was especially my favorite part - it might've been nice to squeeze in an extra character or two on the lines, but I was still able to say what I wanted to say with the allotted character limit, and it turned out very well when I saw it in person...

My only issue was how small it was - for some reason, I thought the plaque was going to be a lot bigger, but I know that is my mistake for not paying attention to the "8 x 10" measurement of it clearly stated in the description (once I went back later to double-check). Anywho, even with the size, it was a nice gift to a college graduate really going out into the world for the first time. My brother had wondered where all of those great words of wisdom came from - where I found the text, but I wouldn't say, lol... I just told him I hoped he'd hang it in his future work office or something else along those lines and refer to it in times of need, and even just in general! And he said he would and really, really did appreciate it. And everyone in our (graduation) party who saw it thought it was really cool and neat as well and wondered where I'd gotten it from.

I believe this is the 4th or 5th gift I've bought from PersonalizationMall.com, and I gotta say, if it's the 4th, I'm 4 for 4, and if it's the 5th, I'm 5 for 5, as PersonalizationMall never fails!

Beautiful and well made
By
Lisa P.

(Plainsboro, NJ) - May 7, 2010 (
See all reviews by this customer
)
I got this for my niece's college graduation. I had originally thought of getting her a personalized frame, but when I saw this, I just had to get it. For once, here is a display of words that inspire without being too sappy. And it's very well made -- solid wood. I did think it would be a little bigger, but that's not a problem.

Faded letters
By
Norma I.

(North Hollywood , CA) - March 31, 2010 (
See all reviews by this customer
)
I bought this plaque for a friend that opened a "new business"- Its a beautiful plaque, cherry wood is beautiful it doesn't look cheap. However the lettering looks "faded" like they put it through a scanner. If it would be a little darker it would be better.
Still, looks great! My friend loved it!!

Secrets ..... Plaque
By
Teri S.

(Sterling, IL) - May 1, 2012 (
See all reviews by this customer
)
A bit disappointed in the quality of the plaque. Not my favorite purchase from Personalization Mall.

Not What I Expected
By
Shopper

(Bellevue, WA) - June 21, 2011
The plastic plaque coating was not the quality I was expecting. It looked like a fake version of a plaque instead of looking like a quality plaque.

Plaque
By
Kim I.

(Bluffton, SC) - May 17, 2010 (
See all reviews by this customer
)
Little smaller than I expected but came out very nice. Nice quality wood!

Disappointed
By
Shopper

(philadelphia, PA) - December 8, 2012
The wood framing was discolored!