Beautiful Frame
By
Shopper

(Pembroke, MA) - September 10, 2012
The personalized frame appears just as advertised on the website. I have received this as a gift in the past for my children, and I purchased it now as a gift for a friend. I am slightly disappointed with the quality of the back of the frame that locks the picture in - it is a little flimsy and seems to have warped over past 2 years. Otherwise this frame is a great purchase and a great gift!

Unique baby gift
By
Nancy D.

(Shirley, NY) - September 4, 2012 (
See all reviews by this customer
)
This personalized frame is truly a unique gift that will be treasured forever. This is the perfect gift if you don't want to just give the same thing everyone else will give. It has all the important birth information and is sure to be appreciated by baby's parents. Just be aware that it's a wood frame covered with laminate, which gives it a plastic appearance. Thus the 4 rather than 5 stars.

Very cute!
By
Shopper

(Ogden, IA) - September 1, 2012
I have purchased this before for a baby shower and it went over very well. Everyone wanted to know where I had gotten it. It's always fun to buy the stand out gift.

Just perfect
By
Shopper

(West Haven, CT) - August 24, 2012
This was such a pretty and unique frame. Bought it as a gift and couldn't have been happier with the product and the quality.

something to add
By
Shopper

(Sunset, SC) - July 13, 2012
Love the frame. Only which it would include time of birth next to date. And include the length too.

Cute but not many color options
By
Courtney W.

(Elmhurst, IL) - June 16, 2012 (
See all reviews by this customer
)
I think it's cute but would like other choices than this shade of blue or pink.

Great gift
By
Leilani F.

(Tamarac, FL) - May 17, 2012 (
See all reviews by this customer
)
Unique gift! I love it. Have bought in both pink and white. Prefer the pink.

Great gift!
By
Megan F.

(West Des Moines, IA) - April 28, 2012 (
See all reviews by this customer
)
I love these frames and they're my go-to baby gift. My only complaint is the fact that the blue is now a different shade. Not a big deal, but a little annoying for someone who has multiple frames and wants them to be displayed together.

The script lettering is better for the girls
By
Shopper

(Midlothian, VA) - April 15, 2012
I received this frame as a gift for my daughter and loved it. I ordered it for a friend's son, but for a boy I would order the block lettering next time- the script S and Z looked more like Ls, but overall I was happy with the frame.

Unusual and eye catching frame
By
Shopper

(Canada) - March 19, 2012
Ordered this for our grandson. The way the computer takes the personal info and displays it on the front of the frame is touching and very personal. Arrived with a small scrape on the black edge on the side which I was able to fix with a permanent black marker. Overall, a great buy. Shipping to Canada expensive but I have seen nothing like this here so worth it.

Delightful Gift, but could use stronger back
By
Mary C.

(St. Louis Park, MN) - March 17, 2012 (
See all reviews by this customer
)
I received this beautiful personalized picture frame when my son was born. It is such a special gift and was a wonderful surprise! After a few months though, I realized that the cardboard on the back (the piece holding the picture in), was curving away from the frame which makes the frame a bit wobbly. There are little pieces that slide into the frame on the left and the right, and it could use them on the top and bottom too.

Also, I wish there was a place to put the baby's length and time of birth.

With that said, I have since ordered the personalized frame for three friends who have had a baby since my son was born. It is great for a friend who lives out of state (so I don't go to a shower and give a gift from their registry), or for someone having a second baby who already has all the typical baby gear.
I did not rate this five stars because of the instability on the back of the frame, but it is a great gift!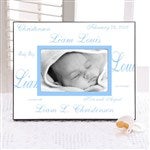 Great babybgift
By
Shopper

(Lakewood, IL) - March 3, 2012
This is a favorite of mine and always get wonderful comments back. Nice quality and good price

Nice frame
By
Shopper

(MOBILE, AL) - February 6, 2012
This was a nice frame and made a great gift for some new parents. It seemed a little cheap actually (that's why I didn't give it more stars), but it served its purpose well.

My Go-to Baby Gift
By
Shopper

(Rolling Hills Estates, CA) - January 9, 2012
I usually have these gifts sent directly to the recipient, but I wanted to see how the quality was after giving this frame as a baby gift for many years. The front is still well-made and high quality, but the stand in the back appears to have been cheapened with low-quality cardboard, not any type of substantial, well-made velvet-covered stand as I would expect. Still, it's a nice gift to give.

Unique Personalization!
By
Audrey M.

(Holland, PA) - December 12, 2011 (
See all reviews by this customer
)
This frame captures all of the relevant information about a new baby in a unique and sophisticated way. I couldn't be happier with my purchase!

Cute!
By
Shopper

(Erie, CO) - November 19, 2011
I bought this product as a baby gift for my friends. I ordered the wooden one for myself a couple of years ago. I do think the wooden one looks a little better, because I'm not in love with the pink. I think the pink is too bright up against the white background. But overall, it is a beautiful frame, nice quality, and I know my friends will love it!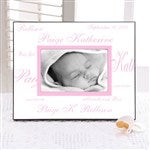 Need another color
By
Shopper

(Tallmadge, OH) - November 13, 2011
New parents like this gift becuase it is personalized. It is contemporary and it is a good price for the high quality. The pink and blue colors are strong but okay. I suggest the company offer an black & white option. Many new parents do not decorate baby rooms in blue & pink.

Customer service is incredible!
By
Sonya R.

(enterprise, AL) - November 7, 2011 (
See all reviews by this customer
)
I've been a customer for about 10 years and have never had a problem...except this once. A frame that I had purchased was beautiful, but had a flaw. The center cut was crooked, therefore making the rest of the personalzation off.
I called customer service, followed instructions as requested and a new one was shipped out immediately. She was very understanding & apologetic and made the whole process of getting a new one so easy. I love this website..even more now!! Thanks again for your assistance. :)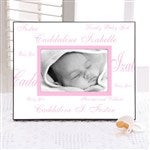 Makes a great gift!
By
Lesley S.

(Rockville, MD) - September 28, 2011 (
See all reviews by this customer
)
This is a great gift, especially for a second or third born when the parents already have everything they "need" for the baby. Every time I have given this gift the parents have really enjoyed it (and I enjoyed it when I got it for my second daughter! It sits on her dresser and is enjoyed daily)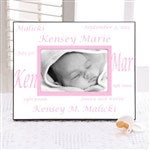 Unique Gift
By
Megan S.

(Tabor, IA) - September 20, 2011 (
See all reviews by this customer
)
This is a great personalized gift for anyone. I thought the blue color would be more of a baby blue, it is brighter than I expected. I am still happy with my purchase.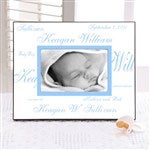 Original and thoughtful gift
By
Lyndsay W.

(North Huntingdon, PA) - September 10, 2011 (
See all reviews by this customer
)
I am usually pleased with this frame that I get for my friends after they have a baby. However, the past two frames I have received, I wasn't very satisfied with the quality of frame due to some little defects, such as knicks. Besides that, they are very cute and original gifts.

Very happy all around
By
Nicole C.

(West Chicago, IL) - August 27, 2011 (
See all reviews by this customer
)
The product is made out of quality wood and looks great. I'm not a big fan of the cheap cardboard back though. It doesn't fit snug.
Customer service was great. I opened the box and glass of the frame was broken. I called customer service and they instantly shipped another glass frame and I recieved it within 2 days. All around very happy.

Keepsake Gift
By
Shopper

(Plano, TX) - June 13, 2011
I ordered one for my son when he was born and everyone loved it, so it was a no brainer when my friend had another baby what I was going to get her. I enjoy giving personalized gifts and know that it's one of a kind. Love the quality and quick production turnaround time!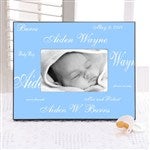 Great gift for new baby's family
By
Shopper

(Chicago Ridge, IL) - June 12, 2011
I have ordered these frames multiple times and have always been pleased with them. They are a great gift at a reasonable price. It is always nice to see new parents get excited to see their new baby's name and information in print so soon. I have always received them within days of ordering.

BEST BABY GIFT EVER!
By
Shopper

(Brownsburg, IN) - May 11, 2011
UPSIDE: Every new parent who I send this to raves about it. Then, when the next baby arrives mommies send me the "stats" by email before I even ask! They want their baby frame! Also, it has great bang for the buck!
DOWNSIDE: The frame, the box and the ouside box are covered in personalization.com logos and and advertising. It cheapens it to the point where I have it sent to me so I can "de-logo" it, re-wrap it and send it on. That way it looks like it comes from a high-end gift or baby shop. They should offer a No Labels or Logos preference. I'd pay more for that.

Great gift idea
By
EMBER N.

(REDMOND, OR) - May 9, 2011 (
See all reviews by this customer
)
5th frame ordered in 2 years. Great gift idea. Will continue to purchase these frames for family, friends and myself. I recommend the wedding frame similar to this. Really brings a lot of joy with all the details shared.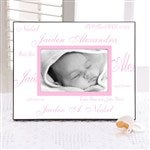 Baby Frame
By
Shopper

(Northport, NY) - March 16, 2011
I love this frame. So far I have given it as a gift twice. I hope to give it to all my friends that have babies.

Great Gift
By
Shopper

(Lansing, MI) - March 14, 2011
This is a great gift! I have bought several of them not only for myself but for others as gifts! People love the personalization of this gift! Also a great idea for wedding gift!

Great Baby Shower Gift
By
Jennifer M.

(Saint Ignatius , MT) - February 27, 2011 (
See all reviews by this customer
)
I bought the Personalized Baby Frame(white on pink)for friends who recently welcomed their first child(baby girl)to their family. The details (babys/parents names, birth weight, date of birth) made it a special touch for such a special occasion. Thanks Personalization Mall!

Love it!
By
Shopper

(Mt Prospect, IL) - February 9, 2011
I love this frame and love giving it as gifts. My only comlplaint is the blue. It used to be a "dustier" shade, I liked the old blue much more.

baby frame
By
Shopper

(wilsall, MT) - January 23, 2011
I've ordered this frame for all of the new arrivals in the neighborhood. I like it really well. hopefully, they do, too.

Colors don't match the website sample
By
Shopper

(Aliso Viejo, CA) - January 21, 2011
These frames are very cute however with my last order the blue is more like a shade of purple, and the pink is more of a hot pink. Definitely different shades than the website example.

Other than the color differences, it's a clever idea and a perfect gift!

Very nice frame
By
Shopper

(Plainwell, MI) - January 19, 2011
I continue to be happy with the service and selection of all the items on the site. This frame is very nice but I ordered the pink with the white writing and felt that it was a little hard to read ... just not very clear and crisp. I wouldn't hesitate to order from the site again as I have been happy with several other items.

Love the idea of the frame
By
Shopper

(Fredericksburg, VA) - January 17, 2011
I love the idea of this frame but I have a problem with the quality of the last few I have ordered. The color on frames in pink that were ordered two years ago had a deeper pink color. The recent ones ordered seem almost faded. Would have liked bolder color to show up better.

Loved the boy and girl frames
By
Carrie O.

(Elmhurst, IL) - January 10, 2011 (
See all reviews by this customer
)
I received a blue frame as a gift 3 years ago for the birth of my son. I just ordered a pink one for our new daughter and I love them both. They turned out great and its such a nice way to commemorate a birth. These make great gifts!!!

Great frame.
By
Deborah E.

(Hudson, NY) - December 13, 2010 (
See all reviews by this customer
)
This frame is beautiful. The personalization is done correctly and looks great. I love it. The only thing I would change is possibly the background color. White is ok, but I would really like a silver frame, which is how it looks in the picture online.

Nice, but missing option to enter height
By
Patricia E.

(Pleasant Hill, CA) - November 1, 2010 (
See all reviews by this customer
)
It's a very cute idea, but no option to enter height! Also, all information is out of place? It would've have been nice for the information to be in one place.

Better than expected
By
Margaret S.

(Basking Ridge, NJ) - October 29, 2010 (
See all reviews by this customer
)
I was very happy with the picture frame. It was a good quality and I am proud to give this as a gift.

Nice Frame, Quality 4 out of 5
By
Steven S.

(Thorndale, PA) - October 25, 2010 (
See all reviews by this customer
)
This is a really nice frame for anyone who just had a baby. My only bad comment would be that the back of the frame is not very well constructed. I would purchase this anyway as the design overcomes the craftsmanship.

loving baby gift
By
Christina K.

(Downers Grove, IL) - October 13, 2010 (
See all reviews by this customer
)
I received one of these when I had a baby and now make it a regular baby gift to friends. THe service is very fast - delivered within days of order. The new mom hadn't seen anything like it before and was thrilled. The back could be thicker/firmer/stronger, but overall a great gift.