Changed? or is it my memory?
By
Liz C.

(Bloomington, MN) - July 21, 2010 (
See all reviews by this customer
)
The frame I ordered is adorable and just what I ordered. However, to me it seemed different from the one I ordered for my great niece's brother two years previous. I don't remember the black edges on that one or on another I had ordered before that. Were the frames made differently at one time? Just curious and wondering if my memory may be what has changed!

Very Cute
By
Cindy R.

(turlock, CA) - July 14, 2010 (
See all reviews by this customer
)
The frame was really cute and sturdy. The only complaint I have is that the sides of the frame are black. I got the pink writing on white background, which really doesn't go w/ black on the sides. Other than that, I thought it was really cute.

Beautiful frame
By
Rosaria D.

(Staten Island, NY) - July 8, 2010 (
See all reviews by this customer
)
The frmae is beautiful. Makes a beautiful gift. I've ordered this frame in the past and each time it's a big hit.

New Arrival Personalized Baby Frames
By
Elaine N.

(Randolph, NJ) - July 1, 2010 (
See all reviews by this customer
)
I am very pleased with the frames I have ordered. However, this last one didn't give me a point weight. The baby actually weighed 4 lbs. 2.6 oz. However, I only had the option of 2 or 2 1/2 oz. Nowadays with the use of digital technology, babies are already in the point system at their birth. Hopefully, the offered choices will reflect this in the future!
I have had so many positive comments on these frames I have purchased. The recipients love them. I love them and hope you will continue to offer them.

Great Baby Gift
By
Dana E.

(Charleston, SC) - June 19, 2010 (
See all reviews by this customer
)
I have purchased this item three times for new baby gifts. The first purchase was for my new granddaughter. I love it and so do the moms of the babies that receive it. It is the perfect way to display a photo of a precious new arrival.
I'll definitely use this item again as a gift whenever the opportunity is available.

precious
By
Shirley A.

(New York, NY) - June 16, 2010 (
See all reviews by this customer
)
We received the white on blue version as a gift after the birth of our first son, so when our second son was born, I had to order the blue on white version. They are absolutely precious! I highly reccomend this as a gift or self-purchase.

great gift
By
Nicole T.

(Florham Park, NJ) - June 9, 2010 (
See all reviews by this customer
)
I first received this frame as a gift 4 years ago and I loved it. I have been giving it to all my friends and family that have babies ever since. It is unique and personal. Everyone always loves it. My only critique is that the part that covers the actual picture is a flimsy plastic but I haven't had any problems.

Baby's name frame
By
Marsha M.

(Owasso, OK) - May 25, 2010 (
See all reviews by this customer
)
I purchased a personalized frame for my daughter-in-law to put on her desk at work. It has the baby's name all over it. It's really cute and is a nice heavy/sturdy frame. I got the white frame with the pink lettering. After seeing it in person, I think I would have liked the pink frame with the white lettering better, but I believe my DIL will like it just fine. I would definetly recommend this as a gift or keepsake.

Perfect Gift!
By
Colleen M.

(Wentzville, MO) - May 7, 2010 (
See all reviews by this customer
)
I love the Personalized Baby Frame! It is my "go-to" gift for all my friends and family with new babies!

Baby Fame Gift
By
Nancy T.

(Dallas, TX) - May 7, 2010 (
See all reviews by this customer
)
Love it and will be proud to give it to my friend as a gift!

Very nice picture frame
By
andrea villalobos C.

(valley center, CA) - April 20, 2010 (
See all reviews by this customer
)
I had purchased the picture frame for one of my co-workers the frame material and design is very nice. i would recommend this to anyone.

Great gift for the new Mom and Dad!
By
Judith G.

(Cape Coral, FL) - April 1, 2010 (
See all reviews by this customer
)
I received my personalized frame a few days ago and I was very pleased with the quality and packing of same. It is a unique gift that I am sure will please the parents ... probably the first gift with their little one's name and personal data on it. I can't wait to give it to them! I will definitely order this again for another occcasion... very fast shipping, too. All in all I was very pleased with this product.

Adorable!
By
Jennifer T.

(Prospect Park, PA) - March 1, 2010 (
See all reviews by this customer
)
I got this for a friend's daughter when she was born. I love these frames. Someone gave me one for my wedding and I absolutely love it. The only thing I wish I could change it being able to design the layout yourself so you can choose how the info is positioned on the frame. Overall, I love the frame & they make great gifts!!

Personalized Baby Frame
By
Mary B.

(Locust Grove, GA) - February 22, 2010 (
See all reviews by this customer
)
LOVE the frame; would have given it four star however, the block print is not what most block print looks like. I have ordered items in block print before and this is more like a different style of script. As matter of fact, I thought surely they had sent the script instead of requested block. However, when I spoke with the customer service rep, she informed me that it looks very much similar to script. I do love the frame but wish you would print BLOCK in the usual block style as I think it looks a little "feminine" for a male.

A very nice idea
By
Liliana M.

(Rockville, MD) - February 11, 2010 (
See all reviews by this customer
)
Your personalized frame is a very nice idea for celebrating something special about a little one. I enjoyed it a lot.

go with pink on white
By
Lisa S.

(Hewitt, NJ) - February 11, 2010 (
See all reviews by this customer
)
this is by far a favorite baby gift for me to give the many friends who welcomed little ones. I bought this frame in both white on pink and pink on white. I prefer the pink on white better. It is clearer to read and has a more formal feel to it. i also put the baby's weight and length in place of the parents' names.

Pink lettering on white frame
By
Mary-Ann K.

(MA, MA) - January 27, 2010 (
See all reviews by this customer
)
I really liked how the frame turned out, my only hesitation was with my coloring choice. Whereas the pink on white is beautiful, something about the plain white frame I think detracts from the overall appearance. But all in all, great choice!

Love this frame!
By
Heather G.

(Germantown, WI) - January 26, 2010 (
See all reviews by this customer
)
This is a fantastic present for a new baby. I love the specifics which are placed on the frame. What a great keepsake!!! Also I received my order in less than 5 days from placing it online...great service!

New Arrival Personalized Baby Frame
By
Renee W.

(Belle Plaine, MN) - January 21, 2010 (
See all reviews by this customer
)
The person I gave this to as a baby shower gift loved it. I received it quickly and it was exactly what I expected. Good value.

Great Gift for new baby!
By
Nicki B.

(Waconia, MN) - January 20, 2010 (
See all reviews by this customer
)
I love the personalized frames from personalization mall. I have given more than my share as wedding, birthday, anniversary, and baby gifts. The quality is great, and I know the recipient will enjoy it for years to come. The only reason this is not getting a five star rating is 1) the lettering is noticably screen printed, and 2) There is room for the date and weight, but not length and time. If they would put that in there instead of the parents names, it would be a five star product without a doubt!

nice quality - looks professional and has a nice weight to the frame
By
laurie W.

(morganville, NJ) - December 24, 2009 (
See all reviews by this customer
)
I'm happy with this purchase. The only reason I gave it 4 stars instead of 5 is because to be happy with this product you have to be into a "different" kind of frame. The words are spread all over (like in the picture) so it's kind of "modern". The babies name is split (except on the top where it's listed in full) and the weight in pounds is on the left and the ounces is on the right. Before you purchase the product, the website shows you exactly what it will look like so you see where the words were split.

They shipped it within one day and it arrived shortly thereafter. Overall, please with the product. I think the gift recipient will really like it.

A Must for New Parents - Would Make a Great Gift
By
Whitney M.

(Lemoore, CA) - December 23, 2009 (
See all reviews by this customer
)
I purchased this frame for us and LOVE it. It showcases a special time, in a unique way. The different way it is personalized is wonderful. The frame is displayed in our living room for all to see. The price was excellent and it is a great way to perserve that special day. Pictures can easily be switched out too. We also have received numerous inquiries as to the origin of the frame. My only slight complaint is that they did not wrap the frame in tissue or bubble wrap before putting it, in its perspective box. There was a black smudge and some black flakes on the frame but they did wipe off. I will purchase from them again.

Great gift
By
Roxana B.

(Van Nuys, CA) - December 15, 2009 (
See all reviews by this customer
)
This frame looks just like the advertised picture and even better. It makes a wonderful gift for new parents

almost perfect
By
Charlene M.

(Eureka, CA) - December 11, 2009 (
See all reviews by this customer
)
Delighted with the ordering, delivery and quality.
Ordering was easy and I got to proof it prior to the final order.
It arrived quickly.
The frame looks just like the proof and will make a wonderful Christmas gift.
My husband noticed right away that no where on the frame is the baby's entire name (i.e.: Patrick Ryan Kelsey). That may be a space issue for the program used.
Beautiful, sturdy and great for our new great-grandson.

great gift
By
Jacquelyn N.

(Glenolden, PA) - December 11, 2009 (
See all reviews by this customer
)
I enjoy giving this to my friends they just love it and rave about it!

Baby Frame is very cute, but
By
Jennae B.

(Pittsburgh, PA) - December 11, 2009 (
See all reviews by this customer
)
The frame had a few small smudges of dark grey on the white areas. I tried to rub them off, but they were in the frame for good.

Unbelieveably fast shipping
By
Kathleen V.

(Owensville, MO) - December 1, 2009 (
See all reviews by this customer
)
I received the frame in four days! I ordered two days before Thanksgiving and it was here the day after. Amazing for a personalized item! I like the frame a lot but would prefer that the finish was not high gloss. I know the parents will be thrilled with it.

Great gift!
By
lisa B.

(bethesda, MD) - November 12, 2009 (
See all reviews by this customer
)
I have ordered this frame (white background) atleast 6 or 7 times in the past few years. All of my friends have loved receiving it! Everyone's had girls, but I finally got to order my first one for a boy and I loved it just the same. This is a great gift anyone would love! The only downfall is when you enter the info, I don't like including the weight bc it breaks it down in an odd way... with the lbs in one locaton and oz in another. I just leave that part blank. I do wish we had more say in the layout as well... sometimes being able to add a nickname would be helpful!

A Memory Treasure
By
Mary W.

(Port St Lucie, FL) - October 15, 2009 (
See all reviews by this customer
)
When I found this website, I began searching for something special for my first grandchild. My son lives a few states away and travel is not as often as I would like.
This caught my eye and I could not decide on the design, so I got one of each; one for my dear friend's new granddaughter. I cannot decide which is more perfect, but love both. I never give anything the highest rating possible, having learned from job reviews, there always room for improvement...although I am not sure in this case there is. We LOVE this frame! And both my friend and I are making our list for the holidays...thank you for the quality and unique merchandise.

Beautiful Frame
By
Marisol L.

(North Bergen, NJ) - October 7, 2009 (
See all reviews by this customer
)
I got this for my cousin's baby and it really made an impression. It's a very elegant and modern looking frame.

Cute Baby Gift
By
Paige M.

(Indianapolis, IN) - October 1, 2009 (
See all reviews by this customer
)
I love these frames for baby gifts. A great price for a really great keepsake frame. I would have given it five stars but the back of the frame is cardboard that warps over time because of the weight of the frame. If this was corrected it would be a five star frame!

Not as good as before
By
Heather O.

(Douglassville, PA) - February 18, 2014 (
See all reviews by this customer
)
I purchased one of these frames 4 years ago and absolutely loved it, this purchase seems to be produced with much cheaper product then prior. It was very disappointing to open the box to a cheaply made frame compared to the previous one I had purchased.

Product has been changed and not for the better
By
Shopper

(Topsfield, MA) - March 2, 2013
I had been given this frame as a gift for my first daughter, 3 years ago, and was beyond thrilled with it. The color pink was perfect, almost a mauve, and it had the option of being hung on the wall. Because of this, I ordered one myself for my second daughter and was expecting the same frame. However, it is very changed. The color pink is very light and bright, making the white text on the frame hard to read. And, the option of hanging the frame has been removed, so it can only sit on a table. I had planned on hanging both frames next to each other on the wall but this is now going to require some work on my part to attach a hanger and also the pinks do not match - they clash. I'm very disappointed.

Color is off
By
Shopper

(Eldersburg, MD) - January 29, 2013
I was not pleased with the shade of pink. It doesn't match the color that shows up on the computer. It is brighter. I was looking for a softer baby pink.

Pretty
By
Shopper

(Hamilton, OH) - March 30, 2012
The frame is beautiful. My only disappointement was online the pink looks a lot softer. When it arrived, I was shocked how bright the pink was. I'd recommend choosing a different color if you don't like flashy colors.

Personalized Baby Frame
By
Shopper

(Los Angeles, CA) - November 27, 2011
The frame looked very nice and it was beautifully engraved. I don't know what I was expecting but the material it was made of was not the quality I thought it would be. From a picture you can't touch it.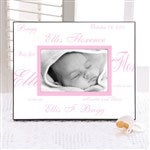 Good not Great
By
Shopper

(Mitchellville, MD) - September 20, 2011
The pink is very sweet and perfect for a baby girl however the contrast between the pink and white does not allow the words to show off as much as the black and white wedding one of these I gave another couple. It is still a much appreciated gift.

baby frame
Nice personalised gift, different and original.

cute but plain
By
Shopper

(Kearny , NJ) - May 3, 2011
order this frame as a gift. Love the frame with all the information. But is was missing something the pink on white made it seem like the frame was too plain even though it had the name, weight and day the baby was born. Mabe if the pink was a little darker. If the frame had like a little faded back ground picture of little baby hands of little baby feet. It wouldn't look so plain. The white frame was too much. Over all the frame was cute and with all the babys information it nice. The quality and the price was great. They person still loved the gift.

Different Color - Not as vibrant
By
Aliyah S.

(Los Angeles, CA) - December 3, 2010 (
See all reviews by this customer
)
I ordered this to match the one I have for my older daughter and the color is very different. The older one - from two years ago - is a vibrant salmon. This is much paler and I think not as pretty.

Aliyah