baby frame
By
Barbara L.

(Tamarac, FL) - October 1, 2009 (
See all reviews by this customer
)
I absolutely love this item. It was given to me as a gift when my first child was born and I ordered one for my second. I also order this for every person I know that has a new baby. I think the personalization makes it a treasure to keep forever.

Big Hit
By
nancy E.

(chevy chase, MD) - August 23, 2014 (
See all reviews by this customer
)
This was a present for 1st time grandparents and they loved it. It arrived quickly and was very well-received.

A special gift
By
Chris S.

(St. Charles, IL) - July 7, 2014 (
See all reviews by this customer
)
Ever sinc we received one of these frames as a gift for our daughter's wedding,I have ordered this frame (also available for other occasions, as well as baby) at least a dozen times.It never fails to bring wonderful responses from everyone who sees it.It is, by its very nature. unique.The only drawback that I found with the one that we received was that over time the back cardboard warped and would not support the frame.The problem is easy to rectify but does diminish the perfection of the frame

Love the frame
By
Shopper

(Marrero, LA) - June 27, 2014
I really love this frame! Only suggestion would be to make the date optional. As I have this as a gift for a baby shower so obviously I don't know the day she would be born. I ended up just putting the month & year so hopefully she comes in that month!! Other than that it is a sweet & wonderful gift!

Nice gift
By
Lynne K.

(West Haven, CT) - June 9, 2014 (
See all reviews by this customer
)
This is my 2nd purchase of this item and I think it makes a very special gift for a new baby. Lovely frame for the money

Great gift for new parents
By
Shopper

(Saugus, MA) - May 26, 2014
I have bought this frame several times for new parents. They all love it. It is a personalized keepsake that they will always have.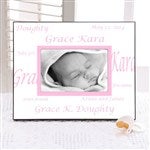 Personalized Baby Frame
By
Shopper

(Houston, TX) - March 8, 2014
My recent order was fine (white with pink) I have given this gift for the past several years and it is so special. My order before this 3 frames was great except for the NEW color BLUE!! I expected as in a previous order the lighter baby blue on white. I got a bright blue. I am still debating whether to give the gift. I was so disappointed.

Awesome
By
Shopper

(Brooklyn, NY) - January 20, 2014
The frame is of good qaulity and looks Great

FAVORITE GIFT
By
Shopper

(Plymouth, MA) - January 14, 2014
This frame is my "go to" baby gift. Every recipient has seemed extremely pleased !

However, I've noticed on the last two Boy frames that the color blue has been changed.
Formerly, it was a nice soft shade of blue; now it is a more jarring bright blue color.
I may only order the Girl frame from now on.

I still would recommend this frame as a wonderful memory for both parents & grandparents


Cute
By
Shopper

(Dryden, MI) - December 23, 2013
This is cute, not the kind of style I normally like but it's still a cute item and I'm sure the parents will like it.

great product and shipped quickly
By
Roni G.

(Greer, SC) - October 28, 2013 (
See all reviews by this customer
)
I purchased this frame as a gift. It came to my house so quickly and it looks great. I also really liked that I could see what it would like it before I purchased it. It is better in person. Love it!

Perfect baby gift!
By
Mary C.

(Bloomington, MN) - October 26, 2013 (
See all reviews by this customer
)
I received one of these frames a couple years ago when my son was born and love it so much that it is now my go-to gift for friends who have a second (or third) baby or llive far from me. (I obviously wouldn't give it for a shower gift before a baby is born.)

There's just something about seeing your new baby's name in print that is so touching!

Shipping is always so fast!!

The reason I didn't rate this product five stars is that the backing that holds the picture in the frame and has the frame stand on it is a little flimsy. There are little rotating peg things that hold the back on from the left and right sides, but not the top and bottom. The backing on my frame has curved out on the top and bottom. I was able to hold it in with a little nail on the bottom.

With that said, the personalizing and quality on the front of the frame are wonderful! Even though the frame backing could be better, I still give this gift frequently! I've given at least 10 friends this gift and they all tell me how much they adore it! :-)

Baby frame
By
Shopper

(tinley park, IL) - September 17, 2013
Adorable keepsake for baby. Just wish there were more color options

Mom loved it!
By
Shopper

(Scott, LA) - June 26, 2013
From the picture it look really cute. I had it delivered to my nephew's mom's house and she told me she loved it!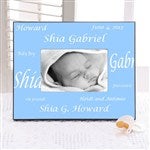 Cruz picture frame
By
Erin Z.

(Nebraska City, NE) - June 4, 2013 (
See all reviews by this customer
)
The frame turned out very nicely. I had received this same frame as a gift for my oldest son two years ago. I liked it so much that I wanted my new baby to have one as well. I was very shocked and disappoitd when Cruz's frame came and the blue color of the frame aren't the same even though the website picture made it appear as if it would be the same color. I like the frame because its for my son, I just wish it would have been like the website and like the one I previously had.

Personalization options
By
Shopper

(Norcross, GA) - May 10, 2013
Nice gift for new baby but would like more personalization options since the middle name is the name he will be called. No options for making changes.

pretty personalized frame
By
Shopper

(Mountainside, NJ) - April 19, 2013
I love the idea of this frame and have purchased several of them simply because of the display of the name and birth information. However, my one complaint about this frame is the cumbersome black edging on the frame. If the frame is intended for soft baby colors the frame would look better with either a matching edge or a white edge. Maybe a choice could be offered to suit the recipient's decor???

brighter blue than it looked on line
By
Shopper

(Watertown, NY) - April 13, 2013
The personalization was pretty good and the frame itself is of very good quality, but the web site showed this product as a pale blue and when it arrived, it was a very glossy/shiny, almost medium blue - it's ok but just not like it seemed on the web page.

Love this frame!
By
Susan K.

(Imperial, MO) - March 9, 2013 (
See all reviews by this customer
)
I received one of these as a gift for my oldest child's baptism. When I had my second child it was an absolute must to buy one for him as well! I love the way it captures the memory of those most important details of your child's first moments. The only thing I am disappointed with is that the frame I just purchased doesn't have a hook on the back to hang it. The first one I received did so I expected the same for this one. That's the only reason I gave this 4 stars and not 5. Other than that, GREAT frame!

A "Go-to" Baby Gift, but the last one wasn't perfect
By
Shopper

(Falls Church, VA) - January 18, 2013
We received this gift when my son was born, and I absolutely loved it! I have since given it as a gift to a couple of friends, always mailing it to their houses. The most recent frame I ordered, I had sent to myself since it was a local friend, and I was disappointed that the blue border around the photo was off-center and part of the blue was chipped.

Great item
By
Shopper

(Mequon, WI) - December 14, 2012
2nd child and 2nd time purchasing this frame -- 1 girl & 1 boy. Item was just as promised and was shipped very quickly. Only reason I didn't give 5 stars is because I would like to see more font types, but we are done with kids so will have to be for friends next time!

Beautiful Frame
By
Shopper

(Pembroke, MA) - September 10, 2012
The personalized frame appears just as advertised on the website. I have received this as a gift in the past for my children, and I purchased it now as a gift for a friend. I am slightly disappointed with the quality of the back of the frame that locks the picture in - it is a little flimsy and seems to have warped over past 2 years. Otherwise this frame is a great purchase and a great gift!

Unique baby gift
By
Nancy D.

(Shirley, NY) - September 4, 2012 (
See all reviews by this customer
)
This personalized frame is truly a unique gift that will be treasured forever. This is the perfect gift if you don't want to just give the same thing everyone else will give. It has all the important birth information and is sure to be appreciated by baby's parents. Just be aware that it's a wood frame covered with laminate, which gives it a plastic appearance. Thus the 4 rather than 5 stars.

Very cute!
By
Shopper

(Ogden, IA) - September 1, 2012
I have purchased this before for a baby shower and it went over very well. Everyone wanted to know where I had gotten it. It's always fun to buy the stand out gift.

Just perfect
By
Shopper

(West Haven, CT) - August 24, 2012
This was such a pretty and unique frame. Bought it as a gift and couldn't have been happier with the product and the quality.

something to add
By
Shopper

(Sunset, SC) - July 13, 2012
Love the frame. Only which it would include time of birth next to date. And include the length too.

Cute but not many color options
By
Courtney W.

(Elmhurst, IL) - June 16, 2012 (
See all reviews by this customer
)
I think it's cute but would like other choices than this shade of blue or pink.

Great gift
By
Leilani F.

(Tamarac, FL) - May 17, 2012 (
See all reviews by this customer
)
Unique gift! I love it. Have bought in both pink and white. Prefer the pink.

Great gift!
By
Megan F.

(West Des Moines, IA) - April 28, 2012 (
See all reviews by this customer
)
I love these frames and they're my go-to baby gift. My only complaint is the fact that the blue is now a different shade. Not a big deal, but a little annoying for someone who has multiple frames and wants them to be displayed together.

The script lettering is better for the girls
By
Shopper

(Midlothian, VA) - April 15, 2012
I received this frame as a gift for my daughter and loved it. I ordered it for a friend's son, but for a boy I would order the block lettering next time- the script S and Z looked more like Ls, but overall I was happy with the frame.

Unusual and eye catching frame
By
Shopper

(Canada) - March 19, 2012
Ordered this for our grandson. The way the computer takes the personal info and displays it on the front of the frame is touching and very personal. Arrived with a small scrape on the black edge on the side which I was able to fix with a permanent black marker. Overall, a great buy. Shipping to Canada expensive but I have seen nothing like this here so worth it.

Delightful Gift, but could use stronger back
By
Mary C.

(St. Louis Park, MN) - March 17, 2012 (
See all reviews by this customer
)
I received this beautiful personalized picture frame when my son was born. It is such a special gift and was a wonderful surprise! After a few months though, I realized that the cardboard on the back (the piece holding the picture in), was curving away from the frame which makes the frame a bit wobbly. There are little pieces that slide into the frame on the left and the right, and it could use them on the top and bottom too.

Also, I wish there was a place to put the baby's length and time of birth.

With that said, I have since ordered the personalized frame for three friends who have had a baby since my son was born. It is great for a friend who lives out of state (so I don't go to a shower and give a gift from their registry), or for someone having a second baby who already has all the typical baby gear.
I did not rate this five stars because of the instability on the back of the frame, but it is a great gift!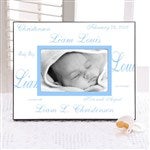 Great babybgift
By
Shopper

(Lakewood, IL) - March 3, 2012
This is a favorite of mine and always get wonderful comments back. Nice quality and good price

Nice frame
By
Shopper

(MOBILE, AL) - February 6, 2012
This was a nice frame and made a great gift for some new parents. It seemed a little cheap actually (that's why I didn't give it more stars), but it served its purpose well.

My Go-to Baby Gift
By
Shopper

(Rolling Hills Estates, CA) - January 9, 2012
I usually have these gifts sent directly to the recipient, but I wanted to see how the quality was after giving this frame as a baby gift for many years. The front is still well-made and high quality, but the stand in the back appears to have been cheapened with low-quality cardboard, not any type of substantial, well-made velvet-covered stand as I would expect. Still, it's a nice gift to give.

Unique Personalization!
By
Audrey M.

(Holland, PA) - December 12, 2011 (
See all reviews by this customer
)
This frame captures all of the relevant information about a new baby in a unique and sophisticated way. I couldn't be happier with my purchase!

Cute!
By
Shopper

(Erie, CO) - November 19, 2011
I bought this product as a baby gift for my friends. I ordered the wooden one for myself a couple of years ago. I do think the wooden one looks a little better, because I'm not in love with the pink. I think the pink is too bright up against the white background. But overall, it is a beautiful frame, nice quality, and I know my friends will love it!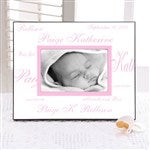 Need another color
By
Shopper

(Tallmadge, OH) - November 13, 2011
New parents like this gift becuase it is personalized. It is contemporary and it is a good price for the high quality. The pink and blue colors are strong but okay. I suggest the company offer an black & white option. Many new parents do not decorate baby rooms in blue & pink.

Customer service is incredible!
By
Sonya R.

(enterprise, AL) - November 7, 2011 (
See all reviews by this customer
)
I've been a customer for about 10 years and have never had a problem...except this once. A frame that I had purchased was beautiful, but had a flaw. The center cut was crooked, therefore making the rest of the personalzation off.
I called customer service, followed instructions as requested and a new one was shipped out immediately. She was very understanding & apologetic and made the whole process of getting a new one so easy. I love this website..even more now!! Thanks again for your assistance. :)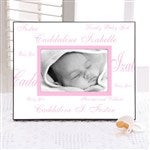 Makes a great gift!
By
Lesley S.

(Rockville, MD) - September 28, 2011 (
See all reviews by this customer
)
This is a great gift, especially for a second or third born when the parents already have everything they "need" for the baby. Every time I have given this gift the parents have really enjoyed it (and I enjoyed it when I got it for my second daughter! It sits on her dresser and is enjoyed daily)