Gift for professionals
By
Shopper

(Bartlett, TN) - June 20, 2013
Makes a nice gift for those who are hard to buy for because they usually buy anytrhing they want themselves. I have given them to my Doctors, Nurses and my dogs Vet. Bought 5 so far and will buy more as needed.
All seemed pleased.

Most beautiful gift ever!
By
Georgia R.

(Fair Oaks Ranch, TX) - June 19, 2013 (
See all reviews by this customer
)
The Engraved Rosewood Pen set proved to be the best gift I have ever pruchased. I has the look of a much more expensive gift yet the intrigue of a specially chosen gift. The engraving was perfect, both on the case and the pen. The wood has a rich smooth texture. I was more than pleased with the Set.

Very pleased with this product
By
Shopper

(Brownsville, WI) - June 4, 2013
I was very happy with the quality of this pen and the engraving. Both the pen and box looked good. I thought it looked very nice and professional (given for graduation present for a nurse). The person receiving this pen also said she liked it very much. It was a nice personal present at a reasonable price.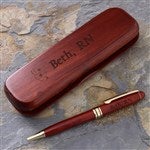 Excellent quality!!
By
Shopper

(Monrovia, CA) - May 28, 2013
I bought this pen as a graduation present for my boyfriend graduating med school. It came in time and the quality was excellent! My father is a bit of a pen collector so I asked him, "How much do you think I paid for this?" Knowing I got a good deal he said, $50?" I said nope! $20 and he was very impressed. I've looked at personalized pens other places and that are soooo much more expensive and some of them were lower quality. My boyfriend loves the pen! Def a great purchase.

Loved it!
By
Lauren R.

(Flushing, NY) - May 9, 2013 (
See all reviews by this customer
)
Bought this for my boyfriend who is in medical school and he absolutely loved it. Was a really big hit!

Always satisfied with Personalization Mall
By
karen M.

(Eureka, IL) - May 4, 2013 (
See all reviews by this customer
)
We have never had something we are not satisfied with. The quality is excellent, the service great, and the delivery always on time! I will continue to use this site for many special occasions!

Wonderful gift item
By
Shopper

(Tampa, FL) - January 11, 2013
Was delivered within 8 days and was everything I had hoped for. Extremely good quility and careful workmanship on the engraving.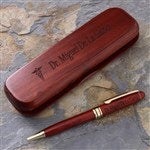 Worth the $$
By
Shopper

(Salem, MA) - December 12, 2012
Definitely worth the money. My item was ordered an shipped within 8days. We purchased this for our PCP who's retiring.

Excellent Product
By
Shopper

(San Diego, CA) - December 10, 2012
Very very please with my purchase, better than expected, excellent quality. This will make an excellent gift to my NEW Doctor. Thank you for making it happen.

Very Pleased
By
Patricia H.

(Moultrie, GA) - December 1, 2012 (
See all reviews by this customer
)
I was very pleased with the Engraved Rosewood Pen sets I purchased. They arrived within five days of my ordering them and the engraving both on the pen and the case was very well done. These are presents for the physicians and nurse practioner I work with and I am very pleased with the product. They are very professional looking and the price was within the budget I had.

Impressive
By
Shopper

(Southington, CT) - August 28, 2012
Bought two pen sets for my bosses and was very pleased with the quality. They are beautiful , very impressive and worth the price. They shipped quickly too. Very happy with this company!!!!


Rosewood pen
By
MARK V.

(SCHUYLKILL HAVEN, PA) - July 21, 2012 (
See all reviews by this customer
)
This item did exceed my expectations from the rapid turnaround time and especially the quality of the product and engraving. I have recommended this site to family and friends as well as several commenting on being impressed with the pen.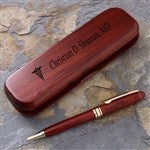 Great item
By
Sabah N.

(Bayonne, NJ) - June 20, 2012 (
See all reviews by this customer
)
Perfect gift
For my doctor he loved it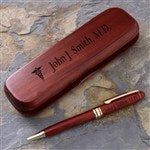 Doctor's Day gifts
By
Lisa M.

(Fredericksburg , VA) - April 21, 2012 (
See all reviews by this customer
)
These were beautifully crafted. The recipients were very pleased!

well worth the price
By
Shopper

(Merced, CA) - April 10, 2012
This item is attractive. It is a gift one can give with pride knowing that the recipient will be pleased.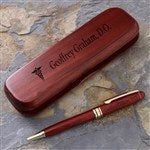 Mr. Shariff Tyson
Everyone that I've given these pen to has loved them. Thee pens will be given to my wedding party.

Excellent
By
Shopper

(Ponte Vedra Beach, FL) - March 23, 2012
came out very well!!

Pen
By
Shopper

(Australia) - February 25, 2012
good quality. very happy with product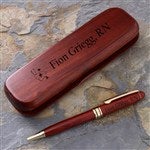 Very good item for a gift
By
helder C.

(houston, TX) - January 24, 2012 (
See all reviews by this customer
)
Classical, quality and useful pen for my uncle doctor.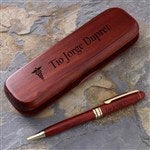 Absolutely Wonderful!
By
Robyn B.

(New Bedford, MA) - January 18, 2012 (
See all reviews by this customer
)
I cannot believe the quality workmanship engraved on this gift. I'm sure he will be ecstatic! The case is absolutely gorgeous! The pen engraving is simply amazing. I am very well pleased with this item and the price was outrageously affordable. Thank you ever so much! I found your company through Amazon; I'm so glad I did. It is a pleasure doing business with you. I shall return!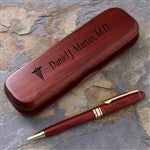 Elegant!
By
Shopper

(SAN JUAN, PR) - January 13, 2012
I bought it for my boss, and he love this gift!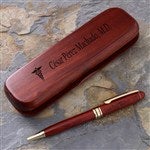 Awesome product
By
ana R.

(Laredo, TX) - December 16, 2011 (
See all reviews by this customer
)
The product I received is just as in the one I saw in the picture online. The delivery was very accurate and it came packaged appropiately.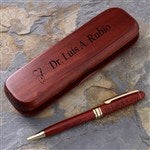 Great Keepsake
By
Shopper

(South Elgin, IL) - December 11, 2011
Great keepsake for my medical staff! Smooth transaction!!

Great transaction!
By
Patti S.

(Port Saint Lucie, FL) - December 8, 2011 (
See all reviews by this customer
)
Beautiful pen and case set and I received it within several days..Thank you!

Well Done
By
Patricia A.

(Canada) - October 31, 2011 (
See all reviews by this customer
)
A lovely keepsake to say thankyou to my medicalspecialists

Beautiful
By
Shopper

(Cheboygan, MI) - October 28, 2011
I couldn't be more pleased with this product. I've purchased it as a Christmas gift for a friend and will be very happy to give it to him. Thanks so much.

Just beautiful
By
Louisa S.

(Cullman, AL) - October 19, 2011 (
See all reviews by this customer
)
I ordered the pen for my vet, for his birthday and I was not disappointed! It is beautiful. I am sure he is going to love it. He sure deserves the best.



PEN SET
By
Shopper

(Huntington, WV) - October 11, 2011
I got this pen as a graduation gift for my wife and she loves it!

Excellent Gift
By
Shopper

(Bronx, NY) - September 10, 2011
I thought this was a perfect gift idea along with so many things that are offered on this website. Great and speedy shipping and the product is very nicely done

Just because gift for MOM
By
Shopper

(El Paso, TX) - August 3, 2011
My mom is an OB/GYN and I decided to give her a little something for her desk. She loved the quality, the detailed and it looks fantastic. Totally recommended!!

graduation gift for new doctor
By
Shopper

(chester, NJ) - June 7, 2011
Just received a note from the new doctor saying he will find his new pen very useful. He liked that it was personal.

Proud to give this gift
By
Shopper

(Concord, MA) - May 21, 2011
This is not my first purchase from Personalization Mall, but the pen and case exceed even the wonderful quality and design of my other purchases. The wood case is sturdy and the engraving is well done and looks so professional! The name is on the case as well as the pen, so perhaps it won't "get lost" while she is at work! Another well-made gift that I take pride in presenting.

Graduation Gift
By
Shopper

(Berkley, MA) - May 19, 2011
The Engraved Rosewood Pen Box is nice. I had a small problem though. The box came stained just above the engraved name. Personalizationmall.com have great customer services. After I called them with the problem, they sent me another set in good condition and very fast without charging me again. In general I like doing business with them. I wish all business had same customer services.

Great pen
By
Shopper

(DETROIT, MI) - May 3, 2011
Nice looking engraving on case & pen, looks very professional, & the pen writes good. Came very quick considering it had to be engraved.

Graduation Gift
By
Shopper

(Dover, OH) - May 1, 2011
Was very pleased with the pen set I ordered for a gift. Good quality, nice engraving and received it within a couple of days.

Graduation Gift
By
holly G.

(bemus point, NY) - April 12, 2011 (
See all reviews by this customer
)
Very nice quality. Perfect gift for graduation.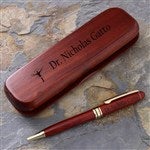 The Pen is fantastic
By
Shopper

(Kenner, LA) - March 30, 2011
I was searching for a perfect gift for my ObGyn and glad I found this website, and decided to take a chance to order an engraved rosewood pen set. I am so glad I did, the chance was worth taking. The pen is soooooooooo beautiful, the engraved name is so sophesticate and make the pen look very classy. The shipement was unbelievably fast and efficient. I received my pen within 3 days and I could not believe what my eyes was seeing.
Honestly the quality of the work done and the service delivery can't be compared to the price I paid.
I just had my baby on the 03/29/2011, I can't wait to be discharged from the hospital and go back to my Doctor office for follow-up and that's when me and My husband are planning to give the Doctor the precious Engraved with his name Rosewood pen set.
Thank you for the website, I would confidently recommend anyone who would like to give a unique and precious gift to someone they value.

It was a hit!
By
Juanita G.

(Salina, KS) - December 31, 2010 (
See all reviews by this customer
)
My doctor really liked his new pen and it's holder. He said he would proudly display the holder on his desk and he put his pen in his pocket immediately. Thank you for your beautiful work.

Pen for a friend
By
L N.

(Houston, TX) - December 20, 2010 (
See all reviews by this customer
)
I wasn't sure what to buy for my co-worker. We did secret Santas. I am a member of "MyPoints," & I received a link for "Personalization Mall. I browsed the site when I came across the medical pen set with free personalization. I thought, "This is perfect, & the price is right too!" I loved it and he did too. Thanks.

personal christmas gifts
By
Reda M.

(Agency, MO) - December 19, 2010 (
See all reviews by this customer
)
Very nicely made..good quality..wonderful gifts. That's why I re-ordered two more times.