what a neat idea!
By
Shopper

(Bluffton, IN) - November 14, 2011
Such a "different" and neat idea! My husband recently adopted my children, and this was a wonderful birthday gift that meant so much to him to see the personalization of our last name with the ALL of our names on it as a new family! Thank you so much!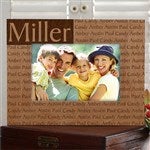 Always a hit
By
Shopper

(Holbrook, NY) - October 30, 2011
This has become my signature engagement/shower gift. It is always a hit!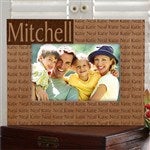 Beautiful frame
By
Sharon L.

(Louisville, KY) - October 28, 2011 (
See all reviews by this customer
)
I ordered 5 of these frames for Christmas gifts -- they are beautiful !
Quality is exceptional and the service from Personalization Mall is always outstanding.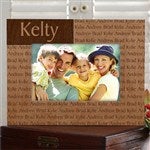 Awesome Frame
By
Lissa M.

(Cypress, TX) - October 7, 2011 (
See all reviews by this customer
)
I was a little hesitant when I ordered this. I was concerned about the quality for the price. I was pleasantly surprised. This frame is goodlooking and good quality. I plan to order additional ones for the rest of my family.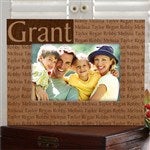 Great gift
By
Gina S.

(Caddo Mills, TX) - September 25, 2011 (
See all reviews by this customer
)
This is a great gift idea, for hard to buy for people....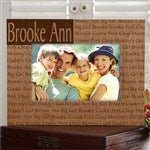 Great!
By
Kathy T.

(Pleasant Valley, NY) - September 13, 2011 (
See all reviews by this customer
)
Frame turned out great! Went on a cruise and listed the islands and ship we were on for those awesome vacation photos!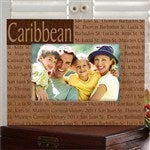 Forever's Best
By
Sean J.

(Dorchester, MA) - July 25, 2011 (
See all reviews by this customer
)
This is the best gift ever.It has such meaning to it and value to the receiver.I will be buying lots of these frames.Great Job.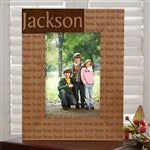 Great Grad gift...
By
Lynn S.

(Elgin, IL) - July 8, 2011 (
See all reviews by this customer
)
I purchased this frame for a friend's daughter who was graduating 8th grade. I thought this frame would make an interesting graduation frame. As I discovered with many of the frames, you can add words or short phases to personalize instead of just names. The quality was very nice and my friend's daughter really seemed pleased the frame. I always "preview" the frames to make sure everything looks perfect. This website is great.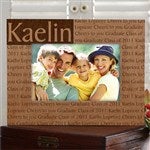 Frame
By
Shopper

(Commerce, CA) - July 6, 2011
I was very pleased with the product I ordered. It looked great with the picture I inserted. It was a gift for my husband and he was very pleased with it. Thanks for doing such a great job! and I will definitely purchase from you again..Thanks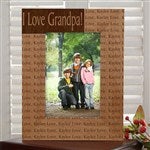 lovin' the frames!
By
Carrie A.

(Coto de Caza, CA) - June 26, 2011 (
See all reviews by this customer
)
The frames are a wonderful, personalized gift and everyone that received them loves them!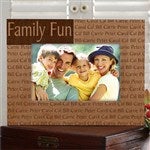 The Perfect Gift
By
Shopper

(Fremont, CA) - June 24, 2011
I found and ordered this on a Sunday. I received an email with a tracking # on Monday and had the item in hand on Wednesday! Unbelievable service! To top it all off, it looks fantastic! My mother loved it! This is an awesome, reasonably priced gift that you can add your own touch to! I highly recommend it as a gift for anyone!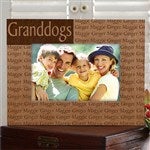 Brother's Gift
By
Rosemary N.

(Hobbs, NM) - June 24, 2011 (
See all reviews by this customer
)
My brother really loved this frame. He is the type that is hard to buy for because he buys it when he wants it. This was unique and very special to him. It was worth every penny.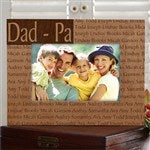 Awesome
By
Debra G.

(San Marcos, CA) - June 12, 2011 (
See all reviews by this customer
)
The frame I received is absolutely beautiful, it far exceeded my expectations, will be purchasing gifts from here in the future.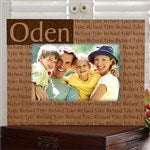 The perfect gift
By
Shopper

(Sault Sainte Marie, MI) - June 11, 2011
I ordered this frame for a father's day gift for my dad. I had Great Grandpa engraved on it with my two grandson's names going trough it and put a picture of my dad with my grandson in it. I just love it and can't wait to give it to my dad. Quality & price were great and I can't believe how quick I got it. Defiantly recommend it, the engraving at the top can be changed to suit any occasion.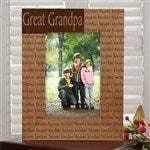 Nice Housewarming Gift...
By
Lynn S.

(Elgin, IL) - June 6, 2011 (
See all reviews by this customer
)
I ordered this frame for friends who are moving into a new home. I know they will like it and appreciate it for years to come. I have ordered many different picture frames for different occassions and have always been satisfied with the quality. I always "view" the final product before I order.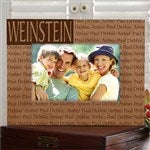 great personalized gift
By
nancy C.

(boynton beach, FL) - May 11, 2011 (
See all reviews by this customer
)
On the top line i put Meemaw loves then listed the grandchildrens names. It was such a wonderful personalized gift for someone who didnt need just one more thing given to her. The frame looks great and the service is fast ever time by this company. always very happy. (also did antoher frame at Xmas time and put in the top left Great Nana then put loves and the great granddaughters name so loves Daisy was all over the frame. it was adorable)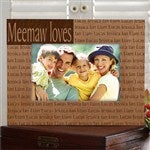 Keepsake
By
Shopper

(Oceanside, CA) - April 16, 2011
I wanted a special frame for my 5 sisters (6) included me. My oldest sister found in her collection a picture of all 6 of us girls .She made copies and sent it to everyone. Two of my sisters have passed away,so having this picture I knew I needed a special frame to make it a family keepsake. The frame was beautiful and rich looking. The name inscriptions through out the frame gave it the personal touch I was looking for. I have recommended your site to my sisters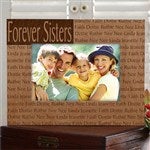 Family is EVERYTHING to us!
By
Elizabeth B.

(Carmel, IN) - April 4, 2011 (
See all reviews by this customer
)
We LOVE having family photos on display around our home, and these personalized frames are just perfect. I purchased one for each of us to have so that one of our family pictures could be on display in our own corner of our world. Thanks so much for making this high quality frame available.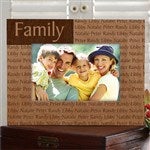 Love, Love, Love it!
By
Cynthia T.

(Morgantown, WV) - April 4, 2011 (
See all reviews by this customer
)
This is my go to wedding gift. I just purchased two for upcoming weddings and I'm sure the couples will be just as pleased as I am. I LOVE the personalized pictures frames. I also use it as a house warming gift. I have received numerous compliments on my own as well as the ones I have given as gifts.

Cousins Frame
By
Lisa S.

(Mount Pleasant, SC) - March 27, 2011 (
See all reviews by this customer
)
I ordered a personalized frame for my daughter and daughter-in-law that had the title of cousins and then the names of their sons, my grandsons! It turned out as expected and they both love it. One child lives in Canada so having him here in SC on his first USA visit warranted a professional picture sitting. Memories for all including this happy grandma. I am not surprised though as EVERYTHING I have purchased from here has been outstanding.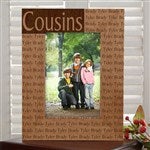 Great gift idea
By
Shopper

(North Port, FL) - June 8, 2014
I purchased as a 90th birthday gift for my mom. I had the names of her great grandchildren on it. At the party, the gift was a real hit, most thought the idea was very unique.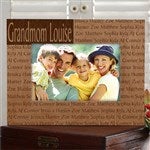 Great picture frame
By
Shopper

(Canada) - May 27, 2014
This is probably the 5th or 6th one I've ordered, they are nicely made and make a great gift for anyone and any occasion.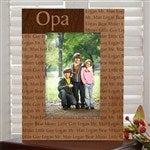 Wood Frame
By
Shopper

(Des Moines, IA) - May 19, 2014
Loved that the lettters were etched into the wood and not painted on. Just a little surprised in the hallowness or lightness of the frame. It was surprisingly very lightweight.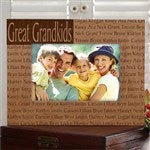 Ms.
By
Diana R.

(Belleville, NJ) - April 23, 2014 (
See all reviews by this customer
)
My mother in law LOVED the gift! I will be ordering again.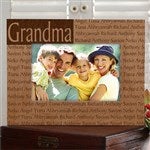 Excellent gift
By
Lori W.

(Round Rock, TX) - April 19, 2014 (
See all reviews by this customer
)
This is the third of this same frame I have ordered...makes the best gift! So glad you continue to carry this style!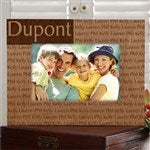 perfect gift
By
Karen F.

(Dahinda, IL) - April 18, 2014 (
See all reviews by this customer
)
The personalized picture frame has become my gift for almost any occasion. I am impressed with the quality and especially the quick turnaround time. So far every recipient has been thrilled with this gift. I also appreciate that I can sometimes find it on sale.
Sincerely, Karen Fields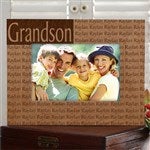 Great frame, service, value and shipping
By
Shopper

(Midway, KY) - February 17, 2014
Very nice frame, great value and shipping was fast!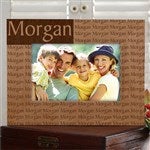 Great Gift
By
Shopper

(Southmont, NC) - December 17, 2013
Frame is top quality and makes a lovely gift for special friends.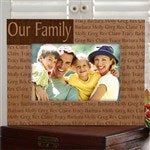 My family loved it!
By
Shopper

(Westbury, NY) - December 2, 2013
I ordered a few of these as Hanukkah gifts. They came out great and were shipped at lightning speed! My family loved them!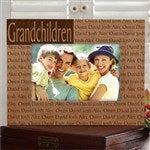 Excellent Product
By
Shopper

(kathleen, GA) - August 9, 2013
Extremely satisfied with my picture frame!!!! By the looks of it i thought the letters would be just printed or painted on but when i opened it the letters are etched out to stand out more and its beautiful, and sometimes when you "preview" the finished look of your choice you may be skeptical if it'll actually come out the way your checked off that is correct, well in my case it matched PERFECTLY. The delivery was right on target and i love the free tracking system of your package they provide. I've always enjoyed ordering from this website and will continue to be satisfied in the future orders.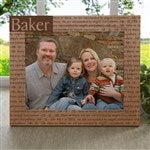 New grandchildren!
By
FRANCES M.

(PLYMOUTH, MI) - June 19, 2013 (
See all reviews by this customer
)
My husband has received a wooden frame honoring him ("PAPOU" grandfather in Greek) and each new grandchild with their full name. We place a picture of Papou with the new grandchild in the nicely done frame. He keeps all 5 on his nightstand, we are waiting for grandbaby number 6 in December. This is a very nice memento, well done and turnover is very rapid!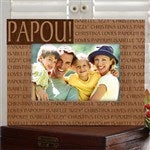 Beautiful presenation
By
Tamura S.

(Marietta, GA) - June 6, 2013 (
See all reviews by this customer
)
We ordered these for a family reunion, my grandmother was one of ten children, and they were beautiful. Finding an item that could accommodate 10 names so well with out looking too busy was awesome. I am so pleased with the speed of production as well!!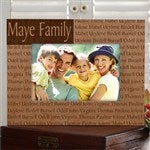 Product
By
Shopper

(Corinth, MS) - June 3, 2013
I was very pleased with the frame that I purchased. The quality was excellent! I was also pleased with the amount of time that it took to receive it.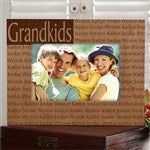 Family is forever frame- reworked for a graduation - & it came out Beautiful
By
Joan D.

(O Fallon, MO) - May 1, 2013 (
See all reviews by this customer
)
I retooled the frame for a College graduation for a male and it was GREAT!!! arrived in days, and that was a bonus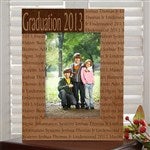 Family is Forever - reworked
By
Joan D.

(O Fallon, MO) - May 1, 2013 (
See all reviews by this customer
)
I used this fram to set up a College Graduation for a male: double major MBA and titles all added in place of kids names . . turned out fantastic, the woodwork is good, very nice!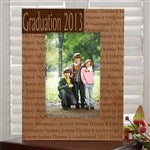 Carved wood frames make nice gifts
By
DAWN B.

(Norman, OK) - December 31, 2012 (
See all reviews by this customer
)
I ordered this for a gift but I like it so much I will probably order another for myself.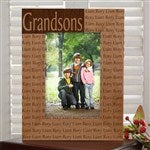 Wonderful Frame
By
Susan M.

(Danbury, CT) - December 11, 2012 (
See all reviews by this customer
)
Unique design...classic look..simple, tasteful...perfect gift.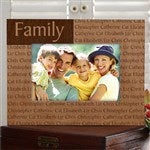 Exactly what I wanted
By
Shopper

(Howell, MI) - October 19, 2012
I bought the frame as a first anniversary gift for a friend. It came out exactly how I wanted it and they were so happy with the gift.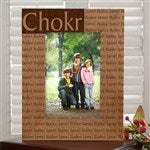 Great gift
By
Shopper

(Foothill Ranch, CA) - September 16, 2012
The frame was beautiful and arrived quicker then promised. IT made a great gift for grandparents to enjoy.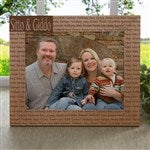 Love love love it !
By
Shopper

(davenport, FL) - September 11, 2012
I ordered this as a gift for my bestfriend and when it came in I
Was so excited it was 100% purfect the quality was wonderful
And turned out even better then I thought it would .
I love this site I've ordered several times and am always a happy
Repeat customer !