Great frame!
By
Veronica H.

(Durham, NC) - August 20, 2014 (
See all reviews by this customer
)
Excellent value and the fastest order fulfillment I've had in a while!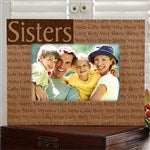 Wonderful
By
Shopper

(LINDENHURST, NY) - June 19, 2014
Amazing how fast i received my frame. And it's perfect.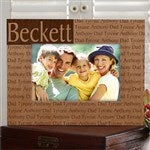 Great gift idea
By
Shopper

(North Port, FL) - June 8, 2014
I purchased as a 90th birthday gift for my mom. I had the names of her great grandchildren on it. At the party, the gift was a real hit, most thought the idea was very unique.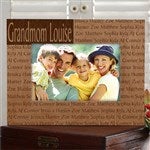 Great picture frame
By
Shopper

(Canada) - May 27, 2014
This is probably the 5th or 6th one I've ordered, they are nicely made and make a great gift for anyone and any occasion.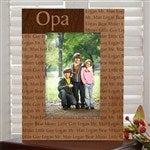 Wood Frame
By
Shopper

(Des Moines, IA) - May 19, 2014
Loved that the lettters were etched into the wood and not painted on. Just a little surprised in the hallowness or lightness of the frame. It was surprisingly very lightweight.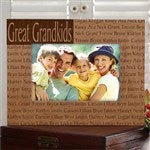 Ms.
By
Diana R.

(Belleville, NJ) - April 23, 2014 (
See all reviews by this customer
)
My mother in law LOVED the gift! I will be ordering again.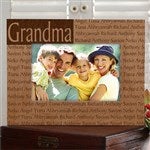 Excellent gift
By
Lori W.

(Round Rock, TX) - April 19, 2014 (
See all reviews by this customer
)
This is the third of this same frame I have ordered...makes the best gift! So glad you continue to carry this style!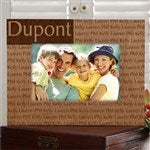 perfect gift
By
Karen F.

(Dahinda, IL) - April 18, 2014 (
See all reviews by this customer
)
The personalized picture frame has become my gift for almost any occasion. I am impressed with the quality and especially the quick turnaround time. So far every recipient has been thrilled with this gift. I also appreciate that I can sometimes find it on sale.
Sincerely, Karen Fields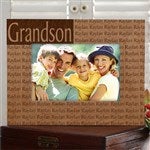 Great frame, service, value and shipping
By
Shopper

(Midway, KY) - February 17, 2014
Very nice frame, great value and shipping was fast!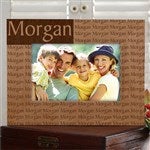 Great Gift
By
Shopper

(Southmont, NC) - December 17, 2013
Frame is top quality and makes a lovely gift for special friends.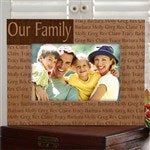 My family loved it!
By
Shopper

(Westbury, NY) - December 2, 2013
I ordered a few of these as Hanukkah gifts. They came out great and were shipped at lightning speed! My family loved them!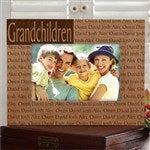 Excellent Product
By
Shopper

(kathleen, GA) - August 9, 2013
Extremely satisfied with my picture frame!!!! By the looks of it i thought the letters would be just printed or painted on but when i opened it the letters are etched out to stand out more and its beautiful, and sometimes when you "preview" the finished look of your choice you may be skeptical if it'll actually come out the way your checked off that is correct, well in my case it matched PERFECTLY. The delivery was right on target and i love the free tracking system of your package they provide. I've always enjoyed ordering from this website and will continue to be satisfied in the future orders.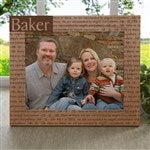 New grandchildren!
By
FRANCES M.

(PLYMOUTH, MI) - June 19, 2013 (
See all reviews by this customer
)
My husband has received a wooden frame honoring him ("PAPOU" grandfather in Greek) and each new grandchild with their full name. We place a picture of Papou with the new grandchild in the nicely done frame. He keeps all 5 on his nightstand, we are waiting for grandbaby number 6 in December. This is a very nice memento, well done and turnover is very rapid!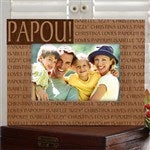 Beautiful presenation
By
Tamura S.

(Marietta, GA) - June 6, 2013 (
See all reviews by this customer
)
We ordered these for a family reunion, my grandmother was one of ten children, and they were beautiful. Finding an item that could accommodate 10 names so well with out looking too busy was awesome. I am so pleased with the speed of production as well!!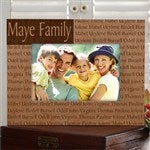 Product
By
Shopper

(Corinth, MS) - June 3, 2013
I was very pleased with the frame that I purchased. The quality was excellent! I was also pleased with the amount of time that it took to receive it.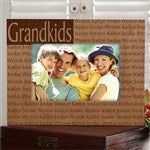 Family is forever frame- reworked for a graduation - & it came out Beautiful
By
Joan D.

(O Fallon, MO) - May 1, 2013 (
See all reviews by this customer
)
I retooled the frame for a College graduation for a male and it was GREAT!!! arrived in days, and that was a bonus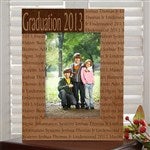 Family is Forever - reworked
By
Joan D.

(O Fallon, MO) - May 1, 2013 (
See all reviews by this customer
)
I used this fram to set up a College Graduation for a male: double major MBA and titles all added in place of kids names . . turned out fantastic, the woodwork is good, very nice!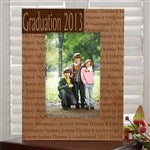 Carved wood frames make nice gifts
By
DAWN B.

(Norman, OK) - December 31, 2012 (
See all reviews by this customer
)
I ordered this for a gift but I like it so much I will probably order another for myself.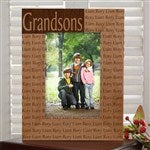 Wonderful Frame
By
Susan M.

(Danbury, CT) - December 11, 2012 (
See all reviews by this customer
)
Unique design...classic look..simple, tasteful...perfect gift.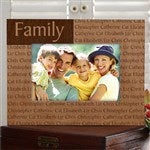 Exactly what I wanted
By
Shopper

(Howell, MI) - October 19, 2012
I bought the frame as a first anniversary gift for a friend. It came out exactly how I wanted it and they were so happy with the gift.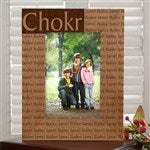 Great gift
By
Shopper

(Foothill Ranch, CA) - September 16, 2012
The frame was beautiful and arrived quicker then promised. IT made a great gift for grandparents to enjoy.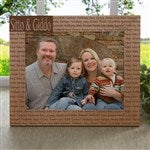 Love love love it !
By
Shopper

(davenport, FL) - September 11, 2012
I ordered this as a gift for my bestfriend and when it came in I
Was so excited it was 100% purfect the quality was wonderful
And turned out even better then I thought it would .
I love this site I've ordered several times and am always a happy
Repeat customer !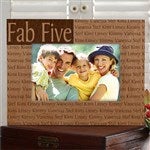 50th Anniversary Present
By
Shopper

(Columbus, OH) - September 3, 2012
We had received the personalized frame from a friend for our 50th anniversary and loved the unique gift. We therefore decided to do the same thing for friends that were celebrating their 50th. The quality is great and they are very fast in getting the product returned to you.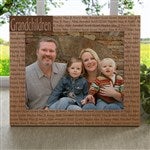 wonderful gift
By
Karen P.

(Franklin, IN) - August 2, 2012 (
See all reviews by this customer
)
I bought this for my daughter and son in law for their anniversary and it was a big hit. They loved it. I recommend it to anyone who wants something unique and personal.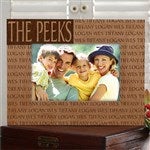 great
By
Shopper

(Canada) - July 27, 2012
Awesome frame with all the kids names....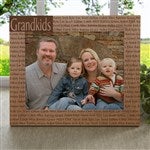 Great purchase love it!!
By
Shopper

(Clinton, NC) - July 22, 2012
The delivery was very quick and all my family loved it! I love shopping at personalization they have great stuff and I totally recommend this product.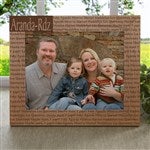 frame
By
Leslee M.

(Vista, CA) - July 13, 2012 (
See all reviews by this customer
)
Needed a frame to put a picture of my family and the five generations. I put all our names on it and Five G's (that what we call the 5 generations). I love it. Thank you, and very pleased with my purchase.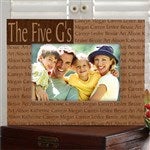 Loved it!
By
Shopper

(St. Joseph, IL) - June 27, 2012
I loved this! It was my friends 50th birthday so I had this made for her with her & her husbands & 3 children's first names on it. They are a close family & I knew it would mean more to her b/c of the personalization. I was right, she absolutely LOVED it!!!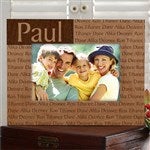 Perfect gift for exchange student
By
Shopper

(Melbourne, FL) - June 7, 2012
We are welcoming a new member to our family and wanted to make her feel special while receiving something flat/packable and practicle (sp?). We inserted our group/family photo including her & the pets to take back to her home country! Excellent quality. Well worth the money!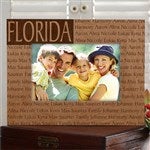 Perfect gift. . . . personal and creative!
By
Shopper

(Muncy, PA) - April 9, 2012
I have bought these for both of my sisters (now we each have one that says Sisters with our names) and for my best friend and his wife after the birth of their second child (Family, with everyone's names) and have recieved nothing but compliments. Even brought tears to the mother's eyes at her baby shower :) Tears of happiness!!!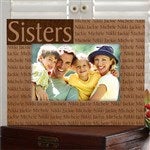 Personalization Mall is always a winner with me!
By
Shopper

(Crystal Lake, IL) - April 2, 2012
Once again, Personalization Mall comes to the rescue for me in providing me the opportunity to give someone a VERY special gift - a close friend is becoming a Grandpa soon and will be called "G-PA" - its impossible to find anything with the name G-PA on it so I looked at Personalization Mall for help and found the "family is forever" personalized frame - and I was able to personalize the frame with the name"G-PA" in addition to adding things he is good at (artist/drummer/chef)and an "I love you" with his future grandson's name. When I gave it to him - he was AMAZED and so very thankful! The quality of the frame is outstanding (as always) and I'm delighted to say that Personalization Mall once again helped me to create a very unique and thoughtful gift. I DEFINITELY recommend Personalization Mall to anyone and everyone who is looking for that "special gift".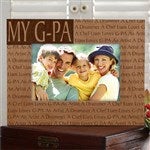 pleased
By
Shopper

(Chicago, IL) - March 30, 2012
very pleased with purchase. good price and exactly what I was looking for.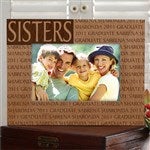 Awesome Gift
By
Terrie C.

(Jacksonville, FL) - February 20, 2012 (
See all reviews by this customer
)
This is an amazing frame. I purchased 3 as gifts and when they arrived I was so implressed with the quality, that I ordered two more. I had to order one for myself. Everyone that I have given this frame to wanted to know where I purchased it. My grandkids love seeing their own names on the frame.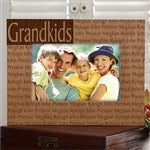 Quality gift!
By
Shopper

(Chapin, SC) - February 13, 2012
I ordered this for my best friend and after seeing it will order one for all my upcoming gift-giving events!!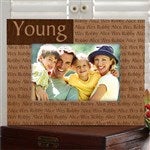 Loved it
By
Rebecca S.

(Liberty, MO) - February 7, 2012 (
See all reviews by this customer
)
A big hit with everyone that saw it. Good quality and well made.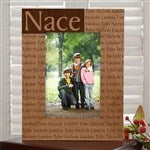 In Honor of a Pet...
By
Nicki F.

(Westminster, MD) - January 20, 2012 (
See all reviews by this customer
)
I gave this as a gift to an artist friend that also does wood carving. He was in awe of the details, the quality and that Personalization Mall printed exactly what I had requested. It was a touching tribute to a friend and his pet...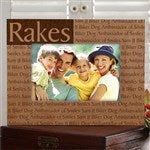 Great Gifts
By
Shopper

(HASTINGS, NE) - January 10, 2012
I ordered one of these frames for myself and some for Friends. I put FRIENDS on the top and all my friends names in the frame. They just loved the frames! Thankyou so much!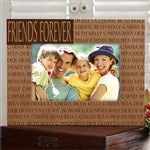 great gift
By
Julia K.

(Rockville Centre, NY) - March 31, 2010 (
See all reviews by this customer
)
This frame was the perfect birthday gift for my son's grandfather. I was able to write all the grandchildren's names on it. It was great because it was personalized!!! He loved it!!!!!

Excellent
By
Kylann B.

(Canada) - April 12, 2010 (
See all reviews by this customer
)
This I feel is their best product. I have ordered several and they always turn out very well.

Perfect gift
By
Staci D.

(Nederland, TX) - April 20, 2010 (
See all reviews by this customer
)
Bought this for a Mother's day gift. Looks better than expected.