Classy gift for supervisor
By
tommi C.

(High Point, NC) - December 27, 2013 (
See all reviews by this customer
)
I purchased this gift for my supervisor, which is a physician. Its classy and the right price for my venue.

Personalized picture frame
By
Shopper

(Mendota, IL) - December 26, 2013
This item was easily ordered on the web-site. It was shipped and received quickly and was just as we expected it to be when it arrived.

Christmas gift
By
Sherry V.

(Jennings, LA) - December 18, 2013 (
See all reviews by this customer
)
Bought as a Christmas gift. She absolutely loved it. I love everything you have. When you personalize a gift it makes it more special.

Great Gift
By
Shopper

(Southmont, NC) - December 17, 2013
Frame is top quality and makes a lovely gift for special friends.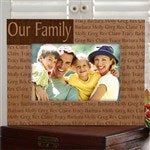 great personalized gift
By
Shopper

(Marietta , GA) - December 16, 2013
I received this frame as a wedding gift and loved it! It was so thoughtful and personal I thought.. so I ordered it for people on my Christmas list! It comes exactly as it looks in the picture and is a really nice quality. I recommend this to anyone recently married or any family.

Wonderful frame
By
Michele B.

(Bartlett, IL) - December 15, 2013 (
See all reviews by this customer
)
I purchased 4 personalized frames and they all came out beautiful. I was only slightly unimpressed with the packaging which was cheap, thin white cardboard with no tissue or bubble wrap around the frame/glass. I'm surprised all the frames came undamaged. In any case, the frames were exactly what I wanted to give to all the grandparents this holiday season and I'm sure they will be happy to show off their grandbabies! Thanks!

My family loved it!
By
Shopper

(Westbury, NY) - December 2, 2013
I ordered a few of these as Hanukkah gifts. They came out great and were shipped at lightning speed! My family loved them!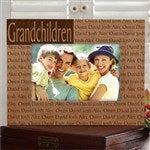 Awesome
By
Shopper

(Collinsville, OK) - November 26, 2013
I ordered three of these picture frames one for each of my daughters and their families. The quality can not be beat. Always looks like the picture no surprises. I love the view before you buy.

It's the perfect gift!!
By
Jessica K.

(Depew, NY) - November 19, 2013 (
See all reviews by this customer
)
I just looove this frame and love giving it as a gift!!!!!

Christmas
By
Shopper

(Dallas, TX) - November 9, 2013
Love this frame. All my kids are getting one.

The best gift I ever personalized
By
Bindhiya J.

(Bellevile, NJ) - October 15, 2013 (
See all reviews by this customer
)
Good quality and classy

Grand kids frame
By
Shopper

(Gaithersburg, MD) - October 7, 2013
Bought this frame as a gift. She loved it. Especially loved her grandchildren's names.

Aditions to the family...............
By
Shopper

(Spring, TX) - September 17, 2013
We ordered this 3 years ago and now it is time to update. Looks great sitting on the mantle!

Money well spent
By
Shopper

(Fairfax, VA) - September 15, 2013
This was the best gift idea. The frame arrived promptly and looks custom carved. It's worth every penny.

Beautiful....
By
Roberto S.

(Miami Gardens, FL) - August 23, 2013 (
See all reviews by this customer
)
Excelent quality and beautiful. Simply a piece of art...

Excellent Product
By
Shopper

(kathleen, GA) - August 9, 2013
Extremely satisfied with my picture frame!!!! By the looks of it i thought the letters would be just printed or painted on but when i opened it the letters are etched out to stand out more and its beautiful, and sometimes when you "preview" the finished look of your choice you may be skeptical if it'll actually come out the way your checked off that is correct, well in my case it matched PERFECTLY. The delivery was right on target and i love the free tracking system of your package they provide. I've always enjoyed ordering from this website and will continue to be satisfied in the future orders.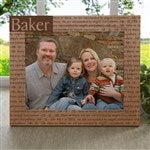 Beautiful Frame
By
Patricia R.

(Phoenix, AZ, AZ) - July 17, 2013 (
See all reviews by this customer
)
This frame is so beautiful and so personal. I had taken a beautiful picture of my brother and his family while on vacation. I had the picture printed and then ordered this frame to put it in and send to them as a reminder of what a great vacation we had with them. They were so surprised to receive this in the mail and even more surprised to see their name on it (unusual last name) with all their first names. Just a beautiful gift. Personalizationmall.com has become my favorite store. I use them for all the gifts I purchase for people who are hard to buy for. All the products I've ever purchased (and there have been many, believe me) have been of high quality. Service is amazing. Just a great place to shop.

Family Photo
By
Jackie H.

(Jonesboro, GA) - June 23, 2013 (
See all reviews by this customer
)
As always, this selected frame was a huge hit!

photo frame
By
Lynne W.

(Warminster, PA) - June 21, 2013 (
See all reviews by this customer
)
The price and quality of this item is excellent and I received it quickly.

New grandchildren!
By
FRANCES M.

(PLYMOUTH, MI) - June 19, 2013 (
See all reviews by this customer
)
My husband has received a wooden frame honoring him ("PAPOU" grandfather in Greek) and each new grandchild with their full name. We place a picture of Papou with the new grandchild in the nicely done frame. He keeps all 5 on his nightstand, we are waiting for grandbaby number 6 in December. This is a very nice memento, well done and turnover is very rapid!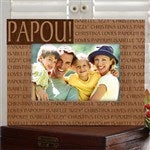 Beautiful!
By
Catherine B.

(Hackettstown, NJ) - June 19, 2013 (
See all reviews by this customer
)
I bought this for my husband for Father's Day. He recently got a promotion at work and in his new cubicle he lost wall space for his photos. He loved it! Claims it makes his new space look more like home. :)

Loved the product
By
Shopper

(Cincinnati, OH) - June 9, 2013
I ordered several of these for gifts. They came exactly as shown. Everyone has loved them! Will certainly be ordering more of these.

Beautiful presenation
By
Tamura S.

(Marietta, GA) - June 6, 2013 (
See all reviews by this customer
)
We ordered these for a family reunion, my grandmother was one of ten children, and they were beautiful. Finding an item that could accommodate 10 names so well with out looking too busy was awesome. I am so pleased with the speed of production as well!!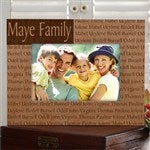 Product
By
Shopper

(Corinth, MS) - June 3, 2013
I was very pleased with the frame that I purchased. The quality was excellent! I was also pleased with the amount of time that it took to receive it.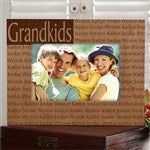 Family frame
By
Shopper

(Glen Dale, WV) - June 2, 2013
This always makes a great gift

Beautiful frame!
By
Shopper

(Chesapeake, VA) - May 25, 2013
The frame came out terriic! It looks great!

FRAME IS PERFECT!
By
Shopper

(Tama, IA) - May 15, 2013
I ordered this frame for a young man for graduation .... It looks great! Beautfilly done ....shipped quickly .... packaging kept the item very safe during shipping. Again, thanks for a flawless, easy transaction Personalization Mall! I will be back. THANK YOU!

Family is forever frame- reworked for a graduation - & it came out Beautiful
By
Joan D.

(O Fallon, MO) - May 1, 2013 (
See all reviews by this customer
)
I retooled the frame for a College graduation for a male and it was GREAT!!! arrived in days, and that was a bonus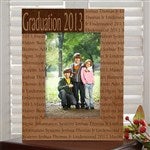 Family is Forever - reworked
By
Joan D.

(O Fallon, MO) - May 1, 2013 (
See all reviews by this customer
)
I used this fram to set up a College Graduation for a male: double major MBA and titles all added in place of kids names . . turned out fantastic, the woodwork is good, very nice!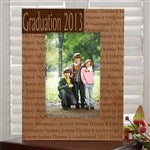 Love this frame!
By
Teresa B.

(Richmond, TX) - April 30, 2013 (
See all reviews by this customer
)
We have a group of friends that gets together twice a year for the past 10 years. We did a gift exchange and one of the ladies had purchased this frame and had all 10 of our names listed on it. Needless to say, everyone was fighting over this frame! Now several of us have ordered one for ourselves. Its really fine quality wood and the personalization makes it so special. It would be a great gift for so many occasions and I plan on ordering it again.

Best peronalized frames!!!
By
Shopper

(Burbank, IL) - January 20, 2013
I have ordered a couple of these personalized wooden frames, I'm so inpressed with the quality and how fast I got my order. Defin. recommend them for any personalized services. Thanks

A Beautiful Gift
By
Lisa V.

(South Setauket, NY) - December 31, 2012 (
See all reviews by this customer
)
I have bought this frame for a few of my friends. The quality of the frame is excellent and the personalization just makes it that much more special.

Always nice dealiing with Personalizationmall.com. Carefree shopping and delivery when you need it.

Really happy
By
Raysa M.

(New Bedford, MA) - December 18, 2012 (
See all reviews by this customer
)
I'm really happy with this order, I hope the person I'm giving it to likes it as much as I do.(:

My Sister Loved This!
By
Shopper

(Streetsboro, OH) - December 12, 2012
Since I have purchased from this site before, I felt confident to have this sent directly to my Sister as her Christmas gift. Shipping was excellent, and the nicely gift-wrapped frame with her 5 Grandchildren's names on the frame arrived even sooner than I expected. My Sister says the frame is not only beautifully made, she said it was a wonderful gift! I am so pleased with her reaction, that I will be ordering another frame for my Daughter-In-Law with her Daughters's names.

Wonderful Frame
By
Susan M.

(Danbury, CT) - December 11, 2012 (
See all reviews by this customer
)
Unique design...classic look..simple, tasteful...perfect gift.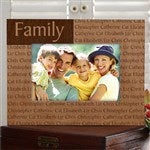 5 stars!
By
Shopper

(Wilbraham, MA) - November 23, 2012
I bought a this frame and was amazed at the quality for the price, great deal !

Loved it!
By
Shopper

(Burlington, ND) - October 20, 2012
This came out exactly like the pictures showed and had fast delivery time. I will definitely be ordering again from this site.

Personalized Family Frame
By
Shopper

(Lakeville, MN) - October 20, 2012
I purchased this frame as a Christmas gift for my In-Laws. I wish I could see their faces as it is opened! It has all their children's and spouse's and grandkid's names and I know my Mother-in-law will flip over it. I caught her eyeing my family photo frame with just my families names on it, she told me she loved it! Thank you so much for helping me find a perfect gift for someone who is very hard to shop for!!

Exactly what I wanted
By
Shopper

(Howell, MI) - October 19, 2012
I bought the frame as a first anniversary gift for a friend. It came out exactly how I wanted it and they were so happy with the gift.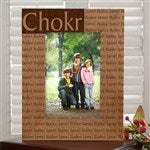 Perfect Gift
By
Shopper

(LeClaire, IA) - October 17, 2012
This was a perfect gift for my mother's 85th birthday. She loved the frame as much as the picture of herself and her seven grown grandchildren. The delivery time was unbelievable. as always, very fast.