ONE STOP SHOPPING FOR THE HOLIDAYS!
By
Sherryl S.

(Owings Mills, MD) - October 21, 2011 (
See all reviews by this customer
)
I ordered personalized picture frames for everyone in my office for the holidays. I was so excited to be able to knock off some early shopping. I just know they're going to love these frames. I was able to pick a frame for each person that matched them. One coworker is Irish and I picked out an Irish frame for her. Some of them were for families and some were for singles. I was able to find something perfect for each one!!

Awesome Frame
By
Lissa M.

(Cypress, TX) - October 7, 2011 (
See all reviews by this customer
)
I was a little hesitant when I ordered this. I was concerned about the quality for the price. I was pleasantly surprised. This frame is goodlooking and good quality. I plan to order additional ones for the rest of my family.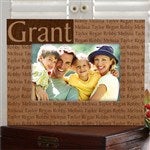 Amazing!!
By
Shopper

(Valparaiso, IN) - October 4, 2011
I love the very nice work they did on it!! I got a pic frame for my sister and her soon to be husband and it said siblings at the top. Me and his sister went together to get the gift for the wedding. I love the work and thought it was a great price for how good it looked!! Then they also mail it really soon which is nice to receive quickly. I can't wait to give this to my sis and new brother in law they will love it!!

Beautiful!
By
Shopper

(Palatka, FL) - October 3, 2011
My frame was beautiful...perfect anniversary present!

Personalized Family Frame
By
Shopper

(Waconia, MN) - September 30, 2011
This is the third time I've ordered these picture frames. Great quality! Wonderful keepsake! Quick turn around time - ordered on Sunday, shipped Monday, received Thursday.

Great gift
By
Gina S.

(Caddo Mills, TX) - September 25, 2011 (
See all reviews by this customer
)
This is a great gift idea, for hard to buy for people....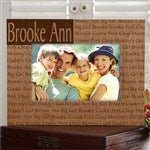 Great!
By
Kathy T.

(Pleasant Valley, NY) - September 13, 2011 (
See all reviews by this customer
)
Frame turned out great! Went on a cruise and listed the islands and ship we were on for those awesome vacation photos!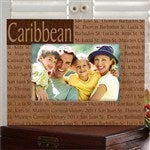 love this!
By
Shopper

(Glen Dale, WV) - September 6, 2011
is such a unique gift and sure to be loved by recipients

BEAUTIFUL!!!
By
Franki N.

(Boulder, MT) - September 5, 2011 (
See all reviews by this customer
)
They were so beautiful and the craftmanship is awesome... Would definately buy more,.

Breathtaking!
By
CAROL B.

(BALTIMORE, MD) - August 29, 2011 (
See all reviews by this customer
)
This was delivered EXACTLY as I ordered it and it is more beautiful than the preview picture. Excellent quality! It was a gift purchase and I know they will be touched as I was looking at it. Great job!

LOVE personalizationmall.com
By
Barbara H.

(Allison Park, PA) - August 29, 2011 (
See all reviews by this customer
)
The Family Frame I ordered was the perfect gift for my Daughter's new office.It has all the names of the ones she holds near and dear. She loved it! The web site is so easy to use and the timeliness in receiving my merchandise was amazing! This will be my new "go-to" site for all my gifts. Nothing says " I really took the time to buy this" more thsn something from Personalization Mall. Thank you!

it was purhased for a house gift. The recipients loved it !!
By
gloria B.

(Staten Island, NY) - August 19, 2011 (
See all reviews by this customer
)
I have purchased items from your website several times and have always been satisfied with the results. I use your site mostly for gifts and everyone loves them. You do a great job and each gift is unique to that occasion.

Love this!
By
Shopper

(Raiford, FL) - August 12, 2011
I love these frames! Everyone loves to see it and ask how to get one! Great gift

made it my own
By
ROBERT H.

(YONKERS, NY) - July 30, 2011 (
See all reviews by this customer
)
Love this frame,wanted to personalize it more for the occasion...for two sixtieth b'days coming up...so where additional names were suppose to go, I wrote Happy 60th b'day...w/date..they came out great !!!! I know they will love them.

Forever's Best
By
Sean J.

(Dorchester, MA) - July 25, 2011 (
See all reviews by this customer
)
This is the best gift ever.It has such meaning to it and value to the receiver.I will be buying lots of these frames.Great Job.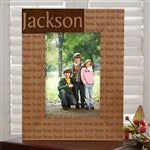 Good for a vacation memory
By
Danelle M.

(Los Angeles, CA) - July 23, 2011 (
See all reviews by this customer
)
I ordered this as a frame to put a picture of my husband and I in for a Spain vacation memory. I put the word SPAIN where a family name would normally go and the names of the cities we visited where the names of people would normally go. I love how it turned out. Vacation frame choices were limited and this turned out to be the perfect option. As always, I was very happy with the quality from PersonalizationMall and the expedience in their delivery. They never disappoint!

Bought for new baby gift!
By
Katharine B.

(Genoa, OH) - July 16, 2011 (
See all reviews by this customer
)
Bought this for my sister's baby shower and added new baby's name and she LOVED it! The quality on this is spectacular and she thought I'd spent a fortune on it!!

Frame
By
Shopper

(Commerce, CA) - July 6, 2011
I was very pleased with the product I ordered. It looked great with the picture I inserted. It was a gift for my husband and he was very pleased with it. Thanks for doing such a great job! and I will definitely purchase from you again..Thanks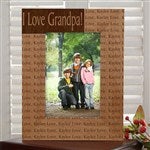 grandpa frame
By
Elizabeth C.

(Commerce, CA) - June 28, 2011 (
See all reviews by this customer
)
The frame I ordered came out great. It was a late fathers day gift for my husband, but it was worth it. He loved it!. It was shipped out so fast that I got it within a few days after I ordered it.I will definitely order from this place again..keep up the good work.

lovin' the frames!
By
Carrie A.

(Coto de Caza, CA) - June 26, 2011 (
See all reviews by this customer
)
The frames are a wonderful, personalized gift and everyone that received them loves them!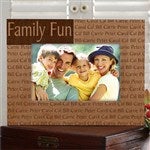 The Perfect Gift
By
Shopper

(Fremont, CA) - June 24, 2011
I found and ordered this on a Sunday. I received an email with a tracking # on Monday and had the item in hand on Wednesday! Unbelievable service! To top it all off, it looks fantastic! My mother loved it! This is an awesome, reasonably priced gift that you can add your own touch to! I highly recommend it as a gift for anyone!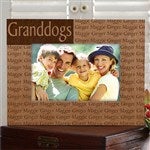 Brother's Gift
By
Rosemary N.

(Hobbs, NM) - June 24, 2011 (
See all reviews by this customer
)
My brother really loved this frame. He is the type that is hard to buy for because he buys it when he wants it. This was unique and very special to him. It was worth every penny.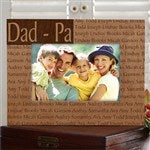 Family
By
Shopper

(Cortland, NY) - June 21, 2011
Great family gift!

Awesome
By
Debra G.

(San Marcos, CA) - June 12, 2011 (
See all reviews by this customer
)
The frame I received is absolutely beautiful, it far exceeded my expectations, will be purchasing gifts from here in the future.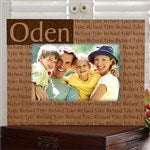 The perfect gift
By
Shopper

(Sault Sainte Marie, MI) - June 11, 2011
I ordered this frame for a father's day gift for my dad. I had Great Grandpa engraved on it with my two grandson's names going trough it and put a picture of my dad with my grandson in it. I just love it and can't wait to give it to my dad. Quality & price were great and I can't believe how quick I got it. Defiantly recommend it, the engraving at the top can be changed to suit any occasion.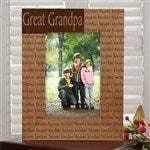 Family Portrait
By
Rachael M.

(Ireland) - June 10, 2011 (
See all reviews by this customer
)
Perfect family frame for a present.

Three Generations
By
Peggy R.

(Centennial, CO) - June 5, 2011 (
See all reviews by this customer
)
My husband's kids and grandkids live several states away, so we don't get to see them often. On a recent visit, we took the picture of my husband, his oldest son and the three grandsons. It's a great picture and the frame, with all of their names, makes it an even more perfect gift for Father's Day. He'll love it!

Perfect for Anybody!
By Shopper (Hollywood, FL) - June 4, 2011
I ordered 3 of these frames for Mother's Day. One for my Grandma, my Abuela, and my Mother-in-Law. All three of them ADORED IT! Especially my Grandma. My sister told me she took it to my Aunt's birthday party just to show it everyone. :-) It's a perfect gift for anyone, good quality too. I was very happy with my purchase, only one problem: How am I going to top this next mother's day!

VERY PLEASED
By
Shopper

(Chicago, IL) - May 30, 2011
I am very pleased with this purchase, as I a with all merchandise I have ordered. My 2 daughters recently graduated from college, and I bought this frame for them with the title sisters, with both their names, graduate and, 2011 around the frame. They were very pleased, and so was I. This is something they can cherish for years to come. I took a picture of both of them together in their cap and gown to put in this frame.

family is forever
By
Claire M.

(Canada) - May 24, 2011 (
See all reviews by this customer
)
I'm very pleased with the frame

Great Gift
By
Shopper

(SANTA ROSA, CA) - May 13, 2011
This was a gift of a dpecial picture and the frame was perfect! Person loved it!

great personalized gift
By
nancy C.

(boynton beach, FL) - May 11, 2011 (
See all reviews by this customer
)
On the top line i put Meemaw loves then listed the grandchildrens names. It was such a wonderful personalized gift for someone who didnt need just one more thing given to her. The frame looks great and the service is fast ever time by this company. always very happy. (also did antoher frame at Xmas time and put in the top left Great Nana then put loves and the great granddaughters name so loves Daisy was all over the frame. it was adorable)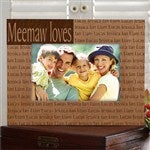 Awesome
By
Shopper

(Windsor, IL) - May 1, 2011
I love these picture frames. I have one for myself and then bought several for wedding gifts. You cant go wrong with something like this. So personal..

Love this frame!
By
Shopper

(Dallas, TX) - April 23, 2011
These personalized frames are some of the best gifts I've ever given, especially for the price point. Everyone who sees them wants to know where I got them. Great quality, beautiful craftsmanship. I actually did it not using a family name, but a group name, then instead of individual names, I used words and phrases that were descriptive of the group. I will be buying more of these frames.....

Beautiful personalized frame!
By
Shopper

(Melrose Park, IL) - April 18, 2011
I was very pleased with this frame! Bought it for one of our friends who is hard to buy for...something that won't sit around or end up in the next garage sale... she loved it! Would definitely buy again!

Keepsake
By
Shopper

(Oceanside, CA) - April 16, 2011
I wanted a special frame for my 5 sisters (6) included me. My oldest sister found in her collection a picture of all 6 of us girls .She made copies and sent it to everyone. Two of my sisters have passed away,so having this picture I knew I needed a special frame to make it a family keepsake. The frame was beautiful and rich looking. The name inscriptions through out the frame gave it the personal touch I was looking for. I have recommended your site to my sisters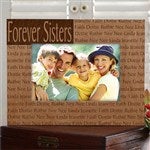 Where did you buy that photo frame?
By
Shopper

(Hialeah, FL) - April 15, 2011
This is the question I get over and over again once my family and friends see this beauutiful customized frame. Actually, I asked it myself when I visited a friend's home and she had one. This frame is just amazing in quality,value, and craftmanship. The family members' names are clear, and there are so many color combinations available. I thank you for a family treasure!

Family is EVERYTHING to us!
By
Elizabeth B.

(Carmel, IN) - April 4, 2011 (
See all reviews by this customer
)
We LOVE having family photos on display around our home, and these personalized frames are just perfect. I purchased one for each of us to have so that one of our family pictures could be on display in our own corner of our world. Thanks so much for making this high quality frame available.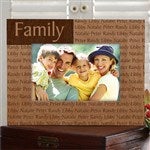 Love, Love, Love it!
By
Cynthia T.

(Morgantown, WV) - April 4, 2011 (
See all reviews by this customer
)
This is my go to wedding gift. I just purchased two for upcoming weddings and I'm sure the couples will be just as pleased as I am. I LOVE the personalized pictures frames. I also use it as a house warming gift. I have received numerous compliments on my own as well as the ones I have given as gifts.

Cousins Frame
By
Lisa S.

(Mount Pleasant, SC) - March 27, 2011 (
See all reviews by this customer
)
I ordered a personalized frame for my daughter and daughter-in-law that had the title of cousins and then the names of their sons, my grandsons! It turned out as expected and they both love it. One child lives in Canada so having him here in SC on his first USA visit warranted a professional picture sitting. Memories for all including this happy grandma. I am not surprised though as EVERYTHING I have purchased from here has been outstanding.