A Huge Hit!
By
Shopper

(Temecula, CA) - November 10, 2013
We just gave this to our son and his fiance' @ their Engagement Party last night and it was a huge hit! They absolutely loved it! We were thrilled with how quickly it was made and delivered to our home:)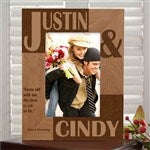 Love it!
By
Stephanie F.

(Lake Harmony, PA) - November 1, 2013 (
See all reviews by this customer
)
I absolutely love this product! It by far exceeded my expectations! I expected a thin piece of wood and not so great quality for the price I paid, but it is a beautiful frame, thick and sturdy and the engraved message is legible and clear. I'm extremely happy and will order from here again!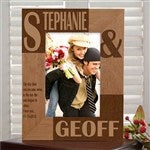 Extremely nice gift!
By
Carolyn L.

(Corona, CA) - October 29, 2013 (
See all reviews by this customer
)
I've purchased these frames for birthday gifts, Christmas gifts, thank you gifts, etc. and they make a lovely gift for a very reasonable price. Very well made and attractive not to mention personal. Great gift idea!

Beautiful Frame for someone you love
By
Karen F.

(Northridge, CA) - October 28, 2013 (
See all reviews by this customer
)
I love Personalization Mall and I've purchase many items from them. This is the second Frame I've purchased for gifts. Everyone wants to know where I get them and they are well crafted and beautiful.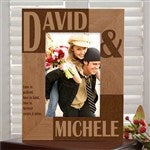 Gorgeous!
By
Shopper

(Lakewood, NJ) - October 25, 2013
The frame looks beautiful - I love the feel of it, and the fact that it is 3-D, AND it seems to be made from real wood. Love it.

Does Not Disappoint
By
Shopper

(Prunedale, CA) - October 19, 2013
I ordered this frame for an engagement party gift. I wanted something personal to mark the occasion and this frame seemed to be the perfect idea that wouldn't be duplicated. As always, Personalization Mall did not disappoint. The frame is very nicely done, was delivered quickly and, I'm sure, will be very much appreciated. The party is this evening and I look forward to the couple be very pleased.

When ever an occasion calls for something personal or extra special I turn to Personalization Mall. All the gifts I have ordered have been well received and I like being able to pick something "different". I enjoy giving gifts that reflect caring about the person/persons who will receive it and says I took the time to choose something just for them.

got one for everyone !
By
Susan W.

(Redding, CA) - October 18, 2013 (
See all reviews by this customer
)
don't know what to get for Christmas gift ? Get these frames for all !! what a great gift for the person who has " everything " ! my Christmas shopping is done with this one website !! point, click, done !!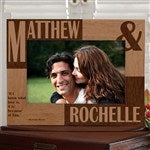 Perfect!
By
Shopper

(Oxford, CT) - October 18, 2013
I bought this for my boyfriend's birthday and he absolutely loved it! The frame is great quality. I recommend this product!

frame
By
Shopper

(lewisville, TX) - October 15, 2013
Really turned out nice. Amazed how quick I got it. Will keep this website in mind for future purchases!!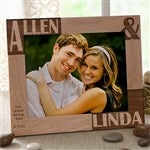 great frame
By
Shopper

(Lincoln Park, NJ) - October 14, 2013
made the perfect gift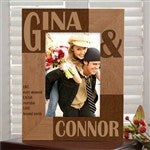 Great gift
By
Shopper

(St.Petersburg , FL) - October 13, 2013
I have been extremely happy every time I have ordered from Personalization Mall.Great quality,service and selection.Thanks a lot for prompt delivery.

Engagement gift
By
Patricia M.

(Phoenixville, PA) - October 7, 2013 (
See all reviews by this customer
)
very well made frame and the couple loved the gift!

Love this frame!
By
Shopper

(Clifton Park, NY) - September 29, 2013
I purchase this frame when someone close to me has gotten engaged or I give it as one of their bridal shower gifts. It is a special time for the couple and this frame helps capture a moment they will always remember. All who I have given this to always appreciates and loves the thought behind the gift.

great workmanship
By
Shopper

(Black River Falls, WI) - September 27, 2013
I ordered 2 frames for 2 upcoming weddings. they arrived very quickly & were beautiful. I couldn't really tell if the names were "etched" into the wood or not, but I was so happy they were. I;m so excited to give them as wedding gifts, I know they will treasure them

Great Frame - Perfect Gift
By
Shopper

(Bowling Green, KY) - September 21, 2013
I have purchased this frame several times for family and friends. With a snapshot added it makes an unforgettable gift. The message on the frame can be modified to anything you want. The frame is sturdy, simple, well-made and well-priced. It always arrives quickly and is always clearly printed. I will buy it again. It is a gift I can be proud to give because it is so personal to the recipient and of such solid quality.

Big Bro/Little Sis Frame
By
Shopper

(Shippenville, PA) - September 20, 2013
This is perfect for a photo of my grandson & his brand-new baby sister. I'm still waiting for the photo to arrive, so I haven't displayed it yet, but it looks as nice as the other two personalized wooden frames I purchased from Personalization Mall.

Wonderful
By
Shopper

(Bakersfield, CA) - September 14, 2013
The frame looked great but smelled a little like burnt wood when opening. But that didn't bother me, it is very cute!

Nice wedding gift
By
Shopper

(Richland Hills, TX) - September 14, 2013
This frame was very nice quality and I really liked the option for adding my own wording to it. This is my first choice for a personalized gift and it makes a great statement.

Beautiful Frame!
By
Shopper

(Newburgh, IN) - September 9, 2013
This is a beautiful frame! I bought it for a wedding gift and they loved it! Very Pretty!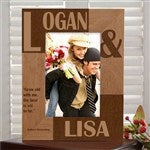 very cute
By
Shopper

(Raeford, NC) - September 6, 2013
got this as a five year wedding anniversary gift for my husband who is a photographer he loved it.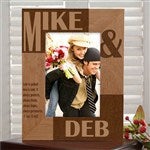 A great gift for Mother and Son
By
susan K.

(waltham, MA) - September 2, 2013 (
See all reviews by this customer
)
I went outside the box as my dear friend calls it and got this frame for my daughter and her son. I will give it to her for her birthday and I just know she will love it. The photo I decided to put in the frame is of her sons confirmation with the two of them. I can't think of a more beautiful gift. I have been the recipient of a glass frame, and love it so much. Great quality all around.

High Quality Frame
By
Shopper

(Tewksbury, MA) - August 31, 2013
I bought this for a friend's bridal shower and it was better than I was expecting! It is made from real wood and is great quality. I love that you can choose whether the frame is horizontal or vertical. The selection of quotations is nice as is the option to write your own verse. This frame is a great gift for any couple at anytime of the year (not just for weddings)! If you choose a generic quotation, the picture inside could be changed yearly to reflect the couple. I am very excited to give my friend this gift. I'm sure she and her husband will enjoy it for years to come.

Personalized Frame
By
Shopper

(Gig Harbor, WA) - August 20, 2013
I ordered this for my son and new daughter in law. They loved it! They had not heard of he saying I chose. They thought it was lovely and were quite touched by it. A great gift,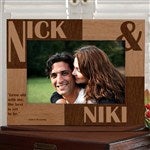 Product Reviw
By
Shannon M.

(Flat Rock, AL) - August 19, 2013 (
See all reviews by this customer
)
I have ordered several of this frame and loved them ALL! I have given as gifts and the recipient has loved them! I love that you can add your own saying.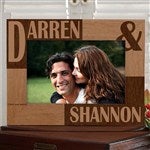 Wedding Frame
By
Judith S.

(LANSING, MI) - August 18, 2013 (
See all reviews by this customer
)
This has become my standard gift for showers or weddings over the last several years. This was the 5th one I have purchased, and it is well received every time. I personalize it with the date of the wedding and a personal saying, and put a picture of the couple in the frame before wrapping it. It never fails to impress.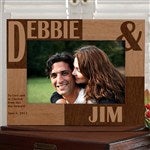 Satisfied Customer
By
Shopper

(Clarksdale, MS) - August 14, 2013
This is a beautiful frame.

Very unique!
By
Mary O.

(Troy, MI) - August 13, 2013 (
See all reviews by this customer
)
This is the first time I ordered this frame with carved names and sayings on it. I was very pleased. I got the vertical orientation. I added the date under the verse "to have and to cherish from this day forward". I'm sure the young couple will totally treasure this gift - and the date will help them remember their anniversary forever. Also, I ordered the "make your own" gift box; it's very nice, fits the frames perfectly, and comes with tissue and a black, stretchy band that wraps the diagonal corners. PM.com sure does a great job! It's my Number One gift site! (The photo that accompanies this review is of the gift box.)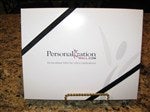 Great for Bridal Showers
By
Constance S.

(Chestertown, MD) - August 13, 2013 (
See all reviews by this customer
)
If you are like me, you do not like to order gifts from a registry for a bride-to-be. The bride-to-be has the ability to check into her registry at any time to see the gifts that have been purchased. There is no surprise element. I gave the personalized frame to the daughter-in-law-to-be of a dear friend. When she opened the gift, her face said it all. This is a high quality wooden picture frame which is personalized with the couple's name. It is simply beautiful.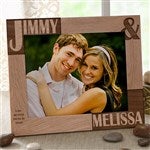 Anniversary Picture Frame
By
Sandra J.

(Valrico, FL) - August 12, 2013 (
See all reviews by this customer
)
We loved the Personalized Picture Frame that I ordered. It was a present for my son & daughter-in-law for their 5th Anniversary - so I was able to get a "wood" frame & have their names & Anniversary Date put on it. Very satisfied with the Frame. Thank You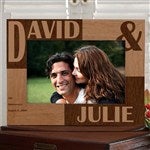 Happy
By
Donna L.

(West Liberty, KY) - August 6, 2013 (
See all reviews by this customer
)
I was very pleased with the picture frame, it definitely was of excellent quality. Thanks so much!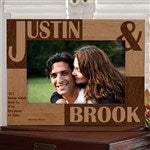 Great Gift
By
Shopper

(Elizabeth, NJ) - August 6, 2013
I personalized a frame for my girlfriend on our anniversary and she fell absolutely in love with it. I recommend using this site for anyone looking to cherish moments through a picture frame.

excellent buy
By
Shopper

(Chattanooga, TN) - August 2, 2013
I bought this product for our 5th anniversary gift. My husband thought it was
very special and loved it. Great gift for occasion and for the price.

As always, great stuff!
By
Shopper

(Eureka, IL) - July 30, 2013
Personalization Mall has never disappointed me. They are prompt, correct and their products are always one step above anyone else I have ordered from!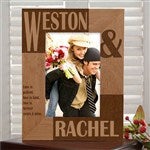 Very impressed
By
Shopper

(Springfield, MO) - July 30, 2013
Don't usually do these reviews, but was extremely impressed with this beautiful frame! Exceeded my expectations and was more than happy with it, as was its birthday recipient! ;-)

Good Quality
By
Shopper

(Richmond, VA) - July 26, 2013
Out of all the gifts I got my wife for our 5 year anniversary she loved this one the best! Highly recommended!

Looks even better in person
By
Justin R.

(Ellicott City, MD) - July 23, 2013 (
See all reviews by this customer
)
This frame looks SO good in person, looks almost exactly like it does in the picture, but more detailed on the laser cutting in the quote. The wood also has a unique, interesting-looking texture to it where it's been cut away.

Overall, a nice, romantic piece. My woman loved it! Would highly recommend.

Excellent
By
Jenny F.

(Marietta, OH) - July 23, 2013 (
See all reviews by this customer
)
Frame was beautiful. Was the perfect gift! Used it for 3 different weddings. Everyone LOVED it!!!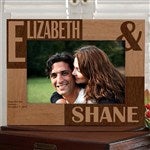 Nothing but good things to say!
By
Shopper

(Fredonia, PA) - July 21, 2013
Six months ago, our daughter received one of your personalized picture frames for a wedding gift. We were so impressed with the originality and quality that I have since purchased two other frames as wedding gifts for friends. The craftsmanship of both the regular frame and the wooden frame are exceptional, and it's great to know that I am giving the bride and groom a one-of-a-kind gift that can be enjoyed forever! Very prompt service as well so I have nothing but high praise!!

Great product
By
Brian B.

(Valley Stream, NY) - July 19, 2013 (
See all reviews by this customer
)
Item is exactly as described. Came very fast and looks great!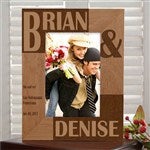 great!
By
Shopper

(Chicago, IL) - July 16, 2013
I gave this as a wedding gift and they loved it.