Very Nice
By
Shopper

(Gardena, CA) - May 28, 2013
I wish it could've been lacquered, but I still like it very much :)

perfect
By
Shopper

(Lisle, IL) - April 21, 2013
This product was exactly was I expected. It looked professional and sleek. Would definitely recommend.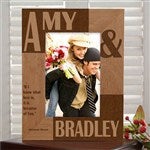 Nice frame- personal quote eh
By
Shopper

(Southold, NY) - March 17, 2013
Frame is great. Quality is great. My only issue is the personal quote I added which wasn't that long- I don't like the size on the frame. It's too small. There's enough room for it to be bigger and look proportional. I added a comment upon buying but I didn't receive a response. What you see is what you get upon preview


Nice
By
Shopper

(Santa Clara, CA) - February 25, 2013
It is a really nice frame and i really think this is a cool collectible amongst the must-haves for couples.

picture frame
By
Shopper

(Hasbrouck Heights, NJ) - February 16, 2013
Very nice quality and great idea. Recipient loved it!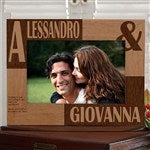 Better Looking In Person
By
Nikki D.

(Scottsdlae, AZ) - February 12, 2013 (
See all reviews by this customer
)
This frame is absolutely adorable and looks even better in person than online. The only thing that is a tiny bit disappointing is that the quote you put in the bottom left corner is very small writing. Still looks nice, but it is small. Also could be because I put a pretty long quote there. IDK, but DEFINITELY well worth it for the price. I LOVE IT and so did my boyfriend!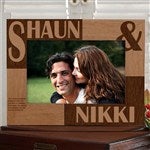 Great gift for my Bestfriend
By
Haley H.

(Gadsden, AL) - January 14, 2013 (
See all reviews by this customer
)
She liked the gift it was very well done. I would order this item again. Great!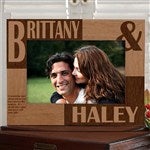 Beautiful when perfect
By
Shopper

(Green Bay, WI) - December 31, 2012
I had a reorder done on mine when the first was lost in the mail, but both ended up making it to me. They both looked different. The colors of wood were different on both of them. On one of them, the etching had little white borders around the small text. The one that didn't was gorgeous.

Frame is a great gift and beautiful, but leave time in case you need to have a remake done.

Beautiful Frame & Craftsmanship
By
Shopper

(Silver Spring, MD) - December 30, 2012
This beautiful frame was ordered as a Christmas present and it did not disappoint. The frame is made from good quality wood and it shows. It beautifully frames almost any picture you can slip into the frame. I ordered this product in the horizontal orientation and the personalization was very well crafted. The color tones of the frame contrast and compliment each other very well. It sits very nicely on a table and although it was never mounted, I suspect it looks just as good mounted on a wall. This product is made out of high quality material and is sure to bring joy for years to come. There is a reason this product has received so many reviews and is a customer favorite.

Boyfriend/Christmas Gift
By
Shopper

(Grand Junction, CO) - December 28, 2012
Very nice gift. Letters came out perfect. Nice quality. Background of names a little too light, but looks good.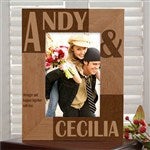 Great product!
By
Trisha K.

(Victoria, TX) - December 27, 2012 (
See all reviews by this customer
)
Bought as a gift. Thought it was very nice product! Thanks!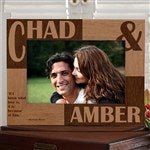 Great Gift
By
Shopper

(Solon, OH) - December 7, 2012
The frame came out great. The names are large and the frame is good quality. I am disappointed that the "saying" came out small. Not sure why that can't be made larger font.

Perfect gift
By
Shopper

(Swartz Creek, MI) - November 27, 2012
We purchased two different frames for our children. The frames were delivered quickly. They were as pictured. Which was very helpful to preview the pictures before purchase. Slightly engraved into the wood are the names. Good quality. I would recommend this product. I would purchase from Personalization Mall again.

Very pretty
By
Shopper

(Lafayette, LA) - August 26, 2012
Very pretty. Quality was ok.

Beautiful Frame
By
Mirela G.

(Canada) - August 19, 2012 (
See all reviews by this customer
)
The frame was very beautiful. It exceeded ny expectations however when I received the item the glass was broken in pieces. Personalization Mall should be more careful the way they package their items. But overall, the frame looked great and it was exactly the way it shows in the pictures.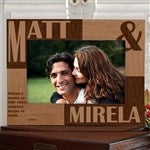 awesome gift
By
Shopper

(iselin, NJ) - July 23, 2012
very nice presentable and awesome gift

Not as sturdy as expected
By
Sherida S.

(Norwalk, CT) - June 25, 2012 (
See all reviews by this customer
)
Ordered this frame for Father's Day. The personalization came out great. But the frame itself is thinner than expected and a little wobbly. It looks thicker/sturdier in the pictures than it actually is.

Happy to be able to give this to him
By
Shopper

(Canada) - June 19, 2012
It's amazing how it's exactly just like the picture on this site. The quality is excellent. (Plus, the shipping for the items was surprisingly fast, got it way sooner than I expected.)

great gift
By
Rachael B.

(Federalsburg, MD) - April 14, 2012 (
See all reviews by this customer
)
Loved the frame and it arrived quickly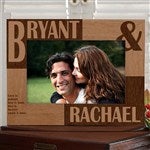 nice picture frame i love it!
By
isabel P.

(dallas, TX) - April 14, 2012 (
See all reviews by this customer
)
I gave it to my husband as a gift for our wedding anniversary and put in a picture of both of us it really look awesome. Thank you guys I got on time. My husband love it.

Cute
By
Shopper

(Houston, TX) - April 9, 2012
Cuter than I could imagine. Makes a great first anniversary gift.

Nice wedding present
By
Shopper

(DeSoto, TX) - February 26, 2012
The product was routed well and looked fine. It will make a nice addition to my presents for the happy couple. I would have liked it better, however, if I had had a choice of fonts for the names of the couple. The helvetica, block font was very utilitarian looking. Something italicized or lightly cursive would have been more artistic and personal.

Nice frame
By
Shopper

(Washington, IL) - February 23, 2012
The frame arrived on time and looks exactly like the picture shown on the website. Very happy with the appearance. The reason I gave it 4 stars was because I personalized the wording and was unable to fit in everything because I was restricted to 7 lines and needed 8. There's enough room on the frame to have more wording so that was a little disappointing but overall it's a really cute frame. I would purchase another one in a heartbeat.

Good purchase
By
Shopper

(Tallahassee, FL) - February 20, 2012
Placement of quote on picture frame was the only part I was not pleased with but other than that the frame was a hit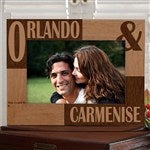 Personalized Picture Frame
By
Shopper

(Richland, WA) - February 18, 2012
The picture frame is in natural wood, which I find refreshing in a world of plastic replicas of the real thing. I also appreciated being able to see what it would look like before I had to purchase the frame. The final product out of the box was just as I had viewed it before purchase. I would recommend it to anyone as a more meaningful, personalized gift at a moderate price point.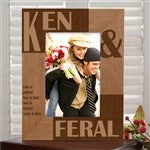 very nice frame
By
Shopper

(Milan, OH) - February 17, 2012
This frame turned out nice. When I received the my order, I was not as crazy about our names on the 8 x 10 horizontal frame as I was when I saw it on line. Placement just does not look like I thought it would. I would have prefered a 5 X 7 frame. But the quality of the frame and workmanship is very good, and it arrived sooner than I anticipated that it would.

Frame
By
Shopper

(San Antonio, TX) - February 15, 2012
Came out as a great valentines gift. Loved it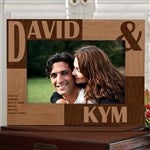 Great gift!
By
Shopper

(Glendale, WI) - February 14, 2012
I bought and personalized this frame as a Valentine's gift. It was well received not only by the recipient, but by his friends on Facebook! Everyone loved it and thought it was a great gift. This item was delivered about 4 days from when I ordered it. Excellent turnaround time for a uniquely personalized gift.

photo frame
By
Shopper

(Littleton, CO) - February 10, 2012
Very nice. Seems pricey.
Guess you have to pay the premium for the personal touch.

Nice
By Shopper (Olney, IL) - February 7, 2012
Good deal.

Love Bugs
By
Kyla C.

(Muldrow, OK) - February 6, 2012 (
See all reviews by this customer
)
I was very pleased when I recieved the frame in the mail. I cannot wait to present it to my boyfriend for V-Day!!!! He likes little personal reminders and it just seemed perfect! I bought the biggest one and plan on setting up a day to get our pictures taken to put in it! I know he will just love it!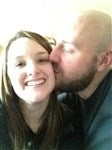 Personalized Frame
By
Shopper

(Nampa, ID) - February 3, 2012
Looks great and will be ordering them as gifts for friends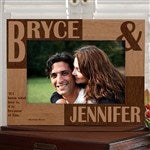 Wonderful Frame
By
Shopper

(Elk Mound, WI) - January 16, 2012
I am very happy with this frame. I am eager to put a picture of my husband and me in it and display it proudly.

Great gift
By
Shopper

(Nice, CA) - December 28, 2011
A little rough to the touch where the names are carved in, but other than that it is a great frame. Gave this as a gift and the couple loved it! Even brought tears to their eyes! Want to order one for myself now.

Great product !!
By
Amber R.

(Old Forge, PA) - December 23, 2011 (
See all reviews by this customer
)
Frame is beautiful and they lOved it ... I wish I could've made the phrase bigger since I made my own phrase ... But otherwise perfect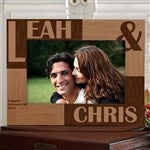 Because of You picture frame
By
Carole U.

(Hanover, PA) - December 18, 2011 (
See all reviews by this customer
)
I was happy with my purchase. Very easy to order this item and it arrived very fast. I would deal with Personalization.com in the future. I got what I saw on their web site.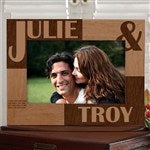 Great Gift Idea!
By
Candace C.

(Riverdale, GA) - December 15, 2011 (
See all reviews by this customer
)
This was purchased as a gift for a loved one. I think this is a great gift to personalize and give as a birthday, valentines, christmas or just because gift. It's a great gift to show someone how much they are loved and thought about. I used the type your own message option, it was easy to use. The only thing I don't like is the placement of the text I wish there was an option for location of text. The craftmanship is really nice and whomever receives this gift will love it! I Love It!

True to Advertising
By
Shopper

(Findlay, OH) - November 21, 2011
I ordered this style frame as an engagement gift. Was please that the frame looked exactly like what I saw on the Internet. Speed of delivery was nice for something custom made too. I would buy from this company again. The only reason I did not give it 5 stars is that the cost of shipping I felt was rather high compared to other sites I have ordered items from in the past few weeks.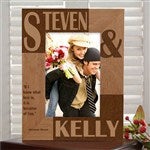 It matched the computer generated picture
By
Shopper

(San Francisco, CA) - November 21, 2011
A lovely frame, which I am sure the recipients will love. If I have a criticism, it is that the quote is in pretty small letters.

I'd purchase again
By
Nicole S.

(Saint Louis, MO) - October 16, 2011 (
See all reviews by this customer
)
Overall it was a beautiful frame. I didn't realize it was actual engraved wood. The only issue I has with this product was the glass was cracked and I had to call to get a replacement. I was sent the replacent and received it within 3 or 4 days.