Cute
By
Shopper

(Houston, TX) - April 9, 2012
Cuter than I could imagine. Makes a great first anniversary gift.

Nice wedding present
By
Shopper

(DeSoto, TX) - February 26, 2012
The product was routed well and looked fine. It will make a nice addition to my presents for the happy couple. I would have liked it better, however, if I had had a choice of fonts for the names of the couple. The helvetica, block font was very utilitarian looking. Something italicized or lightly cursive would have been more artistic and personal.

Nice frame
By
Shopper

(Washington, IL) - February 23, 2012
The frame arrived on time and looks exactly like the picture shown on the website. Very happy with the appearance. The reason I gave it 4 stars was because I personalized the wording and was unable to fit in everything because I was restricted to 7 lines and needed 8. There's enough room on the frame to have more wording so that was a little disappointing but overall it's a really cute frame. I would purchase another one in a heartbeat.

Good purchase
By
Shopper

(Tallahassee, FL) - February 20, 2012
Placement of quote on picture frame was the only part I was not pleased with but other than that the frame was a hit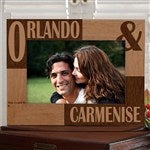 Personalized Picture Frame
By
Shopper

(Richland, WA) - February 18, 2012
The picture frame is in natural wood, which I find refreshing in a world of plastic replicas of the real thing. I also appreciated being able to see what it would look like before I had to purchase the frame. The final product out of the box was just as I had viewed it before purchase. I would recommend it to anyone as a more meaningful, personalized gift at a moderate price point.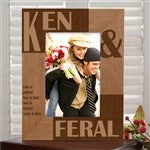 very nice frame
By
Shopper

(Milan, OH) - February 17, 2012
This frame turned out nice. When I received the my order, I was not as crazy about our names on the 8 x 10 horizontal frame as I was when I saw it on line. Placement just does not look like I thought it would. I would have prefered a 5 X 7 frame. But the quality of the frame and workmanship is very good, and it arrived sooner than I anticipated that it would.

Frame
By
Shopper

(San Antonio, TX) - February 15, 2012
Came out as a great valentines gift. Loved it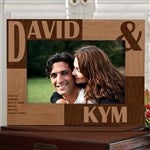 Great gift!
By
Shopper

(Glendale, WI) - February 14, 2012
I bought and personalized this frame as a Valentine's gift. It was well received not only by the recipient, but by his friends on Facebook! Everyone loved it and thought it was a great gift. This item was delivered about 4 days from when I ordered it. Excellent turnaround time for a uniquely personalized gift.

photo frame
By
Shopper

(Littleton, CO) - February 10, 2012
Very nice. Seems pricey.
Guess you have to pay the premium for the personal touch.

Nice
By Shopper (Olney, IL) - February 7, 2012
Good deal.

Love Bugs
By
Kyla C.

(Muldrow, OK) - February 6, 2012 (
See all reviews by this customer
)
I was very pleased when I recieved the frame in the mail. I cannot wait to present it to my boyfriend for V-Day!!!! He likes little personal reminders and it just seemed perfect! I bought the biggest one and plan on setting up a day to get our pictures taken to put in it! I know he will just love it!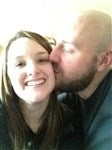 Personalized Frame
By
Shopper

(Nampa, ID) - February 3, 2012
Looks great and will be ordering them as gifts for friends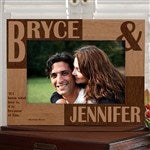 Wonderful Frame
By
Shopper

(Elk Mound, WI) - January 16, 2012
I am very happy with this frame. I am eager to put a picture of my husband and me in it and display it proudly.

Great gift
By
Shopper

(Nice, CA) - December 28, 2011
A little rough to the touch where the names are carved in, but other than that it is a great frame. Gave this as a gift and the couple loved it! Even brought tears to their eyes! Want to order one for myself now.

Great product !!
By
Amber R.

(Old Forge, PA) - December 23, 2011 (
See all reviews by this customer
)
Frame is beautiful and they lOved it ... I wish I could've made the phrase bigger since I made my own phrase ... But otherwise perfect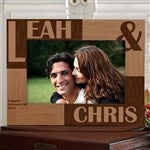 Because of You picture frame
By
Carole U.

(Hanover, PA) - December 18, 2011 (
See all reviews by this customer
)
I was happy with my purchase. Very easy to order this item and it arrived very fast. I would deal with Personalization.com in the future. I got what I saw on their web site.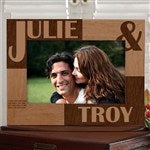 Great Gift Idea!
By
Candace C.

(Riverdale, GA) - December 15, 2011 (
See all reviews by this customer
)
This was purchased as a gift for a loved one. I think this is a great gift to personalize and give as a birthday, valentines, christmas or just because gift. It's a great gift to show someone how much they are loved and thought about. I used the type your own message option, it was easy to use. The only thing I don't like is the placement of the text I wish there was an option for location of text. The craftmanship is really nice and whomever receives this gift will love it! I Love It!

True to Advertising
By
Shopper

(Findlay, OH) - November 21, 2011
I ordered this style frame as an engagement gift. Was please that the frame looked exactly like what I saw on the Internet. Speed of delivery was nice for something custom made too. I would buy from this company again. The only reason I did not give it 5 stars is that the cost of shipping I felt was rather high compared to other sites I have ordered items from in the past few weeks.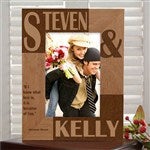 It matched the computer generated picture
By
Shopper

(San Francisco, CA) - November 21, 2011
A lovely frame, which I am sure the recipients will love. If I have a criticism, it is that the quote is in pretty small letters.

I'd purchase again
By
Nicole S.

(Saint Louis, MO) - October 16, 2011 (
See all reviews by this customer
)
Overall it was a beautiful frame. I didn't realize it was actual engraved wood. The only issue I has with this product was the glass was cracked and I had to call to get a replacement. I was sent the replacent and received it within 3 or 4 days.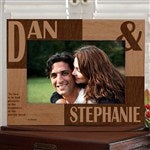 picture perfect
By
Terri D.

(Corpus Christi, TX) - October 8, 2011 (
See all reviews by this customer
)
Excellent quality and super service.
Received it immediately.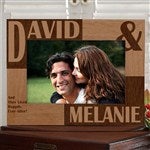 anniversary gift
By
Shopper

(Dublin, OH) - May 28, 2011
I purchased this item for an anniversary gift and it turned out really nice! The couple was very happy with it. It was a little smaller in size than I expected but other than that the quality was great. I ordered late though and paid as much in shipping as I did for the actual gift so order early.

Perfect little gift
By
Shopper

(Martinsville, NJ) - May 21, 2011
Frame was exactly as pictured and made as I expected. Quality is good and it will make the perfect little gift for my son and future daughter in law. I want to give it to them at the rehearsal dinner I am giving them. I added the words of a song I used to sing to my son when he was a baby (you're in my heart, you're in my soul etc by Rod Stewart) but now those words can fit them. It came out very nice. I will put a picture of the both of them in it and give it to them. I know they will love it.

Couples Frame
By
Shopper

(Orlando, FL) - May 16, 2011
I got this for my best friend when she and her boyfriend moved in together. I was happy that I could write my own message/prayer on the frame. The only reason I gave it a 4 is because the message/prayer was very small. It should be a little bigger in my opinion.

Loved it
By
Shopper

(Shelbyville, IN) - May 14, 2011
This product is a great idea.. The wood work is fanstasic, and I love that you can make it all your own.. The only down side that I would have to say is that the inscription of your personal message is a little smaller than I would of liked.. Overall I really like it. Its a perfect gift that that person you just don't know what to get them.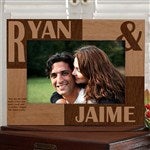 Good quality wood frame
By
Shopper

(Mountain Lakes, NJ) - April 19, 2011
I gave this frame as an engagement gift. It was received in less than a week and when I gave it to the couple, they were extremely impressed by it. The wood is very nice quality too!

Great Gift
By
Shopper

(Delmar, NY) - April 18, 2011
Very sturdy frame, the printing was nicely done, and it was well received. I would highly recommend.

Liked the engravement option
By
Shopper

(Chicago, IL) - April 15, 2011
I was happy with overall look of the finished product.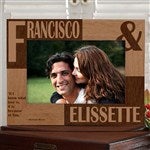 VERY NICE but...
By
Shopper

(Mira Loma, CA) - February 25, 2011
My quote was really weirdly positioned... but overall my boyfriend really loved it. =)

8098 - because of you
By
Shopper

(San Jose, CA) - February 21, 2011
It was easy to order, and the result was good. My friend really liked the frame and told me that it was my best gift for him.

Looks exactly like the display photo
By
CAROL K.

(STOCKTON, CA) - February 16, 2011 (
See all reviews by this customer
)
I loved this photo frame. I got it for a valentine's gift for my boyfriend and placed our best photo in it. It looks exactly like the displayed photo online. The only thing i wish was larger wording in the comments area where you can add onto the frame. If they moved the words lower it could of fit larger than on the side.

Overall very pleased
By
Jonathan M.

(Alvin, TX) - February 10, 2011 (
See all reviews by this customer
)
The frame and font look just as previewed. Overall I am very pleased with how it turned out. I chose to write my own statement on the frame, it is legible, but just barely - I think the font size could have increased and been more easily legible, but again, overall very pleased.

Just what I exected!
By
Shopper

(Columbus Grove, OH) - February 4, 2011
The frame was very well made and I look forward to giving it as a gift for Valentine's Day. It will make the day very special.

Very nice....
By
jason C.

(owasso, OK) - December 27, 2010 (
See all reviews by this customer
)
The frame looks great, just as you'd expect, a couple little things. 1. I wish the text for the phrase wouldn't always left-justify...would be nice to center it or even to have different fonts, etc., available. 2. the frame isn't as "glossed" as i'd like, could have used a coat of "laquer?"

Beautiful picture frames
By
Marni W.

(Casper, WY) - December 22, 2010 (
See all reviews by this customer
)
I was so impressed with the quality of the picture frames I ordered and pleased with their quick arrival. If I were going to change one thing, I wouldn't have the top name on the frame have a larger first letter than the bottom one but they are beautiful none the less. I am so glad to know about this company!!

Nice Quality
By
Lisa E.

(Oakland, CA) - December 11, 2010 (
See all reviews by this customer
)
Purchased as Xmas gift for my sister & her boyfriend. Turned out wonderfully, as this was my first order & I'm sure to buy more gifts for friends & family.

A Unique idea
By
Debra B.

(Battle Creek, MI) - December 9, 2010 (
See all reviews by this customer
)
I was pleasantly surprised at how quickly this arrived. It looked nearly identical as shown in the photos. I say "nearly" because it does not show you very clearly that in the horizontal frame, the capitalized first letter will be two-toned because of where the pieces are joined at the corner with the wood going in different directions. It appears only very subtlety in the "J" in the photo. In my case, the wood hues were quite different. I would not have preferred this obvious difference, but some may find this adds visual interest. Nonetheless, I think it will make a unique and valued gift.

Enjoyable
By
Elizabeth W.

(Mulhall, OK 73063, OK) - November 10, 2010 (
See all reviews by this customer
)
I'm pleased w/ how this turned out. I thought at first it was too small..but got to thinking that it's actually a perfect size b/c photo printing station is typically 4x6 and that's sufficient.
I didn't notice a place on the back to wall hang it and that would be a nice feature. (maybe I just haven't noticed yet either)

It was a nice order and easy to do.


Fast shipping
By
Thomas V.

(Bergenfield, NJ) - October 15, 2010 (
See all reviews by this customer
)
Very nice s, super and fast shipping. This is a great shopping experience!!!

Well made
By
Laura S.

(Mesa, AZ) - October 13, 2010 (
See all reviews by this customer
)
I have purchased a few of these frames and am overall pleased with them. The quality is great and nothing I have ever purchased from here has been damaged during shipment. However, it would be nice if I could omit the quote option all together.