Awesome product!
By
Tamela R.

(Westerville, OH) - May 14, 2010 (
See all reviews by this customer
)
I gave this product to my mom for her birthday. I chose one of the prearranged verses and had the ability to edit it so that it better fit her. I then filled it with pictures of my children so she would have something appropriate for work. She absolutely loved it and could not wait to show it off. She loved the personalization which was very neatly done and couldn't believe how wonderfully it came out. I would definitely order one for someone else or even myself!

First Time Buyer
By
Lisa M.

(Oak Ridge, TN) - May 6, 2010 (
See all reviews by this customer
)
I ordered this Photo Cube for my mother and was thrilled to get a quality item that was personalized with no mistakes. I also liked that I could put my own words on it instead of a cheesy poem that sounded nothing like my own mother. It arrived quickly to my home and was just like I expected... maybe even better.

Perfect
By
Brian B.

(watertown, NY) - April 20, 2010 (
See all reviews by this customer
)
My mom loved her gift!

Cute
By
Jamie T.

(Forney, TX) - February 23, 2010 (
See all reviews by this customer
)
This is such a cute photo cube. It is small, which I was aware it would be since it only holds 3x3 photos. I think the size is perfect though for an end table!

Beautifully Done!
By
Melissa S.

(Greenfield, WI) - December 29, 2009 (
See all reviews by this customer
)
I was very happy with my purchase and my mother couldn't have been happier! The engraving was beautiful! The box itself was very good quality. I will be visiting this site for gifts in the future! Very pleased!

Great Gift!!!
By
Sharon R C.

(Garland, TX) - December 22, 2009 (
See all reviews by this customer
)
I love it. It looks even better in person. I was very pleased with the final product. Delivery was on time.

Personalized Photo Box
By
Audra H.

(Wichita Falls, TX) - November 25, 2009 (
See all reviews by this customer
)
I was really pleased with the results of the photo box and I know my mom will LOVE it!

Fantastic
By
Christina S.

(Germantown, MD) - November 24, 2009 (
See all reviews by this customer
)
I absolutely love it, and I know my mom too!! Thanks for everything

photo cube
By
Shopper

(Carlsbad, NM) - November 22, 2013
I loved the box the only thing bad about it was that it was smaller than I expected and the.picture boxes were smaller than I wanted.

nice gift
By
Shopper

(chicago, IL) - May 15, 2012
it was a nice gift however the size of the pictures didnt get it 5 stars.... there is NO place which printed out 3x3 pics to fit the cube and at home we had to edit it so much so make sure the pics arent disorted and still look nice... it should offer a size that is easy to find like 4x6 standard prints or wallets are 2x3 something that we can easily find and make good use of the frame otherwise cutting and editing the picture is a big hassle!

Received exactly what it said
By
Jeana M.

(Burnsville, MN) - April 20, 2012 (
See all reviews by this customer
)
We ordered this for my future mother in law as one of her wedding gifts. It was great to be able to write our own personal message. We ordered it on a Sunday and received it two days letter! I was so impressed with the quality and speed in which it was shipped!

Highly recommended!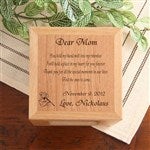 Pleased with my Order
By
Shopper

(Lanham, MD) - July 10, 2011
I was happy with my personalized order and how quickly I received my item!

Great gift!
By
Shopper

(Bellevue, NE) - June 12, 2011
I got this gift for my parents as a father's/mother's day gift from my son. They absolutely loved it and it looked great! They were really surprised it said "Grammy and Poppy" on it because it's hard to find anything that says that!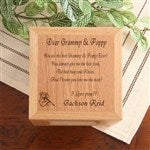 Great Product
By
Shopper

(Sarasota, FL) - April 8, 2011
When I first saw this product, I immediately fell in love with it. Order it way in advance for my boyfriend for our first anniversary. I hope he'll like it. Although there's a minor imperfection in the carving, but I'll look past it :)

Great but needs more avaliable characters
By
Meredith R.

(University Place, WA) - July 22, 2010 (
See all reviews by this customer
)
My fiance and I got this for my soon to be MIL. We were hoping to write "Thanks for sharing our day" but it was 1 letter too long. I wish the creaters had of considered this fairly popular phrase when making the maximum characters avalible number. Other than that the product is great. Very sturdy looking and the personalization was exactly what we were looking for. Can't wait to see the MIL's face when she recieves our gift!

Mother's Day Gift
By
Shopper

(Bowling Green, OH) - May 16, 2012
I really liked the idea and the gift. The writing was not as dark as it is in the photo, so I was a little disappointed to it.
I was not able to find anybody that could do 3x3 photo's so it was hard to find pictures that would fit that I wanted. It would be nice if I could upload my pictures and have them put in and everything completed when delivered to me.