stunning
By
Cherie D.

(Chambersburg, , PA) - May 28, 2013 (
See all reviews by this customer
)
I couldn't be happier with my watch. I purchased the man's size, and submitted a good pic from my phone. The crop was great, the watch is good quality. The only real complaint I would have is the watch was running when I got it, I would of rather had that small plastic peice so it could not have wasted the battery on its journey to me. I would gladly shop here again.

Beautiful gift
By
Shopper

(Crowley, TX) - April 5, 2013
Very happy with purchase,I bought the men's size for my sister because she likes big watches, picture looks very clear I will definitely buy again

Quality product as always from PersonalizationMall
By
David W. H.

(Alva, FL) - February 8, 2013 (
See all reviews by this customer
)
My girlfriend will love this birthday gift

great watch
By
Shopper

(Claremont, CA) - January 19, 2013
This was just what I wanted - the picture came out great on the watch.

Good Value
By
Shopper

(San Antonio, TX) - January 7, 2013
The picture came out nice and the watch is a good value overall. I purchased the Men's watch and the band is a little thin for someone with a big wrist, but the watch seems to be of high quality. Once the item shipped, it arrived within a few days. Great products are a reason my wife and I are repeat customers at personalizationmall.com.

Great Way to Always Have Your Favorite Picture with You
By
Jerry A.

(Glenview, IL) - December 30, 2012 (
See all reviews by this customer
)
I bought the women's version of this watch and was quite pleased with the quality so I bought the men's version. Now I will always have my grandchildren with me and ready to show off. Nice quality.

Great Job!
By
Shopper

(BUFFALO, NY) - December 28, 2012
Personalization Mall did a great job and very quickly as well. Could not be happier and will shop with them again.

Photo watch
By
Jennifer P.

(N las vegas, NV) - December 28, 2012 (
See all reviews by this customer
)
Shipping was fast. Pic is clear. Happy with item

Reiko's Christmas present 2012
By
Richard T.

(Poway, CA) - December 16, 2012 (
See all reviews by this customer
)
Excellent as always. This is about the 8th yr. for this item and it has become a tradition. See you next year.

Picture watch - Awesome
By
Colleen B.

(Brandon, FL) - December 9, 2012 (
See all reviews by this customer
)
This is a great gift for my dad! I just know he's going to love it.

A Watch to Cherish
By
Shopper

(Fruitland Park, FL) - December 3, 2012
The watch that I purchased has already become one of my wifes favorite keepsakes, as it pictures us having a romantic day at the beach in Cozumel, Mx.
It's amazing that a full sized picture can be reduced to fit the face of a ladies watch. Service was great and very efficient and the watch looks like quality jewelry should look.

excellente
By
jesse P.

(Pierre, SD) - November 10, 2012 (
See all reviews by this customer
)
very clear picture everyone i see loves it and wants your site i will be ordering more

A treasure!!!!
By
Shopper

(Lake Hopatcong, NJ) - October 14, 2012
Really nicer than in picture. Fast delivery. A real treasure.

great product
By Shopper (brooklyn , NY) - July 13, 2012
its a great product i like it very much .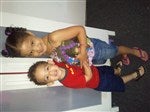 The perfect gift!
By
Patti C.

(Tucson, AZ) - April 6, 2012 (
See all reviews by this customer
)
I ordered this watch as a gift. I was so pleased at the excellent job that was done fitting the photo into the watch face. I love that it's an actual ladies' watch, not big or bulky. I was surprised at how quickly it arrived. I'm giving it to the recipient tomorrow and I know she's going to love it!

The BEST Christmas gift EVER!
I recieved a personalized watch that my Sister ordered for me from your site, for Christmas, and it is my MOST prized piece of jewelry! It is amazing and I will not go anywhere without it on! It is absolutely the best gift I have ever recieved and it led me to this wonderful site and I'm hooked! The quality of this watch is just excellent and the picture on it is perfect!! You guy's are amazing!!!! :)

Love it
By
Shopper

(Cookeville, TN) - January 31, 2012
Had ordered a watch with the Grandkids on it for sister in law. added a kid needed another watch finally found it. Don't have photo of watch but photo used is below.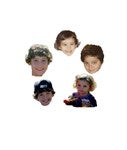 Great Watch
By
Alice B.

(Jupiter, FL) - January 21, 2012 (
See all reviews by this customer
)
This watch is a great gift. Great price. Great service. Was so easy to order.

Great novelty item!
By
Shopper

(South Windsor, CT) - December 31, 2011
The watch arrived in time for Christmas, in spite of my late order. The picture was printed well and nicely centered, and the watch is keeping good time. This is a well-priced unique gift which I recommend.

Appreciation
By
Arthur B.

(Lexington, KY) - December 29, 2011 (
See all reviews by this customer
)
I have ordered several photo watches from Personalization Mall, and every time have appreciated the high quality of your work, and also the prompt delivery of my order. We get my wife a watch with a current grandkids picture on it each year, and she's been very happy with them. Good work!

Great!
By
Shopper

(Mount Holly Springs, PA) - December 28, 2011
I was so pleased with the watch. The picture looked perfect! I was worried about it being centered and looking ok, but they did a great job!

My Review
By
Shopper

(Richmond, CA) - December 20, 2011
I received my Photo watch as promised before Christmas. I was thrilled at the quality of the watch and how the picture was accurately placed inside the watch.
I gave the watch as a gift. Now, I have relatives who all want a family picture in a watch next year...next year like in January!!!!smile.
Thank you so much. I will be making that order in January.

photo watch
By
Angel A.

(Tampa, FL) - December 17, 2011 (
See all reviews by this customer
)
You did an excellent job, promt too

GREAT
By
GARY & JANUARY L.

(ORLANDO, FL) - December 16, 2011 (
See all reviews by this customer
)
MY PHOTO WATCH CAME OUT JUST BEAUTIFUL. THE PHOTO COLOR IS SO BEAUTIFUL. THE WATCH KEEP PERFECT TIME RIGHT TO THE MINUTE. I HAD BOUGHT ABOUT 8 OF THEM OVER THE LAST TWO YEARS FOR BIRTHDAY AND CHRISTMAS GIFTS. I AM VERY HAPPY WITH THIS TIME PICE.

photo watch
By
Shopper

(Goshen, NY) - December 16, 2011
Excellent quality, I was very happy with how it turned out. Even better in person!

Fantastic
By
Shopper

(winchester, TN) - December 2, 2011
I bought this watch as a Christmas gift for my father. It turned out beautifully. I just know he is going to love it.

Christmas Gift
By
Shopper

(Intercession City, FL) - November 15, 2011
The watch turned out perfect. I am so excited for my husband to open this gift CHRISTMAS day. He will love it!

Extremely satisfied
By
Patricia L.

(Baltimore, MD) - August 21, 2011 (
See all reviews by this customer
)
Extremely satisfied with the picture in time photo quart watch. Beautiful job incorporating the photo on the watch. Fast service. Would purchase again.

Perfection
By
Shopper

(Palm Harbor , FL) - August 3, 2011
The watch that I purchased was absolutely PERFECT.I am very pleased with the quailty of this watch and proud to give it as a gift. In itself , it is a beautiful piece of jewlery . Having it personalized with a picture I chose surpassed all my expectations. It also was delivered a just a few days from when I placed the order. I will continue to order from PersonalizationMall.com.
Thank you for your excellent selctions.

Great looking watch!!
By
Shopper

(mandeville, LA) - July 11, 2011
The watch with my own personalize is very impressive. It is somthing I would treasure and it is very unique. Each of them is unique in itself since it has the meaningful picture of your own family, loved ones and etc. Love it and will order again soon. thanks.

Perfect
By
Shopper

(Cypress, TX) - June 12, 2011
I had the watch made for fathers day and the picture I chose was cropped perfectly and the watch came out just perfect.

You won't be disappointed!
By
Annette R.

(Newport News, VA) - June 5, 2011 (
See all reviews by this customer
)
The watch is just the perfect size for a ladies wrist and the photo came out great. I have my beloved sister with me all the time now. Thanks for the wonderful work Personalization Mall. I"ve seen other goodies I want to buy so I"ll see you again.

Picture Watch
By
Tiera L.

(Farmington, ME) - May 17, 2011 (
See all reviews by this customer
)
Got this watch for my mother-in-law who lives in a different state and only gets to see my son once a year. I haven't seen it yet but when she called me to thank me, she was crying and said it was absolutely perfect...perfect picture, perfect size. She loved it. It was ordered for Mother's Day and she received it several days before!

Great watches
By
Shopper

(Bonsall, CA) - April 9, 2011
This watch was delivered faster than promised and was great! I have several of these personalized watches and have been very happy with each of them.

WATCH REVIEW
By
ALMA M.

(Abilene, TX) - March 28, 2011 (
See all reviews by this customer
)
THE WATCH WAS ABSOLUTELY BEAUTIFUL. I DON'T THINK I COULD HAVE FOUND ANYTHING MY BROTHER WOULD HAVE LIKED AS MUCH. EVERYTHING WAS GREAT WITH THE SHIPPING. IT WAS SHIPPED IN A TIMELY MANNER AND I HAVE SINCE ORDERED ANOTHER ONE FOR MY HUSBAND. THANKS FOR AN EXCELLENT JOB.

Great service again
By
Daniel H.

(Salem, OR) - February 22, 2011 (
See all reviews by this customer
)
This is the third time I have ordered from this company and every time the quality is outstanding and th service couldnt be better. The website is very easy to use. Thanks for everything,


Fast service, great product
By Shopper (Redding, CT) - February 14, 2011
Very happy with the watch! It came super fast and is nicer than I expected. The watch face is small so think about what your picture will look reduced to 3/4". In my case we did artwork instead of a picture and it came out very nice. The wristband is a bit small too, just fits on last notch. Overall a nice product.

Excellent Job
By
Shopper

(Muncy, PA) - January 20, 2011
When I first placed my order, I was worried that the picture that I choose wouldn't fit the face of the watch as I hoped, due to the fact that I couldn't preview it ahead of time. I am very happy to say that it turned out perfectly and was all that I expected.

Outstanding product and customer service
By
Casie F.

(South Boston, VA) - December 27, 2010 (
See all reviews by this customer
)
The photo watched is beautiful! We gave this to my mom for Christmas and she cried when she seen the picture of her grandboys. I also want to comment on the outstanding customer service from The Personalization Mall. They assure customer satisfaction. I am so happy!

LOVE THEM!
By
Cassandra S.

(Surprise, AZ) - December 13, 2010 (
See all reviews by this customer
)
This is the 2nd time I have purchased these watches. The 1st ones that we purchased was about 4 years ago and those are still working great. The only reason I had to purchase new watches this year was because new children were added to the family! I am always happy with things I purchase from PersonalizationMall.com and I always recommend them for unique gifts - I know I can always find them here. My parents are "Happy Grandparents" when she can show off her grandchildren and great grandchildren on her arm!