Custom mouse pad
By
TONY D.

(ALLENTOWN, PA) - January 31, 2012 (
See all reviews by this customer
)
Very Crisp, clean and clear. Im Very Happy. The only thing that bothered me was the smell of the chemical that was used to preserve its freshness with in the packaging. A Very Potent aroma I most say...almost gave me a headache. Took it about a day to clear up. Other than that...I received it right away. Highly recommended.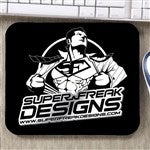 Needs Picture on both sides of cup
By
Wayne S.

(Raleigh, NC) - December 21, 2011 (
See all reviews by this customer
)
The quality was good, however we believe that the product needs the option to put the picture on both sides of the cup. Picture shown is good for left handed people but right handed don't see the picture while drinking from the cup.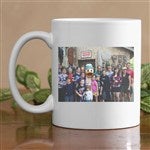 Mousepad
By
BARBARA W.

(ATHENS, TN) - December 28, 2010 (
See all reviews by this customer
)
mouse pad looked great, however it had a terrible smell.
Had to let it air out.

Great idea
By
Marissa S.

(Clinton, IN) - May 11, 2010 (
See all reviews by this customer
)
I was happy to have purchased this gift for a friend. It is a great idea to personalize something like this you use every day!

Great gift
By
Gerald S.

(Elkton, MD) - February 10, 2010 (
See all reviews by this customer
)
This was a cool product, got it for my Grandfather for Christmas and he loved it. It was easy to do, and arrived in good time. The only thing I wish was that the picture was a little clearer and brighter in real life. I would get it again though and recommend it. Just be sure to use a bright picture.

Color cast and unwanted advertising
By
Timothy G.

(Orrville, OH) - December 23, 2013 (
See all reviews by this customer
)
Resulting color was farther off than I'd imagined (yes, I know it's a mouse pad) - there is much more pink/red in the result than I expected, although it might help the flesh tones look more natural. However, the additional color cast makes for a darker overall result as well, if not perhaps sunburned.
The very lower right of the final product also has "www.PersonalizationMall.com" in small (5 or 6 pt., perhaps?) sans-serif, black font. There is NOTHING on the item page to make be believe that this would be present. The FRONT of my item (a gift) where the photo goes is not PersonalizationMall's advertising space.
The mouse pad itself is well enough made with a solid weight and appropriate rubberized non-slip backing.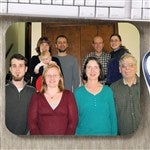 Choose a great photo
By
Shopper

(Grove City, PA) - November 29, 2013
I did not choose a great photo for use on this mousepad. It was my mistake. It just didn't turn out how I wanted. Use a colorful photo like the one on the site. and don't do a real closeup one like I did. Just suggestions to help. I am disappointed, not with the company, but with my choice. I chose a dog photo, and the dog is black and it just didn't work well.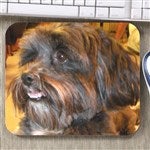 Photo is fine but the rubber smells so bad I can't be in the same room
By
Shopper

(Kodiak, AK) - January 25, 2012
I was frustrated to pay $10 in shipping for a feather weight item that costs $12, then wait 20 days for it to arrive. I ship things every day from Alaska to locations all over the US, and I could have sent it for $1.58 and had it arrive in 5 days. What is that all about?

The overall picture is fine, but the smell is so strong I have to leave it outside hoping it will eventually not make my eyes burn! I'm not sure I would have made this purchase if I had known any of this.

Mouse Pad
By
Tina D.

(Brownsville, PA) - February 11, 2010 (
See all reviews by this customer
)
I like the mouse pad but however the picture loses some of its brightness and clearity. When you see it on the web page it is bright and clear but that is not how it turns out.

Mouse pad picture seems poorly executed.
By
Emily S.

(Bedford Heights, OH) - December 23, 2009 (
See all reviews by this customer
)
I requested a mouse pad using a picture I know to contain vivid color when printed - I was disappointed to receive a washed-out version of the picture on the mouse pad. I would have done better to just change the picture to black and white had I known how faded and dingy-looking it would turn out in color.

1 star for the picture quality, 5 stars for the quality of the mouse pad itself.

Surprised
By
Julia E.

(Livermore, CA) - December 21, 2009 (
See all reviews by this customer
)
I ordered the mug as a gift and was very surprised that the size of the picture is much smaller than it is shown in the example. It was disappointing.

Photoless mug
By
brenda B.

(riverside, CA) - May 11, 2012 (
See all reviews by this customer
)
It was exactly as pictured..other mugs Ive purchased has them on both sides..so One side has nothing on it..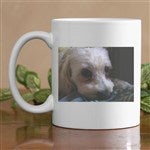 Disappointed for the first time!
By
Daniel M.

(McKinney, TX) - January 30, 2012 (
See all reviews by this customer
)
I was very disappointed in this product when it arrived. The online preview looks great, but the burnout effect on the pad make the colors way off. Our skin looks ridiculously pink and orange, and it can't be given as a gift as intended. I'll give 2 stars instead of 1 only because in the end, personalizationmall.com offered a fair resolution.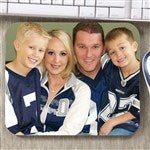 Picture this coffee mug with a micro sized picture
By
Sonia P.

(Cary, NC) - December 1, 2009 (
See all reviews by this customer
)
Overall good quality photo mug. However the picture on the mug was 1/3rd the size shown on website. A little disppointing. Perhaps the size of the picture shown be changed to a more realistic one on website.

Too Small
By
Shopper

(Frisco, TX) - February 24, 2012
I ordered a coffee and requested a family photo be added to the mug. When I received it I was dissapointed. The photo size was much smaller than expected. I received a gift similar to this which was purchased from a different company. That photo is twice the size copared to the one from Personalization Mall.com. Another issue was that the photo was placed on the side of the cup that if you're right handed, (which 83% of the population is) the photo is on the back side of the cup so you cant see the photo. Not worth the $12.95 + shipping!!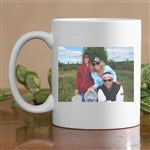 Need magnifying glass to see picture
By
Shopper

(Weston, FL) - January 8, 2012
The picture is tiny. It's 1 3/4 x 2 1/2 inches , leaving almost all of the mug white. I'm embarrassed to give these as gifts, and I bought a lot of them for my family.

Poor Quality
By
Shopper

(Northridge, CA) - December 27, 2011
The image showed up discolored and tiny. You couldn't see anyone's face. Lighting was awful and did not show up like the previewed image on the computer.

very small picture!
By
Natalya P.

(Sacramento, CA) - December 26, 2009 (
See all reviews by this customer
)
I was very disapointed when I resived this mud. The picture was much smaller then it was shown on a sample. The only good thing that the delivery was on time.

Disappointed
By
Alfia W.

(Wilmington, NC) - December 24, 2009 (
See all reviews by this customer
)
Pads have a TERRIBLE toxic smell- I guess made in China.
They cut my watermarks on all pictures- no adjustments- as was promised.


Pictures quality are good.

I have seen better
By
Lauren R.

(Manhattan Beach, CA) - December 22, 2009 (
See all reviews by this customer
)
The photo was really small on the mug