Very pleased.
By
Shopper

(Beavercreek, OH) - January 14, 2013
I was very pleased with the item I ordered. My daughter, a lawyer, will be thrilled as well. I have seen and received several items from you and have never been disappointed. Thank you.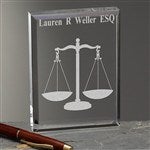 Not working as a paperweight
By
Shopper

(Turlock, CA) - July 20, 2013
The product looks nice. However, it was no "weight" as a paperweight.

It's just....ok
By
Shopper

(Cincinnati, OH) - November 13, 2012
It way to light weight. I was expecting engraved glass for this price, not plastic. It looks nice, but is very small. I was expecting it to look bigger & weight a lot more.

Legal Paperweight
By
Helen F.

(Somerset, NJ) - October 8, 2009 (
See all reviews by this customer
)
Overall very nice, but too light for a paperweight. Should be heavier.

Legal paperweight
By
Linda A.

(Boynton Beach, FL) - May 14, 2011 (
See all reviews by this customer
)
The paperweight is very nice, a little small. The engraving came out really well, the only complaint is that the writing on the bottom is so small it is very hard to read.

Great Gift!
By
Donna V.

(Newport News, VA) - May 17, 2010 (
See all reviews by this customer
)
I bought this for my son, who will be graduating from UVA Law next Sunday. I was looking for something he could eventually use in his office, and that would be meaningful to him, and this fit the bill perfectly! Couldn't be happier with it! Thanks so much.

Great work
By
Jamie L.

(Hermosa Beach, CA) - October 9, 2009 (
See all reviews by this customer
)
The personalizatio on this paperweight was done perfectly and in record time! I ordered it on a Thursday afternoon and it was in my mailbox the next Monday! I didn't think that was even possible.

The paperweight itself (I got the gavel one for a newly-elected court commissioner) is nice but a little more light-weight than I was expecting.

Really 3.5 stars
By
Aketa E.

(Raleigh, NC) - October 16, 2009 (
See all reviews by this customer
)
I read prior to purchase and now agree with a previous commenter: it is really not a paperweight, not heavy enough.
The gift went over well with the recipient, moreso for the symbol and personalized message. At first sight, I was a bit worried about the quality of the engraving because it appears it could wear away or scratch off, hope not. It's on display on her shelf and since she's not using it as paperweight so let's hope so.

Dissappointed
By
Shopper

(Houston, TX) - May 28, 2013
The item was way smaller than expected. for the price I expected a little bigger. Very Disappointed

kinda Cheap
By
Adam L.

(Rochester, NY) - May 24, 2011 (
See all reviews by this customer
)
I received my Paperweight with the impression that it was going to be nice heavy glass, but the ,material feels more like plastic or acrylic or something. It feels kinda cheap, and the sides are also kinda sharp. the writing is done nicely and gets the point across, my girlfriend liked it and uses it in her law office so I give it a 2/5.

DrDeb
By
Shopper

(Titusville, FL) - May 15, 2012
The "paperweight" was well-done, but certainly not heavy enough to weigh down any papers. It could have been a bit bigger - although I was aware of the stated size when I ordered it. If it were a bit bigger, it could have been displayed "upright" because it was beautifully inscribed. I ordered this for a friend who had just graduated from Law School and she loved it.

Small
By
Tammi M.

(Clermont, FL) - December 2, 2010 (
See all reviews by this customer
)
It was alot smaller than I pictured
But it was nice with my son's name on it.

Nice
By
Valerie M.

(Gardner, KS) - November 23, 2009 (
See all reviews by this customer
)
I bought two of these as gifts to my staff for Christmas. They are nice, but they were a little smaller and lighter than I had expected.

5 Star Lawyer
By
Sherlyn D.

(East Amherst, NY) - July 26, 2013 (
See all reviews by this customer
)
Very impressive product. Our daughter is setting up her law office and this paperweight will fit in beautifully!

Impressive
By
Shopper

(Brandon, MS) - January 25, 2013
Very weighty. A nice personalized graduation or any time gift. Please with gift probably will purchase more in the future. Shipping was quick.

Lawyer Paperweight
By
Mary Y.

(Galloway, OH) - September 27, 2012 (
See all reviews by this customer
)
This is a very nice glass paperweight, but could be just a little bigger.

Perfect Size
By
Shopper

(Ardmore, OK) - March 14, 2014
Wanted to get a small personalized item for my husband's desk and this was it! Arrived as described...great quality!

Satisfied
By
denise D.

(medford, MA) - December 26, 2013 (
See all reviews by this customer
)
Very satisfied with the Lawyer Personalized Paperweight and shipping. Received it before Christmas. Good service

Very Very Satisfied
By
Erwin N.

(Newport News, VA) - December 17, 2013 (
See all reviews by this customer
)
I discovered Personalization.com on the internet looking for an award for outgoing chairman. The items offered made a choice difficult, but I ordered 2 of the Paperwieights. Within moments I had a picture of each, and within days they arrived at my office exactly as ordered. The price and quality were beyond my expectations, and the service prompt and outstanding. Will definitely order from this fine company again.

Scales of Justice Paper weight
By
Brenda S.

(Raleigh, NC) - July 6, 2010 (
See all reviews by this customer
)
I was thoroughly pleased with the quality of this. My daughter is an attorney and will like this to use on her desk at work. I have ordered many items from your company and all but one time I was completed satisfied with the items. The turn around time of getting the items after ordering is fantastic. Sincerely, Brenda Shafer

Absolutely Gorgeous
By
Ruby B.

(Oakland, CA) - July 2, 2010 (
See all reviews by this customer
)
I had the gift sent to a friend's daughter who was just sworn in to practice in the state of Washington. She received the gift and said it was absolutely gorgeous. This was the first time she had seen her name with Attorney At Law after it. Thanks for your unique gifts.

Simple but Different
By
Shopper

(Ann Arbor, MI) - August 28, 2012
This is a nice token that's a little different than what is usually given to lawyers. It's a tasteful item to have in the office, on a desk or a bookshelf. It's also reasonably priced. We provide it as a way to recognize a person's service to our legal organization.

Perfect Volunteer Gift
By
Shopper

(Mckinney, TX) - February 27, 2012
Very nice paperweight.

EXTREMELY PLEASED!!!!!!!!!
By
Rebecca A.

(Baton Rouge, LA) - December 13, 2010 (
See all reviews by this customer
)
This is a great gift for lawyers and in fact, this is the 3rd year I've purchased these for gifts. It is very attractive and looks much more expensive that the price. I've never had a problem in ordering from your company and appreciate the great service and great product and quick delivery.

Great quality for a low price
By
Roseanna T.

(Ely, NV) - October 27, 2010 (
See all reviews by this customer
)
My husband and I ordered this as a gift to a friend that preformed our wedding ceremony (we bought the gavel) This piece turned out nicely! For the price it was well worth it and very appreciated by our judge friend. It is very simple, yet elegant. Some other options we viewed were three times the price (and varied in looks)!!! This is well worth the money and will look beautiful!