Baby Frame
By
Frank B.

(Oviedo, FL) - August 8, 2011 (
See all reviews by this customer
)
It was a great gift and my daughter and her husband loved it.
Thank you.

Awesome Gift for new baby
By
Michelle S.

(Temperance, MI) - May 27, 2011 (
See all reviews by this customer
)
This was a gift for my step-daughter for the birth of her new baby girl. I had it shipped directly to her, so I didn't see it, but she told me it was beautiful and she loved it very much.

Great Gift
By
Shopper

(Wexford, PA) - May 23, 2011
I have given this frame twice now and both times the new parents loved it!

great except for # of chaqracters allowed
By
Shopper

(Needham, MA) - May 14, 2011
excellent service and very nice product. I think there are too many specialized frames that I would have liked without all the included messages. Many of the frames that I liked were specialized and I could not have it without the message (e.g. for a christening).. Overall, this is a great company with reasonable rates and lovely gift items and fast shipping

on time and looks great
By
Shopper

(Frisco, TX) - April 12, 2011
on time and looks great

Keepsake Birth Anouncement
By
Janet P.

(Houston, TX) - November 2, 2010 (
See all reviews by this customer
)
This is a beautiful way to give a keepsake birth announcement as a gift. My only disappointment was that a stand is included with it. I wish there was a way to hang it on the wall, if chosen to. This is an absolutely beautiful keepsake for a new baby!

Announcement
By
Nancy Y.

(Renton, WA) - July 5, 2010 (
See all reviews by this customer
)
Product was received within a week and was good quality.

Great Baby Gift
By
Ketreena H.

(McLean, VA) - April 7, 2010 (
See all reviews by this customer
)
I purchased this and got all the information wrong. I called them the next day and was able to get the order fixed in time. I received the frame about 2-3 busness days later. It's really pretty. Make sure your hands are clean before you look at it. It's so clear that every fingerprint smudge will show up. Great gift and I look forward to presenting it.

Great keepsake
By
Jessica M.

(Somers, NY) - November 30, 2009 (
See all reviews by this customer
)
Great keepsake to highlight all the details of your little ones birth. Quality is good, just wish the frame around the picture was available in silver, not just gold.

I woudl suggest that the writing on it be a little more visiblle
By
Janice C.

(Stratford, CT) - February 18, 2011 (
See all reviews by this customer
)
It is hard to see the writing on the glass.The ozs and the weight are barely visible. Other than that it is good quality.

Beautiful gift
By
Diane C.

(Ireland) - December 14, 2009 (
See all reviews by this customer
)
I really liked this product, though I was a little dissapointed that the engraving was smaller than shown in the picture, I do also have my concern about the legs for the picture to stand on. The parents loved this present, but will have to be very careful where to place it, as it could easily be knocked down.

Excellent fast deliery to Dublin, Ireland.'

Frame arrived cracked
By
Amanda M.

(Quartz Hill, CA) - December 22, 2012 (
See all reviews by this customer
)
I received my frame cracked and broken on one of the corners. Other than the cracked glass, the frame looked beautiful.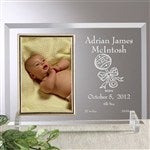 Birth Announcement
By
Shopper

(Danbury, CT) - October 29, 2011
The engraving on this item did not come out correctly on my original order. I had another one mailed to me and it still was not correct. I just gave up trying to get the engraving correct on this item. I was quite disappointed by this experience. I have ordered numerous personalized gifts from personalizationmall.com and this was the only item they did not get right and i was not satisfied with.

baby announcment bummer
By
Shopper

(Colorado Springs, CO) - January 9, 2011
I ordered this for a good friend who had a baby on Christmas.... I read all the reviews and thought that this would be a great item to give her, something personalized for the baby. When I got it in the mail I opended it up and much to my dismay the gold frame was extremely crooked. My husband told me to return I did not want to wait the extra time. So we saw that the frame was just pressed on to the glass using some sort of adhesive. We pealed off the frame and then used something similar to what had originally held the frame on... now its lined up perfectly... not crooked any more ... However this was a pain to do and the glass became covered with finger prints and stickiness from the origianal adhesive. My cousin had a baby recently and I wanted to wait until I saw the first frame in person before ordering another one.. Im glad I waited, I think I will try and find her something different. Although the price was awesome the adjusment of the frame was a big hassel.

Can't read the writing
By
Israel E.

(Pikesville, MD) - May 24, 2014 (
See all reviews by this customer
)
The engraved copy on the glass is almost impossible to see and read, especially since it is a table top frame. If it hung on a wall with a dark background you could read it easily as shown on the website. Very disappointed.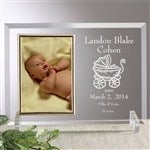 Waste of money
By
Subash S.

(Ann Arbor, MI) - April 1, 2012 (
See all reviews by this customer
)
I did not like this product at all. We have to go really close to the frame to read the letters. The frame i received is not tinted while in the picture, the frame is tinted and can easily read the letters.