Just a great gift
By
Joel R.

(Somerville, MA) - March 11, 2013 (
See all reviews by this customer
)
It looked great and the delivery was fast. It was a great gift for my GF. Yes it says mom poem, but the best part is you can right your own poem. It looked great and she loved it.

Keep up the good work.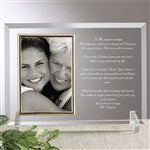 Disappointed x2
By
Shopper

(Clinton, MA) - February 8, 2013
I ordered 1 of these for each of my parents. Now I can see why they put a dark background behind the frame in the preview photo... you can barely see it!! I wish I could get my money back for these and get something else for my parents, I'm slightly embarrassed to have to give these to them. It's quite difficult to read.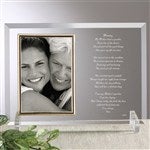 Quality is amazing!
By
Shopper

(Hazleton, PA) - December 24, 2012
As Is: Frame is exactly how it looks in the picture =]
Quality: The quality and design is excellent for the price, actually.
The personalized message: It's very neatly written.
Recommend? I would definitely recommend this item to anyone for the sentiment.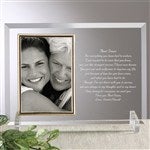 Great frame
By
Shopper

(Blanchester, OH) - December 21, 2012
The frame was delivered right on time and looks great. The engraving looks reallly nice.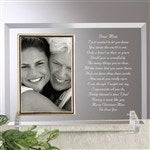 Perfect Mother gift for my wedding
By
paris V.

(bethpage, NY) - August 24, 2012 (
See all reviews by this customer
)
I loved the concept of writing a special letter to my mom for her to have with a picture of us from my wedding. It came out beautifully. The shipping was quick. And the fact that personalization is part of the price. Love this site!!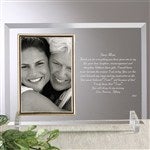 Perfect Mother's Day Gift
By
Ashley G.

(Lake Orion, MI) - May 22, 2012 (
See all reviews by this customer
)
This arrived so quickly in the mail, and my mom cried when she saw it! It was the perfect present for Mother's Day. This is the second thing I've ordered from personalization mall, and I am very happy with it.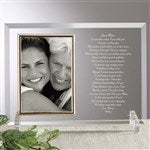 great gift
By
Torrey B.

(Plainsboro, NJ) - May 22, 2012 (
See all reviews by this customer
)
mom loved it! ty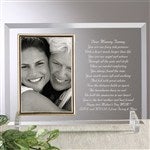 Great Frame
By
Shopper

(Stamford, CT) - May 21, 2012
The frame came out great and the delivery was super fast!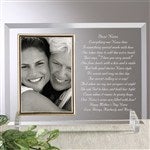 Mother-in-law mothers day gift
By
Shalanda R.

(Fairbanks, AK) - May 20, 2012 (
See all reviews by this customer
)
I thought this way a great gift idea and it made my mother in law cry when she received it. I didn't use the verses provided but I think they are great to have. The only reason why I gave a 4 instead of a five because I wished we could have snapped a quick picture and had it added other than that I was very happy.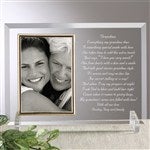 nice but not happy
By
Shopper

(Pheba, MS) - May 17, 2012
The quality of this product is very nice and elegant but I was a little dissapointed with the font and font size of the poem. I used poem #4 and it was to small and very hard to read.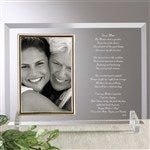 Dear Mom Poem
By
Shopper

(Wheatley, AR) - May 16, 2012
The quality of the products that I ordered is so nice. I didn't think that it would be so nice and beautiful. I am so pleased with my purchase.I would reccomend it to every one.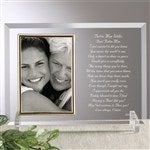 PERFECT
By
Shopper

(Kissimmee, FL) - May 14, 2012
I ordered this for my aunt as a wedding gift and I was very pleased. It was bigger then I expected and it was well packaged.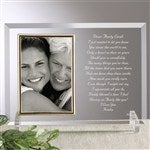 mothers day
By
Shopper

(Cape Canaveral, FL) - May 13, 2012
The frame arrived quickly, perfect mothers day gift or a anytime gift to tell your mother she is special and loved.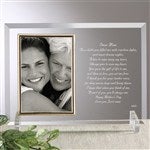 Perfect Mother's Day Gift
By
Diann A.

(Antioch, CA) - May 12, 2012 (
See all reviews by this customer
)
When I am at a loss trying to come up with the perfect gift I have always relied on Personalization Mall to have the right selections to choose from. I purchased this gift for my Mother-in-law as she has everything she needs and it added the perfect addition to her keepsakes. She was thrilled to read the beautiful poem and have a picture of her family attached in the same frame. Thank you Personalization mall for always getting me through a tough choice by having so much to select from. I have been using your site for all my personalization needs for over 10 years and will continue to do so.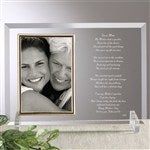 Beautiful Gift!
By
Cathy C.

(Saint Paul, MN) - May 11, 2012 (
See all reviews by this customer
)
This was a perfect Mother's Day gift for my mom. Beautifully crafted and very sturdy!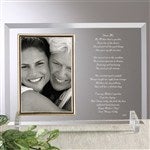 These Were Bought for My Sisters for Mothers Day!
By
Tara P.

(Cleveland, OH) - May 7, 2012 (
See all reviews by this customer
)
I think they are beautiful!!!!!

Perfect Mother's Day Gift!
By
Shopper

(Windsor Locks, CT) - May 7, 2012
This frame is a great size, great quality, the etched poem was done really well, and the price is great. It's a classy looking gift that gives the perfect sentimental touch and and doesn't cost a lot. Thanks Personalization Mall!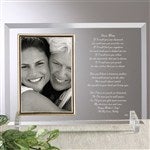 Perfect!
By
Shopper

(Pinellas Park, FL) - March 31, 2012
We were looking for something to get our parents for the wedding and this was just perfect! They are for sure to cry! I used my own poem i found online, it came out so nice..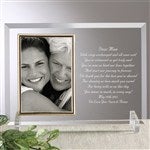 Beautiful!
By
Shopper

(Opelika, AL) - March 25, 2012
My husband and I ordered 2 personalized glass frames. We ordered one for each of our mother's as a special "thank you" for all their support, love and time they put into making our wedding day spectacular! We loved the poem options this product gave us and the quality was fantastic! This makes a perfect gift for any occasion!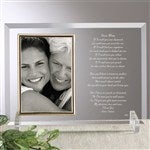 Special
By
junnifer R.

(dallas , TX) - March 19, 2012 (
See all reviews by this customer
)
Its a beautiful keepsake with your own personal touch!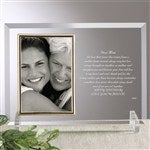 Beautiful Frame
By
Shopper

(Piedmont, SC) - March 3, 2012
The item is beautiful. The shipping was fast.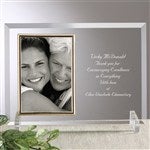 GREAT GIFT!!
By
NaKiima R.

(Cincinnati, OH) - February 27, 2012 (
See all reviews by this customer
)
I bought this item as a gift for my mother this year. It was a great and inexpensive product that shows your mom just how she means to you. When my mother opened the gift, she absolutely loved it! She loved the poem espeically and thought that I had written it myself (I didn't have the nerve to tell her it was a template that the website offers!). The only issue with it after giving it to my mother, was the question of how to display it. It doesn't come with a stabd/holder that is shown in the photo. Other than that, its a great product!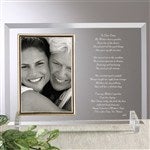 Show appreciation to the people you love
By
Joyce L.

(Miami, FL) - February 22, 2012 (
See all reviews by this customer
)
I wanted to touch the hearts of my friends Vito & Mary from miles away and this gift allowed me to do that. The visited my home tome last month and we took great pictures. I wanted to make sure my picture was not put away somewhere but displayed as part of their family. Thank you Personalization mall for allowing me to give such a wonderful gift!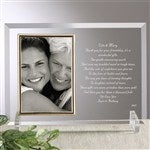 Beautiful
By
Marissa T.

(Chandler, AZ) - February 17, 2012 (
See all reviews by this customer
)
I loved it. It is the perfect gift for my mom, to tell her what she really means to me.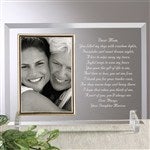 glass frame
By
Shopper

(Durham, NC) - February 15, 2012
I am learning that the items purchased on this site look even better in person then they do online. This frame is beautiful.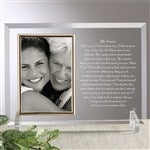 WOW!
By
Chris H.

(Littleton, CO) - February 13, 2012 (
See all reviews by this customer
)
The product was great, but after I had placed the order and got the receipt I found what I thought to be a flaw in the poem I stayed up all night writing. I thought that was the end of that gift until I was able to reach a live person. This female on the other end of the line just about broke down after reading it a loud and to herself trying to find this "flaw". Then after hearing her speak about how she wouldn't be able to control herself or find the words if her boyfriend had engraved a poem onto a Chrystal piece. I believe I got the reaction I was looking for and I was was able to put those worries to rest. After that conversation I felt a lot better and now that I've seen the finished product I can't wait to surprise her with it. Tears would be nice, but kisses are good too.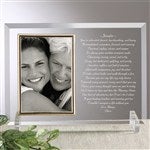 Beautiful!
By
Shopper

(Kendall Park, NJ) - January 31, 2012
I bought this for myself as a tribute to my grandmother.It was absolutely beautiful!Ordering was easy & I liked the fact that I could spell check my personalized inscription before placing my order.Don't be fooled by the price, this is not a cheap quality frame.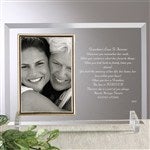 Perfect Gift for Parents
By
Britney S.

(Owens Cross Roads, AL) - January 27, 2012 (
See all reviews by this customer
)
This picture frame is so personalized and you can make the right side say whatever you want. It comes in a beautiful script font. You have a whole paragraph engraved and the engraving is FREE! Such a good buy!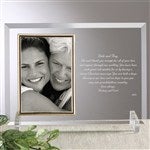 LOVED!
By
Teri W.

(Bellevue, NE) - January 24, 2012 (
See all reviews by this customer
)
I bought this for my Aunt for christmas, VERY pleased with how it turned out. Might be pricey but everything you buy from personalzation.com is WELL worth it!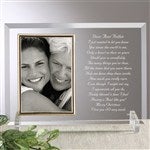 wonderful quality!
By
Shopper

(Miami Springs, FL) - January 22, 2012
personalization mall always reliable, always top quality, i love this site, and its products. I couldn't find this type of frame with the same text space for couples, and I was planning my valentine's day gift so I chose this frame and wrote an excerpt about love from the bible. It looks great, I'm sure he will love it!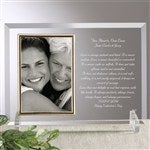 perfect gift! perfect price
By
Shopper

(Monmouth Junction, NJ) - January 22, 2012
I actually bought 3 of these. one for my parents, my fiance's parents and my Godparents as Thank you wedding gifts to give during rehearsal dinner. This frame is gorgeous, perfect size! the engraving done with a laser and its perfection. i loved that i was able to use my own poem because you can really personalize it. I ordered on a Tuesday, shipped on wednesday, got it on friday! I order things online a lot and the process has never been so fast. It was a little challenging finding a picture that was vertical as we always take horizontal so i did have to rescan and flip a picture for it. but worth the money for sure!!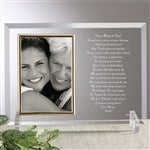 Just the right touch!
By
Shopper

(Laurel, MD) - January 17, 2012
I personalized this as a gift for my mother (Grandma) and my sister (Aunt) with a poem written to each of them from my soon to arrive daughter. In the frame I included a "belly" picture which I can replace later with her newborn picture. I presented each frame to them at my baby shower, and they really loved it. Such a wonder gift since you are able to personalize it just the way you want it.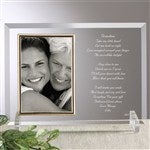 Great Product
By
Shopper

(Stone Mountain, GA) - January 16, 2012
GREAT PRODUCT ! My mom LOVED it . She even showed all her family, friends, and coworkers. Wow

And the greatest daughter award goes to ... me !:)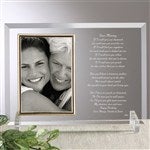 Mixed Emotions
By
Shelly T.

(Kenilworth, NJ) - January 9, 2012 (
See all reviews by this customer
)
I love the choices of poems, the idea is wonderful...Shame you are unable to read a single word that is etched. Because of this, the power behind this gift is lost.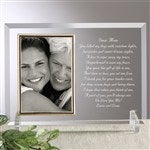 Nice and Heavy!!
By
bill H.

(searcy, AR) - January 9, 2012 (
See all reviews by this customer
)
Really love how nice and heavy this frame is. I thought for the price is would look okay and be a thin piece of glass but I was wrong. Just think the edge around the picture would look better silver but the gold color pops out.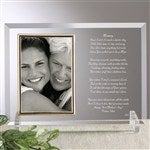 Mom's poem
By
Milly S.

(Chicago, IL) - January 3, 2012 (
See all reviews by this customer
)
It was perfect, just the way I wanted it. However, on my previous order, the frame for a father my daughter's name (Julie) was mispelled. I'm not sure if it was my mistake or the company's. Please advice. Thanks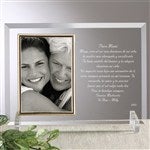 Another Great Item
By
Donna F.

(Gardner, KS) - January 2, 2012 (
See all reviews by this customer
)
I have ordered several things from you company the last couple of months and have been very pleased with each purchase. It is so nice to be able to put into words things that mean something to someone or to you and have it put on something someone can enjoy looking at any time they want, be it a poem or a short letter to that person. Thank you for what you offer and I know I will be using your company for a long time to come.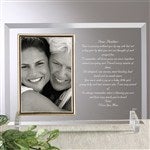 Excellent!
By
Shopper

(Spencer, IN) - December 31, 2011
The quality of this item is superb. The item is beautiful, and the personalization makes it even better.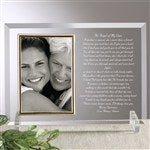 picture frames
By
Shopper

(colorado Springs, CO) - December 31, 2011
beautiful item, nice price and fast shipping. You cant go wrong with item or company. Buy with confidence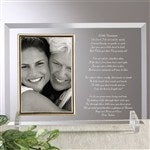 Great Product, Better Customer Service
By
Kenneth W.

(Middleton, MA) - April 20, 2010 (
See all reviews by this customer
)
I got this frame for my Mom for a wedding gift. I received it within a few days of ordering and it looked perfect. However I made a mistake in the signature and needed to re-order the same exact item, this time with a different signature. I emailed customer service just out of curiosity to see if they could help out. Well, I received a reply within an hour and they provided a 30% discount on my re-order even though the mistake was on my end.

I received my new order within a few days and this time it is exactly right. Very quick response on my order and my customer service questions.

I highly recommend the product and am very satisfied with the customer service.