perfect gift
By
Shopper

(houston, TX) - June 17, 2013
I was really glad that i chose this gift. The engraving on the cube was very well done just as seen on this website. My husband was very happy to recive this gift and i would most certainly come back to this website for more gifts.

Great Father's Day gift
By
Joanne G.

(Oregon, WI) - June 14, 2013 (
See all reviews by this customer
)
My grandchildren (ages 7, 5, and 3) found this gift on the Internet. They had a great time composing the message and deciding on pictures to include. Wish the picture size could have been a little bigger, but ok. Great gift...highly recommend it!! Delivery speedy and the quality of the engraving very good. Thank you. I have done business with the Personalization Mall before and have never been disappointed.

Gorgeous!!!
By
Samantha B.

(McHenry, MD) - June 12, 2013 (
See all reviews by this customer
)
This is by far one of the most beautiful gifts I have ever given to someone. This photo cube is gorgeous & looks exactly how it was shown in the pictures and the engraving was beyond perfect. I will definitely order from here many more times.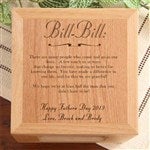 father's day gift
By
Shopper

(rego park, NY) - May 28, 2013
I am really pleased with this item. I received it very quickly and the item looked exactly as described on the website. The personalization is a really nice feature and the wood looks very nice and durable. I think my husband will really like this gift and the personal message I wrote to him. the price was affordable as well. I would buy more products from this site.

Photo Cube
By
Shopper

(Fort Lauderdale, FL) - May 26, 2013
Bought this as a gift for a special occasion - the recipient loved it.

Engraved photo cube
By
Constance S.

(Bath, PA) - May 25, 2013 (
See all reviews by this customer
)
I was looking for something personal that I could give my 80 year old dad-in law who has everything. This very reasonably priced photo cube was the perfect gift. I wrote my own Father's Day wishes making it very personal. The engraving was exceptionally well done. I filled the cube with favorite pictures and feel like I just created a million dollar gift through the options I was given through this company. I received my product in record breaking time. It came well packaged and protected. I would definitely recommend this to everyone. Wonderful working with Personalizationmall.com .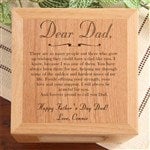 Very Pleased
By
Shopper

(Little Elm, TX) - May 18, 2013
This came out wonderfully. The engraving is so pretty!

Perfect!
By
Vinette T.

(Roswell, GA) - May 8, 2013 (
See all reviews by this customer
)
My dad absolutely enjoyed receiving this gift. I have not seen it in person yet because we're in two different states, but he was touched by such a lovely gift!

Perfect!
By
Shopper

(Peoria, IL) - April 12, 2013
I love it! I purchased this piece as a birthday present for a close friend that is launching a church. I'm not great with dimensions so when I ordered it I was concerned that it would be too small and that pictures would barely be distinguishable, but it's perfect. In truth, any larger would probably be pretty obtrusive on a desk. I definitely recommend this product.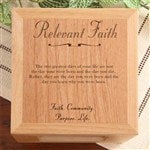 Wonderful product
By
Carey A.

(St Clair Shores, MI) - March 2, 2013 (
See all reviews by this customer
)
I absolutely love this cube. My mother recently passed away and I was having a difficult time finding a memorial item for my cousin. Everything seems geared toward girls or adults, not teen boys. I personalized this for him with a quote from Harry Potter (he loves the series) and will be putting photos of him and my mother in it as a gift. I figure he could keep it on his desk. I think he'll love it!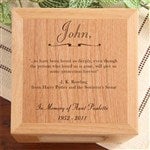 Beautiful
By
Shopper

(Altus, OK) - December 31, 2012
I ordered this for my dad. He loved it. He put pictures of all the grand kids in it. Will order one for myself.

Absolutely Blown Away
By
Shopper

(Montgomery, AL) - December 26, 2012
The picture of this item does not begin to compare how gorgeous it is in person! Absolutely amazing!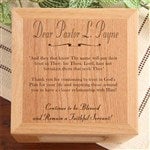 Perfect sentimental gift
By
Maria R.

(Moorestown, NJ) - December 26, 2012 (
See all reviews by this customer
)
It was precise and the work done was excellent.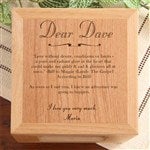 loved it!
By
Juanita R.

(Fair Lawn , NJ) - December 15, 2012 (
See all reviews by this customer
)
I ordered this for my dad and i absolutely loved it! im going to give it to him for christmas and i think its the perfect gift for him, its so personal and he loves these kinds of things i give him. everything came the way i wanted it to and came in about a week, so fast shipping. i definitely recommend getting this for something thoughtful :)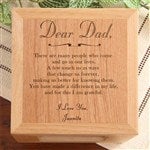 With Love
By
Shopper

(Palmetto Bay , FL) - December 15, 2012
It was even better in person than it was on line..... LOVE IT!!!

God Father
By
Amber O.

(Franklin, WI) - November 28, 2012 (
See all reviews by this customer
)
Absolutely stunning.
I wanted to get my God Father a gift that will show him how much he means to me.
I put a poem and four pictures of main points in my life that he was at, including when I was Baptised.
Thank you, thank you so very much to make my dream possible.

Awesome gift!
By
Shopper

(Odenton, MD) - November 19, 2012
Ordered 12 of these for the seniors in the fall play at school--they loved them, and are so excited!!! Great way to make something completely personal as a gift!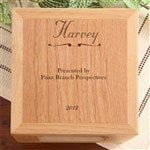 Beautiful gift!
By
Enrique T.

(Mankato, MN) - October 14, 2012 (
See all reviews by this customer
)
I included my own poem and 4 pictures that represented memories from 2012, and gave it to my wife as a gift. She loved it! She had never seen anything like this, and she was very surprised at my creativity.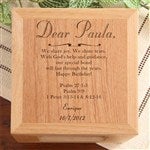 Loved It
By
Donna P.

(assonet, MA) - September 8, 2012 (
See all reviews by this customer
)
I loved the item and how i received it. It was nicely wrapped and the item it self was better then i expected.

Great Gift Idea!
By
Shopper

(Spring Valley, NY) - June 26, 2012
I ordered this cube frame for my husband's birthday.
It looks very presentable. The engraving is very neat. Overall it looks like expensive souvenir that one will treasure for many years. I would recommend this as a great gift idea and keepsake.

Dad Loved It!
By
Shopper

(Sedona, AZ) - June 26, 2012
Not sure if my dad's Father's Day card would arrive in 2 days, I turned to Personalization Mall. They engraved my words and shipped my dad's present within 24 hours. My father had his present the next day. Their service was fantastic, including live customer service representative who confirmed my online order.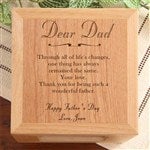 Lovely Father's Day Gift
By
Christina F.

(Loranger, LA) - June 25, 2012 (
See all reviews by this customer
)
This photo cube was the perfect gift for my husband. My daughter and I enjoyed having the oppurtunity to personalize the saying. This made the photo cube even more special to my husband than just having pictures. In addition, it is a great accessory to his desk at his office and everyone compliments on it.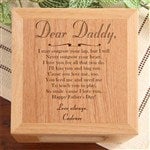 Great for father of a blended family!
By
Jenny S.

(Fort Lee, VA) - June 24, 2012 (
See all reviews by this customer
)
This was the perfect gift for Father's Day. We have a blended family so I was able to reword one of the poems to apply to all the kids. He loved it and proudly displays it on his desk. Simple ordering process, quick delivery, and great prices!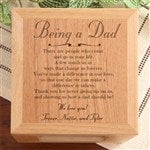 WONDERFUL GIFT!
By
Shopper

(St. Petersburg, FL) - June 22, 2012
The perfect father's day gift. It arrived in 3 days!Just enough time to print photos and wrap it up. It meant so much to my dad to have such a unique gift. Thank you!!!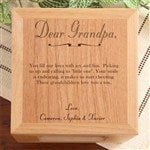 My Dad cried!
By
Nicole M.

(SIMI VALLEY, CA) - June 18, 2012 (
See all reviews by this customer
)
I bought this gift for my dad for father's day and put in a little custom poem from my brother and i. I filled it with pictures of us as we were growing older and he loved it! The engraving is actually in the wood! Crazy! I thought it was going to be like a coating sticker or something but the poem is actually etched in the wood! Looks much more expensive in person than what you pay for. i impressed the whole family this year :)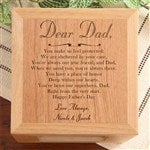 LOVE THIS!!
By
KAREN K.

(COLUMBUS, OH) - June 14, 2012 (
See all reviews by this customer
)
It's a bit bigger than I expected, and will be perfect for my son-in-law for his first fathers' day. The wood is very smooth to the touch, and the lettering is beautiful. The 4 separate frames are easily accessible from the bottom. Nothing skimpy about this AT ALL! Wish someone would get this for ME!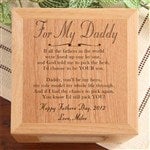 Great Product, Effortless Transaction, Fast Ship
By
Shopper

(Portland, OR) - May 4, 2012
Very happy with my product, it came very fast and making it all my own couldn't have been easier. Very easy to use website and write in my own words of love. Price couldn't be beat and product came and was quality material.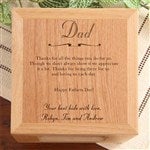 Just what I wanted!
By
GUADALUPE M.

(CENTRAL POINT, OR) - February 27, 2012 (
See all reviews by this customer
)
I just lost my precious,year old sweet chihuahua dog. He was too sick and had to be put down. He was 17 yrs old. The message I wrote for you to engrave was perfect! Even if it was in spanish. I will forever cherish it with the memory of my precious baby Speedy, and his most special pictures, and keepsakes inside the cube. Thank you. You have never failed me in all the items I have bought from you.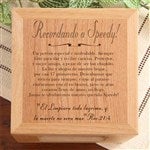 Fast Delivery & Exceeded Expectations.
By
Shopper

(North Vernon, IN) - February 21, 2012
Product appeared just as preview. Received earlier than expected. Highly recommend.

Wow!!!!
By
Jeff P.

(Austin, TX) - January 11, 2012 (
See all reviews by this customer
)
This was a present to me from my one-year-old son this last Christmas!! I ABSOLUTELY LOVE IT! My son (wife) came up with his own verse to me and every time I sit down at my desk - I see it and it makes my heart smile. The quality is WONDERFUL!!!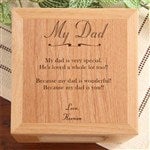 Momento for Dad
By
Shopper

(Naperville, IL) - December 28, 2011
My kids gave this to my hubby for xmas with pictures of them when they were younger...we bought him other gifts too...this was his favorite.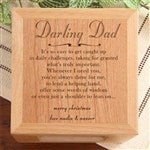 Made my dad cry
By
Shopper

(San Diego, CA) - December 28, 2011
This was a Christmas gift for my dad & he was touched so much by the gift that he cried. The quality of this product is great. The ease of putting pictures in was surprising. It was delivered quickly & the writing was beautiful.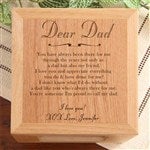 Wonderful
By
Shopper

(Thermopolis , WY) - December 23, 2011
More then what I expected! Great quality product!

GREAT GIFT
By
KellyAnn B.

(Mastic Beach, NY) - December 13, 2011 (
See all reviews by this customer
)
This is the 2nd one I bought. I bought one for my father last year and one for my mother in law from my daughter this year for Christmas. This is a great gift and it isn't cheap quality.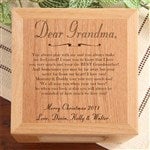 Beautiful gift!
By
Shopper

(Stow, OH) - December 9, 2011
I bought this for my children to give to my husband for Christmas. This is a beautiful gift - I still can't believe how inexpensive it was compared to the high quality. I wish I had seen this years ago as it makes a great gift for so many occasions, whether the receiver is a family member or a friend. I would give it 10 stars if I could - highly recommend!

Christmas Gift for Dad
By
Shopper

(Greenwich, CT) - December 2, 2011
Perfect gift for the photo-loving father who has everything! We never know what to get my dad because he never wants anything, but this personalized photo cube will send him over! :)
Bigger than I thought, great quality

Great for Father's Day!
By
Anne K.

(Broomfield, CO) - November 29, 2011 (
See all reviews by this customer
)
This is a really special gift for my husband! This made our Father's Day very special!!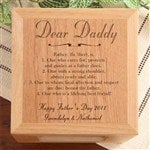 Great product
By
Shopper

(Natchitoches, LA) - November 22, 2011
This product is very good quality and can't wait to give it to my fiance for Christmas.

Beautiful wooden cube makes great gift
By
Abbie D.

(Berea, KY) - November 18, 2011 (
See all reviews by this customer
)
This is one of my favorite gifts that I bought for Christmas this year. It just turned out so nice. Especially once I got the pictures in it. The engraving is perfect, I love that I was able to write my own words on it! The pictures are easy to get in. Though this one is supposed to be for "Dads," I actually am giving it to my mother-in-law - and I know she'll love it. I did one similar for my mother for Mother's Day and she loved it!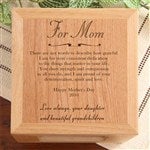 Gift for spouse
By
Shopper

(Phoenix, AZ) - November 4, 2011
Product is awesome! Very high quality wood with pristine engravings. Totally worth the money.