PERFECT present!
By
Shopper

(Plymouth, PA) - December 21, 2011
If your looking for something heart filled & different, look No further!
Received my item in the mail today and it came out Wonderfully!
Isnt going to be a dry eye in the house come Christmas!
Suggest this item & site to anyone looking for something special!
A+++++++++++++++++++++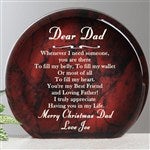 Slightly disappointing
By
Phyllis S.

(Mishawaka, IN) - December 9, 2011 (
See all reviews by this customer
)
While the gift was extremely nice, some of the engraving was light and difficult to view. Everything was as described and it was a very nice size and weight for a paperweight, if you wanted to use it that way. Looks like real wood and is very polished. Just wish the printing was clearer.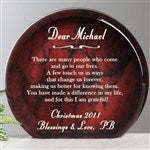 Perfect Little Gift
By
Shopper

(Blackwell, OK) - December 4, 2011
It was the most perfect thing I got for my father. He cried and and it's in his special spot of things. What is great about it, is that it's not too big or bulky, perfect clear words and is nicely made. It'll fit anywhere, in a home or in an office. Loved it.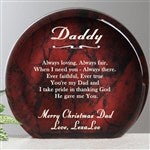 THANK YOU!!
By
Dori D.

(China Grove, NC) - June 28, 2011 (
See all reviews by this customer
)
My Dad LOVED this gift!! Thanks for offering such great items!!!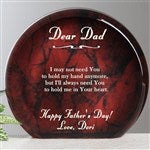 Was the perfect gift
By
Christina E.

(Abingdon, MD) - June 23, 2011 (
See all reviews by this customer
)
This was a really nice Father's Day gift...he really loved it!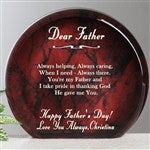 Nobody Like You© Personalized Keepsake
By
Shopper

(Tell City, IN) - June 17, 2011
my dad loved it and almost cried over what i had on it.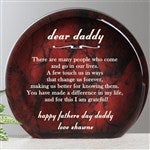 It's a gift for my Dad
By
Shopper

(montgomery Village, MD) - August 10, 2013
It looked smaller than expected but the material used was of high quality. I am sure my dad will cherish it.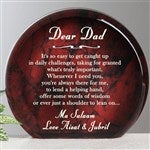 Impressed
By
Lenora A.

(Port Orange, FL) - June 17, 2013 (
See all reviews by this customer
)
The first time I ordered, I have to say I was skeptical because of the price but I was very pleasantly pleased with the quality. The second order I was a little less skeptical but I still wasn't entirely sure how they could pull off such an impressive father's day gift. But if you could have seen the look on my husband's face when he opened his gift and read the inscription, well, words just can't describe his reaction. I highly recommend using PersonalizationMall.com and will definitely be using it again in the future.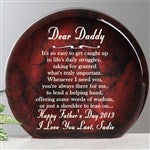 Great gift
By
Heather L.

(Reva, VA) - October 1, 2012 (
See all reviews by this customer
)
This was my gift to my Dad on Father's Day, he loved it. Called to tell me how wonderful and sentimental it was. He found a special spot for it in his office. I am gotten his wife addicted to the website as well.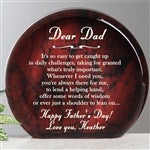 Beautiful!
By
Shopper

(Highlands Ranch, CO) - May 14, 2012
Nice birthday gift. "Timber look" finish is best viewed from distance as shows exactly as close preview. Still, recommend this item as a more masculine gift to give males.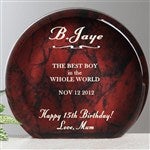 Again - Beautiful -
By
Wendy G.

(Portage, WI) - February 13, 2013 (
See all reviews by this customer
)
Great Value for the money and such good quality !!


pretty awesome !
By
Shopper

(Canton, MI) - December 2, 2012
this was better than it actually looks ! perfectly glossy and just what i wanted///amazing for a gift, yes it's a little small but worth it !

Average
By
Shopper

(Miami, FL) - December 6, 2011
item was not as big as it shows on the website, it was smaller than my hand.. it shouldve been bigger other than that it was great

just what we wanted
By
denise C.

(Belle Mead, NJ) - June 9, 2010 (
See all reviews by this customer
)
This sculpture was the perfect gift for my 3 kids to give my husband for Father's Day. We wrote our own message so it was even more special and just for him. We can't wait for him to receive it because he can place it on his desk and see why his kids love him so much whenever he needs or wants.

Pretty
By
Danielle G.

(Manhattan Beach, CA) - November 20, 2010 (
See all reviews by this customer
)
The colors are pretty and the font is great. A little smaller than I expected, but still great quality and a unique gift if personalized.

A Perfect Gift for anyone!
By
Michael D.

(Port Jefferson Station, NY) - October 22, 2009 (
See all reviews by this customer
)
I already purchased 2 and am in the process of ordering more, just have to finish writing my own text.
This is a special gift for anyone regardless of gender.
A beautiful presentation that will be a treasured memento to display in the home or office commemorating a person's skill, achievements, character or perhaps a milestone they are celebrating.
The white text on the rich background design is a great contrast and there is an awesome 3D effect when you move the sculpture around. It is a high quality gift and when you add your own personalization, it shows the person receiving it just how special they are!
Once again, thank you for the superb quality and service!

MD

Very nice quality!
By
Penny R.

(Versailles, IN) - December 10, 2010 (
See all reviews by this customer
)
This is the perfect gift for my boss that has shown excellent leadership, guidance and support over the years. Engraving is beautiful.

The Best Keepsake Gift
By
Shopper

(Zephyrhills, FL) - July 25, 2012
We were looking for a keepsake gift that could be kept on his desk (something not too big)and this was the perfect size. Not to mention that the inscription pretty much nailed our feelings for him. We were blessed to have found this keepsake on your website. Thank you for the memory!!

excellent product
By
Jeanette S.

(Tomball, TX) - June 10, 2012 (
See all reviews by this customer
)
excellent product, I would definitely order more from this company. My mom and dad really loved the product.

Beautiful piece
By
Kimberly W.

(Marlborough, MA) - June 11, 2010 (
See all reviews by this customer
)
I personalized this item as a Father's Day gift for my fiance from my son. I am certain he is going to love it!

Sentiments exactly
By
Donna S.

(Sun Valley, NV) - June 21, 2010 (
See all reviews by this customer
)
I feel lucky to have found this sculpture with the optional verses right there on the screen to choose from. The sentiments provided to choose from have a way of putting into words something I feel is hard to put into words. Great little keepsake.

Special gift
By
Christina B.

(Irving, TX) - June 22, 2010 (
See all reviews by this customer
)
This is a great gift to give to someone special!