Smaller than expected
By
Shopper

(Caledonia, OH) - February 6, 2012
Overall I am happy with the stone. However, I did not realize how small it would be. The personalization at the bottom is pretty hard to read so I suggest keeping it short and simple. I chose to write what is shown as the example, and it is still too small in my opinion. The shipping was fast and everything else was is great condition.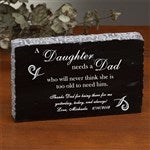 keepsake review
By
Shopper

(Orland Park, IL) - January 31, 2012
I really liked the marble keepsake. Worth the $$. The only problem i had was with the font and size of the print to actually "personalize" it. Very small and hard to read. Otherwise, i thought this was very nice and a quality product.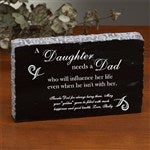 Very Nice, though words are small
By
Fatima C.

(Marion , AL) - December 31, 2011 (
See all reviews by this customer
)
Dad loved the gift, though the phrase at the bottom is small and in cursive and was a bit difficult for my father to read.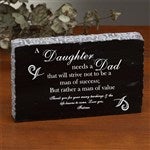 Very Nice!
By
Shopper

(Monsey, NY) - November 29, 2011
this plaque was nicely done and personalized exactly liked I wished

Good item
By
Joseph C.

(Windsor Mill, MD) - September 28, 2010 (
See all reviews by this customer
)
Thanks!

for a dad who has everything!
By
Kelly M.

(Noblesville, IN) - September 22, 2010 (
See all reviews by this customer
)
My fiance and I were trying to find a gift for his dad and were having troubles. His dad has everything so it was tough. This was a perfect gift for him to put in his office. Quality was good and the engraving turned out good. The only complaint is I do think the two designs in each corner could either be removed or moved so the one design doesn't run into the word "son".

Great Product
By
Jenna L.

(Great Falls, MT) - June 18, 2010 (
See all reviews by this customer
)
I loved the gift! It was really nice to be able to put something meaningful on the keepsake and it was lovely quality. It was heavy and the engraving looked professional. I only wish it was a little bigger.

Very nice keepsake
By
Melissa W.

(Kingwood, TX) - June 15, 2010 (
See all reviews by this customer
)
It is a very nice keepsake. The engraving on what you personalize is very shallow though. That is the only thing I really didn't like about it. It looks very nice and is a very unique gift that I know my dad will love. I can't wait for him to open it on Father's Day. :)

Unique
By
Anita S.

(Battle Creek, MI) - May 7, 2010 (
See all reviews by this customer
)
This product looks just like the picture. The only complaint I have is that mine has 2 smudges (that doesn't rub off) on the marble but maybe that couldn't be helped. Otherwise, the engraving is really nice and its very heavy so it will stand up by itself no problem. The speed of delivery was awesome! I ordered it on a Wednesday night and got it in the mail on Friday (2 days later) and that was with the standard shipping!!

Marble
By
Shopper

(baden, PA) - June 17, 2012
The engraving and saying are nice, but the finish on the marble could be better. It looks scratched in 1 place and scuffed up in others on the front :-/


Lovely gift, disappointed with word size
By
Jessica F.

(Glen Burnie, MD) - June 24, 2010 (
See all reviews by this customer
)
I knew this was the gift for my husband. I personalized the message up to three lines. I was a little concerned about the font and size of the item, but I thought I would give them the benefit of the doubt and hopefully they would make it all blend together. Unfortunately that was not the case. The personalized message was squeezed in and the font size stands out as tiny compared to the rest of the font. After I received my item I realized that all the images displayed were mostly two lines, mine was three. I liked the gift, I just wish they would disclaim that if you type a personalized 3 line message the font will be really small.

Very small
By
Shana M.

(Elmhurst, IL) - December 16, 2012 (
See all reviews by this customer
)
this was very small and i dont think it was worth the money

NOT HAPPY
By
Cheryl D.

(Canada) - June 16, 2012 (
See all reviews by this customer
)
I was not expecting the marble keepsake I ordered to come with so many flaws on it. I am not even giving it to my Dad for Fathers Day as it looks very cheap. I spent over $50.00 for this having it shipped to Canada. Does not look like the picture you have on the website at all since it has so many marks on it. What a waste of money!!!!

Quality of Product
By
Michele F.

(Honolulu, HI) - December 23, 2009 (
See all reviews by this customer
)
While the engraving came out correct. The face of the marble was very scratched. I was not happy with the final outcome of this product.

Rip off
By
Hillary S.

(Lexington, KY) - November 13, 2009 (
See all reviews by this customer
)
I purchased this plaque and when it came to my house under the personal message is a circular spot (not marble defect as I was told from your customer care center) you cant even read what it says!!! It looks like someone dropped it and then buffed it out. Your customer service is terrible and I will not purchase anything else from company and will warn everyone I know of your quality.