Perfect Special Event Gift
By
Shopper

(East Palatka, FL) - August 5, 2013
This signature mat frame is perfect! We are having a 90th birthday lunch for my father-in-law and this gift will provide somewhere for the guests to sign and wish him well that he will be able to have as a remembrance!!! Very nicely done! Thanks again for a great product!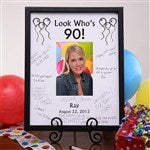 Perfect For The Occasion!
By
Sharon N.

(Henderson, TX) - May 4, 2012 (
See all reviews by this customer
)
Purchased to display at my Grandaughter's 16th birthday. She loves it. Her friends will "sign" the mat when they enter the party.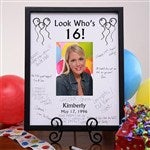 40th Birthday!
By
Grace A.

(Maspeth, NY) - April 9, 2012 (
See all reviews by this customer
)
The frame came super wrapped so no shipping chips or scratches to worry about! The birthday girl LOVED it and the guests signed the frame though out the night! All in all a great hit, don't hesitate to get this for the milestone birthdays!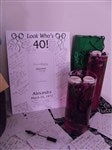 We love It!
By
Shopper

(Kissimmee, FL) - April 4, 2012
This picture frame was perfect for my father's 100th birthday party. The birthday wishes signature mat was a great keepsake for him. It looked beautiful.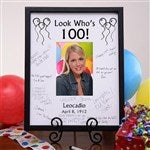 Great way to share memories
By
Shopper

(Lindstrom, MN) - March 16, 2012
This is a great way for people to share memories and congratulations on my sister's 80th birthday party. I know she is going to love it and the price is right.

Great Bday Gift!
By
Shopper

(Jackson, MS) - February 28, 2012
I ordered this frame for my sister's birthday. It was a big hit! She and everyone loved the idea :)

Wonderful!
By
Jennifer M.

(Hackensack, NJ) - June 21, 2011 (
See all reviews by this customer
)
This picture frame was AMAZING!!! It wasn't too big nor too small. It was perfect for my father's 60th bday party which had about 40 people. If it's a larger crowd, I would suggest something bigger, other than that it was perfect for our party and it's a great souvenir for the birthday boy.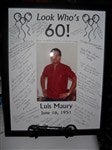 Signature Mat Frame
By
Carolyn K.

(Cary, NC) - March 22, 2011 (
See all reviews by this customer
)
Ordering was easy; delivery was just as expected. Birthday Wishes Signature Mat will make a great keepsake from my husband's party. Frame and mat are of high quality. Turned out great. I'm very happy with the product.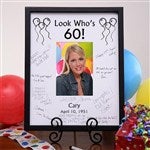 I loved it!
By
Shopper

(Miami, FL) - March 6, 2011
I bought this product so all my co-workers could sign and give as a birthday gift to another co-worker and everyone was impressed. I would buy this product again and I recommend you buy it. It's more than just a post card. :-)

Quick delivery!
By
Laurie C.

(Livonia, MI) - May 18, 2010 (
See all reviews by this customer
)
Great gift, last minute idea and I was so pleased to get it within just a few days!! I ordered it online on a Monday by 7:30am and it was at my home by Wednesday afternoon. Everyone thought it was a unique gift and I was so pleased it arrived on time!!

Loved IT!!
By
Dana A.

(Birmingham, AL) - February 3, 2010 (
See all reviews by this customer
)
I absolutely love this product! I got it quickly & in time for my 35th B'day party. I only wish the space to sign it was bigger! However, it was still a hit!

birthday wishes mat frame
By
Karen M.

(Hudson, IL) - January 11, 2010 (
See all reviews by this customer
)
This looks great. My son and daughter-in-law are celebrating their 40th birthday together this year. This will be great with both their names and birthdates on it.

Signature Frame
By
Patricia D.

(Wilmington, DE) - January 5, 2010 (
See all reviews by this customer
)
Product was exactly as it appeard in the catalog and on line. Very satisfied.

Can't wait to surprise my Mom!
By
Nina W.

(Saugus, CA) - December 9, 2009 (
See all reviews by this customer
)
This is perfect for my moms 50th birthday party, can't wait to show it to her!

Cute idea
By
Shopper

(New Orleans, LA) - June 16, 2013
I liked the idea of an inexpensive keepsake for a milestone birthday party. My only complaint is that the quality of the photo frame is very cheap. I liked everything else about it. We had a party with around 25 people and there was plenty of room for signatures.

Unique Gift idea
By
Susan R.

(Chicago, IL) - November 23, 2010 (
See all reviews by this customer
)
This was such a great idea for a milestone birthday and worked out perfect since we had a group going out so they could all sign it - she LOVED it and it's a memorable bday gift! ALSO, we had her put her face in the picture opening and then we took a picture of her face in the frame....
it's pretty funny and that's the one she's putting in it!

Great product
By
Marjorie P.

(somerville, MA) - December 20, 2009 (
See all reviews by this customer
)
Great product, fast shipping, it was a hit. Loved it

Ok
By
Shopper

(Orlando, FL) - March 10, 2013
I have not used it yet but it seem ok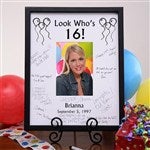 not good
By
Shopper

(houston, TX) - February 13, 2012
the fram is so cheap,even when i got it one of its cliper is not there,and it is hare to display.it look nice on the web but not that nice when you got it.

Matt Frame
By
Shopper

(Wesley Chapel, FL) - December 24, 2011
Purchased this for a 50th Birthday Party as a keepsake that everyone everyone could sign. However, I was unimpressed by the quality of printing on matting ( it looked cheep ). It would have been better with some color on Balloons and a better quality printing. The frame itself was not bad.
I would not purchase this again for a special occasion , instead I would purchase my own mat and take to printer for a higher quality look. Turn around time was excellent .