Happy with purchase
By
Shopper

(Harrison, NJ) - September 16, 2013
I ordered this for a new Mother who had the baby before her shower. Now she has the picture to put in the frame at the shower and everyone at the shower can sign it. Nice memory to hang on the wall in baby's room.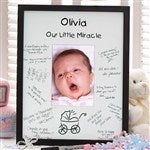 Absolutely Adorable!
By
Shopper

(Houston, TX) - June 4, 2013
Great design for signature frame. Love it.

Great gift idea!
By
Patty O.

(Waynesboro, VA) - June 2, 2013 (
See all reviews by this customer
)
This is a wonderful gift idea for either a new birth or Christening depending on how you personalize the top. Wish it would have come with the permanent, non smudge pen but I went to my local craft store and bought one.

Great Shower Idea!
By
Shopper

(Parsippany, NJ) - February 8, 2013
I ordered this for a shower that I was hosting. People were blown away on what a great idea this was! The mom to be had all her guests sign it and share her impending arrival! I have to throw one tip in there- when people sign the frame- a fine tipped sharpie worked amazing!

Priceless
By
Tiffany L.

(Imperial Beach, CA) - November 4, 2012 (
See all reviews by this customer
)
I used this for my friends baby shower with a photo of the ultrasound and will have all her guests sign it. It is perfect!

LOVE IT!!
By
Shopper

(Syracuse, IN) - September 25, 2012
I am VERY pleased with this company!! SUPER fast delivery, frame is exactly as shown! Baby Shower for my Son's 1st baby is in 4 days so was a little afraid i wouldn't get it on time. Didn't pay for rush and got it right away. Super service, Super cute!!!! Can't wait to use it! Thank you

More selections please!
By
Shopper

(Franklin, TN) - September 10, 2012
This is a great idea my Neice loved it. But I used mine for a Christining not a birth. It would be nice to have more pre-printed pictures selections for the pre-printed choices such as Christining, 1st birthday, baby shower and for other religious holidays or celebrations and to have a choice of solid pink blue yellow tan green lt. purple so it will go with all color rooms and add a splash of color. We used a bright pink pen to add color to the black and white theme. Great item, I would order it again in a heart beat.

Completely worth it for the money!
By
Diana L.

(Coral Gables, FL) - February 21, 2012 (
See all reviews by this customer
)
I bought this because of all the great reviews and I was not disappointed! We had a baby shower for my sister (about 60 guests). I originally only bought one that said "Baby Fleming" but when it came in I realized it was too small for the amount of guests. So I bought a second one that said "Mama Fleming" and put a picture of my sister. They were a huge hit! Fantastic quality and so great that they were personalized. A true keepsake!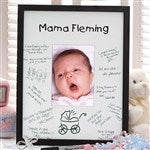 Grandbaby shower!
By
Shopper

(Welch, TX) - January 28, 2012
This signature Matt frame is beautiful. I am so pleased with it. We are using this as the guest sign in at my first grand babies shower! High quality product and the printing on the Matt is amazing. Thank you for making our special day more special. Would recommend this to anyone. It is going to be a wonderful keepsake for my grandchild and his new parents to be!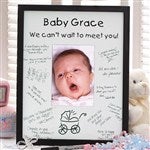 Great baby shower gift
By
Shopper

(Santa Barbara, CA) - January 16, 2012
I bought this as a baby shower gift and my friend LOVED it. Everybody was asking where I got such a unique gift.

Love it!
By
Jennifer S.

(Scottsdale, AZ) - December 6, 2011 (
See all reviews by this customer
)
So happy I bought this....had each shower guest sign it and will have as a great keepsake forever.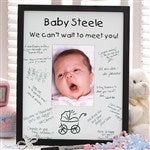 Good work!
By
Shopper

(Athens, GA) - August 16, 2011
Just as always, it was exactly as I ordered it. I loved it. Thank you.

Photo Frame-Great Gift
By
Sally A.

(Saint Peters, MO) - June 13, 2011 (
See all reviews by this customer
)
We had fun at a Girls Only Family Get Together, signing the photo frame for the new baby that is on the way. Great quality and a cute gift idea

Baby Shower Guest Sign In,
By
Terese G.

(New Port Richey, FL) - June 5, 2011 (
See all reviews by this customer
)
I ordered this frame for my daughter-in-laws baby shower. We had it situated right where our guests came in, and each one would sign it. The mat was very good quality. The thing I liked most was that we din't need a specific pen to use on the mat, we just used a black papermate pen and it worked perfectly. It was a really nice personalized gift!

perfection
By
Paige C.

(Laramie, WY) - February 26, 2011 (
See all reviews by this customer
)
Perfect finishing touch for baby shower and for the babies' room. Mom to be absolutely loves them

Cute and simple
By
Leneille B.

(Kennesaw, GA) - September 22, 2010 (
See all reviews by this customer
)
This was the perfect added touch for the shower, everyone thought it was cute and we put it in his room right afterwards.

Too Cute
By
shannon C.

(tobaccoville, NC) - June 6, 2010 (
See all reviews by this customer
)
I had really wanted one of these photo mats, but all others I had seen just were to girly or not what I wanted for our son. When I saw this, and saw the price, I had to have it. I had our baby's name put on this, it turned out so nice. I plan to have it at my shower for everyone to put well wishes and thoughts on it for our little man. It will then go in his room, so he will be able to see how many people love him.

Baby Love Personalized Signature Frame
By
Gail K.

(Gulfport, MS) - February 15, 2010 (
See all reviews by this customer
)
My daughter's best friend was told about this web site from her Aunt, she told me about it and I went on-line and ordered the Signature Frame, I copied the frame wording as noted on the web site except changed the last name, the frame is beauitful, and good quality. It was very easy to remove the frame to have the guests at the shower sign the matt. My daughter loved the frame. It is hard to find anything if the family does not want to know the sex of the new bundle of joy, this frame was perfect. The web site for ordering was easy to use also.

great idea for the baby!
By
Elizabeth V.

(Columbia, SC) - January 29, 2010 (
See all reviews by this customer
)
This is perfect for the baby's nursery, and allows everyone to permanently let your baby know what they were thinking around the birth!

An especially-appropriate gift !!!
By
Judith D.

(Henderson, NV) - January 22, 2010 (
See all reviews by this customer
)
I purchased this 'signature frame' to be part of the decorations at our daughter-in-law's shower. We found it the perfect gift choice since she & our son had used a larger version for guests to sign at their wedding reception.
They had just announced what Baby is to be named, so I was able to order this frame and have it personalized
'Avery Elizabeth', followed by 'she who will rule' (as all new babies do) on the mat. The most-recent ultrasound photo of Avery will be placed in the frame so that shower guests may express good wishes and warm regards. After her arrival in late May, proud parents Jim & Colleen can periodically update with one of the many photos of Avery that we know they'll be taking.