Pretty nice
By
Shopper

(CHINO, CA) - February 25, 2013
these turned out really cute, just wish they came with a small gift box.the fabric is good but not too soft.

The Message
By
Beverly N.

(Hinesville, GA) - February 25, 2013 (
See all reviews by this customer
)
I know this heart spoken personalized handkerchief for my mother will be well received right before the wedding. It said all that I want to convey to her on that day and the days thereafter. Thanks Personalization Mall for delivering such quality products at reasonable prices!

Sincerely,
A Happy Bride to Be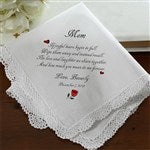 Very sentimental
By
Shopper

(Dallas, TX) - September 28, 2012
I love this b/c it is a great poem to hand my mom during my wedding ceremony. The only thing I would like better is if it could be engraved instead of printed onto the hanky. But I still like it.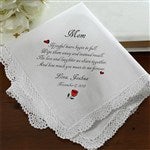 Gave to my daughter to carry in her wedding.
By
Shopper

(Bean Station, TN) - April 6, 2012
Loved the handkerchief that I bought for my daaughter for her wedding. Very good price.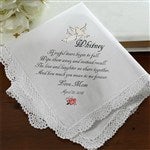 great wedding keepsake
By
Shopper

(Leominster, MA) - August 29, 2011
Haven't used it so I don't know the quality but the personalization came out good and it came to me quickly. Our mothers will love it for the wedding!

Nice personalization
By
Shopper

(Albuquerque, NM) - August 6, 2011
The personalization on this handkerchief came out lovely! I love the fact that I could add a name instead of Mother or Grandmother since the gift is for my mother-in-law. It'll make her cry.

Beautiful handkerchief!!
By
Erin C.

(South Hampton, NH) - July 12, 2011 (
See all reviews by this customer
)
I loved this handkerchief for my future mother-in-law, for my upcoming wedding on July 31, 2011. My only wish is that I could have changed a few words to make it more from us than one individual person. Otherwise, I was very happy with this purchase!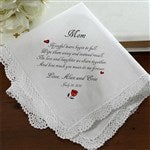 Good product
By
Shopper

(Marysville, CA) - July 5, 2011
Ordered this handkerchief and got it within the next week. Very fast service, good product for the cost.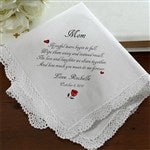 Mother's Gifts
By
Shopper

(Hardwood, MI) - June 27, 2011
They are nice gifts. However, the feel like the price I paid for them. Kind of rough. But, the mothers will love them regardless.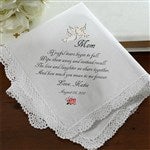 Very happy with item
By
Shopper

(Methuen, MA) - May 24, 2011
Very happy with this item. Good quality and for the price i think it is a great deal and a nice personal gift for someone.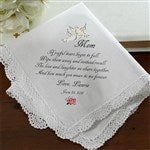 beautiful handkerchief
By
Shopper

(Fort Worth, TX) - April 23, 2011
this handkerchief is beautiful

I wish it was a softer fabric

But I'm so excited about giving this to my mom on my wedding day

Very Nice
By
Shopper

(LAS VEGAS, NV) - April 8, 2011
very pretty, very delicate looking. Cant wait to give them to my mom, mom-inlaw and grandmother.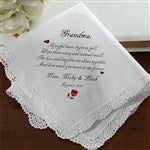 Mother's Handkerchief
By
Jessica S.

(Painesville, OH) - February 15, 2011 (
See all reviews by this customer
)
I love this!!! I think when my mom receives this at the rehersal dinner she is gonna love it!!! I can't wait to give it to her!!!

I think my mom would enjoy it
By
Gina K.

(San Marcos, CA) - January 2, 2011 (
See all reviews by this customer
)
I think my mom and the new mother-in-law would enjoy them but the fabric is too stiff.

Handkerchief
By
Sandra K.

(NOGALES, AZ) - October 7, 2010 (
See all reviews by this customer
)
They are really nice, very clear letters. Thanks

nice presentation
By
Michelle B.

(Glen Cove, NY) - September 30, 2010 (
See all reviews by this customer
)
makes a very nice presentation once personalized. Good value; no issues. Can't really go wrong if you are looking for something special for your "big day".

Overall a great item
By
Stephanie S.

(Wittenberg, WI) - August 27, 2010 (
See all reviews by this customer
)
It was as described... Spent around $16.00 with the shipping, so that was pricy for one small item.

Its Ok
By
Amanda K.

(Bloomington, IL) - July 16, 2010 (
See all reviews by this customer
)
Thought it is absolutely beautiful, it isn't very soft like a handkerchief should be. I would think it is more a keepsake instead of an actually handkerchief that can be used.

It's Cute
By
Bonnie T.

(Kennesaw, GA) - June 3, 2010 (
See all reviews by this customer
)
I liked the saying and I liked the rose with hearts design. But I wish it had come in a gift box. Obviously it's for a gift and now I have to dig for something to put it in. It's not the best quality hankerchief i've ever seen...it's a little stiff, but you get what you pay for and it'll do.

GREAT!!!
By
Leanne C.

(meridian, ID) - April 20, 2010 (
See all reviews by this customer
)
My fiance and I wanted something our mothers could keep after the wedding to remeber our day. We ordered two one for each mom and they came quickly and look great. The hanky is a little thin but love them! Thanks!

True to the photo... maybe better
By
Jeff J.

(Brea, CA) - April 20, 2010 (
See all reviews by this customer
)
Bought this as an inexpensive gift I could give my mother the night of our rehearsal dinner. It arrived quickly and looks, like my headline indicates, just look the website photo. Perhaps better. I remember feeling relieved when I opened the package. I wasn't sure whether it was going to look good when I purchased it but today I am satisfied with my decision.

Looks just as expected
By
AMANDA M.

(OKLAHOMA CITY, OK) - March 19, 2010 (
See all reviews by this customer
)
I was happy with this product, and am excited to give it to my mother next month for my wedding.

Nice
By
corrine K.

(perrysburg, OH) - October 13, 2009 (
See all reviews by this customer
)
I love this. I'm ordering another for my fh's mom as well! The only downfall...there is no box at all or anything for presenting it to them. It comes in a plastic bag. Other than that this is exactly as pictured and good quality!

Great idea
By
Andrea L.

(Erie, PA) - October 11, 2009 (
See all reviews by this customer
)
My mom loved it and held it during my entire ceremony!

Beautiful
By
Corrine K.

(perrysburg, OH) - October 7, 2009 (
See all reviews by this customer
)
Oh this is just a beautiful soft piece. The only downside is that it comes in a plastic cover and has no box or anything to present it. Other than that, it's gorgeous and I'm getting another for the mother in law!

Pretty
By
Dianna D.

(Louisville, KY) - October 3, 2009 (
See all reviews by this customer
)
I ordered 3 for my upcoming wedding, One for my mother, and 2 for my grandma's. I was very pleased with them. They are beautiful and something that they will be able to use on my wedding day. It was the perfect gift.

Lovely verse.
By
Shopper

(Williamsville, NY) - April 20, 2014
Lovely verse but afraid that after one washing the verse will fade and in time disappear.


Sweet, but not what I expected.
By
Shopper

(Fort Wayne, IN) - July 28, 2013
This came in a timely fashion, the personalization was correct,and I would buy from this seller again. However, I assumed it was an embroidered piece. It most certainly is not. Screen-printed ink on this sort of item specifically designed for a mother on a wedding day? Tacky. Oh well, I reordered new ones somewhere else, and prefer the more traditional approach that won't wash off in the laundry.

Dissappointed - arrived all wrinkled
By
Shopper

(Los Angeles, CA) - August 14, 2012
this is so cute, but I might have to return this gift items because it arrived terrible wrinkled and ruins it

Mother and Mother in law gift
By
Nicole M.

(Midland, TX) - August 25, 2011 (
See all reviews by this customer
)
I bought this for my mom and my mother in law for the wedding day. I was very pleased on how fast my shipment came in. The cloth is thin and there isn't many styles to chose from. I wouldn't buy them again because I don't think they were worth what I paid but at least it wasn't too ugly or too cheap looking.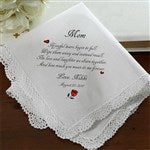 pretty but material is rough
By
Shopper

(Pittsburgh, PA) - June 26, 2011
For the price of this handkerchief, it's great. But the material is very stiff and rough--not ideal for wiping away tears. But it is very pretty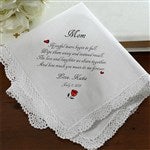 cute idea but the quality isn't the best
By
Shopper

(Aldie, VA) - May 14, 2011
I thought this was a very cute idea and wanted to give one of these to my mother before the wedding. The wording looks nice, and the design is pretty, however, the handkerchief feels very cheap...I still plan to give it to her...too late now, but if I could do it over again, I probably would not have ordered it.

Cheap
By
Megan S.

(Chicago, IL) - July 30, 2012 (
See all reviews by this customer
)
I was disappointed with this product! I thought the words were embroidered, but they were printed on and tacky. Cheap material as well.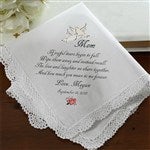 Unsatisfied
By
Shopper

(Capron, IL) - July 16, 2012
I ordered two of these for my wedding. One for mom and one for dad. The one for mom was fair. It was about the quality I expected. All it is, is an iron on square that is printed with the words of your choice. The one for mom turned out fine. I wish in general this product was higher quality and softer material. The one I ordered for dad did not meet my standards. The square that is ironed on was not straight and the edges were uneven. I was very unsatisfied to say the least. I send emails and was asked to send photographic proof of my defective product. I did this and received email confirmation that they will be sending me a replacement at no charge. I hope this review helps anyone interested.

okay looking
By
Shawn B.

(New Bedford, MA) - May 24, 2010 (
See all reviews by this customer
)
This is an average quality handkerchief with average looking wording printed on the cloth. It is cute for its purpose, but not really worth it...

Ugh... so ugly
By
Kim O.

(San Diego, CA) - October 30, 2009 (
See all reviews by this customer
)
The printing on these are a joke. They are not elegant. Looks like they went thru an inkjet printer and do not match the dainitiness of the handkerchief. Blah.