Once was not enough!
By
Rhonda W.

(Lugoff, SC) - October 8, 2009 (
See all reviews by this customer
)
I bought a set of these for my great niece a couple years ago and her mother loved them! She keeps them beside her daughter's bed. She recently gave birth to another baby girl and kindly hinted that it sure would be nice if the new baby had her own personalized "first curl & tooth set". Needless to say, I went on-line immediately and ordered a set for her. I highly recommend this set to those who want to give something special and memory-making.

A Keepsake
By
Stephanie C.

(Chester, NJ) - March 28, 2014 (
See all reviews by this customer
)
I think this is a very thoughtful gift for a newborn. I have given this set many times over the years.

Loved it... but
By
Denise W.

(Amityville, NY) - March 1, 2013 (
See all reviews by this customer
)
I was very happy with my purchase. the only thing I would change is the fact that the lids dont fit snug, doesnt need to be tight, just alittle snug . It was a beautiful gift for my twin granddaughters 1st birthday... Have bought items here before and will again... great service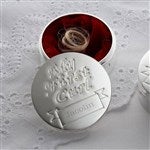 Lifetime Remembrance
By
Shopper

(Derby, CT) - February 27, 2013
I purchased this gift to last a lifetime for my great-nephew's Christening along with money. This is so perfect for the parents to keep and give to him when he becomes an adult. He will treasure this for a life-time. Nice quality gift! The size of the engraving of his name could have been larger so it would be easier to read.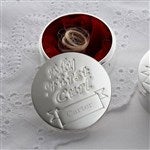 a little disappointed
By
Shopper

(East Bernstadt, KY) - February 21, 2013
The boxes are beautiful inside and out. They will be a nice keepsake.
My only complaint is the name engraving, it does not show up very well.
It would have been nice if it were deeper or color added to show up better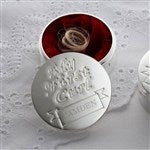 The Perfect Baptism Gift!
By
Cheryl W.

(Vallejo, CA) - November 4, 2012 (
See all reviews by this customer
)
I purchased this adorable gift set recently for our niece's baptism. I really liked it because it was unique, cute as a button, and arrived in a beautiful gift box. The day of the baptism, I knew I had made the right choice. Baby Ellie received 9--count 'em 9--crosses! So this gift definately stood out in the crowd and everyone raved about it. Plus, the personalization on top of each box was the perfect touch!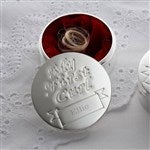 Happy but I wish...
By
Shopper

(Woodside, NY) - October 9, 2012
I'm really happy with the quality of this set, looks expensive. I just wish the lids can be screw on or something. They just rest on top of the containers. Also, I wish the box was just plain white, without the company's name on it. Better yet, why not put the baby's name on the box. I wouldn't mind paying a little more for extra/added personalization. You can offer that as a choice...with or without baby's name on the box...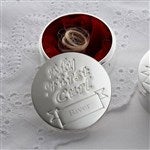 Great keepsake/baby gift
By
Shopper

(Round Lake, IL) - September 21, 2012
My cousin loved this gift I bought for her baby.
It's beautiful and so nice looking.
My only concern is the lid doesn't screw on - it just rests on top of the box. Makes me nervous that eventually little hands could easily remove the contents.

Great Baby Gift
By
Allison B.

(Fort Myers, FL) - May 22, 2012 (
See all reviews by this customer
)
Thought this was a great gift to give. I want one for myself.

cute
By
Kara K.

(Canada) - April 4, 2012 (
See all reviews by this customer
)
these are great! a little smaller then I expected but still very nice.

First Curl & Tooth set
By
Shopper

(Kalamazoo, MI) - January 21, 2012
Nice presentation and quality. I just hope the containers don't tarnish after being exposed to air.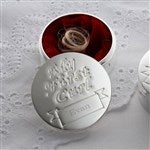 Great service
By
Shopper

(Kennewick, WA) - December 13, 2011
Service was wonderful and the product is really nice. The only complaint I have is that the tops of the containers don't close securely. They sit down over the top but don't screw or lock on in any way. The engraving is really nice. I will purchase from this company again.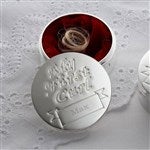 Shopperlady
By
Shopper

(Akron, OH) - November 22, 2011
This turned out to be a cute gift. Smaller than what I was expecting.

cute !!
By
Shopper

(Houston, TX) - August 11, 2011
little curl and tooth gift,beautiful for babies

cute!
By
Jessie S.

(Franklin, WI) - September 9, 2010 (
See all reviews by this customer
)
I liked the presentation of the gift - nice gift box and cute idea. The engraving was just alright.

A nice idea
By
Cory A W.

(Lincoln, IL) - March 11, 2010 (
See all reviews by this customer
)
I purchased the MY First Tooth and Curl Set as a gift to be given at a baby shower. It seemed to go over quite well. The personalization is what gives it that extra appeal. I myself have always desired a nice place to put my children's firsts and thought this would make a great gift. I gave it four stars only because I thought it to be a tad small but I suppose you don't need much room to hold a tooth and lock of hair.

Disappointed
By
Sharon T.

(Kansas City, KS) - July 17, 2013 (
See all reviews by this customer
)
Very fast shipping & great communication. Disappointing product. When I first opened the box I thought it wasn't engraved with the baby's name. You have to hold it up to the light to see the "engraving". Actually looks more like an acid wash.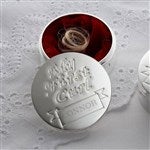 Picture Needs Updating
By
Shopper

(Saint Louis, MO) - November 28, 2012
OK, I actually like my item A LOT - but I only gave it 3 stars because they need to updat the picture. The words "My First Curl" and "My First Tooth" are not engraved in that bubble-like fashion as shown. The engraving is a single line of script which is also a bit different than shown. Actually, I like what I have BETTER than what is shown, but I wish the picture had been accurate so I knew exactly what I was getting.

Nice but not special
By
Shopper

(Mount Pleasant, SC) - October 6, 2012
As always, ordering from here is a pleasure. The item arrived so quickly I wondered what was being delivered. The set bases are heavier than I anticipated, which pleased me. However, the tops are light and the engraving of the name is very light and somewhat difficult to read. I am not disappointed, but it isn't the quality that I usually get from Personalization Mall.

Could be better
By
Shopper

(Fort Washington, MD) - January 16, 2012
The lid to keep safe the precious contents does not attach!! It doesn't screw on or fit tightly...just sits on top. Design could have been better.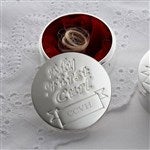 Nice Idea/Needs Improvement
By
Barbara G.

(Arlington, VA) - July 17, 2011 (
See all reviews by this customer
)
The personalized "first tooth" and "first curl" containers look very nice and have a padded interior. But the tops just sit loosely on the container and easily fall off. If they fit more tightly, or screwed on, they would be better for long-term storage. Overall I give this a 5 out of 5 for appearance, but a 3 out of 5 for functionality.

Outer Box Looks Cheap
By
Karen A. M.

(Schnellville, IN) - June 23, 2010 (
See all reviews by this customer
)
I have purchased a lot of items from this site over the last 4-5 years and have generally been pleased - especially with the quick service & delivery. I was disappointed in this item due to the outer box. It is cheaply made - it looks like a box that checks come in except less sturdy. I also think it is a little tacky of this keepsake box to have personalizationmall.com imprinted on the top of it. A sticker underneath the box or card inside would suffice for their advertising. Who wants a keepsake box with an ad on it? Should have been put into a nice jewelry-quality box with either a burgundy or black lid and no words.

Cute baby gift
By
Patricia L.

(Painesville, OH) - February 11, 2010 (
See all reviews by this customer
)
The gift itself is really cute. I was disappointed with the engraving which was very small and very hard to read.

Not exactly what I thought
By
Barbara G.

(Matawan, NJ) - November 13, 2009 (
See all reviews by this customer
)
I think I expected more then what I got. This could be partially my fault, but the top for the box where the curl and tooth go doesn't actually close. I expected to be able to seal it somehow, but the lid just sits on top. I have a keepsake box for my sons and I planned on putting it in there eventually, but I can't because the lid will come off. On a positive note the lining is nice and so was the personalization. If you don't mind if the top doesn't seal shut then the item is good for you, but in my case it was not good for me.

Lid comes off too easily
By
Michelle W.

(Fort Dodge, IA) - February 27, 2010 (
See all reviews by this customer
)
I like this set but i wish the lid latched somehow. it just rests on top.

Disapointed
By
Shopper

(Grand Ridge, IL) - November 26, 2012
There is so secured closure on this item! So your keepsake will not be presevered without some outer container to enclose this in, and than why spend the money on such a pretty personalized item?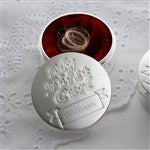 Lid not Tight
By
Tonda H.

(Waterloo, IA) - August 30, 2010 (
See all reviews by this customer
)
I received this and though it was very cute it is very impractical. The lid comes right off, therefore any hair or teeth you may have in the containers will fall out and get lost. It is impossible to remove from the box without pulling off the lid. If you do not use the box, then the lid just falls right off and all contents are lost. I threw mine away, totally useless.