What a great product!
By
Gina P.

(Hamden, CT) - June 30, 2012 (
See all reviews by this customer
)
I had found this product elsewhere for 2-3x the cost. These were so easy to customize with many combinations. They arrived quickly and I couldn't be happier!

boxes filled with truffles for favors
By
Shopper

(Wantage, NJ) - May 21, 2012
Very pleased with boxes which we used for our 50th anniv. party. Instructions would have been helpful but not really a problem once you figured it out. Everyone liked them.

Great addition to my Wedding
By
Shopper

(New York, NY) - February 24, 2012
I love these boxes. I ordered the large white ones to serve as cake holders for my wedding in March. We're planning on giving our guests a taste of both our cultures with pieces of black cake and red velvet cake. While the boxes can't hold a large serving of cake, it's just enough for the portion size we had in mind. Plus I ordered a lot so guests can double or triple up on their way home. The boxes were easy to assemble once we figured it out. I attached a photo since I'm a super visual person and thought this would come in handy since they do not come with folding instructions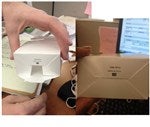 Cake Boxes
By
Priya S.

(Queens village, NY) - February 10, 2012 (
See all reviews by this customer
)
I was looking for the perfect cake box, since my grandmother is baking her famous black cake with white frost icing on top and we would like to share the cake among our guests. I didn't want a box too big, something small enough to fit on the tables for the guests to have. This box was the perfect size and the personalized writing was the perfect touch. I am so happy and grateful for personalization mall and the great services they offer. I recommended this site to all my friends and family, & you should too!

Charming!!
By
Shopper

(Valencia, PA) - January 31, 2012
We purchased these favors for our daughters wedding. They are great - look just like the photo! They are quick and easy to assemble -we purchased the large size - they are very cool!!! We are very happy with our purchase and highly recommend this product.

loved it
By
Shopper

(alva, FL) - December 14, 2011
Love it

Perfect!
By Shopper (Vallejo, CA) - October 1, 2011
I ordered the large gold boxes with black writing for my Mom's 70th birthday party this next weekend. Looking forward to putting them together and filling them with chocolate. Very Nice!!!

T~

Wedding Favors
By
Terry C.

(New York, NY) - September 6, 2011 (
See all reviews by this customer
)
These boxes were perfect for the wedding favors I needed. They were perfectly sized to fitting two mini cupcakes, and stood out since they have a bow top.

Great purchase!

Wedding Favor Box
By
Shopper

(Tupelo, MS) - August 2, 2011
Purchased these boxes for wedding favors for my son's upcoming Smokey Mountain
Wedding. We plan to put Salt Water Taffy in them. They are perfect for this
purpose. We purchased the larger box and they are the perfect size and cute as
can be. LOVE them.

Great Boxes
By
Walter L.

(Burbank, IL) - July 31, 2011 (
See all reviews by this customer
)
The product arrived faster than anticipated, printing was correct and well done boxes were easy to put together and look great!

Beautiful Favor Boxes
By
Lisa S.

(Lockport, IL) - July 23, 2011 (
See all reviews by this customer
)
Easy to assemble, beautiful color (we picked metallic teal), and look very classy. Highly recommend!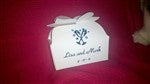 Favor Boxes A Hit
By
Carol F.

(Tinley Park, IL) - July 23, 2011 (
See all reviews by this customer
)
We gave these favor boxes to our familly and friends to help celebrate our anniversary. They worked out well with the candy treats from Fannie May that we put inside. We are very pleased with our decision to purchase the boxes and the personalizing was perfect.

fabulous!!!
By
Iris L.

(Flushing, NY) - July 18, 2011 (
See all reviews by this customer
)
I am extremely happy with this product! :) These boxes "transformed" my wedding favors, which originally came with some very cheap-looking boxes, into something very gorgeous just by its packaging! Totally love them!

Cute boxes
By
Shopper

(Atlanta, GA) - June 8, 2011
I received the boxes this week, I haven't had a chance to compile all of them yet, but I love them already after completing one. They are very cute and unique... The quality is great, paper is sturdy and not flimsy.

Favor Boxes
By
MICHELLE G.

(LAUDERHILL, FL) - April 25, 2011 (
See all reviews by this customer
)
This is more beautiful than i thought it would be. The Bow is very beautiful and the engravement is perfect. I would definately recommend.

Bow Beautiful
By
Deborah A H.

(N Huntingdon , PA) - March 8, 2011 (
See all reviews by this customer
)
These beautiful favor boxes are GREAT to work with. Just bend, fold then slide them together. Fill your favor boxes with most anything. Bring the bows together at the top and fold one of the bows opposite of the other and your done. They are easy to work with and fun to fill. Beautiful ivory look with your black personalization realy stands out. Lite weight yet strudy. You'll be glad you spend the extra few dollars on these at your once in a lifetime wedding.

Lovely boxes
By
suzanne J.

(powell, OH) - July 14, 2010 (
See all reviews by this customer
)
The boxes are simple and lovely. I would recommend these them. I'm using them to hold party favors.

Great for Chocolates & Jordin Almonds!
By
Robin S.

(Troy, NY) - March 29, 2010 (
See all reviews by this customer
)
These large favor boxes are beautiful when you finally figure out how to put them together. I have only put together one (our wedding isn't until Sept. 2010) and it was no easy experience and unfortunately, there were no directions, but I am excited to fill them with custom dark chocolates and jordin almonds for our guests!

Very pleased
By
Melonie L.

(San Diego, CA) - March 22, 2010 (
See all reviews by this customer
)
I ordered the large boxes and they are easy to assemble, sturdy and perfect for candies. These will be a beautiful addition to our tables. I plan on ordering more!

A Must Have
By
Cynthia S.

(Missouri City, TX) - October 8, 2009 (
See all reviews by this customer
)
I ordered these for my God Daughter Bridal Shower and they were fabulous. A Little Small but Served the Purpose. I would definitely Order Again

Excellect choice for a favor box
By
Darlene F.

(Louisville, KY) - October 7, 2009 (
See all reviews by this customer
)
I recently selected the bow top favor box to use at my wedding. They are very simple and elegant. The small box holds about 8 hershey kisses and could probably hold a few more if you wanted to add more. The box is sturdy and easy to put together. Several of my guests complimented me on the selection. They added just the perfect touch.

Too small
By
Bridget B.

(Schertz, TX) - April 9, 2013 (
See all reviews by this customer
)
The bow top box is very elegant I loved everything about the box except the size even though the dimensions are given the title is large bow top favor box. The box is very small for the title. If your looking for a very small favor box this box would be perfect. I will defiantly use the boxes though they are too cute not too.

Product Improvement
By
Shopper

(tucson, AZ) - March 1, 2013
Include instructions on assemble of boxes

Loved the easy assembly. a little dissappointed with the size
By
Shopper

(Santa Barbara, CA) - September 6, 2012
Very happy with my recent purchase. The boxes are adorable and exactly what I expected (except a bit small). They came when they were supposed to and it was a pleasure dealing with this company. A very big thumbs UP! :-)

Great Favor Boxes
By
Lori R.

(Lunenburg, MA) - March 27, 2012 (
See all reviews by this customer
)
Great boxes for my daughter's wedding.

True to picture
By
Shopper

(Des Peres, MO) - August 2, 2011
The boxes are cute and look like the picture. I did have difficulty making them and don't think they are very sturdy but overall are nice with timely delivery

Small Bow Top Box
By
Shopper

(Herndon, VA) - May 23, 2011
Very beautiful product, 100% satisfied with my purchase and excited to use these at my wedding. A little smaller then I anticipated, wish I got the larger box. Takes a minute to figure out how to assemble, but very easy once you figure it out!

Its still nice
By
Shopper

(Atlanta, GA) - March 22, 2012
These boxes are great. The only problem is that when we received them our monogrammed 'F' looks like an 'E'! We tried to call to get them replaced but since they do not take back things that are already personalized we have to stick with what we have. Great product I just wish that we can exchange them for one with a picture on it!!! If your new last name begins with an 'F' just go with a pic. Oh, and there are no instructions on how to fold the boxes... But you'll get it ;)



upsetting
By
Courtney Anne R.

(Wading River, NY) - November 2, 2010 (
See all reviews by this customer
)
It was a cute idea, but the tops of these boxes ripped so easily. They were very hard to fold without ripping. We put Hershey kisses in them and it fit about eight. I was never upset with anything from this site, just this item, and i don't recommend this item. I did these favors a few days before my wedding, and it's going to be too soon to order more, and sad to say, but some people wont be getting the same favors. :(