Plush and comfy
By
Melanie D.

(Lancaster, PA) - November 17, 2009 (
See all reviews by this customer
)
Very pleased by this robe! Plush, comfy and totally personal. My only regret was not getting a matching one for the groom. The bride showed him this gift and he was very jealous!

Velour Personalized Spa Robe
By
Andra B.

(Sandy, UT) - October 7, 2009 (
See all reviews by this customer
)
I bought these for my son and daughter-in-law when they got married. They are wonderful..! Very soft and thick. I had their names embroidered on them and it turned out great. They look like they should have cost more. Definately get them if you are robe shopping.

Bath robes
By
Sue S.

(Pipersville, PA) - October 1, 2009 (
See all reviews by this customer
)
I ordered 2 of these robes as a hostess gift for friends my husband & I were visiting for a w/end. They call each other "Honey" so much, we have nicknamed them "Honey & Honey" and had the robes embroidered with "Honey" in pink & navy script. Since we were flying there, I had them shipped ahead to our friends home & carried gift bags for wrapping them after I arrived. The robes turned out very nicely & we all shared a big laugh over them. We may even order another set embroidered "Ball" and "Chain" for another couple celebrating their 25th anniversary.

Brithday present
By
Shopper

(russellville, KY) - January 25, 2014
was a birthday present for my husband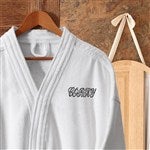 Size choice
By
Elizabeth S.

(Newburgh, NY) - December 24, 2013 (
See all reviews by this customer
)
I love the product except you did not give me a choice of sizes for the robes or for the matching slippers. I would have preferred to get the exact size.
One size fits all makes it difficult to be precise in fit. This was a gift. Thx for letting me vent.

Merry Christmas and a Happy New Year!!!

Good quality robes
By
Shopper

(Hoboken, NJ) - June 29, 2013
I recently ordered 10 robes for my bridal party. I am very happy with the quality of the robes. My only complaint is the embroidered names are too big. The robes would look better if the names were a little smaller. The names appear much smaller in the picture online. Overall I am happy though.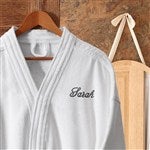 Hot tub
By
Shopper

(highland , MI) - December 27, 2012
I bought this robe for a Christmas present for my husband, very nice robe.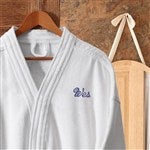 Velour Spa Robe
By
Shopper

(Bremerton, WA) - November 26, 2011
I believe that this is a one size item and I really do like the product. I purchased this for my husband for Christmas, and I think he will love it however; it is quit large and he is 6'4", I would not reccommend this product for someone smaller. I am 5'3" and I would drowned in it.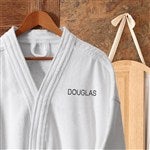 Awesome!
By
Shopper

(Hobesound, FL) - September 3, 2011
Great purchase, nice robes, good quality, nice embroidery. Shipping came one day later than specified, otherwise all good.

Nice and Comfy
By
Shopper

(Williamstown, NJ) - June 23, 2011
I bought the robe and matching slippers for my hubby on Father's Day and he thought they were both great! Both were nice and comfortable. He's a big guy and they both fit him nicely. Great gifts with a personal touch!

Classy for the price
By
Jacob K.

(Holland, MI) - June 2, 2011 (
See all reviews by this customer
)
We've had a pair of these robes for several months now, and they have held up well. The stitching is not fraying, and the embroidery looks fantastic. The embroidery is done on center of the breast though, so names longer than a few characters tend to be partially hidden by the arm when wearing it. It would be nice if it started closer to the edge of the robe. These are great for wearing to and from the hot tub, and soak up water well with its towel-like material.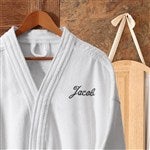 Terry's Robe
By
Terry H.

(Raleigh, NC) - March 17, 2010 (
See all reviews by this customer
)
An excellent product with very fast delivery.

terrific gift!
By
Brenda S.

(Coral Springs, FL) - February 14, 2010 (
See all reviews by this customer
)
I ordered two of these as wedding gifts to put in a basket, along with etched champagne flutes and a bottle of champagne. The robes were wonderful, although I thought the fabric would have been just a little bit softer. Beside that, I was extremely satisfied! The gifts arrived very quickly without me having to pay for extra postage. I would recommend this site for everyone!!

Really Nice
By
Adriana P.

(Houston, TX) - February 12, 2010 (
See all reviews by this customer
)
Although I was expecting it to be more thick it is a really nice robe, has a good size and the monogram was perfect, I bought it as a gift for my husband and I think he is going to love it.
The delivery was really fast too.

Huge!
By
Ellen M.

(Plano, TX) - July 13, 2010 (
See all reviews by this customer
)
I bought it for my husband. What a frustration! He hated it. It is so big and I logically can`t return because it has his name on it. The letters are so big as well. I feel terrible now because I had high expectations. The material is not that great, it is not that soft, it looks like cheap stuff.