Great!
By
Sarah S.

(Smackover, AR) - October 8, 2009 (
See all reviews by this customer
)
Loved this frame..I'm giving it as a baby shower gift with the baby's name on it! Super cute!

So cute!
By
Sarah H.

(Scranton , PA) - October 8, 2009 (
See all reviews by this customer
)
This frame is so adorable. I have one for my son and give it to everyone as a gift for birthday's, baptisms, etc. It makes a really great and personal gift!

Review of photo frames
By
Ann P.

(Granger, IA) - October 6, 2009 (
See all reviews by this customer
)
I wanted to respond to this review of my new purchase of two alphabet name personalized frames. I was able to obtain the names I needed in a very speedy manner. I was very impressed that they were created, shipped and received in only a couple of days.

This web site will be saved so for my next need of personalized product, I know I can obtain it very quickly.

I will return to this site and make further purchases.

Thanks!

Great!
By
Patsy D.

(Altus, OK) - October 6, 2009 (
See all reviews by this customer
)
I purchased three of these for Christmas gifts! They are perfect. I could not believe how fast I received my order. I will be making more purchases!

Personalized Frames
By
Carla M.

(Great Bend, KS) - October 4, 2009 (
See all reviews by this customer
)
I recently ordered a personalized frame for my great-nephew. I have decided that any great nephew or niece I have will receive one of your personalized frames as a gift from me. That's how much I love it!!!

Miracle Workers
By
Susie A.

(Kerrville, TX) - October 1, 2009 (
See all reviews by this customer
)
Thank you so much for your prompt attention to my order. I ordered on Monday and needed the item on Saturday for a shower. I received the frame on Thursday! The frame was the HIT of the party. You people are truly "Miracle Workers".
Thanks!

GREAT GIFT
By
Deborah B.

(Pasadena, CA) - October 1, 2009 (
See all reviews by this customer
)
The fame was gift for a first time mom. The name that they chose is Jaxson. Of course, I dont think that they will ever be able to get anything with his name on it unless its personlized. That is why I like this company so much. It gives individiuals who have rare names a chance to see their name in print

Personalized Alphabet Nam Picture Frame
By
Sharia T.

(New Orleans, LA) - October 1, 2009 (
See all reviews by this customer
)
The picture frames are beautiful. Many of my family members and friends all loved how beautiful and unique the picture frames are. My kids were excited to see their names on the frames. Thanks so much!

Sharia

Unique and Personal Gift
By
Shopper

(Newark, CA) - January 23, 2012
I received two of these frames as gifts for my sons. I absolutely loved them and so did they! I have family members with not so common names so I decided to order them as gifts to them. I was please with the frames once again but there was one thing I would suggest. When the letters are both long such as a p and an l, the lettering for the top part of the frame ("A is for Ashley") goes all the way to the edge on both the outside of the frame and towards the middle of the frame. I didn't look as nice that way, almost like it was a mistake or something. If they had half stars I would have given it 4 1/2 stars for that reason. Other than that, it is a special gift to give to others.

Picture Frame
By
Shopper

(HAZARD, KY) - December 24, 2011
This picture frame is great! Loved it.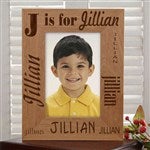 Looks great
By
Shopper

(Germantown, TN) - November 21, 2011
Got this for my little girl, as a special gift. She really liked it.

Just what I was looking for
By
Regina G.

(Palatine, IL) - October 1, 2011 (
See all reviews by this customer
)
I ve searched for personalized frames for photos of my 9 grandchildren for quite some time unable to find something suitable. These were perfect for the space I have.
Only downside is that lettering varies in shades of black.
Otherwise, product is of good quality

Great for Non-standard names
By
Shopper

(Bolton, MA) - June 20, 2011
This is a great present for non-standard names -- which is the case for 98% of our family. Turnaround is quick and quality is high. We have purchased this multiple times as presents for family members.


Very nice!
By
Shopper

(Harker Heights, TX) - January 9, 2011
These frames are really nice. Especially if you have a name that's spelled differently!

Satisfied customer
By
Paula N.

(Metairie, LA) - October 20, 2010 (
See all reviews by this customer
)
My friend's daughter loved the frame. It's a unique gift for anyone.


Cute frames as expected.
By
Carol O.

(Hilton Head Island, SC) - March 30, 2010 (
See all reviews by this customer
)
Cute frames, as expected. Nice quality. Sent as a gift; well received. Satisfied with my purchase.

Personalized Frame
By
Judi F.

(Pittsburg, KS) - January 29, 2010 (
See all reviews by this customer
)
I love these frames because they are SO UNIQUE! Both my Granddaughters have unique names, so in order to get a personalized frame (or anything else, for that matter) I have to order it! My only complaint is that the finish of the first one I ordered, on the ingraving, was darker and there was more contrast between the names and the frame itself. The second frame was ordered 4 years later and that length of time I guess played a part in the difference of color, but I really expected that the product would be consistently the same. Other than that, I think these are GREAT! Just wish they matched better.

Initial Frame
By
Carmen A.

(Forest Hills, NY) - November 13, 2009 (
See all reviews by this customer
)
Great present to give to anyone. Everyone I have given it to has loved it. Highly recommend it. It's a very unique and very personal frame to keep or to give to someone. People love when they know you took the time to choose something special just for them.

Wooden name frame
By
Susanne N.

(Prescott Valley, AZ) - October 19, 2009 (
See all reviews by this customer
)
It's exactly like one I bought at a craft fair a few years ago for myself, except mine was 5x7. Wish this could have been the same size but otherwise perfect.

Spotty Quality
By
Rachel T.

(Highlands Ranch, CO) - August 30, 2013 (
See all reviews by this customer
)
A couple years ago, we received one of these frames at the birth of our first child. We loved it and got many compliments on it. When I got pregnant with Baby #2, I knew I'd want a matching frame for him. Unfortunately, it did not turn out as well. The letters are barely blackened in and don't stand out at all. When I contacted customer service, I was told that they couldn't guarantee consistency and they blamed it on the quality of wood. I am unimpressed with 1) the quality of the second frame and 2) the quality of the response from customer service. Maybe they should look for a better quality wood? I'll probably use a marker to color it in or something. Just very disappointing. Lesson learned - don't order wood products from this company.

"D" is for David
By
Shopper

(Wayne, NJ) - January 16, 2012
I ordered 3 personalized frames altogether. I was happy with 2 of them but the one for "David" didn't really have the darkness in the letters like the others. But the quality of the frame itself is quite good.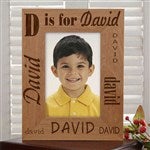 Look over the details
By
Shopper

(Saint Louis, MO) - April 16, 2011
Check your preview image carefully. The J in the name was cut off on the bottom and when I complained they said that sometimes the font does that and it showed that way on the image I approved.
Quick delivery and response to my complaint but I expected better quality control from a company that specializes in personalized gifts.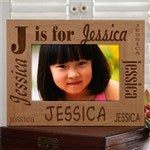 Wooden personalized frame. A gift
By
Shopper

(Glendale, AZ) - December 26, 2012
The lettering is great. Quality of frame and wood not what I was looking for. I had bought one 3 years ago from a different company and was trying to duplicate it. When I saw this frame and measured it seemed like a perfect match. Not the case as I stated because of quality of frame.. However since it is personalized can't do anything about it. I wouldn't order this product from this site again and wasn't happy to give it to the individual. :(.