Unique and Personal Gift
By
Shopper

(Newark, CA) - January 23, 2012
I received two of these frames as gifts for my sons. I absolutely loved them and so did they! I have family members with not so common names so I decided to order them as gifts to them. I was please with the frames once again but there was one thing I would suggest. When the letters are both long such as a p and an l, the lettering for the top part of the frame ("A is for Ashley") goes all the way to the edge on both the outside of the frame and towards the middle of the frame. I didn't look as nice that way, almost like it was a mistake or something. If they had half stars I would have given it 4 1/2 stars for that reason. Other than that, it is a special gift to give to others.

Picture Frame
By
Shopper

(HAZARD, KY) - December 24, 2011
This picture frame is great! Loved it.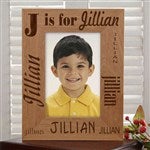 Looks great
By
Shopper

(Germantown, TN) - November 21, 2011
Got this for my little girl, as a special gift. She really liked it.

Just what I was looking for
By
Regina G.

(Palatine, IL) - October 1, 2011 (
See all reviews by this customer
)
I ve searched for personalized frames for photos of my 9 grandchildren for quite some time unable to find something suitable. These were perfect for the space I have.
Only downside is that lettering varies in shades of black.
Otherwise, product is of good quality

Great for Non-standard names
By
Shopper

(Bolton, MA) - June 20, 2011
This is a great present for non-standard names -- which is the case for 98% of our family. Turnaround is quick and quality is high. We have purchased this multiple times as presents for family members.


Very nice!
By
Shopper

(Harker Heights, TX) - January 9, 2011
These frames are really nice. Especially if you have a name that's spelled differently!

Satisfied customer
By
Paula N.

(Metairie, LA) - October 20, 2010 (
See all reviews by this customer
)
My friend's daughter loved the frame. It's a unique gift for anyone.


Cute frames as expected.
By
Carol O.

(Hilton Head Island, SC) - March 30, 2010 (
See all reviews by this customer
)
Cute frames, as expected. Nice quality. Sent as a gift; well received. Satisfied with my purchase.

Personalized Frame
By
Judi F.

(Pittsburg, KS) - January 29, 2010 (
See all reviews by this customer
)
I love these frames because they are SO UNIQUE! Both my Granddaughters have unique names, so in order to get a personalized frame (or anything else, for that matter) I have to order it! My only complaint is that the finish of the first one I ordered, on the ingraving, was darker and there was more contrast between the names and the frame itself. The second frame was ordered 4 years later and that length of time I guess played a part in the difference of color, but I really expected that the product would be consistently the same. Other than that, I think these are GREAT! Just wish they matched better.

Initial Frame
By
Carmen A.

(Forest Hills, NY) - November 13, 2009 (
See all reviews by this customer
)
Great present to give to anyone. Everyone I have given it to has loved it. Highly recommend it. It's a very unique and very personal frame to keep or to give to someone. People love when they know you took the time to choose something special just for them.

Wooden name frame
By
Susanne N.

(Prescott Valley, AZ) - October 19, 2009 (
See all reviews by this customer
)
It's exactly like one I bought at a craft fair a few years ago for myself, except mine was 5x7. Wish this could have been the same size but otherwise perfect.