great gift
By
Vickie V.

(Killeen, TX) - September 13, 2014 (
See all reviews by this customer
)
I purchased this as a gift for a friend's birthday and it was a huge hit. For someone who loves bling, this was prefect!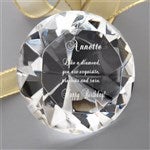 SIZE OF DIAMOND WAS GOOD.
By
Shopper

(Inglewood, CA) - February 11, 2014
EVERYTHING WENT WELL WITH MY ORDER FROM MY PURCHASE TO ME RECIVEING MY ORDER.
MY WIFE LOVEEEEED IT.

Great Gift
By
Shopper

(Oak Park, IL) - October 27, 2013
My girlfriend loved the diamond keepsake gift for sweetest day, i recommemnd it to all the guys for their girlfriends/wives.

Beautifully done
By
Dawson G.

(College Point, NY) - September 15, 2013 (
See all reviews by this customer
)
Very elegant. U can customize and engrave what u want to say. Very convenient and good for special occasions.

Broken Crystil ball
By
Shopper

(Lewisburg, TN) - July 5, 2013
This was to serve as a gag gift, A Birthday Gift for my husband. It was a higher quality item than we thought. The gift was well received and boxed beautifully!

My husband loved it!

Three granddaughters have already put in their orders, for Christmas!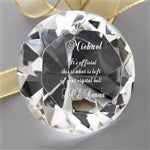 It took my breathe away!
By
Shopper

(Dorchester, MA) - April 19, 2013
I got this for my BFF and when i got it i almost died! It was an immaculate piece made to perfection! When i gave it to her she cried and couldnt believe how awesome it was! All i can say is thank you!

Fantastic gift!!!!!
By
Shopper

(Newhall, CA) - January 29, 2013
A wonderful gift to give to just about anyone. Love it, beautiful.

awesome gift
By
Sandra C.

(Johnstown, CO) - December 27, 2012 (
See all reviews by this customer
)
I got this gift from my best friend and it was bigger than I thought and the engraving was awesome. Thank you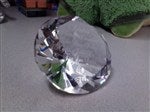 Excellent product and incredibly fast shipping
By
Rusty B.

(Portage, WI) - July 14, 2012 (
See all reviews by this customer
)
I bet this will bring tears to my parents eyes when they open the box! Just beautiful!!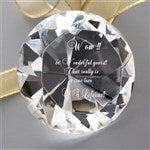 Loved it!
By
Shopper

(Fernley, NV) - July 2, 2012
My wife loves this anniversary gift. She almost cried when she saw it and was tellin me she loved me almost every 5 min throughout the day.

She's A Gem!
By
trina C.

(riverdale , GA) - May 20, 2012 (
See all reviews by this customer
)
Both recipients LOVED this gift. Very, very pleased with my purchase!

Wonderful gift!
By
Shopper

(Brighton, MA) - February 19, 2012
My girl friend loves it very much! Really a wonderful gift for Valentine's Day~

She'll love it!
By
Mark K.

(Louisville, KY) - February 18, 2012 (
See all reviews by this customer
)
A personalized gemstone is the perfect way to remind her of just how special she is to you. Add a little sunlight and this will likely make a very memorable and magical gift for many years.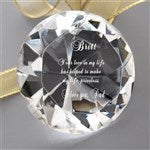 AWESOME!!!
By Shopper (Goose Creek, SC) - January 27, 2012
My sister will love this! Beats an old fashioned birthday card. You cannot not talk about it if you see it sitting/ displayed on a table. Very beautiful!!! The letters are kind of hard to read. Wish you have other types of letters for this item. Other than that, I am very pleased. Thank you guys. Well done!

daughter
By
Donna O.

(Australia) - January 16, 2012 (
See all reviews by this customer
)
WOW! Was very excited when I got my gem keepsake it was so much bigger than I thought it was going to be. It was very nicely presented in the gift box and posted quickly. I did find the writing a little hard to read maybe a colour may help but even so very happy with my purchase. A great idea to express your feelings to someone precious to you .Great work guys !

Engraved Diamond
By
Shopper

(Seaside, OR) - October 23, 2011
Love it, makes a nice gift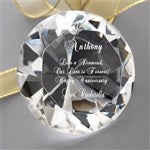 Cool & Quick
By
Shopper

(Orangevale, CA) - October 15, 2011
Very nice item! The item was ready and shipped very quickly!

Really nice
By
Shopper

(Surprise, AZ) - October 15, 2011
My girlfriend really likes it a lot.

Special Gift to Treasure for a Lifetime!
By
Shopper

(Mineola, NY) - October 8, 2011
Bought this for my wife to celebrate our 20th anniversay. The engraving is what makes it special and memorable! The engraving was beautifully done. It gives you the appty to say your special message. She'll treasure it like it's a prize jewell in her collection:) I knew that my Mom would love it too so I got one engraved with a special message from her son and daughter-n-law. Get it and you'll be loved for many years of doing something special!

What a gem!
By
Shawn Y.

(Laredo, TX) - May 13, 2011 (
See all reviews by this customer
)
I ordered this for my sister-in-law for Mother's Day. She loved it! I'm sure I'll order this again for another special someone very soon.

The product is great and the personalization is wonderfully done.

Delivered as promised.

Beautiful!!
By
Shopper

(Aurora, CO) - May 3, 2011
so dazzling... sure my mom is going to love it!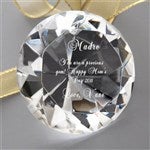 Beautiful!
By
Elizabeth H.

(Shorewood, IL) - April 29, 2011 (
See all reviews by this customer
)
I purchased the Engraved Diamond Keepsake as a retirement gift for someone who has been a friend, a mentor and an inspiration. She's a gem! I love the look, the weight and the feel of it and it came in exquisite packaging. As always, it came remarkably quickly. I'm very pleased with my purchase.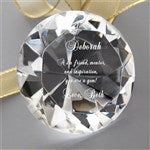 Diamonds
By
Shopper

(Pleasantville, NY) - April 5, 2011
I got one of these Diamond Keepsake paperweights for a neighbor who is turning Sweet Sixteen. I just loved it when I saw it. It sparkles and is a beautiful keepsake.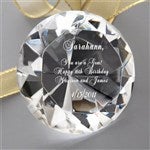 Beautiful gift for 4 smart, beautiful women!!
By
Andrea M. C.

(Hobart, NY) - March 4, 2011 (
See all reviews by this customer
)
Our daughter-in-law and 3 of her friends will be the first to graduate from the B.S.N. to Ph.D. program at their nursing school. I wanted to get something for each of them, and your She's A Gem was perfect. I like the idea that I was able to write my own verse. I had each diamond personalized with their first name on the first line - You researched it, on the second line - You defended it, on the third line - You earned it, on the next line - and Ph. D. on the last line. We are so proud of their accomplishments. Thank you for having such a lovely gift for them - all four diamonds are absolutely gorgeous.

diamond
By
Shopper

(Gonzales, LA) - February 27, 2011
awesome gift

Beautiful!
By
Shopper

(Cumming, GA) - February 18, 2011
I was so pleased with this "diamond keepsake". It very much exceeded my expectations. I was proud to give it as a gift, and the individual who received it was equal parts thrilled with how cool it was, and touched by the special customized engraving. The presentation box it was delivered in added to the overall high quality look and feel of the gift.

Absolutely beautiful!!!! Love it!!!!
By
Marva F.

(Kansas City, MO) - February 17, 2011 (
See all reviews by this customer
)
This is a gorgeous keepsake for anyone you care about! It looks so much more expensive than it actually is. I have always been extremely pleased with each purchase I've made from this site. I highly recommend this!

Good Work
By
Kenneth E.

(Prescott, AZ) - November 3, 2010 (
See all reviews by this customer
)
Price and Quality were excellent

Ordered Sunday morning, received Tuesday afternoon
By
Penny S.

(Davenport, IA) - May 25, 2010 (
See all reviews by this customer
)
I ordered six of these as a thank-you to our six children and their spouses for hosting our 50th wedding anniversary. They are the size of a child's fist and look elegant in their satin lined presentation boxes.

I could adjust the wording to fit the occasion and the engraving was done perfectly. Couldn't believe how fast they arrived. The only thing I would change is the sticky label "personalizationmall.com" over the window in the box. Couldn't remove it without damaging the box. This label should go on the bottom of the box.

Diamond Keepsake
By
Carolyn H.

(Kenosha, WI) - March 12, 2010 (
See all reviews by this customer
)
These are beautiful! I had ordered one for my friend
& liked it so much I ordered two more. They are quite
large & the cuts in them make them sparkle in the sun
light. Loved them!

She loved it!
By
Timothy W.

(Stockton, MO) - February 12, 2010 (
See all reviews by this customer
)
Not only did she love it, but it arrived in only three days.

A True Gem
By
Robert C.

(Houston, TX) - January 28, 2010 (
See all reviews by this customer
)
Yes it is true, this is a "Gem". It is quite a bit bigger than the picture would lead you to believe. Quality item, & even comes in a very attractive box ready to razzle dazzle anyone you give this to. The printing of the lines below the name could be in a little larger font, but it still looks elegant. You won't be ashamed to give this as a gift. In fact, you will look like a big time spender, as it looks like something that costs a lot more than Personalization Mall is charging for this item.

Beautiful!
By
Catherine C.

(Montville, NJ) - January 13, 2010 (
See all reviews by this customer
)
Someone had given me a diamond like this and I wished I had known where he bought it. When I saw it in your catalog, I immediately ordered one. Needless to say, it is beautiful in every way. It looks very large and is something to treasure!

She is a Gem was a Gem!!
By
Margarita D.

(EAGLE PASS , TX) - November 30, 2009 (
See all reviews by this customer
)
My daughter, Elsa Amanda died on 10/29/09 and I ordered a "gem" for each of my grandkids (who were her children). I will be giving it to them in Christmas, but I was so excited about the gift that I showed it to them before Christmas. They "oooh" and "wowed" so much and were just as excited about it as I was. This "Gem" they will treasure it forever and will remember their Mom forever. This will be their first Christmas without their most precious MOM but they will have this "Gem" to remember her by. Thanks personalization!


Loved it
By
Luis P.

(Cheriton, VA) - November 13, 2009 (
See all reviews by this customer
)
Surprised by the size and loved the brightness of it. Well done on the engraving.

Beautiful Diamond
By
Shopper

(Seaside, OR) - October 7, 2011
It's beautiful, we love it, it's off centered to the left a little bit, but still very pretty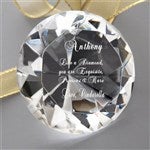 Beautiful
By
Shopper

(Canada) - May 16, 2011
I was very pleased with this when I opened it. The packaging is great and everything was inscribed correctly. i did find that the writing was a bit hard to read, but after your eyes focus everything is clear. i would defintly order it again.

Good gift to cherish and keep
By
Panna B.

(Canada) - December 11, 2009 (
See all reviews by this customer
)
The diamond keepsake was very well done, it was amazingly shiny and the size was perfect and it will shine anywhere that it is placed. However the writing is a bit small but understandably for making the item look elegant and exquisite. Amazing job done with the personalized engraving.

Nothing outstanding
By
Shopper

(Pittsburgh, PA) - June 15, 2011
When I saw this item in the website, I really liked it but I wasn't very happy when I received it. I got it for my aunt who is a workaholic. I thought she might like to have something to decorate her table. However,let me warn you. This item is really heavy and there was nothing really outstanding about it. It doesn't catch my eye the way I expected it to. If you want something for a table, this is not the item you want. This is meant to be in the display cabinet.