Recipe For A Happy Marriage
By
Shopper

(Cuyahoga Falls, OH) - March 10, 2014
I was very happy with this album. Gave it as wedding shower gift. Such nice quality and the wording came right. I've ordered several times from PM and have been very pleased. Oh the couple really liked it also.

Very Satisfied
By
Davette D.

(Converse, TX) - July 27, 2013 (
See all reviews by this customer
)
This is the first review I have ever written so I must say it was beautiful enough to make me write a comment. It's our 5th Anniversary and my mom bought this for us. It is absolutely beautiful very well made. It's the little things like that photo album right there that mean more than anything. This is the first album out of many that I actually got "excited" about and eager to show off.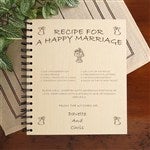 Just perfect!
By
Shopper

(Narragansett, RI) - February 3, 2013
I ordered this for my future daughter-in-law's bridal shower! It was perfect!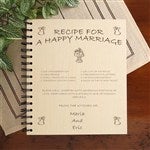 LOVE LOVE LOVE
By
Jennifer C.

(Foxborough, MA) - May 14, 2012 (
See all reviews by this customer
)
I got this for recipe cards for my wedding that we got from family. It was a perfect amount of space. I love the album- It is perfect. great quality and was here really fast!!! I would highly recommend to anyone and will get one for my sister when its her time.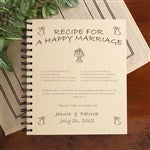 Perfect album!
By
Keith C.

(Columbus, MS) - March 2, 2012 (
See all reviews by this customer
)
I previously purchased this album in '08 for my wife for photographs. After receiving it she instead chose to use it as a recipe album. We've since decided to create an additional album specifically for our recipes, to move them over to the new album and place our "family cooking photos" in the original album. This is very well built and attractive, that's why we've purchased it twice!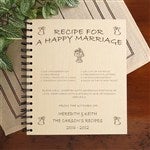 The perfect engagement present
By
Valorie D.

(Greensburg, PA) - July 10, 2011 (
See all reviews by this customer
)
I just couldn't have been more pleased with the photo album. It came on time and I was especially pleased with the quality of the wood, the engraving, and the way it was packaged so nicely. What a great gift. I will continue to place orders with you in the future.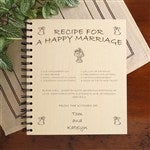 Recipe/Memory Book
By
Diane W.

(Nevada City, CA) - June 11, 2011 (
See all reviews by this customer
)
This is beautiful! Sturdy and pretty, both! I bought it for a Bridal Shower. The word etchings are pretty. It has split photo pockets on each page. It's exactly what I wanted ... one photo pocket for a photo of each guest and a corresponding pocket for the guest's recipe. It will set perfectly on her counter. It even has extra pages so she can put her own recipes in it, also. I would recommend this to anyone for any reason. It's the perfect gift.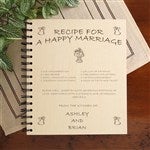 Pleasantly surprised
By
Shopper

(Clintonville, WI) - May 11, 2011
Even after reading the other reviews, I was still skeptical about ordering this. When it arrived (very quickly I might add), it looked beautiful. I bought it as a wedding gift and added some wedding themed recipes and photos of the couple. I am very pleased and plan on ordering an album in a different design for myself.

Big Hit
By
Marta S.

(Campo, CA) - May 3, 2011 (
See all reviews by this customer
)
I bought this for my daughter and future son-in-law and just gave it to my daughter at her bridal shower. I sent out recipe cards I made on my computer with every invitation for the shower and asked all the ladies to bring them to the shower. I made the recipe card the size of the photo holder so instead of using this as a photo album I made it into a recipe book, my daughter really loves it! This is the kind of recipe book you don't mind leaving on your counter. The saying is adorable and the quality is great!

Recipe Binder/Photo Album
By
Shopper

(Long Beach, NY) - May 1, 2011
I bought this as a recipe binder for a bridal shower. It was perfect. The wood was smooth, polished and finished, no rough or jagged pieces. 4x6 recipe cards fit perfectly. It is something she will able to display and have as a keepsake of this day. The personalization with her name, date and event was an added plus. The photo was definitely a true representation of this item. It arrived quickly and on schedule.

Perfect for our themed Bridal Shower
By
Shopper

(Houston, TX) - March 30, 2011
We are having a recipe bridal shower and this was perfect for the recipe cards

Bridal Shower Gift
By
Shopper

(Dallas, TX) - March 19, 2011
Well made and very nice. You can use it as a photo album OR put 4"X6" recipe cards in it. I like to give "personal" gifts, so this was great. Fast shipping too! Thanks, I will be back for more personalized items. Love this site.

Best last minute "unique" gift
By
Shopper

(Boca Raton, FL) - February 28, 2011
I was in a rush to order a special engagement gift for my brother and his fiance. This item popped up on a search and I am so glad it did! The bride to be loved it and so did all the other women at the party.

Recipe For A Happy Marriag Photo Album
By
Julia D.

(Canada) - February 26, 2011 (
See all reviews by this customer
)
This was a fantastic gift for a fantastic price. I bought this for my nephew's engagement party and I added a couple of 4x6 recipies (that I personalized) to start them off. It was a big hit. Beautifully crafted this album will be a keepsake for years to come!!

great gift for bridal shower
By
Margaret B.

(Voorhees, NJ) - February 8, 2011 (
See all reviews by this customer
)
I bought this for my daughter's bridal shower, and the guests brought recipes written on 4 x 6 recipe cards I sent with the invitations to fill the book prior to her arrival. The quality is very good, and the personalization made it so special. I would definitely buy another if the need arises.

Awesome!
By
Shopper

(St. Inigoes, MD) - January 21, 2011
Great Quality! We are actually using this for a bridal shower. Sent out recipe cards in each invite & the guests are asked to fill it in & return it @ the shower. This will be a great keepsake for the bride to be!

Very happy
By
Brendon C.

(Monroe, NC) - July 24, 2010 (
See all reviews by this customer
)
My wife was very happy with this product. I ordered very late Thursday night and received early Saturday morning with the shipping upgrade. I was very impressed with how quickly the item was personalized and shipped. Thanks!

Godchild engagement gift
By
Heidi O.

(Little Suamico, WI) - June 22, 2010 (
See all reviews by this customer
)
personalized for my godchild as an engagement gift. 1st recipe is her favorite, 2nd is her fiance's favorite. now she can also put favorite photos or prints inside like a scrapbook. hard cover is nice maple and well made.

Very pleased with my purchase.
By
Sally W.

(Rochester Hills , MI) - May 24, 2010 (
See all reviews by this customer
)
I was very happy with the quality of this album. I can't wait to fill it with recipes for my niece from friends and family. I think it will be a wonderful keepsake for her.

great gift for a great price
By
Selena M.

(Los Almos, NM) - April 27, 2010 (
See all reviews by this customer
)
This is the first time I purchased an item from PersonalizationMall.com and it will not be the last. I bought this for a sorority sister of mine whose wedding registry didn't quite fit what I wanted to get her. When I found Recipe For A Happy Marriage Photo Album, I thought it was too good to be true. The price was just right and this is something I can see her absolutely loving. The turn around from the time I ordered it to when it arrived at my house was surprisingly fast. It arrived yesterday and it looks GREAT! The wood is nice and thick and the binding looks like it is meant to last. For another friend's wedding coming up in July, I am thinking this will be the perfect gift (again). My only concern was my possible misspelling the couple's names (which did not happen) so always triple check before you submit.

Better than Expected
By
Shopper

(Frenchville, PA) - February 10, 2012
The wood is more thick than I expected, so that was very nice. I am actually going to use this to hold recipe cards for a bridal shower gift. The recipe cards fit perfectly!

Doesn't close well
By
Shopper

(Pittsburgh, PA) - June 24, 2011
The album looks beautiful without pictures in it but when you had the 75 pictures that it holds the front cover will not lay parallel with the back. It gapes open. Still very unique.