Bracelet
By
MARGARET C.

(EDISON, NJ) - June 22, 2013 (
See all reviews by this customer
)
Lovely a great little girls gift . Service and price
Was great. Will definitely order again

perfect for first communion
By
Rachel C.

(Owatonna, MN) - May 8, 2013 (
See all reviews by this customer
)
purchased this for our niece's first communion and it was perfect. petite, perfect for smaller wrists, had the first initial of her name engraved on one side and 2013 engraved on the other. did not have it gift wrapped but it arrived in a gorgeous little velvet draw-string back, and a little leather black box. it was definetly a hit at her party!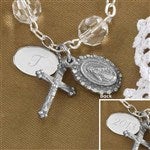 Great keepsake
By
Shopper

(Fairfax, VA) - May 16, 2012
I ordered this and several other items for my daughter's 1st Communion. She loved this bracelet and it fit perfectly on her wrist. Shipping was fast. I will order here again next year for my youngest daughters first communion! Thanks for your service!

Vicky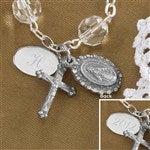 First Holy Communion present-Beautiful
By
Shopper

(Allendale, NJ) - February 16, 2012
I purchased this beautiful rosary bead bracelet for my daughter's First Holy Communion. I love that the bracelet has a charm for her initial and date. I think it is just perfect for her special day and a keepsake forever. I also purchased the wooden Communion keepsake box. Just beautiful and exquisite!

A Hit!
By
Sally D.

(Cape Coral, FL) - May 13, 2011 (
See all reviews by this customer
)
My grand daughter (9) loved it.

Cute Bracelet
By
LaDeen K.

(Hoven, SD) - May 10, 2011 (
See all reviews by this customer
)
I ordered this bracelet for my 8 year old daughter to wear for her First Communiion. She has been wearing it ever since. The bracelet looked very pretty with her dress and she felt special wearing it. She is a rough and tumble little girl and so far the bracelet has held up.

beyond expectations
By
Shopper

(slidell, LA) - May 3, 2011
This bracelet is just beautiful. It is so elegant for my 10 year old grannychild I could not have hoped for anything better .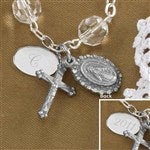 Adorable gift for my niece
By
Jennifer C.

(Louisville, KY) - May 2, 2011 (
See all reviews by this customer
)
Ordered this as a gift for my 8-year-old niece for her first communion. She loved it! Very cute/delicate bracelet for a little girl.

Delicate and lovely
By
Christina H.

(Millville, CA) - May 27, 2010 (
See all reviews by this customer
)
Ordered for my niece's First Communion - she is a petite 9 yr. old so this is perfect since it is a made for a small wrist. Does not look cheap -hopefully it will hold up!

Love it!
By
Michelle V.

(Tampa, FL) - May 17, 2010 (
See all reviews by this customer
)
I just received two of these bracelets for Confirmation gifts. They are beautiful and I know the girls will love them. Not sure how they will hold up but appearance is awesome!

Beautiful beads
By
Marie L.

(Lititz, PA) - May 5, 2010 (
See all reviews by this customer
)
I love the beads. They are made of quality materials, and are very beautiful.

Very sweet
By
Adrienne A.

(Danbury, CT) - April 22, 2010 (
See all reviews by this customer
)
Very pleased with this item. Not only is it precious, but perfect for our event. I also ordered 5 other items; very pleased with all of them, they expedited the orders with such quickness...this is my new favorite website :)

Crystal Bead Bracelet
By
Joan H.

(Palmyra, VA) - March 31, 2010 (
See all reviews by this customer
)
Item was received promptly within the promised mailing time. Its appearance was as described on the web.It is very delicate and a perfect gift for a First Communicant. Only time will tell how it withstands its quality.







Gift was loved by many
By
Shopper

(Westville, NJ) - April 23, 2013
This was a big hit for a first communion! I just wish you could put two initials rather than just one...other than that, it was beautiful!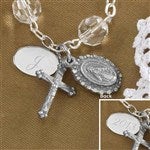 Communion gift for niece
By
Tracey E.

(Naperville , IL) - April 7, 2012 (
See all reviews by this customer
)
I was very excited to order this for my niece's first Communion gift. When it arrived although it looked beautiful, I was a little nervous about the engraved charm. I guess I was expecting the charm with her initial/year to be attached to the actual bracelet. But it was loose in the box. I was going to contact customer service to inquire about it, but then thought I would try to attach the charm myself with pliers (to close the opening of the ring it was on). I seemed to successfully attach it so I never contacted customer service. I saved the receipt in case my niece has any issues with it falling off. Overall I would recommend this product, just wish I had known the charm would be loose.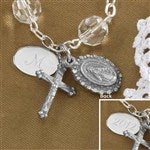 Lovely for a First Communicant
By
Shopper

(Chardon, OH) - May 1, 2011
I bought this for my granddaughter's First Communion. It is so pretty. The only problem we had with it was that it was a little large for her wrist. I had to remove some links with a needle nosed pliers so that it wouldn't slide off.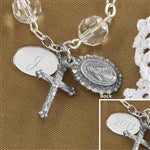 Smaller then pictured
By
Shopper

(Brick , NJ) - April 24, 2013
I got this for my daughter for her first communion. She loved it! However, I was disappointed how small the personalization tag was.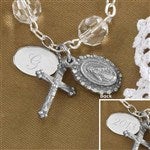 love it but it has tarnished badly!
By
meagan C.

(wantagh, NY) - May 12, 2011 (
See all reviews by this customer
)
i bought this when I went back to work after my maternity leave. I placed my daughter's initial on it and the year she was born. I LOVE LOVE LOVE the concept of it and it's looks. However, it has turned gold looking from a previous silver look. I wish it was a better quality.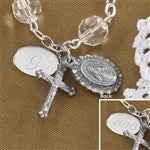 rosary bracelet
By
Sandra S.

(atco, NJ) - January 7, 2012 (
See all reviews by this customer
)
the bracelet is not what I expected, I had purchased it for an adult and when I opened it and saw that it was more for a young girls wrist while I understand it is sterling silver the quality is not what I wanted in a gift - Ihad purchased it as a gift. A bit flimsy in material - If I were to recommend it I would say it is for a young girl under the age of 12.

Thank you.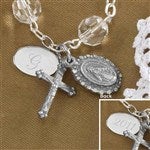 nice look, poor quality
By
Shopper

(Bridgeport, CT) - November 22, 2011
i got this and it fell all apart right off my girl's wrist. i had to take needle nosed pliers and fix it myself.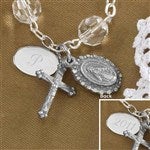 pass on this unless your ordering for a child
By
Shopper

(Toms River, NJ) - December 21, 2012
I normally love everything I order from here. I ordered this for my grandma but it is clearly for a child it is way to small for an adult but I did not see that in the description, this item came 2 weeks after ordering it now I need to find something else to give on Christmas and I am stuck with this bracelet