Personalized photo album
By
Shopper

(Palm Coast, FL) - October 18, 2013
Very impressed with the quality of this album. It will make a beautiful gift. Absolutely love it!

Beautiful gift!!
By
Shopper

(Staten Island, NY) - September 20, 2013
I received the album and LOVED LOVED LOVED it!! Got it for my mom's 60th Birthday and she absolutely adores it. She put all the pictures that were taken at her surprise party in it. The album is beautifully made and shipping was very fast! Personalization Mall never disappoints!!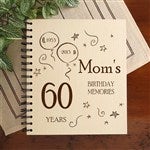 Great product, easy on-line experience, and prompt delivery
By
Shopper

(Jacksonville, FL) - September 3, 2013
I love this company! I've ordered from them before and I have not been disappointed.

Birthday Memories
By
Shopper

(West Milford, NJ) - August 25, 2013
My purchase of the Birthday Memories photo album ...hit the mark for my 90 year old cousins' birthday. It's perfect because everyone always takes pictures at parties and something that can always be remembered.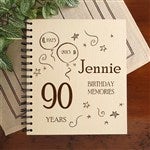 2nd purchase
By
Dawn B.

(Virginia Beach, VA) - August 6, 2013 (
See all reviews by this customer
)
This book is awesome. I've given it twice already and they loved it. Great quality and holds a lot of pictures. It's definitely a great keepsake that will last forever!

Personalized Birthday Album
By
Carol M.

(Brooklyn, NY) - June 28, 2013 (
See all reviews by this customer
)
I ordered this album to hold photos of my husband's 70th birthday party. I had it shipped directly to our daughter who volunteered to put the album together. As soon as she received it she called to tell me how beautiful it was and how perfect for my husband's taste. She said the wood was finished smoothly and how well it was made. I can't wait to see the finished product.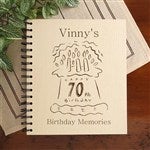 Very Nice
By
Shopper

(Ferguson, MO) - May 3, 2013
This is very nice, I am actually going to order more for other family members too.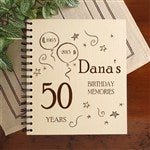 A Beautiful, Very Personal Gift
By
Tammy D.

(Spring Creek, NV) - February 25, 2013 (
See all reviews by this customer
)
I purchased this wooden album for my dad's 80th birthday and had it mailed directly to him, 2000 miles away. I did not get to actually see the finished product, except online, which I think is awesome, but all of my family told me that it was very beautiful and a very thoughtful idea. If they liked it, then I'm sure it was a wonderful gift!

Beautiful
By
Shopper

(Oceanside, NY) - December 21, 2012
I've bought this item a few times in both the balloons and birthday cake. It is a wonderful way to store memories for milestones. I will continue to buy this for special occasions.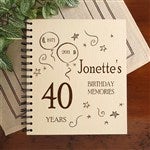 Wonderful
By
Shopper

(Glendale, CA) - December 15, 2012
Ingeraving looked great. Wooden cover was good quality, as well as the inside. My husband loved his gift.

Very satisfied
By
Patricia L.

(Elgin, IL) - December 12, 2012 (
See all reviews by this customer
)
This is a beautiful gift for a memory of a special occasion, I would recommend this to anyone with a celebration.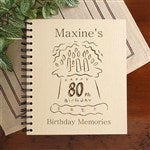 Perfect gift!
By
Janie E.

(Washington, TX) - November 19, 2012 (
See all reviews by this customer
)
This made a very special 90th birthday present. It was much more "substantial" than I thought it would be. I'll be ordering more of these in the future.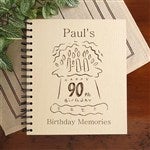 very satisfied
By
Shopper

(Monson, MA) - October 27, 2012
This is the 3rd time I have purchased this album as a birthday gift. I love giving them & the recipients love getting them. I particularly like the ones with the year in the balloons.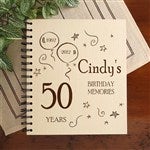 Great Quality and Classy too!
By
Shopper

(Pleasant Valley, NY) - August 17, 2012
Photo book is great! Anyone would love this as a gift. Memories last forever and so will this photo album. Love it!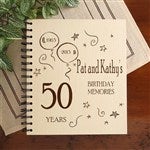 Photo Album
By
Michelle D.

(Friendswood, TX) - August 10, 2012 (
See all reviews by this customer
)
This photo album was amazing quality. I was very impressed with the quality of the cover and the etching. My momma loved it for her 75th and is excited about putting all the pictures from the party in there to keep it as a keepsake.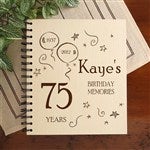 Personalized photo album
By
Shopper

(Hackettstown, NJ) - August 6, 2012
Just great for an 80th birthday party. Love that the wood is engraved. The recipient was just thrilled. Personalization mall has very unique products! Use them whenever I can.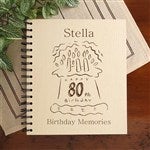 Birthday Memories w/ Balloons
By
Shopper

(Missoula, MT) - August 3, 2012
PersonalizationMall.com saves the day again! I have NEVER been disappointed with the products I've ordered from them (and over the years I have ordered A LOT!!). Their merchandise and service is quality all the way. This album was a new item for me, but once again, it did not disappoint. The wooden jacket is very sturdy and strong and the engraving is neat and precise. I gave this as a 60th birthday gift to my uncle and included pictures of his childhood birthdays, with plenty of room left over for him to add his 60th birthday party pictures. He loved it! Thank you for always making me look good!

LOVED THE PHOTO ALBUM
By
Adalia R.

(Brooklyn , NY) - April 9, 2012 (
See all reviews by this customer
)
This is the second photo album of its kind that I ordered and loved
them both. They both were gifts for special friends and they too
loved the quality and sentiments.

Ada/Brooklyn, NY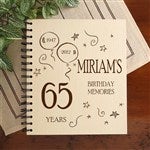 Awesome Photo Book!
By
Holly B.

(North Billerica, MA) - April 6, 2012 (
See all reviews by this customer
)
I am very happy with this purchase. The quality is GREAT! The wood cover & back are thick & won't ever bend! If you are looking for a personlized photo book for a great price, this is the one!

loved it
By
Louella D.

(Weedsport, NY) - March 19, 2012 (
See all reviews by this customer
)
I got this for my Uncles 80th bday gift!! He loved it. Its made of real wood,great quality.
Tip: We used it as an autograph book also.Everyone at the birthday party signed it with permanent marker.So now he has pictures and autographs all together.
I am a long time customer of Personalizationmall.com,and have been extremely satisfied with every item purchased. They have great PR,and satisfaction guaranteed every time.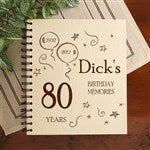 great product
By
Shopper

(new bern, NC) - March 12, 2012
i love this personalized picture book great for any birthday!!!!! fast shipping too!!!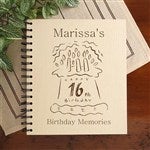 Great idea!
By
Janet C.

(Louisville, KY) - March 6, 2012 (
See all reviews by this customer
)
It's always nice to have an album designated to that special party. This is perfect! The laser engraving looks great! I was very happy with this product and will purchase it again!

Beautiful
By
Catherine G.

(Mesa, AZ) - February 24, 2012 (
See all reviews by this customer
)
This is the second album I have purchased for a commerative birthday gift and the receipents have raved as to the beauty of the wood and the carved writing inscribed.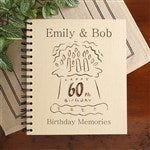 review birthday memories photo album
By
Shopper

(Orland Park, IL) - February 20, 2012
The quality of this album is unbelieveable. I will be proud to bring this album to a 50th birthday party. The name of the person, year of birthday and the picture all add an personal sediment.

Great gift idea
By
Brenda M.

(Houston, TX) - February 4, 2012 (
See all reviews by this customer
)
There are always photos taken at a special birthday , so this is the perfect gift for the occasion.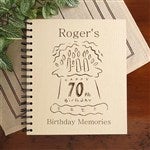 Great memorable gift
By
Shopper

(Artesia, CA) - November 7, 2011
Definitely cherised and enjoyed by all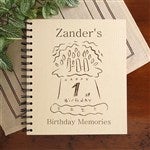 Beautiful
By
Shopper

(Zachary, LA) - October 18, 2011
I was happily surprised by how beautiful it turned out. The wood is gorgeous and thick. I was hoping it wasn't going to be flimsy and it wasn't at all!!!! Beautiful wood, beautiful etching. Thanks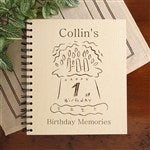 Best gift at the party
By
Robert S.

(Grass Valley, CA) - October 14, 2011 (
See all reviews by this customer
)
I ordered a photo album for our friend that turned 100 years old last week. Everyone at the party had to pick it up and check it out. The quality was exceptional, especially when I was expecting some type of balsa wood covers. The laser work was very well done.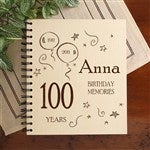 Awesome gift
By
Shopper

(Roebling, NJ) - October 9, 2011
When looking for a gift that Everyone will love, this is it!! What a beautiful product! The laser etching on the cover is awesome; and produces many oohs and aahs when presented :-) I've purchased 3 already-each one was a big hit...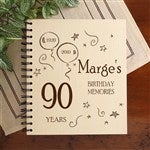 Birthday Memories Personalized Photo Album
By
Shopper

(Pico Rivera, CA) - September 19, 2011
When this album arrived I was pleased at the quality of the produce. I bought it to have as a keepsake from my husbands 60th Birthday Party. This will be a treasured item in our home for years to come. Thanks for the great craftsmanship! Tony will be pleased to look back at his party in this beautiful personalized album.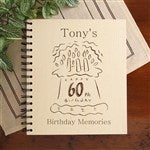 GREAT PRESENT TO GIVE A FRIEND.
By
ELLEN H.

(SAINT LOUIS, MO) - September 14, 2011 (
See all reviews by this customer
)
A wonderful present that was Sooooo appreciated.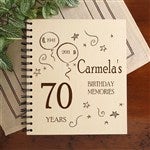 Pleased again in Texas!!
By
patti H.

(van alstyne, TX) - July 29, 2011 (
See all reviews by this customer
)
I ordered the balloon design for my mothers 85th birthday. I was very pleased on how nice it was when it came. But then, I've never been disappointed in anything that I've ordered from this company.....The wood is a nice even color. My mother will love it!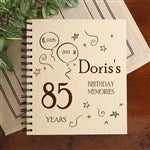 bithday book
By
Shopper

(Maple heights, OH) - July 26, 2011
I love this gift It is a great Idea that is personal, personalized and thoughtful. The most impressive thing about this is that the edges will never bend and the album will look as new next year as it did this year.

better quality than expected
By
Cyndee B.

(Lowell, MI) - July 26, 2011 (
See all reviews by this customer
)
Wood is nice quality. Quick ship with express. Came in time everyone liked it!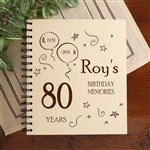 Perfect Birthday Gift
By
Shopper

(Glenshaw, PA) - June 26, 2011
I purchased this gift for a friend's 40th birthday. It was just the right touch of "personal," and so reasonably priced. He seemed to truly appreciate it. It was of good quality and looked awesome!

Fabulous book
By
Twanette P.

(Akron, OH) - June 19, 2011 (
See all reviews by this customer
)
This book is for my husband's surprise party to include picture of his birthdays throughout his life. It is a unique and personalized presentation. He will love it.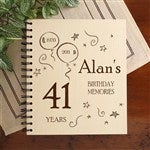 Julie's memories
By
Shopper

(Sebring, FL) - May 21, 2011
This makes a memorable gift at a great price. So most can afford to give this on a special occasion.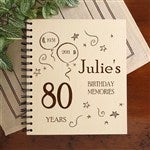 Great 50th present
By
Shopper

(NEW CANAAN, CT) - April 1, 2011
I was looking for a different 50th birthday present for my sister. A gift that she could remember and go back to look at time and again and this was the perfect gift. Very high quality album and beautifully made.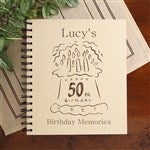 VERY SATISFIED CUSTOMER
By
Shopper

(BERLIN, NJ) - March 28, 2011
LOVE, LOVE, LOVE THIS PERSONALIZED PHOTO ALBUM AND SO DID MY 85 Y.O. GRANDMOTHER. WHAT A PERFECT GIFT TO KEEP THOSE BIRTHDAY MEMORIES IN. VERY AFFORDABLE, PRODUCT IS OF EXCELLENT QUALITY!!! WILL PURCHASE ANOTHER ONE FOR MYSELF FOR MY UPCOMING BIRTHDAY.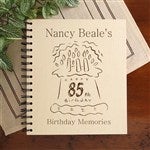 Great for Special Birthdays
By
Shopper

(West Orange, NJ) - March 20, 2011
I purchased this album for a 70th birthday gift. Everyone was impressed with the gift idea and with the quality. I had also purchased the personalized flip photo books and will continue to do keep them both in mind for future unique gifts.