perfect centimental present
By
jennifer M.

(briarcliff manor, NY) - October 7, 2010 (
See all reviews by this customer
)
quality is great & its such a beautiful thoughtful gift!

IT'S NICE AND SMALL ENOUGH TO PUT INTO MY TOTE.
By
donna L.

(Milwaukee, WI) - May 20, 2010 (
See all reviews by this customer
)
IT WAS PRETTY EXPENSIVE AND IF IT WAS JUST FOR A REGULAR MOMENT THEN I WOULD HAVE NOT GOT IT BUT I BOUGHT IT CUZ I WAS GOING TO BE A SPECIAL MOMENT. I LIKE THIS WEBSITE BECUASE IT MAKES ME THINK HOW I SHOULD PERSONALIZE MY LIFE IN EVERY WAY. I'M DEFINATELY PURCHASING MORE IN THE FUTURE. I HAD SOMETHING IN MIND ABOUT RECREATING MY PHOTOS FOR MY WEDDING AS A GIFT TO MY HUSBAND. WHEN I STARTED WITH THIS ALBUM, I CAN FEEL THAT IT WILL LAST ME A LIFETIME OF MEMORIES. THERE ARE SOME THINGS WORTH BUYING IN HERE.

Perfect
By
Angela K.

(Luling, LA) - February 11, 2010 (
See all reviews by this customer
)
This item was perfect for my needs. I was able to fit in all of the personalization I wanted and it was a great buy for the price.

Great Gift for anyone!
By
Lori S.

(Newington, CT) - January 29, 2010 (
See all reviews by this customer
)
This is such a nice quality photo album with a hard wood engraved cover. I bought this as a "grandpa's brag book" and enclosed pictures of his grandson in it. He loved it! I was very impressed and would order another one for someone else.

fabulous, great quality!!! and fast shipping
By
Tracy C.

(altus, OK) - November 27, 2009 (
See all reviews by this customer
)
This Album was great quality, just as I thought it would be. It shipped to me within three days!!! everything I have bought from this website has been just perfect!

Love it!
By
Marissa G.

(APO AE, AE) - October 2, 2009 (
See all reviews by this customer
)
This is great quailty. Loads of space for pictures.The cover is beautiful. Well worth the price. It wont break in 1 week. It will last a lifetime.

Nicely done!
By
Teresa S.

(Powell, TN) - September 6, 2013 (
See all reviews by this customer
)
I have purchased one of these photo albums before but we had some new additions to the family and it was time to get a new one. Grandparents LOVE these! We keep ours on the coffee table and they stand up well to the little hands repeatedly going thru the album. The engraving always looks very nice. I wish the quality of the wood looked richer but for the price it's a nice gift. I'm not sure if they have an option to buy more pages but that would be nice too. On a general note, we have been pleased with everything we have purchased or received as gifts from this company. It's my "go-to" gift center for that extra personalized gift.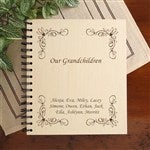 Lovely Album
By
Shopper

(warrenville, SC) - December 12, 2012
This item is very lovely. I bought it for my parents as a Christmas Gift from my hubby, myself, and their new grandchild. I just wish it held more photos. It wasn't easy to put the photos in all the slots in the album. They fit fine just not easily.

Awesome
By
Shopper

(Wonder Lake, IL) - December 20, 2011
Turned out very nice!! Only problem, is when album is full of pictures, book doesn't close flat.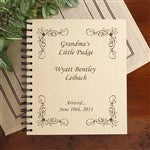 Beautiful Album
By
Shopper

(island park, NY) - August 5, 2011
I purchased this album for my parents from my son. It is beautiful - very well made and i even bought another one for my grandmother from her great grandkids. Highly recommend this album and cannot wait to give the gifts.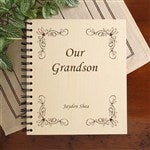 Very nice and fast
By
Cassandra B.

(Raleigh, NC) - December 26, 2010 (
See all reviews by this customer
)
Love this album. The covers are the perfect thickness to stand this album up for display. The album pages are nice quality as well. The only this I wasn't thrilled about was the spiral binding was a little to small when you filled the album even half way with pictures and layed it down closed. Standing it up was fine!

Very nice gift!
By
Cara R.

(Batesville, AR) - September 10, 2010 (
See all reviews by this customer
)
I got this for my mom and dad for grandparents day. I loved how heavy it was. I think they will really enjoy it.

Adorable gift
By
Abbie D.

(Berea, KY) - November 30, 2009 (
See all reviews by this customer
)
This was a really nice photo album. It was not cheap feeling or looking and the grandmas really liked them!

Grandparents Photo Book
By
Bridget L.

(Webster, FL) - November 2, 2009 (
See all reviews by this customer
)
My grandparents were pleasantly surprised by this personalized photo book. My grandmother said it was great quality and very nice looking. Great value.

Disappointed in photo inserts
By
Shopper

(Nipomo, CA) - May 12, 2014
Loved the cover, but the photo inserts were not good quality. I would have paid an extra $10 for better photo inserts. If you change the inserts and improve them, I would love to have better ones for my 3 grandchildren's photo albums.