Make sure info is correct
By
Shopper

(Pittsburgh, PA) - July 18, 2011
I ordered this frame for a 25 year anniversary. Well, I accidentally put "2010" instead of "2011". There is no system in place that catches errors. Even though I put 1896-2010 they did not catch that it was not 25 years. I had to re-order my purchase and it still cost me money (they gave me 30% off which was better than nothing; but still have to pay shipping, etc). So, please make sure all you information is correct so you do not have to spend as much money as I did and be inconvenienced.

Nice and Quick
By
Shopper

(Lynchburg, VA) - July 8, 2011
I wanted an 'American' gift for our German friend's anniversary and thought this was a unique way to say Happy Anniversary.

very unique
By
Shopper

(Johnstown, PA) - July 2, 2011
I was really pleased with my personalized frame. It was a gift for dear friends.
The personalization was perfect. I only wished it would come in additional colors. Thanks.

What do you get a couple for their 65th wedding anniversary?
By
Shopper

(Arcadia, CA) - May 21, 2011
This frame, personalized with their names and dates, was a great answer to that dilema.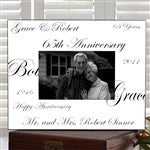 25th Anniversary
By
Shopper

(Bismarck, ND) - March 28, 2011
Frame was beautiful and came fairly quickly in the mail. Was happy with the finised product. The back piece holding the picture & glass in wasn't as "snug" as I thought it should be, but it holds well for a display.

perfet anniversary gift
By
NIRMALA N.

(GLEN ALLEN, VA) - December 10, 2010 (
See all reviews by this customer
)
This picture frame was a great for a couple's anniversary. They loved the personalized engraving with their names.

Barb
By
Barbara M.

(Seaford, NY) - October 20, 2010 (
See all reviews by this customer
)
Frame was nice. Do not like the way the name was cut off.
Letters too big. Format should be changed.

Beautiful picture frame!
By
Kaitlyn T.

(Lakeville, MN) - September 7, 2010 (
See all reviews by this customer
)
I got this for my parents 22nd anniversary and they loved it! It was of high quality and i really liked it. However, i got black and it got smudged very easily to fingers. This picture frame is deffinately a good buY!

Careful with Preview
By
Rochelle R.

(Union City, NJ) - August 19, 2010 (
See all reviews by this customer
)
Make sure the "big names" (in the picture: Jeff Julie) for your customization actually fit. I thought they'd adjust the size accordingly, but they don't -- the name is just cut off. Otherwise, a very nice product.

Anniversary Wishes Frame
By
Janet C.

(Milford, MA) - July 20, 2010 (
See all reviews by this customer
)
Overall a nice gift if your names are short otherwise name gets cut off..Pacement could have been better and not so much squirrly cues at the front of the name - then it would fit. Showed better on proof than actual

1st year Wedding Anniversary
By
Josephine R.

(Staten Island, NY) - July 1, 2010 (
See all reviews by this customer
)
I loved how the frame came out. The font that was used for the names were a little too large, the complete names of the couple did not come out. The last letters of each name did not make the engraving on the frame.

Overall I love it.



Not Centered
By
Tifani E.

(Long Beach, CA) - June 16, 2010 (
See all reviews by this customer
)
I loved the frame and so did the happy couple! My only complaint is that the 10th Anniversary was not centered on the frame it was off to the side a little. With the first number being a 1(versus the 5 shown) it made it obvious. But despite that the couple loved it and so did everyone else.

Wedding Frame
By
Virginia D.

(Cypress, CA) - May 31, 2010 (
See all reviews by this customer
)
I was searching for the perfect gift for a 50th anniversary gift. Something personal that would only apply to them. The frame I chose was perfect and was very inexpensive. I had planned to spend much more if I could find the right gift. Even more impressive was how quickly I received the frame and the workmanship was great. Thank you so much for a terrific gift idea. I will be back.

Very nice frame
By
Lisa H.

(Oakman, AL) - April 13, 2010 (
See all reviews by this customer
)
I was very pleased with the frame I purchased for my husband's aunt & uncle's 50th anniversary. I haven't given it to them yet but I'm sure they will love it! The only thing I wish was different was that the first names weren't cut off. However, I knew that before I bought it because you can preview the product. I'm still happy with it.

Anniversary
By
Rose S.

(Bordentown, NJ) - February 24, 2010 (
See all reviews by this customer
)
Although I loved the frame, I was alittle disappointed with one part of it, the initials on the left seemed to cut off the last letter.

I would still purchase from this site as you can't find or create gifts like this anywhere else.

Wonderful Gift!
By
Stephanie W.

(Goshen, OH) - February 12, 2010 (
See all reviews by this customer
)
Selected the black frame with white lettering. I was pleasantly surprised when the personalized frame arrived as it exceeded my expectations. For the price, it is definitely worth it. We gave it as an anniversary gift, and the couple was pleased.

Bought this as a 20th anniversary gift for a friend
By
Laurie C.

(Orange, CA) - January 14, 2010 (
See all reviews by this customer
)
I love these frames, I purchased a similar one for my friends 40th birthday and its great. When I received this one, the years are off so it actually cut a bit of the one off but since the anniversary is in a few days I don't have time to return it. It works fine but its not 100% perfect like the first one I bought. Will definately buy again but will allow more time in case of a flaw.

Picture Almost Perfect
By
Sandra J.

(Dexter, MI) - January 12, 2010 (
See all reviews by this customer
)
The frame is very nice with one exception: The nicknames are printed off in too large of a font size, so that letters are cut off. I only started with three-letter names, so this is a problem. For example, the two nicknames I requested were "Bob" and "Den." The frame was printed with "Bo" and "De." (One name ended at the picture cut out and the other at the frame edge.) If the font size was smaller, the names would have fit. That was my only disappointment. The order arrived quickly and is quite unique.

Lettering
By
Shopper

(Las Cruces, NM) - December 26, 2013
The mans name on the left side of the frame was very large lettering that only three letters of the mans four letter name was visible! I was not very happy with the outcome!

anniversary personalized frame
By
Shopper

(Summerfield, FL) - September 12, 2011
frame "very busy" with all the writing...just names written once, date and 40th anniversary would have been enough

Nice
By
Shopper

(Moreno Valley, CA) - March 13, 2011
Nice, but a bit cheaper looking than I'd hoped. Love the way the names are displayed.

Anniversary frame
By
Richard T.

(Douglasville, GA) - July 1, 2010 (
See all reviews by this customer
)
I absolutely LOVE the frame.....I've ordered many times over, but still DO NOT care for the back/stand made out of cardboard. I think it should be updated with a sturdier stand. Other than that, I'm very happy!

Anniversary
By
robin B.

(salisbury, MD) - November 7, 2011 (
See all reviews by this customer
)
Spelled Robinson wrong at the bottom but was spelled correct at the top. Otherwise it was beautiful. need to review spelling